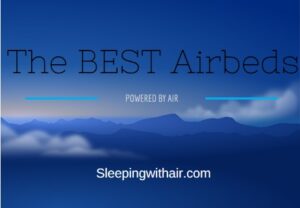 Considering we spend 1/3 of our lives asleep, where we choose to lay is one of the most important decisions we could ever make. But what about when we go camping, or have unexpected guests or simply visiting relatives that live interstate.
An airbed is usually the sleeping device of choice. So what are the best air mattresses for 2023 and 2024 for sleeping on in such situations?
As we move forward from 2023 into 2024, new and more advanced models of air mattresses are getting produced around the world. While new is sometimes great, recent airbeds don't yet have the 'test of time' stamp of approval. So when it comes to finding the best airbeds on the market, we have to consider certain aspects. Which includes longevity and durability.
Air Mattress Reviews Quick Start Guide
2023 Guide To All Types Of Air Mattresses
Below you can find out which air mattress are the best for camping, for kids, for everyday use and much more. But when considering an air mattress to buy, it's important to consider certain aspects that may affect how well it performs to your sleeping enjoyment.
As not every air mattress is the same, we have listed what we believe to be the best for it's category. If a particular category is of more interest to you, then follow the link to find the top 3 air beds for that category.
Air mattresses generally fall into 3 categories. These are the more popular reasons for needing a air mattress. Camping, overnight/travel and permanent long term use. Each type of air bed has it's own unique features and attributes. So it's impossible to say that 1 air mattress in particular is the best for sleeping on.
The Types Of Airbeds
Quickly access our best rated air mattresses according to your needs:
The Best Camping Airbed For Sleeping On
The Best Way To Sleep While Camping In 2023
Sleeping out in the wilderness, does life get any better!. For some people it's all about being as less modern as possible, so a simple bare minimum air mattress will do. Some campers will be satisfied with a sleeping bag on the hard ground. But for for the others (myself included), we still want the luxury of a bed after a tough day out in the bush, beach, rain forest etc.
Or simply because we go camping to escape the hustle and bustle of life to just relax and breath in the fresh clean air. This is why buying a high quality camping air mattress to sleep on is critical. There's nothing worse than driving 10 hours to a favorite camping location just to discover the air mattress you bought is complete crap and your better off on the dirt!. This is NOT what we want when it comes to sleeping on a air bed.
2 Types Of Camping Air Mattresses To Consider
Your typical camping air mattress that usually requires a pump. These come in all your common sizes, Twin, Queen etc and can be raised off the ground or single/double level mattresses.
Self Inflating Air Mattress For Camping: These are less maintenance mattresses which require no pump or no need to manually blow up by mouth for 2 hours either. they are made from a foam which expands when in contact with air. This is how they raise to a soft camping mattress. Generally not as comfortable, but more for ease of use.
Top Rated Camping Air Mattress In 2023
There's a few top notch reasons why we think that the
Coleman Airbed Cot
makes for a great camping air mattress to sleep on. We also know that because this airbed is raised from ground level on a bed frame, some campers will turn their nose up to this bed. But that's fine. We all have individual tastes. Some people may think that this is an expensive air mattress for camping as well. But just wait until you see why it's considered a high end air bed.
But in saying this, my Wife simply loves sleeping on this camping air mattress. Why? Mainly because the air mattress is on legs. I don't think shes alone with being afraid of unwanted critters crawling over her when she sleeps. I know they can also climb up the bed legs, or hang from the tent ceiling. But shhh don't freak her out!.
The bed frame itself is quite durable, it even has a hefty weight capacity. A solid 600 pounds, which is quite sufficient for many couples. Attached to the frame are 2 side tables, which I think is a awesome touch. Especially as this air mattress is on legs, so nobody wants to leaning over to pick something up from the tent floor when there's a perfectly good table right there.
A Warmer Air Mattress For Camping
Another bonus about this camping air mattress is that you will feel less cold during the cooler months. This is because the sleeping surfaces are not in contact with the cold earth, unlike a traditional air mattress.
The mattress itself also separates from the bed, which can be handy to use as a portable mattress to take hiking or for a romantic getaway in the great outdoors. Because the mattress can be detached and because the mattress is raised off the floor, you are open to more storage space underneath the bed. This is particularly handy in smaller tents.
The mattress also comes with a zippered cover to protect it from the elements. We found it to be a rather leak proof design as well. It held up during the nights without needing a top up. But whats also good about having the frame: In the event that you do spring a leak (lets be honest here, no mattress is puncture proof) during the night, you wont wake up frozen to the hard ground. Instead you will wake up supported by the camping cot beneath.
Why We Think The Coleman Airbed Cot Is The Best
Concluding why we think the Coleman Queen Airbed Cot is perfect for sleeping on while camping. The design, comfort and the unique features make this air mattress a great buy. The last thing to mention in the pump. You didn't think we manually pumped this airbed up right?..
Well this airbed even comes with a 4D battery powered pump. Which is ideal when camping. Not all camp sites have access to power, and without having your car nearby and a power converter, you left with not too many options. The battery powered pump being the best option. So with all aspects of what you need when buying a camping air mattress covered, it's really hard to not include the Coleman Queen Airbed Cot for the next camping trip.
Coleman Queen Airbed Cot with Side Tables
Fancy Using A Air mattress On A Regular Basis
Long Term Air Mattress Solution
It's becoming more popular in 2023 and onward to replace the standard mattress with a air mattress. This growth in interest is a result of a few things in particular. However these mattresses are not the expensive high end adjustable airbeds, these can be found below. The best airbed for long term use we are reviewing now is one intended for semi permanent use.
Semi permanent air beds have started popping up all over the world. The common link for the growth is from the advancement in technology. These more advanced air beds have the ability to resemble a normal mattress but reap additional benefits.
Many people find air mattresses to be more comfortable than a regular mattress
Many folks have stated that a high quality air mattress can reduce and even eliminate lower back pain and back pain in general.
Some find a airbed easier to sleep on when recovering from surgery or injury.
Convenient for travel, storage and small rooms due to the fact they can be easily inflated and deflated in just minutes.
Our #1 Recommended Semi Permanent Airbed
The Dream Series By Sound Asleep Review
The dream series air bed is a double high raised air mattress. This means it sits at a nice 19 inches in height from the floor when inflated. I think that if you are planning to use a air mattress for everyday use, then the bed has to resemble the height of a normal bed. Being a single level 'standard' mattress will get very annoying after some time.
It's a toss up between the Dream Series and the Serta EZ Bed as to which is the best airbed for sleeping on. Both are different but both cater to long term use very well. The Serta EZ Bed is a air mattress on top of a bed frame. However, for comfort I believe the Dream Series to win the battle here, and is the reason we name it as the best air mattress for sleeping on.
The Features Of The Dream Series Air Mattress
Lets start with comfort. The Dream Series by Sound Asleep features a dual chamber construction. This dual chamber consists of a 40 air coil system internally. You may be wondering what this has to do with the comfort levels?
Well these internal air cells create the foundation. The support and firmness of the mattress all stem back to it's foundation. A 40 air coil system is a high number of coils. This means you get all over body support. No sagging or weak points in the bed. The comfort level is amazing because you truly feel like you're floating on a cloud. No leaning to 1 side or rolling off the bed. Just a stable and solid foundation.
But What About Sitting On The Airbed?
Very good question. There's nothing worse then sitting on the edge of an airbed and the whole side sags down. Especially if you are doing paperwork on your bed!.
Fortunately, the dream series has accommodated this issue that so many other air mattress face. Not only is the flocked top waterproof, but it is also reinforced with extra thick material and PVC. That alone is not enough to stop the outer edge sagging when you sit on it.
But the unique edge design of the Dream Series Airbed creates a rail like support. This outer edge feels firmer and similar to a standard mattress to prevent unwanted sag in the air mattress when you sit on the edge of the bed. This is a important little feature to consider when buying a airbed for everyday use.
Another crucial factor in considering if a air bed is good for long term use is a built in pump. The Dreams Series claims to have one of the quietest, if not the best built in pump on the market. While it may be quite, it still will make a slight humming noise when inflating and deflating. Unlike some other beds with built in pumps, we found this one doesn't leak through the night. Yes you will have to top it up every so often. But not everyday like some others. Inflating the mattress is as simple as turning the switch, it couldn't be easier and only takes about 3-4 minutes.
Do note the Dream Series is not a 'NeverFlat' secondary pump. You can find more about built in pumps below.
The Dream Series By Sound Asleep
The Best Air Mattresses Are Also For Big People?
300 Pound PLUS Weight Capacity Airbeds
This section of the best air mattress for 2023 buyers guide is a considerably important one. Not enough people are aware of the fact that air mattresses come with a recommended weight capacity or maximum user rating.
These capacity ratings aren't there for show. They are there to prevent disgruntled customers complaining about their air bed blowing up after one night due to excessive weight pressure. While not all beds state their a weight capacities on the label, you can typically find them online. Sometimes they are very difficult to find.
But after much research and plenty of digging, we have found the best of the best air mattresses for heavy people. The maximum user rating mattress we could find that didn't compromise quality and durability was 750 pounds.
I'm not a small person, but at the same time I don't weight 500 pounds. However, I always buy a heavy duty airbed that is well above my weight capacity. We me and my Wife's. It's not just the grueling weight forced onto the seams of the air mattress during the night that can make a air mattress give way. But the initial contact can create very traumatic experiences for the stitching and seams. The downward force can often be greater than that of your actual body weight. So I always recommend you punch higher than your combined weights when it comes to sleeping on a air mattress.
Superior Air Mattresses For Hiking
Whether you are planning to sleep out in the wilderness while hiking or backpacking through the States, choosing a top rated air mattress designed for hikers is essential. Generally speaking, most hikers and backpackers are limited on space. So a air mattress that can be deflated and rolled up to the minimal size possible is ideal.
Another important factor to consider before you take off on your next hiking adventure is how much weight can you possibly manage to carry when walking through tough terrain. When it comes to air mattresses for hikers, don't bite off more then you can chew. By this I mean, ignore the big and fancy air mattresses with all the bells and whistles. They will weigh you down, and you will struggle to carry your load for the entire hike. Choose a lightweight sleeping pad as they are much lighter and roll up much smaller than your traditional outdoors air mattresses.
The Best Rated Airbed That Is Self Inflating
The Lightweight Series By ALPS Mountaineering
The ALPS Mountaineering lightweight series air mattress is perfect for hikers and backpackers alike. As size and weight is always a concern, you have to be sure you know what you are getting.
Well to start with, this air pad is a self inflating air mattress. This means you don't need a pump ever!. There are 2 valves which you open. Once opened, the foam inside breathes in the air from outside and self inflates. It takes about 3-4 minutes to inflate. So a great start for people not wanting to waste space on a pump.
This pad is 1.5″ to 3 inches thick, depending on which size you buy. Which is more than sufficient for people up to about 350 pounds we would imagine. The 1.5″-3″ thick self inflating hiking pad has a R value of 4 to 6.9 for the 3″ pad, so you can expect to stay warm on the ALP during colder months.
Besides the warmth, lightweight and compact size, what also stands out for this backpacking and hiking sleeping pad is the materials on the exterior. The top of the sleeping pad consists of a diamond ripstop fabric which is ideal for a pad which needs to rolled up and packed away frequently. The ripstop fabric assists in preventing those little tears you can get from material frequently being rolled or folded.
The bottom of the sleeping pad is made from a Polyester Taffeta fabric. This kind of material repeals moisture and dries very quick which is essential on hikes. The material is also stretch and sag resistant. Meaning you can expect the pad to refrain from warping out of shape due to heat and moisture.
ALPS Lightweight Self Inflating Sleeping Pad Size Chart
There are various sizes you can buy the ALPS Mountaineering lightweight sleeping pad. Here is the rundown on the different sizes available.

ALPS Mountaineering Lightweight Sleeping Pad
Need An Alternative Lightweight Solution?
Lightweight air mattresses certainly are great for hiking, but they are certainly a convenience as well when it comes to camping. Not everybody parks at a powered camp site for example. So carrying around heavy gear from the car to the camping location hidden deep in the woods can be more hassle than it's worth.
So a lightweight camping bed solution is needed. In this article here, you can find 3 of the best yet lightweight camping air mattresses. These can be used for hiking or camping as they are very lightweight. Even including built in foot pump and weighing just 1.7 lbs, you cannot go past the Airlight Sleeping Pad.
Safety First – PVC Free Non Toxic Air Mattresses Available in 2023
Times are changing, and in 2023 onward, people are starting to take the risk of PVC and other harmful toxic materials more seriously.
The problem is that like many plastic items, air mattresses are predominately made from PVC. PVC uses a substance called Phthalates to soften the plastic so that it can expand and retract. Think inflate and deflate. Kind of needed in order to have a good nights sleep while camping.
But, more and more brands are becoming aware of the dangers of Phthalates and some types are even banned from being used in kids toys. As a results, these brands have adapted and included PVC non toxic airbeds into their catalogs. While the list of available non toxic beds isn't huge, we have nailed down the Top 5 PVC Alternative Air Beds which are safe to sue.
The Best Airbeds For Kids & Toddlers
We Cant Exclude The Kids Right
Being a parent myself to 3 young kids, I know all to well the importance of having separate air beds just for the kids. Whether we go on a family camping trip, visit relatives interstate or even stay at a hotel, a Child's air mattress is not too far from arms reach.
The needs of a Toddlers Airbed is not too dissimilar to an adults airbed. However, there are a couple things I think every air mattress for kids should have. The most important must have feature for me is a safety side rail with a minimum height of 4 inches.
This side rail will prevent the Toddler or Child from rolling out of the air mattress. A small air pump is also ideal for a toddlers bed. I don't know about you, but pumping a air mattress up by mouth is not how I like to relax.
Premium Choice – Kids Airbed With Side Rails
The Shrunks airbed is our #1 choice when it comes to choosing a air mattress for our Children. There are many features besides how well it looks that has earned this air bed as our top rated.
Firstly, the 5 inch side rails give us the confidence knowing that our almost 2 year old Son will sleep safely without rolling out onto the hard floor. Whats also amazing about the Shrunks Children's air mattress is the flocked top. This feature is a stand out for this particular air bed.
Why you may ask?. Well many other so called kids airbeds have your typical plastic or PVC topping. But having a flocked top made from soft material has one other benefit than just comfort. No more squeaking noise, you know the noise you get when you roll around on a air mattress without a sheet or flocked top. This is super annoying if you have kids on the floor beside you or in the same tent. With a flocked top you don't get this noise.
The Shrunks Airbed Design & Sheet Size
The design of the Shrunks is also a hit with us. The main reason is the unique sheet tuck feature. This cool little bonus will allow you to tightly tuck the sheets around your Child. This creates an even more safer nights sleep. The sheets fit nicely between the flocked top and the side rails. A standard crib sheet fits perfectly on the Shrunks airbed. However, Shrunks even has a custom designed sleeping bag to complement this bed, which is the icing on the cake.
Yes, this kids airbed even has an included air pump. Which pretty much is the nail in the coffin for us. We find the Shrunks to be the best air mattress for kids to sleep on safely and comfortably.
Shrunks Toddler Air Bed
I Find Air Mattresses With Frames To Be The Best
In this section of the air mattress buying guide we discuss air beds that come with a bed frame or legs. These types of air mattresses are growing in popularity for all types of use. Whether it's for camping, travel or everyday use, an air bed with a stand will be a great choice.
Because you will no longer just be sleeping on air, but also supported be a bed frame. It's very important to check the weight capacity of these air bed frames. The high quality air beds can handle 500, 600 pounds due to their high quality heavy duty frames. So if you are a little on the heavier side, make sure you check the weight capacity before buying.
Sleeping On The Best Adjustable Permanent Airbed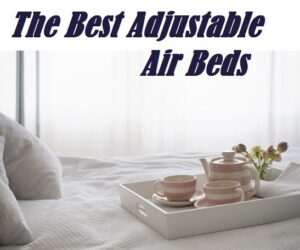 Now these air mattresses are in a league of their own. If you have never heard of an adjustable permanent airbed, then you will be blown away. By not only the price, but also the shear amount pure heaven like comfort. Adjustable air mattresses allow the users to set individual support settings. So this means you can have your side of the bed just how you like it, and your partner can have it how he/she likes it. No compromise needed on another bed ever again.
These air beds are built for permanent 365 day a year use. These are not temporary long term use like the above air mattress. They are also more then just your average air mattress. Hence the steep price tags.
Many adjustable airbeds have multiple levels within the mattress, including the adjustable air chambers. But also with layers of latex foam, memory foam pads etc. These additional layers are what make them the best air mattresses for sleeping on permanently.
The extra layers create the beautiful comfort, while the adjustable air chambers create the amount of support you need. As you can imagine, this combination results in an expensive air mattress for everyday use. But let me tell you, they are worth every cent. But which one is the best of the best and has the most value for money?.
Our Top Rated High End Adjustable Airbed
InnoMax Medallion Airbed Review
The InnoMax Medallion is one of
two adjustable high end air mattresses
that we recommend. InnoMax is a lessor known brand name, which is odd considering they were one of the first air bed manufacturers in the USA.
With decades of air mattress experience, InnoMax offers what we think is the best value adjustable air bed on the market. The Medallion is considerably cheaper than that of the more expensive brands, however is equal to if not better then the competitors in our opinion.
The InnoMax Medallion air mattress complies of a unique combination of Talalay Latex and 1.5 inch memory foam. This rare combination of materials works beautifully together to create the most sensual sleeping surface. The reason they work so well together is because memory foam by itself gets hard when compressed. Which is not all that comfortable to sleep on.
However add a layer of the finest grade Talalay Latex and it's a totally different feeling all together. The Latex absorbs the crunch of the memory foam acing as a suspension like system which prevents the memory foam form clenching into it's hard form. This is something you have to feel to believe.
Why The InnoMax Medallion Is So Darn Good
So now we have revealed exactly how this airbed is so comfortable to sleep on, what about the adjustable features. Well, the 2 air chambers beneath the comfort top levels are what allow you to control your individual support levels. These 2 chambers expand and retract to whatever comfort level you like.
So if you like a firm mattress and your partner needs a soft plush style of mattress, this is easily achievable with the InnoMax Medallion. With the easy to use dual digital remotes, you simply increase and decrease to meet you desired support levels.
So to sum it up, the air chambers are controlled by the remotes to inflate the airbed to suit what you need. Then the support is topped off with a unique combination topping of memory foam and Talalay Latex to create ultimate comfort.
InnoMax Medallion Adjustable Dual Chamber Airbed
The Good
Amazing Comfort Level - Talalay Latex + Memory Foam
2 Air Chambers For Individual Support
2 x air support remotes
Waterproof and mold resistant protection system to protect air chambers from moisture
No Bend/Warp Feature Enabled
Reasonable Price Tag For A High End Airbed
The Bad
May be too pricey for some folks unfortunately. Which is a shame, because this bed is so good, EVERYONE should own one.
Air Mattress For Vehicle Camping
Not everybody does the traditional way of camping, ie a tent/caravan. Many people across America spend countless hours sleeping in the back of their car, suv and pick up trucks. This is a cheap and affordable method of taking a road trip.
But sleeping in the back seat of your car can be uncomfortable to say the least. Fortunately manufacturers have come to the party here and made air mattresses suited to vehicle camping. Which is a great step forward in modern day camping.
Here you can find links to resources on where you can buy the following vehicles airbeds:
Concluding The Reviews For The Best Air Mattresses For Sleeping On In 2023
After much research, we have ended up with the above air beds as our top rated. As you can see, not all all mattresses are built the same. There are many unique features suitable to different scenarios. So it's important to understand what does what and why you need such and such.
For a quick recap, these features are what you should look for when deciding to buy an airbed for the following scenarios:
Camping: Must have a heavy duty exterior to handle tougher sleeping conditions. Preferably a rechargeable pump or a battery powered pump.
For Everyday Use: A air mattress for semi permanent use should have at least 1 built in pump. If the option is available, a second 'neverflat' pump is ideal. This pump will keep the air mattress inflated for the longest period of time.
Custom Adjustable Air Beds: Expect to pay top dollar for a high end air mattress. These air mattresses are the luxury premium range that will change your opinion on sleeping forever.
Hiking: Lightweight and compact in size when rolled up are the most important factors. Preferably you should choose a self inflating air mattress
The Kids: This is a must: Side Rails for safety. A flocked top and an included air pump. Make sure to check sheet size so your sheets fit nicely in the mattress.
Don't Forget The Air Pump!
Gone are the days of pumping up a air mattress with a foot pump or by mouth. With the vast variety of pump available, you can be inflated in mere minutes no matter where you are in the world. However, on the odd occasion when you are faced with a situation where you desperately need to inflate you mattress but you are without a pump. Watch this video. It could be your sleep Savior.
Save
Save
Save