I hope you love the products I've recommended below, just a heads up that as an Amazon associate, I earn from qualifying purchases. This means I may earn commissions on products bought via links on this page.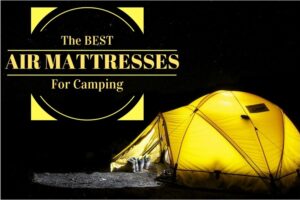 In this 2019 buyers guide to the best camping air beds and air mattresses suited for camping you can find all sorts of mattress reviews to cater to different camping scenarios. Camping is much loved the world over. When we go camping we are leaving the 'normal' life behind, we are escaping the stress, pressure and hustle and bustle of city life.
But there's one feeling that we all want to be as close to home as possible when living the great outdoors dream. That is a comfortable and reliable sleeping arrangement. Enter the air bed.
But since the birth of the air mattress in 1889, many campers have fallen victim to the leaking air bed. This is when you pump your airbed up all ready for a good nights sleep under the stars, only to find your self sleeping on the hard cold ground mid night. Yes it's true, the humble air mattress has copped some slack over the years.
However, times have changed and so has the humble air mattress. In 2019/2020 camping air mattresses have evolved and become fantastic sleeping alternatives to the camping cot, hammock and even the simple sleeping bag on the ground scenario. So lets dig in deep and find out what's the best air mattresses for camping.
*For Queen size only, visit out Queen Size Camping Airbed Reviews page.
Quick Links To Info On This Page
The Best Portable Air Mattress For Camping Reviewed
Sound Asleep Camping Edition Airbed With Rechargeable Pump
Sound Asleep have a remarkable line of air mattresses available online. The 'Dream Series' is without a doubt the best in that line. This camping edition is basically the same as the Dream Series, except it's modified to suit outdoors and in particular campers better. The original Dream Series specializes in indoors use and is best suited to
Tall People
. Whereas this model has camping written all over it. So lets find out why we believe the Sound Asleep air mattress to be the top rated air mattress for camping.
So when it comes to inflatable camping air beds, the 2 most critical features are the heavy duty rating and the ability to pump the air mattress up from anywhere. This Sound Asleep model nails them both beautifully.
Much like the indoors version, the camping edition is made from thicker more durable materials. Predominantly PVC which is a heavy duty tough plastic ideal for camping outdoors. The base is not just thin plastic either. Considering the fact a camping air mattress usually is placed on the hard earth which can be plagued with rocks and sticks and all sort of items that can pop an air mattress. The Sound Asleep camping airbed has a tougher bottom to handle these kind of scenarios.
However, as with any air mattress I always recommend a heavy duty camping footprint to place underneath for extra protection. The Terra Hike brand on amazon is my go to choice.
This camping air bed comes with a pump as well, so that's one less thing you have to worry about. But what makes this pump ideal for camping is that it is 100% portable. The included pump is rechargeable and will survive the length of many camping trips. To charge the pump you need to have access to power or a car with 12v cigarette lighter socket. So it's crucial you fully charge the pump overnight before you go camping so you have a fully charged portable pump ready to go.
The Most Comfortable Camping Air Mattress
The third important factor to consider when buying a camping air bed is comfort. After we have checked all the boxes for portable pump and heavy duty mattress, next in line is you getting a good nights sleep.
Sound Asleep again has thought of everything yet again with their unique comfort coil technology. This feature itself is a massive selling point on the indoors mattress. so to have this pure comfort on a camping air mattress as well is just amazing.
The comfort coil technology is whats inside the mattress, after all it's whats inside that counts right. So inside the mattress there are these unique air coil channel like tubes which allow air to flow evenly through the mattress and provide support for our bodies. These individual coils that consist of air are what make this bed so comfortable. They provide a complete full body support system. Which is the complete opposite of what you expect to get on any other cheap air mattress. This comfort coil technology has redefined the air mattress industry in our opinion.
*Check For Availability in Twin Or Queen Below!
SoundAsleep Camping Series Twin Air Mattress With Pump
Best Camping Air Mattress For The Money
2 Twin Size Air Beds In One- Coleman 4 In 1 Easy Stay Review
Can be used as a single twin size camping air mattress
Second mattress can be used as an additional air mattress for another family member
Both twin air mattresses can be clipped together to form one King size camping air mattress
Lastly, the 2 twins can be stacked and zipped on top of each other to form a raised bed. Each air mattress is 5″ thick so when doubled up you get about 10 inches. Which I find is perfect for camping. Some of the double raised air beds can be over 20″ in height. Which is too high for many camping tents.
Coleman 4 In 1 Easy Stay Video Review
While this bed doesn't come with a pump, you can grab an affordable option like the Coleman Battery Air Mattress Pump on amazon which will do the job. If you have rechargeable batteries, even better!. If you already have an external pump and worried about the double air lock valve this Coleman features. Worry no more, the valve can still be closed after inflating with a different pump to minimize air lose. All that you have to do is squeeze the valve to shut it off and keep the air in your bed.
Finishing off this value for money camping air mattress is the storage bag and soft suede flocked top. It's these little bonuses (What I think of them considering the price) that make this an awesome bargain bed.  The storage bag is attached so you never lose your mattress storage. The soft suede like top is not only good for comfort, but it's also great for minimizing the typical air mattress noises PVC tops normal have. Plus a soft topping is great for Winter and Summer as you wont be frozen when you lay down and in Summer you won't have that uncomfortable plastic on sweaty skin feeling. Overall we find this the best air mattress for the money when it comes to camping.
Coleman 4 In 1 Easy Stay Camping Air Mattress
Top Rated Camping Air Mattresses In 2019
Need more options before you head out on your next camping trip? While we do highly recommend the above air mattress for camping, we are also well aware that our taste may not be for everybody. So to give you some more options, below are 4 more of our top rated air mattresses which are available on amazon.com.
Best Rated Camping Air Mattress On A Frame
The Coleman Airbed Cot Review
The Coleman Airbed Cot is a great way to sleep for campers of all types. But from my experience I have found this bed is a popular choice for elderly campers ans people with sore backs. This is because it's a raised bed similar to height in most 'at home' beds. So getting in and out of bed is much easier than cramping up trying to lower yourself to the ground for a single layer air bed.
So the Coleman airbed cot is available in twin size and queen. While it does come with an amazingly comfortable mattress, some folks prefer to use just the classic sleeping bag. This is possible on this bed. The cot underneath the mattress is of the same quality you expect from a heavy duty camping cot. So if you are the type of camper who loves to sleep it up on a cot and sleeping bag, then the Coleman Airbed Cot will be of benefit to you. The air mattress can then be used on the floor by the kids, so it's like 2 beds in one really.
Why This Camping Air Mattress On A Frame Is Awesome!
I briefly touched on this being a heavy duty airbed, which it is. The frame can handle an impressive 600 pounds in weight capacity. On the Queen size, there's an extra support beam that runs down the center to provide extra stability and support. This tough bed can even be used on uneven slopes/surfaces without fail. Which I feel is important for outdoor camping.
Onto it's features… The Coleman Airbed Cot comes with a battery operated pump that uses 4 x 'D' size batteries. Which is ideal for camping, but I also recommend bringing extra spare batteries if you are going on a longer trip. The bed and frame folds down and stores away in the included carry case quite easily. It is a little heavy, but nothing out of the ordinary. Probably not the best bed for hiking in my opinion.
Wrapping this Coleman Airbed Cot review up!. While there is much more we could discuss about this bed, we think a simple product specifications will be able to help you fill in the blanks. All in all, it's one heck of a supportive and comfortable air mattress on a frame suited to camping conditions. Highly recommended.
Coleman Queen Airbed Cot with Side Tables
What About A Self Inflating Air Pad For Camping
For some folks, camping is not always a chill out and relax type of holiday. Some people prefer to be on the go, hiking from one location to the next to set up tent. A typical camping air bed will most likely be a drag to lug around and not very space efficient.
So whats the solution?. A lightweight portable self inflating air pad for camping. A self inflating air pad is a thinner option than a air mattress, yet it still inflates via air. But what makes them even better for the portable camper is the fact they don't need a pump to inflate.
A self inflating air mattress is just that. It inflates automatically when you open the inlet valve. The air will attract to the foam inside the pad and the pad will expand giving you one comfortable yet lightweight camping mattress. These sleeping pads come in various sizes and thickness. For camping I recommend you look for a pad which is about 3- 4 inches thick when inflated.
For further information on these alternatives to the classic air mattress visit our Self Inflating Camping Air Pads section.
Short Video For Sleeping Tips When Camping
Save
Save
Save