The best air mattresses for guests for me comes down to just a few hand selected models. But not each air mattress may not be appropriate for each of your Guests. So it's important that you know exactly what you want before you hand over your hard earned money.
Some common requirements or variations that I find you should consider when buying an air bed for a guest or guest room include:
Space requirements. This relates to whether you need a air mattress to use for guests on the odd occasion, or whether you need a long term guest room air mattress. An everyday air bed would do the trick as a permanent guest room bed. But if you are only looking for a temporary once off kind off air bed, then how compact it is when rolled up is important.
The actual size of the guest area. If limited space is available for your guests, then would a Queen air mattress be appropriate, or a smaller Twin. Keep this in mind as many brands make models in many sizes.
Additional Features: There are many other features which make a air mattresses best suited for guests. These features can include: built in pump, never flat technology, sure grip buttons, fitted sheet creases, water proof top etc.
Our Top 3 Air Beds For Guests Rooms
The Best Permanent Guest Air Mattress
The EZ Bed By Serta
When a guest stays for a longer time then first anticipated, sleeping on a ordinary cheap air mattress can become uncomfortable. Not to mention how annoying it is crawling off floor level every morning to get out of bed.
Which is why we highly recommend the EZ air bed by Serta. This bed is something else!.  Besides being made by one of the leading comfort makers in the business Serta, this EZ bed is a superb choice as a guest bed.
What makes it a great choice for a air mattress for guests is the fact it's an actual bed. The mattress is actually attached to the frame and provides the same great comfort and support of a traditional mattress.
Wait!, the frame is not as hard as what you think it is to set up (Commonly asked question we get). In fact, it couldn't be simpler. Because the frame and mattress are attached, all that's need to set this bad boy up is power. Plug the cord into the mains and stand and behold as the air bed magically takes form in front of your eyes. In under 5 minutes you can have the perfect guests air bed which can easily be stored away when not in use(folds up to a small suitcase style bag).
The EZ Bed by Serta has all the criteria to make a great temporary bed including a built in pump with Serta Never Flat technology. This amazing feature really brings it home in regards to having a simple yet comfortable guest bed. The built in pump inflates with 1 flick of the switch. You can even go grab a cup of Coffee while it self inflates. But whats really cool is the Never Flat feature. This secondary pump keeps the air mattress at it's ideal air capacity 24/7. The pumps works behind the scenes to keep the air inside the mattress and your guests off the floor.
The Serta EZ Bed
The Best Blow Up Pull Out Sofa Air Bed
The Intex Queen Pull Out Sofa Air Mattress Review
A pull out sofa bed is normally a great choice for folks expecting guests. However they can take up much need living space. Which is why an air bed pull out sofa is a great choice for when unexpected guests knock on your door.
The Intex Air Sofa also make for a great camping air mattress as well. It's a rather comfortable place to sit on before unfolding down to an air mattress. This can also be a positive for guests if you have no alternative sofa for them.
Additional, this sofa even comes with 2 built in cup holders which I think is just a fantastic idea. While it's only a small detail it still adds to the overall greatness of this guest air.
As for ease of use, it couldn't be any simpler to transform from sofa to bed. It's just a matter of pulling down the seat. The only negative I think about the Intex sofa air bed is that it doesn't have a built in pump.
*Note: This Version Here Has A/C Pump Included
This would make a great addition to the overall guest experience. However, once inflated, the mattress holds the air very well. With a weight capacity of 440 lbs and a overall width of 76″, I believe many guests will be able to enjoy not only a good nights sleep, but also a great sofa.
Intex Queen Pull Out Air Mattress Sofa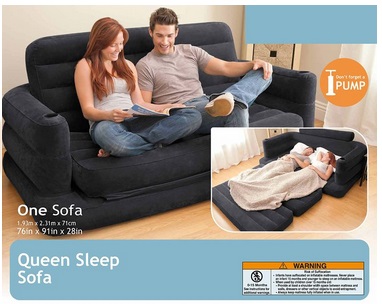 Most Comfortable Guests Air Mattress
Fox Premium Memory Foam Air Bed Review
Now, this air bed won't be for everyone. It's a little on the pricey side. But if you have some fancy pants guests coming over, then this is the best air bed for impressing the pants of someone.
Fox Airbeds is a relatively new name in the air mattress market, but don't let that hold you back. The Fox brand is getting some amazing testimonials all over the USA. This model comes in 3 sizes: Queen, King and Californian King. So it won't be suitable for tiny guest rooms.
This air mattress is double high raised, meaning that it pretty much sits at the height of a normal bed. Which is great for guests coming over to sleep the night. What makes this Fox Airbeds such a comfortable mattress is the bonus memory foam topper on top. This is a very nice touch and makes it very hard for any body to complain about the comfort.
Which is phenomenal. There are a couple extra memory foam pillows included as well. But if you have guests that are anything like me, then they will bring there own pillows. I found these pillows to be too small and better suited to be a snuggle pillow.
There are 2 negatives however. While there is a built in pump, there is no 'Never Flat' technology. Which may not be applicable to your guests if they only stay a few nights. The other point of concern is that fitted sheets don't suit this mattress. With no crease for the fitted sheet to fit snug into, your better off with a flat sheet.
Overall, we find the Fox Airbeds guest mattress to be a great buy. The quality is amazing, which includes extra thick materials for longevity and durability. The negatives may not win everyone over, but nonetheless this is still a very comfortable sleeping alternative. Which is why we think it is one of the best air mattresses for guests for comfort.
Fox Airbeds Raised Memory Foam Air Bed
 See Why This Fox Airbeds Model Is A Top Rated Air Mattress For Guests
Save