I hope you love the products I've recommended below, just a heads up that as an Amazon associate, I earn from qualifying purchases. This means I may earn commissions on products bought via links on this page.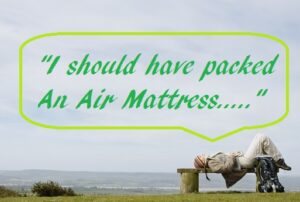 For many outdoors adventures it's important to pack The Lightest Air Mattress for backpacking/hiking and camping if you plan on camping a great distance from the drop off location. While items appear to be light on first touch, after a couple hour hike to the camp site, everything starts to fell 10 times heavier. So if you can, pack the lightest sleeping pad and minimize the amount of gear you don't need to tag along.
Why You Should Pack Light
Who doesn't love the great outdoors right. Many families across America plan forward to their 'getaway' months in advance. It's certainly a celebrated time of the year in my household. It's one of the best feelings to be able to drop everything and leave the 'real world' behind for a couple of weeks. However, it's important to think ahead and be prepared with the right equipment for your adventure.
One of the most important aspects to consider when getting away is space and weight restrictions, in particular the sleeping arrangement. Whether you plan to go backpacking and hit the trails, or go for a long getaway at a remote camp site. Packing light will be a savior after just a few days in.
Best Lightweight Sleeping Pads For Backpacking
If you plan to be on your feet a lot hitting the trails, then you should be fully aware of the space limitation you are faced with. There's just a few essentials a backpacker needs when going on a hike. A sleeping pad is one of those 'must have' items.
The best sleeping platforms for a backpacker can be either foam or air inflated. But these are unlike your typical air mattress. Self Inflating air mattresses are a popular sleeping pad used by hikers the world over. They are convenient because they require no pump, yet you get to have the advantages of a air mattress like comfort and support. Whereas I find a foam mattress to be more bulkier and less comfortable, but warmer in the cooler months.
What Is The Lightest Air Mattress For Backpacking?
Therm A Rest NeoAir Trekker Review
From my research, the Therm A Rest NeoAir is up to 3 times lighter than other models and brands on the market. With an incredibly low weight of 20 ounces or 1.25 lbs (For the regular size, see all sizes and weights on Amazon here), this air mattress will be you back packs best friend. What's also great about this air mattress is how compact it folds down to. Compared to some air mattress this one is about half the size when deflated and put away in it's pouch.
So the NeoAir is ultra lightweight and very compact, but what else is good about it?. Considering how light this air mattress is, you wouldn't expect too much from it's comfort levels. But this is where I was majorly wrong. The amazing 2.5 inch thickness adds a new level of comfort not seen by many hikers. The thickness is only as good as the support system in place, and the NeoAir has a unique Triangular Matrix style design.
There's a tonne of these triangular cells which work together to create a uniform and stable surface. The body gets completely supported without sag due to this unique system. The R-Value on this air mattress is 3, so it's ideal for 3 season backpacking. Not recommended for winter hikes without further bedding.
Therm A Rest NeoAir Trekker Edition
The Best Lightweight Air Mattress For Camping
Airlite Sleeping Pad Review By Fox Outfitters
Initially when I came across this air mattress from a friends recommendation, I couldn't take him serious. Why? Because this things fits in one hand (When packed away of course) and he was trying to tell me it is seriously more comfortable than your typical air mattress.
So once inflated, the Airliteby FoxOutfitters ( find it on amazon here) has an impressive 3.5 inch thickness, which is quite incredible for something that fits in one hand and weights just 1.7 pounds. The only downside to this mattress is that it is designed for one person, so only comes in regular size and long version for tall campers.
Still not quite convinced, I had to find out whether this mattress was made from some cheap and nasty material. But to my surprise I found out that it has the 'Rip-Stop) bottom which in my opinion is a must for camping conditions.
So far, I was impressed with it being the lightest camping air mattress, how small it was to store in a backpack and how heavy duty the material was. The last test was how hard was it to inflate. Not being a fan of tagging along a external pump for portable camping trips, I was expecting this to be a lung job to inflate it to the 3.5″ firm mattress that it is.
But I was blown away when I discovered that it has a built in foot pump. Say what! That was my first impression too. But this awesome and unique feature of the Airlite was the icing on the cake for me. To be able to simply pump the end of the bed with your foot to create a ultra light weight compact yet comfortable air mattress was too impressive to not be mentioned here. Highly recommended light weight and portable air mattress for camping, backpacking and even internal sleep overs. The kids will love this too!
Airlite Air Mattress By Fox Outfitters
The Lightest Self Inflating Air Mattress
Self Inflating Air Mattresses are typically not as light as sleeping pads due to their design. If you are unfamiliar with a self inflating air mattress then I'll give a brief explanation. Firstly they don't ever need a pump of any kind. They inflate when you open the valve, which is typically not what you expect to inflate an air mattress.
Once the valve is open, the air gets sucked into the pad, then the foam inside absorbs the air and expands to make a soft and comfortable sleeping platform. A self inflating air mattress is not typically the first choice for backpackers or hikers because they are heavier and a little more bulkier. But they are popular camping sleeping beds because of there smaller size when compared to a typical mattress and comfort levels.
The Best Of The Light Weight Self Inflating Pads
Alps Mountaineering Lightweight Series Review
Incredibly, the Alps Mountaineering
self inflating mattress weight only 2.25 pounds
(For Regular Size), which is not much at all for a mattress of this type. This sleeping pad will appeal to the camper with limited storage space. As it packs up tighter and requires less space than atypical camping air mattress, you can easily still the mattress in a carry case and find a home for it.
The reason we think the Alps Mountaineering is the best self inflating air pad (besides its ultra lightweight) is because of it's ability to handle tough terrain. This mattress was built to handle heavy duty conditions. Not only is the top side made from 'Ripstop' material, but the bottom where you can easily puncture, is made from tough Polyester Taffeta.
Available in many styles and sizes on amazon, we think many campers will be as happy as a pig in mud with the Alps Mountaineering Lightweight Series.
Alps Mountaineering Lightweight Series
Save