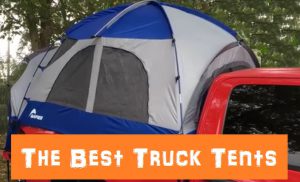 Today we are going to be reviewing the best truck tents for camping in 2020 so that you can make your buying decision that much easier.
For decades campers were making makeshift tents for the back of their pick up trucks, and many folks still do today. But in recent times, the humble truck camping has seen a facelift. Manufactures have come to the party and invented such a tent for people just like us.
For nearly 3 decades now the truck tent has been in existence. Invented by the owner of Napier Enterprises, the pop up tent campers for pick up trucks has come along way since 1990. Since its incorporation into the camping world, their have been many models and styles. However, not all models have been a success. This is why its important to research and review the truck tents that have stood the test of time and proven to be a high quality product.
Difference Between A Truck Tent & Overland Tent
The tents presented below are tents that incorporate your trucks bed as the base of the tent. Essentially, you're sleeping in the bed of your pick up truck. The tent surrounds the truck's bed with a ceiling and 4 walls, with an entry door for access. Some tents have a cab window so you can pass things in and out of the trucks cab window.
With a Overlanding tent, the tent is mounted to the trucks roof racks or if you have a racking system in place in your trucks bed. These tents sit up higher off the vehicle and allow for storage to be placed in the trucks bed, making them better for overland camping.
Benefits Of Tent Campers For Pickup Trucks
Raised off the ground. This is a huge benefit as you don't have to mingle with the critters commonly associated with camping.
Camp anywhere (Within Reason) – Park the truck and campsite established. Done!. No need to worry about clearing the site of rocks, sticks and deal with slopes. This gives you the opportunity to camp in areas that once were not possible.
Dry away from water. Sometimes rain can get into the bottom of a tent. This is not possible with a truck tent.
Items safer being that you are sleeping on your truck.
Combined with a pick up truck air mattress, this can be one of the most comfortable camping experiences known.
The Best Napier Truck & SUV Minivan Truck Tent
Backroadz Truck Tent By Napier Review
Being the truck tent founder, we couldn't help but put in one of the best Napier truck tents on the market. The BackRoadz model is not only a highly popular model, but also a very versatile tent. That is it comes in a variety of sizes from 5 foot to 9 x 9 catering for SUVs and minivans.
What Size Is Your Pick Up Truck?
Toyota Tacoma, Ford F Series, Nissan Titan etc
As we know, buying the right tent size to suit your pick up truck can be a nightmare. Fortunately Napier make it that much easier by offering a size chart. Some models like the Ford F Series can have multiple truck tents that fit while the Toyota Tacoma has just one truck tent model available. So, its important you see the various pick up truck models available for this Napier truck tent before you purchase.
In my particular case, the 8 feet Napier truck tent is ideal. What I love is how easy and quick it is to set up. In about 5 minutes me and my Wife have our own private getaway on the back of our truck. I like that the tent poles are a shocked fiberglass. This makes for a strong and sturdy support system.
The headroom is quite luxurious for this model. About 5 to 6 feet of spacious sitting area. On the 9 x 9 the head room is up to about 7 foot. So there's no shortage of space in these Napier truck tents.
This could be considered both a con and a pro: The tent takes up the entire surface from back of cab to the tailgate being down. Which is great for a more spacious sleeping area. But not so great if you have a toolbox. I recommend taking the toolbox out as it will make life so much easier for you.
Napier Backroadz Truck Tent
The Napier Custom Air Con Truck Tent
Kodiak Canvas Truck Bed Tent

Review
Ultra Premium Truck Camping
The Kodiak Truck tent is another popular choice among pick up truck owners. This model is limited however to 5.5-6 foot and 8 foot. So less options to choose from, but still covers the majority of trucks used today.
What makes the Kodiak Canvas a good design is its unique clamp on rail design with its integrated steel tube frame. This makes setting up this truck tent one of the more simple tents to mount. Not only ease of set up, but an incredibly sturdy frame for the tent to be mounted on.
The design of the Kodiak canvas is built so that it can withstand strong winds and even snow loads. Like many other, this truck tent also sets up with the tailgate down so that you maximize the sleeping space.
Unlike traditional dome style tents, the Kodiak is a tunnel like design. What this does is creates a 5 foot ceiling the entire length to the truck tray. This makes the interior cavity much more roomy and comfortable to be in.
The gear pockets are very handy for keeping the keys and other valuables safe while you sleep. During the night you can open up the 5 windows and allow for cool airflow to help you sleep better without letting the bugs in. Yes, it is protected with a flyscreen.
As for the exterior, its a highly effective water resistant tent. Made from what Kodiak call a Hydra Shield, tightly woven silicon finish which resists water getting in and providing a more breathable material. Which is great for reduction in condensation and that horrible muggy feeling associated with camping.
The shear amount of windows and front and back awnings make this water proof truck tent by Kodiak a high contender for the best truck tent for camping this season.
Kodiak Canvas Truck Bed Tent
Best Budget Pop Up Truck Tent For The Money
Guide Gear Full Size Truck Camping Tent Review
If you aren't in the market for a high end premium style of truck tent, then the Guide Gear Full size may be your best option. Not only is it affordable, its rather cool looking and very easy to set up.
Setting it up is not to dissimilar to a pop up tent or gazebo. The Guide Gear comes with velcro straps and fiberglass poles. You pop up the tent by connecting the fiberglass poles together and connecting the velcro straps around the poles and access points in your truck. Very simple and quick to do.
While being a budget model, you do loose some of the finer higher quality things like extra awnings and thicker materials used to make a more durable tent. But for the price of the Guide Gear truck tent, you get some good bang for your buck. On the inside ceiling is a mesh like pocket where you can store you keys and m]]smart phone etc. This was a nice touch to add value to the product.
There's a medium sized window and a large 'D' shaped front door which allows for enough ventilation. Not anywhere near as much as the Kodiak Canvas offers, but this is a much cheaper model. The tent also comes with a polyurethane floor and a rainfly that goes over the top to keep you dry on the inside. Overall, this 5.5 foot in height truck tent camper will do the job on a decent budget.
Guide Gear Full Size Truck Camper Tent
See The Guide Gears Quality First Hand
This short video gives you a good look into the guide great full size truck tent. Get to see the dimensions and just how much space you get. Plus notice the to windows, one on either side. As this is a budget model, you can notice that the material used to make the guide gear doesn't seem to be as durable and high quality as the Napier and Kodiak Canvas models mentioned earlier.
This is definitely important to know in my opinion. Because if you are going to be a regular pick up truck camper, you should opt for the more heavy duty truck tents like previously mentioned. The occasional camp with the guide gear would be sufficient in my opinion.
Save