I hope you love the products I've recommended below, just a heads up that as an Amazon associate, I earn from qualifying purchases. This means I may earn commissions on products bought via links on this page.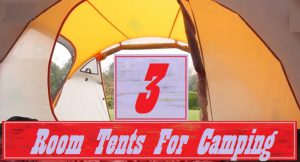 This is when 4-10 people have to squeeze into a singular tent, it's essential that the best 3 room tents for camping are used.
Camping with the extended family can be such a wonderful time, provided you have your own living space that is. But sometimes, a tent for each person or couple simply isn't practical.
Even when just bringing the kids along for the outdoor adventure, a three-room tent can prove to be the best thing you may do the whole camping trip.
Quick Links To Info On This Page
Quick 3 Room Tent Comparison
| | #Persons | Features | Price |
| --- | --- | --- | --- |
| | 12 | Large covered area, 7 windows, taped seams, 16'x16' footprint, Air-con Vents, 6'10" ceiling height | Check Price On Amazon |
| | 12 | 80" Ceiling height, 18' x 10', e-Port, 2 Doors with small awnings, Instant setup tent | Check Price On Amazon |
| | 14 | Unique design, 4 rooms, 20'x20x78" ceiling height, 12 windows, Internal storage pockets with drink holder | Check Price On Amazon |
| | 16 | Huge 3 season tent, 7' ceiling, e-port, awning over door, 1200mm rain-fly, shock cord pole and ring system for quick set up | Check Price On Amazon |
| | 10 | 3 door design, 6 windows, fits 3 queen airbeds, taped seams, 2 room dividers | Check Price On Amazon |
| | 14 | Features a huge screen room for outdoor fun, e-port, 7' ceiling, 1000mm waterproof rating on walls and fly. | Check Price On Amazon |
| | 14 | Made in USA, fits 6 Queen airbeds, 21'x10'x7', reinforced poles for a more durable structure, 2000mm waterproof rating, 2 doors & 6 windows | Check Price On Amazon |
| | 8 | Intimate cabin design, very large windows for maximizing air circulation, twin track zippers | Check Price On Amazon |
Kids Demand Their Own Bedroom
Lets face it, as kids get older, they need their own space. Sleeping with Mom and Dad is no longer considered 'cool'. But as part of the imaginary family agreement, the whole family must sleep under the one tent roof.
Rules are rules. So now its time to find a camping tent with three rooms where the kids and the parents can sleep under the one roof, but also be spacious enough that parents can also get their privacy. Further storage space for gear and laundry are welcomed inside this multiple room tent as well.
Now that we have some pretty basic prerequisites for a three-room camping tent, let us go find some of the best tents on the market right now in 2020.
*If you think these tents are 'Too Big' for your needs, perhaps check out our selection of 2 Room Tents.
My Top Rated Three Room Camping Tent
Ozark Trail 12-Person 3-Room Instant Cabin Tent Review
This 3 room cabin tent is great for a large group of people on an extended vacation. It is roomy, airy, and offers an open living space for a large number of campers.
There are pre-attached poles that help set-up the tent in less than two minutes time. In fact, there is no complicated assembly required – you just have to unfold and extend the tent – And the tent is ready for some great camping to be had by you and your family.
Tent Large Enough For Queen Air Mattress x 3
You can accommodate 3 queen airbeds inside the tent, which is ideal for up to 12 campers (Depending on body size). I find this tent perfect for a family of five campers.
It has enough room to stand up straight, with large windows on all sides of the tent. The room dividers come in handy to separate the living and sleeping spaces in a jiffy.
What Features The Ozark Trail Wows Me With
First and foremost is the unique design. This is perfect for my family of 5. We can sleep at separate ends of the tent with more privacy than our previous tent.
The set up time still boggles my mind. So fast it's almost unbelievable
Very well ventilated with 7 windows that close up completely. A window on each side to allow for air to circulate regardless of wind direction.
Average in Winter but much better in Summer due to the large air vent on the bottom. This is intended for a portable air conditioner to keep the tent nice and cool during the heat of Summer.
The large front awning is probably my favorite feature. It allows us protection from the Sun and also encourages us to sit in a group together and make memories.
Spacious 8 x 8-foot rooms with high enough ceilings to walk around in.
Power outlet portal – Great for zipping up tight to keep the critters out while accessing power.
Just A Few Hiccups
All in all, I find this Ozark Trail to be one of the most superior tents for Families needing 3 spacious bedrooms. But with anything great, there are bound to be a couple flaws. The things that bugged me about this tent are the fact the center room is the only room with a light hook in the ceiling.
The front awning while great in sunlight is not the best during rain. There's a wind vent to prevent the tent from floating away in a wind storm. But when it rains this vent lets rain into the covered awning area. Other than those 2 smaller issues, I have no issues with this great 3 room tent.
Ozark Trail 16x16-Feet 12-Person 3 Room Instant Cabin Tent
3 Room Cabin Family Tent
CORE 12 Person
This tent by Core Equipment is another quality camping tent for the whole family. It has plenty of space for up to twelve campers. In fact, you can fit three queen airbeds on the floor with ease.
This tent is a different design to the above Ozark Trail as it is a rectangular shape. This tent therefor measures in at 18 foot by 10 foot.
There are large double doors on the front and back of the tent for easy entry and exit to the tent. I love this feature because my previous tent only had one entrance and use to drive us all nuts trying to get in and out through one door, especially in the rain.
There are multiple options when it comes to ventilation and access to the tent. There are four large storage pockets and gear lofts to keep your personal items off the tent floor. There is a gear loft hook to hang a small battery lantern to light the tent in the night time.
There are two room dividers that will help you create a three-roomed tent. If not, you may roll back the dividers and create a large interior area. There are zippered privacy panels on all windows and doors of the tent. This helps guarantee your privacy when needed.
Some Of The Pros Include:
I love the spacious layout. Extremely large to accommodate 3 queen size air mattresses
Makes for a great

Car Camping Family Tent

due to its shape and size.
Very waterproof and can withstand a good downpour.
The design makes it rather windproof as well which is relevant to some campers.
Fully close-able electrical port if you don't need to run a lead in and out of tent.
The windows zip downwards!. Think back to your last tent and how the windows zippered upwards and didn't really give you privacy. When they zip down you can unzip just a little to let light in, fresh air and still maintain privacy. Excellent.
Any Cons?
While the CORE is a great family tent, I have read some reviews from other campers who had a nasty experience. So I think it's worth mentioning just so you are aware.
Apparently the heavier top on this tent can cause it to cave inwards when too much downward pressure from rain or wind is applied. Whether this is due to incorrect set up and not using the guy lines I'm not sure. But besides those couple complaints, I'm sold on it being a solid tent.
CORE 3 Room Instant Cabin Tent
Best 3 To 4 Room Tent For Large Camping Groups
 Ozark Trail Base Camp Cabin Tent 14-Person
If you have a large group of campers in your family, this tent is ideal for you. It can accommodate up to 14 persons. The base of the tent would look like a large plus sign when viewed from above.
There are three sewn-in dividers to separate the space into four rooms. So if you are camping with friends that are couples, each couple can get a private room to themselves. This tent really does offer up numerous camping possibilities.
The all round ventilation and visibility are excellent. The mesh roof helps keep mosquitoes and other insects away. All campers will have their own access and exit points to the camp. Which is very important for family members and also group campers.
Hence, they can come in and go out without disturbing their colleagues in the process. The entire tent can be set-up within 15-20 minutes. The tent fits up to five queen airbeds which is just massive. There are taped fly seams that help prevent leakages during heavy downpours.
Some Key Features Of This 3/4 Room Tent
Technically a 14 person tent, this multi-room tent offers great flexibility in regards to rooms and storage possibilities.
Holds up well in heavy downpours without any leakages. However, with a tent of this size, I would want to maybe waterproof the seams or have a bottle on hand for emergencies.
The unique + design allows for plenty of storage space with good standing height.
There is an e-port access for all your electrical extension cords.
Well designed windows for maximum airflow. The mesh ceiling also allows greater air intake during summer and prevents the build up of condensation.
I can't get enough of this tent. It's literally like walking into a house. You go in one door and then into the living room. AKA as the center where you have 3 bedrooms sprouting off in different directions. It's without a doubt the best large family camping tent I've ever seen.
Ozark Trail Base Camp 14-Person Cabin Tent
The Biggest 3 Room Camping Tent I've Seen
Tahoe Gear Ozark 16-Person Cabin Tent
The Tahoe Gear Ozark can accommodate up to 16 persons. Hence, it is ideal for a camping trip for a large group of family and friends. Enjoy the day times in an airy open screen room. You may spend a few restful hours in the separate master suite area if you wish. The tent comes with set-up poles for easy assembly.
The tent also has a rainfly for heavy downpours and unexpected weather conditions. The tall wall height and the seven-foot center help you'll move around easily inside the tent. It has many windows, floor vents, and open mesh design. This helps with good airflow during the days and nights.
Pros –
Floor material comes up the walls about 6 inches to keep it nice and dry inside
Simple to set up due to the round design and color-coded poles. Which also allows for the best airflow possible during hot sticky nights
I just adore the screen room. It's so open and spacious. Perfect place to be when its raining outside and you're inside dry but enjoying the beautiful sights.
Tahoe Gear Ozark 16-Person Cabin Tent
See The Quality And Walk Through Of The Tahoe Gear 16 Person Tent
This amazing video review gives greater insight into what to expect from the 3 room 16 person tent.
Three Room Tents For Camping

There's a lot to love about this Ozark trail 3-room family cabin tent with the most obvious being the amount of room it has. Since space is essential in big family/couple camping trips, having multiple room options like on this Ozark Trail is pivotal.  
Space is precisely what you'll get with this fantastic tent, as it boasts 3 spacious rooms for camping in. 
A Tent That Fits Multiple Queen Air Mattresses
One of the more important things with these bigger tents is just how many queen air matresses they can fit since they're the most common camping matress. Being a 3 room tent, you're able to provide 3 queen-sized mattresses, which should leave you with room for your gear as well.
With such a large tent there's a good chance you'll be having a decent amount of people occupying the premises. So the tent needs to breathe well since large amounts of body heat in enclosed spaces can get warm quickly. This tent has a total of 6 windows and two side doors, which allows plenty of ventilation to keep you cooler when it gets warm.
Need A Tent With Privacy?
There's something I consider to be necessary with these larger tents when you have a lot of people, which is privacy. The privacy of the Ozark Trail is another reason I like this tent since it comes with 2 room dividers to help with keeping children in their section of the tent. Allowing adults to have their own space when needed. This is great for when you're camping with couples or taking kids.
The seams of this tent are well made and taped to reduce water from seeping in through the tiny sewn holes. Bt as I always suggest to people, it would be a good idea to put a coat of water sealer over the tent if you want it to handle the rain even better.
There isn't a lot this tent can't do, in my opinion, and it's a high-quality tent that does what it describes. It protects well from most weather and provides you with not only space but also privacy. The Ozark tent could be a great addition to anyone's camping set up.
Ozark Trail 10-Person 3-Room XL Family Cabin Tent
Best Three Room Tent With Screen Porch 
Tahoe Gear is responsible for some excellent camping equipment, and they continue this trend with this impressive large 3 room cabin tent with a screen porch. A lot of people underestimate the value of a screen porch when camping, but most of my favorite tents have screen porches. I find them an excellent addition to any tent as it makes camping even more enjoyable.
There are several reasons why a screen porch is useful when camping with my favorite being when it's raining. It allows you to get inside your tent and take your shoes off without dragging wet grass into the tent. The extra space is handy to have when camping, and it's nice to not drag excess dirt into where you're sleeping.
The screen porch on this three-room tent is massive. By having such a large covered outdoor area like this, you can do plenty of fun things outside of the tent, all while being protected from the weather and mosquitoes.
3 Season 3 Rooms
This is a 3 season tent so it's going to work for most weathers. It works exceptionally well in the warmer months since it has plenty of ventilation. One thing to note is that this tent isn't designed to be in the extreme cold and snow, so you should look more for a 4 season tent if that's what you're planning.
Thankfully they included an e-port for powered camping sites. So if you were planning on taking things that need an extension lead, this tent would accommodate that without leaving the front door open to run leads in and out.
Since the rainfly of this tent is also the screen porch and mosquito netting, it must be always on. This really only affects the setup time since the tent does breathe well. The set up of this tent isn't too difficult and won't take long once you get used to setting it up.
Sadly there is one downside to this tent, and that is it doesn't come with its own footprint, which is a bit disappointing. You can find ones that fit it, but I would have preferred if it came with its own just for convenience. For me, it's not a dealbreaker but something to consider before purchasing. Overall, I just can't get enough of the sheer space this tent offers and the huge screened area.

Tahoe Gear Carson 3-Season 14 Person Large Family Cabin Tent
Best Multi Room Tent



If you're a lot taller then the average person, then you've no doubt come across the issue of not being able to stand up straight inside a tent. This America Empire tent is out to change that with a maximum height of 7 feet, making this much more comfortable taller people.
Being one of the best multi-room tents, the Americ Empire has a lot of space for you to embrace. With it measuring 21ft by 10ft so tall people can stand up straight and lay down without being cramped. So there are several reasons to love this tent if you're tall and even if you're not since who doesn't like to have space in their tent?
Having a good level of waterproofing will make a big difference to your camping tents, which is something this tent has. It's rated to handle up to 2,000mm of water over the course of an entire day. There is better out there, but they usually cost a lot more than this tent.
One thing about this tent that stands out is where it's made. Most companies try to hide where it's made, which usually means China, but not this company. This tent is made in America, which I know a lot of people will be happy about and possibly be the deciding factor if they purchase this tent.
If there were a downside to this tent, it would be the lack of a port for cables. This isn't a big downside, but it's something worth mention in my opinion. You can still run leads through the front door if need be, I just like t have an e-port for easier access.

Setting up this tent is only tricky the first time as you're trying to figure out where everything goes. Once you've got it all worked out, it won't take you long, which will make a big difference to the start of your camping trip. Anyone who had to spend hours setting up a tent at the beginning of the journey knows what I mean!
Americ Empire 210ft2 Family Tent
3 Bedroom Tent For Camping

Smaller 8 Person

Size
Sometimes having 3 rooms in your tent isn't necessarily about having all the extra space it offers, but more about the privacy it can allow. This is what this GigaTent is focusing on being a smaller 8 people 3 cabin tent. This allows you to have space and privacy for a smaller group of campers.
This tent offers a lot of ventilation for its smaller size with having 6 windows and 2 doors. This is the amount some of the larger 14 person tents don't even have. This tent excels in the warmer months thanks to this clever engineering design choice in my opinion.
Combine this ventilation with this tent coming with a removable room divider gives it a great amount of versatility with who will be using it. I mentioned earlier how much I like dividers, so you may consider me a bit biased with this.
Straight Wall Cabin Design
For an 8 person tent, there is still a good amount of room in this tent thanks to it being 15ft by 10ft. When you combine this with how they went with straighter walls, it does give this tent more space than you'd think.
Straight walls like this allow you to have more headroom and the ability to put camping cots along the walls. With angled walls, you can't sleep directly next to the wall, unless you want tent material in your face as you sleep.

I do wish it had a higher maximum height since it's only 75 inches which will work for the average person but taller people will struggle. So it won't be an issue for everyone, but if you're taller then it's something to consider.
The weight of this large tent is surprisingly small meaning it's quite transportable. It only weighs 38.8lbs which is a lot lighter than some of these larger tents. This makes it easy to carry to where you'll be camping. This works well for those who camp a good distance from there vehicles.
When it comes to 3 room tents they're usually a standard design with the tent being divided into 3 fairly evenly. This tent goes a different route by splitting the tent in half then cutting one of those halves into two separate rooms. So it gives you two smaller rooms and one larger room which is something I like.
Especially if you have 2 kids that want their own room. You can let the kids have the small rooms while the parents get the larger size bedroom.
3 Room Cabin Tent By GigaTent
What To Consider When Buying A 3 Room Tent
Hands down, the biggest advantage to buying a large 3 room tent for caping is privacy and space. However, this extra allotment of space can come at a price. Besides costing more money, they can actually cost you more when camping.

Depending on the size of the tent, you may actually need to ook 2 campsites next to each other to cater to the large footprint of the tent. While certainly not always the case, but absolutely something you should consider. Some car camping sites are pretty small. So it would be in your best interest to check the dimensions of the tent and compare them with the campsite's dimensions.
Can Be Tricky To Assemble
The more rooms you add to a tent, the trickier it can be to setup. Which is certainly the case for first time campers and first time setting up. But don't let this deter you, because once you've had a few goes at it, the tent becomes relatively easy to set up.
I always recommend that you set up any new tent in your backyard first. This saves you the headaches of trying to set it up in potentially windy conditions later on. Once you have it set up in your backyard, you can also apply an extra coat of waterproofing spray. This will ensure your new tent is waterproofed to the maximum.
They Take Up More Space
While the idea of a huge, spacious 3 room camping tent sounds magical, in reality, they take up a lot of space in your trailer or vehicle. This is something you should not consider after the purchase of your new tent. Ask yourself, do you have enough room in your vehicle for such a large family tent?
Storage space is also relevant to when you return home from camping. Knowing how to store your tent in a well-ventilated area will ensure you maximize the lifespan of your tent.
3 Room Tent Size Options
After considering how much storage space you have for such a tent, next you need to figure out how many people you need to accommodate. As you can see from some of the best 3 room camping tents above, they come in a wide range of sizes.
Being a 3 room tent doesn't always mean that it can cater to large numbers of people. So consider the footprint of the tent and the number of persons the tent is labeled as. But bare in mind that the number of persons the tent is labeled as, is the maximum. This means you sleep side by side and have no room in the tent for storage or walking around.