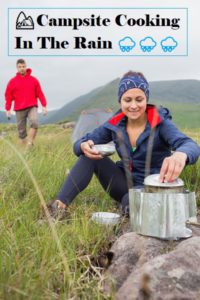 Knowing how to cook when camping in the rain can be a skill not often required, but certainly a valuable one to have in your arsenal. I'm sure you have all experienced the joy of going camping to only be disappointed once the rain sets in.
Or perhaps you have been out all day exploring the great outdoors looking forward to cooking dinner over the campfire only for the rain to crash the party. Now you're left wondering what to do now?
Luckily, with a bit of advancement in preparation, you can minimize cooking in the rain and avoid having a soggy dinner by following these camping tips on how to cook in wet weather. It's important that you first use the right type of
camp stove
for cooking in the rain.
Essential Tips For Cooking in Rainy Weather
Preparation is key to successfully cooking in the rain. If you head to your campsite unprepared, you're just asking for trouble. Preparation can be as simple as investing in the
best Tupperware for camping
that will ensure your food doesn't get wet.  But the more prepared you are, the better your chances of successfully cooking in the rain.
Portion Meals
Before I even think about cooking meals while out camping I make sure that I have packed my food in bags that are resistant to water. I will use zip lock bags that open and close for easy access. Ziplock bags are a brilliant camping necessity, especially when you're trying to cook while it's raining. By doing this, there are minimal possibilities of pre-soaking your meals in one way or another.
Use the Correct Stove
In case you are experiencing sideways downpour, I opt to go for a liquid fuel stove that is well built with a windscreen. I may also get a canister stove that perfectly suits chilly and windy weather conditions.
The precaution I will have to take is to prevent entirely enclosing it in a screen, as excess heat may result in the explosion of canisters, which nobody wants. In case you don't have some form of rain and wind blocker, try to position your camp kitchen next to something that can act as a windbreak, such as a rock wall, car, or behind a thick tree.
Bring a Lighter
I am not restricting anyone to have waterproof matches, yes, they are fine. However, the reason why I prefer lighter is that it is faster. Often, I make sure that my lighter is kept in the side pocket of my waterproof bag so I don't forget to bring it. I can't tell you how many times I have left the lighter at home. I will then put the lighter in my rain jacket pocket when I reach my camp so its always on hand.
Position your Camp Kitchen Beforehand
Once you arrive to your designated camping site, map out where everything is going to go, including the camp kitchen. As mentioned earlier, try to position the kitchen where it will get some form of a windbreak. I make sure that my stove, cooking utensils, and fuel, are in one fixed point for faster reach to prevent leaving my bag open in the rainy weather condition for a longer duration.
Avoid Cooking in Vestibule
At times, it is hard staying cozy and preparing food in a space that lacks proper ventilation. A vestibule and space with poor ventilation, give room for the accumulation of toxic fumes, such as carbon monoxide, which is poisonous. Also, be mindful of food scraps laying around your tent as there are high chances of unnoticed visitors (rats, bears, etc) because of the food scents from cooking in the vestibule.
But, if the preparation of food outside is a bit difficult because of adverse weather conditions like intense wind and rain, then vestibule cooking is the only option available at times. Depending on how open and large your vestibule is, you will need to ensure the cooking area is well ventilated. So that fresh air gets in as the exhaust gases find their way out.
Once you are done with cooking, remove your stove outside the tent and ensure your cooking utensils are kept at one point so that you can quickly locate them later on.
---
Setting Up Shelter For Protection From Rain
Another area of concern when it comes to cooking in the rain while camping is setting up sheltered areas on a campsite to cook underneath. Again, this comes down to preparation. One cannot expect to set up a shelter during the middle of a storm, so plan ahead and get your shelter set up on the day you arrive to the campsite.
A Gazebo Tent Is The All In One Solution
A gazebo tent is a tent or multiple tents that attach to the poles of a gazebo/canopy. If you haven't bought a tent yet, I highly recommend you check out the
gazebo tent options available
.
With this kind of tent, you can set up the camp kitchen under the gazebo. The kitchen is always sheltered from the rain, so no need to worry about getting wet when cooking. The area is well ventilated so no need to worry about toxic fumes.
With this style of tent, you attach smaller tents to the poles of the gazebo. So you have instant access to your tent from the kitchen area while you also have shelter for getting in and out of your tent.
Pop Up a Trekking Umbrella
If you are sleeping alone or camping alone, setting up a trekking umbrella, which is very simple and fast is a good way to get protection from the rain so you can cook. A trekking umbrella is ideal in conditions where the wind is not too strong.
Set Up a Tarp
If you are camping with a large group of people, I often prefer to go for an affordable tarp, to protect the group from the rain. However, you will need to ensure that you have access points to make your tarp secure with using guy lines. Using
reflective guylines
is a good idea, especially when there is a large number of people gathering under the tarp.
If you don't have access to structural points to tie the tarp off to, you can always use trekking poles. However this does leave insufficient headroom to stand, and you will be left with is to sit on the ground while preparing your food. I also ascertain that the tarp is safe and angled so that the downpour can drain off. In case I face a problem of sideways rain, I will have to make my tarp edges close to the ground level to act as a wind barrier.
Dangers of Cooking Inside Tent Because It's Raining Outside
The greatest danger of cooking inside a tent is the emission of carbon monoxide by your stove. Carbon monoxide is an odorless and invisible gas that affects your breathing. It is a product of carbon-based fuels like alcohol, canister fuels, wood, and fuel cubes, to name a few.
When preparing food using a camping stove, it is often advisable to ensure the tent has enough and well-ventilated spaces. On most occasions, it would be better to cook from outside, but in extreme rain, there is no alternative but to cook from inside the tent.
When cooking inside a tent, you are best off using a
tent stove
that has been designed to be used inside a tent. However, not just any tent. The tent also needs to have stock jacks so the fumes can be dispersed outside the tent.
Cooking Inside A Tent Can Be Poisonous
Inhalation of carbon monoxide gas can lead to poisoning. Some of the symptoms of poisoning include headache, nausea, and disorientation. Other symptoms of carbon monoxide poisoning are difficulties in breathing, stomach pains, and general body weakness, to name a few.
In case you are not aware, the poisoning caused by carbon monoxide has a negative impact on the brain, which may eventually lead to death. This is a problem affecting everyone that cooks inside a tent as a result of ignorance.
Remember, prevention is better than cure.