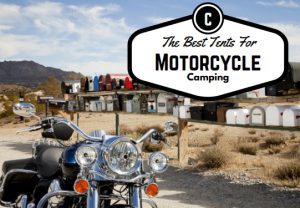 Camping is all about getting out and escaping the harsh reality we call life. While motorcyclists hit the long remote straights to escape the crazy city life we come to deal with on a daily basis. Put the two together and you have a match made in heaven; Motorcycle camping.
The one thing that is often considered daunting is choosing a tent. When you are trying to buy the best tent for motorcycle camping you have to take off your camping hat, and replace it with your road helmet. That is, forget everything you previously knew about camping, because bike camping is whole other kettle of fish.
Most folks enjoy the luxury of a car or caravan when camping where storage space is optimal. But even then, finding room to squeeze in the tent can be a hassle. No try thinking about how much gear you really take camping, and imagine it sitting on the back of your bike?. It doesn't work right. Heck, I would imagine that many would find the storage space higher for canoe camping than that of a motorcycle. But hey, not everyone loves the water right.
What Type Of Tent Is Best For A Bike Rider Then?
Before you pack your bike ready to go camping, it's important to know how much the weight capacity is. How much luggage can your bike handle. Does the luggage weigh more than you?. If so this could be a serious issue.
Cutting down on not only the weight, but also in the size department starts with the humble camping tent. Forget those luxurious family size tents with built in solar panels on the roof (Is there such a thing?, that would be cool), motorcycle camping is about traveling light. Obviously with a bigger bike you can carry more gear but can you imagine traveling the wide open roads on a Honda Rebel 250 with such a heavy load?. Of course not, so packing lightweight and compact is key to a successful motorbike camping trip.
Besides lightweight and compact,, the only other major concern when it comes to choosing a tent is sheltering the bike from the elements. Fortunately some manufacturers have come to the party and designed tents just for motorcycle riders. How awesome is that right.
These tents basically allow you to keep your bike hidden from prying eyes and out of the elements by being covered in a section of the tent. The only other alternative is to pack a tent similar to what tents Kayak and Canoe campers take on the river. These are small light and compact as much as possible to cut down on weight.
The Best Camping Tent Suitable For Motorcycle Adventures
The Harley Davidson 4 Person Motorcycle Dome Tent
While this tent is classified as a 4 person tent, don't be fooled into thinking 4 adults could fit in here. That is unless you are sacrificing your bikes spot in the tent for additional mattresses.
This tent can comfortable fit 2 adults with luggage in the sleeping area. Any more than that and life starts to get a little too close for comfort. Which leads into the next important questions? How many motorcycles can this tent keep sheltered away from prying eyes?. While I recommend no more than 2 in the sleeping bay, the bike area of this tent can cater up to 3 bikes. So invite a buddy to park his bike with yours and score yourself a beer for the troubles.
The Harley Davidson motorcycle tent is surprising well built for the money and is very waterproof. When you first unpack this tent, you will get the feel of this material and just know it's a quality tent. It's got that feel about it. After randomly running into a veteran of 10 years using this exact tent I got the answers I was after. This tent holds up extremely well, even after 10 years of riding and camping. Just a small patch-able hole was all that was noticeable in this veterans tent. When you consider this is a rather cheaply priced tent in the grand scheme of things, getting ten years out of it is wonderful.
Considering the shear size of the expanded tent, it's actually a rather light product to carry. Takes up minimal space on your luggage (Ties down well on top of the luggae bag).
*Word of warning; You may want to buy in bulk, the amount of people you will impress with this tent is phenomenal. So you may as well sell a few on the side right, take a little cut for advertising this beast.  Camp this bad boy at the upcoming Sturgis bike rally and your golden.
Harley-Davidson Rider's 4-Person Motorcycle Dome Tent
Next Best Bike Rides Tent :Coleman Hooligan Tent Review
While not a traditional tent with bike garage tent like the Harley model, it's still serves as a very good shelter for any bike rider. Designed with backpackers in mind this tent is domed to fight against harsh weather conditions and is considerably lightweight. Ideal for both the bike rider and the backpacker.
Setting up the Hooligan is quite simple and fast. But if there's one piece of advice I can share is this: Be careful when aligning the four corners. When staking down the opposite corners, the tension is quite tight, which is good for stability. But little difficult for assemble. So keep one of the corners a little loose until the end and then drive it in firmer.
The Positives About  The Hooligan Tent
Depending on how cold it gets t night, the option to leave the mesh roof exposed is a wonderful idea. It allows you to lay on your back and look up at the stars without getting eaten by insects and bugs.
Two large openings allow excellent air circulation. This is especially useful in Summer.
While the

The vestibule

(Big entry roof flap) won't fully cover your motorbike, it does make as a great front door option. That is, leaving your boots, shoes etc at the front under cover so that they don't get wet and that you don't bring the sand, dirt inside the tent.
My Only Gripe with the Hooligan would be it's size. While not a traditional Dome tent, an extra foot would make for more comfortable living with 2 people. Also there's no inner hanging bracket to hook your lights up too. This was disappointing but not a deal breaker for me.
The Hooligan 4 Person Tent
The Perfect Solo Riders Camping Tent
iUCar Off The Ground Portable Tent Cot
I really love the idea behind this iUCar tent cot. Strange name, but super idea. They have taken the humble tent cot to the next level by making it more of a tent. Having this front entry roof opens up a whole new world over the
traditional camping tent cot
. Previously everything had to go inside the tent, but now thanks to this unique design, you can leave your dirty old bike gear outside while still protected from the elements.
Being a high quality tent cot, the iUcar is also waterproof. So no need to stress about getting wet. But whats even better is that you are essentially sleeping on a cot. Which is raided off the ground so you will never be sleeping in water again. Brilliant idea for anyone needing a portable sleeping bed and tent.
The tent and cot are very strong and durable. Made from high strength aluminum alloy, yet light enough to take motorcycle camping. Weighing about 5.6 pounds, you can eliminate both the tent and mattress from your bike packing procedure. When packed down into the provided carry bag the tent measures just 22″ 5.9″. This is the all in one sleeping solution bike riders have been waiting for.
iUCar Off The Ground Portable Tent Cot
Alternative Tents For Motorcycle Riders
If you are looking for a more traditional style of dome tent which is lightweight and very portable, then don't forget to consider the kayaking tents. These tents are proven to be easy to transport and perform against Mother Nature.
As briefly touched on before, a tent cot is also an idea to consider. They do come in oversized models as well which can cater to the 2 person teams. Naturally this would feel weird sleeping in the same cot if it wasn't your Partner. They are not roomy like tents, but make for a quick and easy portable sleeping solution.
Some Helpful Tips For Beginners Going Motorcycle Camping
While just about anyone with a bike and a tent can tun the key and head out the door headed for a remote location millions of people only dream about visiting. There are some basic common sense rules that you should apply to your motorcycle camping trip.
It can take a few trips before you nail down exactly what you need to take with you, but here's a few pointers to get you started and hopefully a successful retreat out in the great unknown.
Pack accordingly – Mother nature is unpredictable so always pack rain gear. But pack it last or somewhere near the top of your load to ensure quick and easy access when the time comes.
Buy quality tie down straps for securing your load. Nobody wants to see you loose half your gear on the Highway dues to stingy strapping. This is not the ideal way to start a camping trip (Or finish one).
Don't overload the bike. Check in the user manual for the payload of your bike and don't push your luck. There's a weight limit for a reason.
Just like when you go traditional camping, pack a first air kit with equipment that could save your life.
Don't forget food and water. Have a plan in place before you head out the door. There are options available to take cooking equipment with you and cook from a campfire. But this does chew up a bit of space.