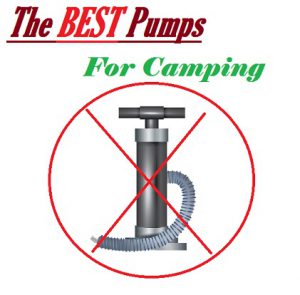 With the prime time to be camping approaching us quicker than we can inflate our air beds, prepping for the greatest adventure of the year is right now. A very common item often neglected is the air mattress pump. Which as we know is a critical element for camping in comfort. So what is the best air mattress pump for camping that we can truly rely on to be there for us when we need it most.
This is what we had endeavored to find out for the months leading up to the warmer months. After much research and reviewing a few of the leading brands in the camping sector, we have narrowed it down to just 3 top rated camping air bed pumps.
Buying a new pump can be for a few reasons like; old pump is broken, old pump is too SLOW at filling the air mattress or you have a new mattress which didn't come with a pump. If for whatever reason you need a new mattress and are planning on camping this year, it's advisable to buy a camping air mattress with a pump included for convenience and a guaranteed nozzle fit.
Tips For Buying New Pump For Campers
Rechargeable Possibility. It's a good idea to look for a pump that can be used without the need of electricity. A rechargeable built in battery is perfect for campers that don't intent to camp on powered camp sites.

12 Volt Charging Option. Having a car charging kit for the pump is a huge bonus if you plan to take the car or RV camping. This will ensure you never run short on air.

Multiple Nozzle Attachments. Many manufactures use similar nozzle fittings. Generally speaking you can find a decent pump will come with at least 3 attachments to cater to different size air mattress nozzles.

Powerful Beast: Is it quicker to pump the air mattress up by mouth than it is with a pump? If this is the case, you need a more powerful pump to get that baby inflated in under 3 minutes.
Our Top 3 Camping Air Mattress Pumps
#1. Intex Quick-Fill Rechargeable Air Pump Review

The Intex Quick Fill ticks all the boxes for being the best of the best in regards to a air mattress pump suitable for camping. If you have done any research on pumps previously, you may have noticed that finding a pump that is rechargeable, can be charged via the mains (110-120v) and ALSO charged via the 12v car charger is a hard task.
Depending on the size of your air mattress, the Intex Quick Fill can get a 8″ Full size mattress up and running in about 3 minutes. Which is a heck of a look quicker and easier than using a foot pump. The 3 nozzles that come with the pump will fit many of the brand name mattresses like the Coleman.
Pros Of The Intex Camping Pump
Light (2 Pounds) and easy to transport
Has a decent charge lifespan per charge. Easily fills a few air mattresses per charge.
AC & 12v Charging possibilities
Inflate & Deflate in minutes due to the 600 LPM max air flow
Multiple nozzles to suit many air mattress brands
Great value for the money
Cons
No battery level indicator which is quite frustrating
Must be charged overnight before first use
Labels on switch are a little obscure to read at night
Intex Quick Fill 12v, 110-120v Rechargeable Pump
#2. Coleman QuickPump Range Review
The Best External Air Pumps For Camping
It wouldn't be a camping related product if Coleman wasn't recognized. Being a brand name famous in many countries throughout the world, Coleman products are a household favorite. With the Quick Pump range, you get a great selection of air mattress pumps suitable for camping.
The QuickPump range includes 4 seperate pumps: A 120 Volt mains only pump, a 12v car pump, Rechargeable pump and a 4D battery powered pump. In terms of camping the Rechargeable and the 4D versions are best suited.
The rechargeable Coleman pump requires mains to charge the pump. So for short 1-3 night camping trips on a campsite with no power, you could go with this model. On the other hand, you have the 4D battery powered pump. With the battery powered version you could take this pump on an extended camping trip ensuring you bring a few extra batteries or a solar powered battery charger. A charger like this is ideal for camping as you can always have power for your torches, pumps, fans etc.
The only downside to taking a battery powered pump is that the 'pump rate' is slower than that of the rechargeable pump with built in batteries. The 4D air flow rate is 14.7 compared to that of the rechargeable version 23.78 CFM. But having the peace of mind with using a rechargeable external battery and potential solar power charger is worth the slower inflation in my opinion.
Coleman QuickPump Universal Rechargeable
#3. TexSports Rechargeable 12v & 120v Air Bed Pump For Camping
TexSports have been climbing the ranks as one of the best outdoors and camping suppliers for the last 50 years. So it's no surprise to see them ranked #3 for the best air mattress pumps for camping. This pump is similar to the Intex Quick Fill pump being both 12v and 120v rechargeable.
It's important to note, that with any rechargeable air pump you cannot use the pump while being charged. This could cause motor burn out and is typically the reason why it must be disconnected before use.
The TexSports also comes with the 3 nozzle adapters for pumping out 64psi: Double lock/Boston nozzle for many Coleman and other brand mattresses and the pinch valve nozzle typically for smaller inflatables like beach balls.
As for charging, again you will need to make sure you fully charge the pump before heading outdoors. Nobody wants to fully charge a pump from the cars cigarette lighter. So make sure to fully charge overnight for best results. Longevity of the charge is pretty typical. Nothing amazing yet not pathetic that it won't pump up a bed. A fully charged pump should be able to pump at least 2 Queen air mattresses and even have charge to blow out the tent.
TexSport Rechargeable Air Bed Pump
What Happens If Your Air Pump Breaks While Camping?
Being prepared is the best thing you can do in regards to camping, I'm not talking about making sure you know how to cook on a campfire either. When it comes to any product known to man kind, they break. Not only do they break, they break down at the most inappropriate times. Like when you're out in the middle of nowhere.
So before you get carried away looking for a high quality pump to provide you with a awesome nights sleep on top of the best air mattress. Be prepared with the knowledge of how to inflate a mattress if your pump suddenly dies. This short but amazing video will show you how.

Save