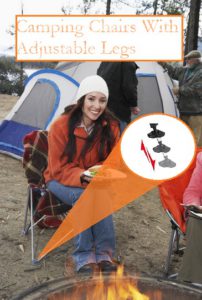 For some camping means setting up base camp lakeside or nestled on the side of a mountain where the terrain is not always flat. It's times like this when you need camping chairs with adjustable legs so that you can sit comfortably without falling out of your chair.
The benefits of buying an adjustable camp chair far outweigh the sometimes more expensive cost. Having the ability to adjust the height of the front legs or swivel the feet to get a more stable foundation can prove priceless.
The number of times I have camped on relatively flat ground, only the have to reposition the chair a million times to find level ground is phenomenal. They truly are a wise investment for the serious camper.
Having the height-adjustable legs also helps when you are sitting on soft ground, such as the sand when you're beach camping, especially if you're a heavier person. This is because you can extend the front legs taller to allow for sinking into the sand a few inches.
While there are plenty of camp chairs to choose from both online and instore, the options with adjustable feet/legs are quite limited. Below you can find 7 camping chairs with adjustable legs or swivel feet to help assist you in your buying decision.
Compare Adjustable Camp Chairs
Reclining Camp Chair With Front Adjustable Legs
Timber Ridge has gone out of their way when they were designing this reclining camp chair with front adjustable legs to make it one of the best on the market. It gets a lot of small things right that make it one of the more comfortable camping chairs and one that I feel would make a great addition to your next camping trip.
This chair does come fully assembled which is something that I really like since it helps save you some time. While this is not the biggest thing it's still something that I really like since it makes life easier.
The Comfort Is High On This Timber Ridge
Camping is meant to be an enjoyable experience and being comfortable is one of the best ways to achieve this. Combining the padded backrest with the reclining function was one of the smartest decisions that Timber Ridge did in my opinion.
One thing that I really like about this chair that really stands out is the amount of room you have on the seat of this camping chair. It has impressive measurements of 22″ wide and a depth of 19″ giving you plenty of room so you don't feel all cramped up in it.
Durability And Stability
In my opinion, there are things that camping chairs need to have in order to be even considered taking on a camping trip, this is durability and stability. By making the frame of this camping chair out of tubular steel you get an excellent amount of durability.
When you're camping you will always come across an area that can't be used to sit on since it's uneven. Which is a big part of the appeal of adjustable legs in my opinion. With the legs on this chair being able to extend between 15.5″ to 21.5″ will allow you to be more stable.
Timber Ridge Heavy Duty Camp Chair With Adjustable Legs
Fishing Chair With Height Adjustable Legs
You know when a chair has been specifically made for fishing you're going to be in for a good time since fishing is one of the best relaxation methods out there. Earth Products have done a great job in helping out the fisher who wants to be more comfortable and relaxed when they're fishing.
By using a combination of steel and aluminum for the frame on this camping chair they have managed to keep the weight down to 10.5lbs. With the strap to carry this over your shoulder makes carrying this camping chair to where you will be fishing easy to do while still holding your other gear.
Perfect For Fishing!
Fishing off a bank and using a chair can be a difficult experience since they are rarely even and you end up sitting forward. The adjustable front legs and swivel feet on this chair will help keep you upright and prevent you from sinking in the mud which is a great feature.
By including a rod holder to this camping chair they have made it an excellent addition to your next camping trip. If you're someone who likes to have multiple rods out you can leave one in the holder and use a second one in your hands increasing your odds of catching something.
Excellent Bonus Features That Help With Fishing
While the next two features aren't as useful as the adjustable legs and the rod holder are for fishers, they're still useful. There are two cup holders so you're able to relax even more by keeping two drinks beside you before having to get up and get another.
There is also a zippered storage pouch that is useful for storing things like your phone and keys so they're protected from the water. This is just a nice quality of life improvement that once you've used it's hard to go back from.
Fishing Chair With Height Adjustable Legs
Lounging Camping Chair With Adjustable Feet
When you're just looking to lounge about in a comfortable chair on your next camping trip then this Eagles Nest lounger by ENO is a great option. It has been designed with keeping you comfortable and relaxed as the most important thing which is something I think we all can enjoy.
They went with a 210D ripstop nylon for the fabric which is a tough fabric that helps prevent tears and punctures. So you will get a good amount of durability with this chair.
The King Of Comfort Is Back
There are many ways to improve the comfort of a camping chair and ENO have knocked it out of the park with this chair. The simple addition of the high back on this camping chair makes it extremely comfortable lounge in since your whole back is getting support and not just half of it like many others.
Another thing that sets this camping lounger apart from a lot of the other chair on the market is the integrated headrest. In my opinion, the headrest is one of the best additions of this camping chair since you can't forget it since it's integrated so you will always be prepared for comfort.
Excellent Design Increases The Comfort Even Further
Because of the way the chair is shaped you will find that your arms are going to sit along with the armrest comfortably. Since your arms sit so naturally your comfort is increased even further which as you may have noticed is the key feature of this camping chair.
The adjustable legs on this chair are a little different from a lot of the others on this list. All the legs on this camping chair adjust at the same time so it can struggle on uneven ground. But the 2 heights you can get into with this chair are both really comfortable with one being low to the ground, and one higher.
The adjustable legs give the chair a unique aspect for short campers. It allows them to sit low to the ground, while allowing them to adjust the height to how they require.
Outfitters Lounger DL Camping Chair
Camp Like A King With An Adjustable Footrest
Are you looking to make everyone at the campsite jealous of just how comfortable you are compared to them? Then this extremely comfortable camping chair by Vingli is a great way of doing this!
It is sort of a cross between a camping cot and a reclining chair. You will be relaxing like a true king and will be the talk of the campsite with everyone wanting to know where you got your throne from.
Something that I really like is that the steel tube frame gives this chair a good amount of weight support. It's able to handle up to 350lbs making it fairly strong for my slightly bigger people out there.
Rest Like A King
Just from a glance, you can already see the difference between this camping chair and a lot of the others on the market. The adjustable footrest will allow you to relax with your feet up which will take you to another level of comfort compared to your standard camping chairs.
While I personally love the footrest, there are times when it can get in the way since it does take up a lot of room when out (58″ long). You're able to fold it away and use it as a normal camping chair so it offers you some versatility in where you can use it.
More Than Its Footrest
The addition of the footrest is something that does really stand out but this chair is more than that in my opinion. They went with a higher back and made sure that it was padded along with the actual seat as well which makes it really comfortable to sit on.
They went with a mesh padding design which makes this chair really easy to sit in for long periods of time. By going with a mesh it has made this chair really breathable so you stay cool when you're sitting on it for long periods.
VINGLI Folding Fishing Chair Plus Foot Rest Attachment
Height Adjustable Camping Chair
Boundary Life has done a lot right with this height-adjustable camping chair in my opinion. They have got several aspects of this camping chair just right such as the excellent adjustable legs which are some of the best on the market.
Adjustable Legs Done Just Right
Adjustable legs are one of the best features on any camping chair but Boundary Life has nailed this aspect on this camping chair. What they have done is make sure each leg can be adjusted individually which makes this chair excellent for uneven surfaces. Since most chairs will only let adjust the front legs which can leave the back unbalanced.
The legs on this chair don't offer a lot of height when they adjust going from 12.5″ to 14.5″ in total. This may not sound like a lot but it can make the difference of being stable or falling out of the chair which is something I think we all would like.
Lightweight Making Transport Easy
One of the biggest advantages of camping chairs is that they're easy to transport since they're often fairly lightweight. Boundary Life has taken this even further with this camping chair that only weighs 2.5lbs making practically every able-bodied person able to carry it making it more versatile for who can use it.
Considering how lightweight this camping chair is you'd be surprised to know the frame is made out of aluminum. This helps keep the weight down while still offering you a good amount of durability giving you peace of mind when you're sitting on this chair.
Handy Feature
It's only a small addition but Boundary Life has included two storage pockets with one on each side of the chair. While you could store a closed drink in them you can't use them as a drink holder for open-top drinks sadly. It's still a useful feature when you want to put your book or phone down for a bit.
Boundary Life Backpacking Chair
Camping Chair With Swivel Feet For Uneven Terrain
Vingli has found themselves on this list for a second time and for good reason since they're getting a great reputation for making phenomenal camping chairs. This is exactly what they've done here with this excellent camping chair that has been designed to handle the most annoying surfaces you will come across camping.
Making this camping chairs fabric out of 600D Oxford that's been waterproofed was a really good move when they were designing this chair. This makes it work in a lot of different situations and it doesn't hurt the chair if you accidentally leave it out in the rain.
Cleverly Designed Feet
Out of everything that this camping chair gets right, it's the feet that really stand out in my opinion. The swivel style feet allow you to be on surfaces like mud without sinking as you get on your standard camping chairs. By including this type of foot they've made this chair work for a number of situations making it very versatile.
Combining Padding And Mesh For Amazing Comfort
I really like the design that Vingli has gone with on this camping chair with how they have got a combination of padding and mesh. When you want more comfort you use the padding to keep you more comfortable which something that I really like.
If you're finding the chair to hot with the padding you're able to remove it to reveal a mesh underneath. So you can stay cool when it gets warm making this an excellent choice in the warmer climates.
Portable For Its Size
When you first look at this chair you will notice just how large it is and might be put off since transporting it might be difficult. It does come with a large carry bag that will allow you to have it sat on your shoulder like you're carrying a large bag (28″x25″x10″).
VINGLI Professional Fishing Chair
Swivel Camping Chair With Height Adjustable Legs
There is a lot to like about this camping chair from Hawk that is extremely versatile and comfortable. It will make a great addition to your next trip and will allow you to experience an excellent level of comfort that few chairs can match.
The thing that really stood out with this camping chair is the armrests which are made out of foam. They have been molded so your arm will rest in them naturally which makes them extremely comfortable and allows you to get into a better more natural position.
To improve this excellent comfort even further they went with having a higher backrest which will support your whole back. This can be really useful if you're a taller person who needs some extra room then this camping chair by Hawk is a great option in my opinion.
Extremely Useful Features
In my opinion, the best feature of this camping chair is the fact that you're able to swivel in a 360° giving you a full view of your surroundings. This gives this chair a lot of versatility for who will be using it such as fishing and paying attention to multiple rods.
To increase the level of versatility they included excellent swivel(duck) feet that help it on those soft surfaces. This is one of the things that Hawk focused on when they were designing this chair, making it as versatile as possible which I believe they have achieved.
A Small Downside
While I really like the swivel capabilities of this camping chair, it's also where one of its issues does come up. The swivel can be noisy when you're trying to rotate on this chair which can give you away. This can make it a bad choice if you were planning on hunting with it since it will give you away.
Hawk Big Denali Luxury Blind Chair