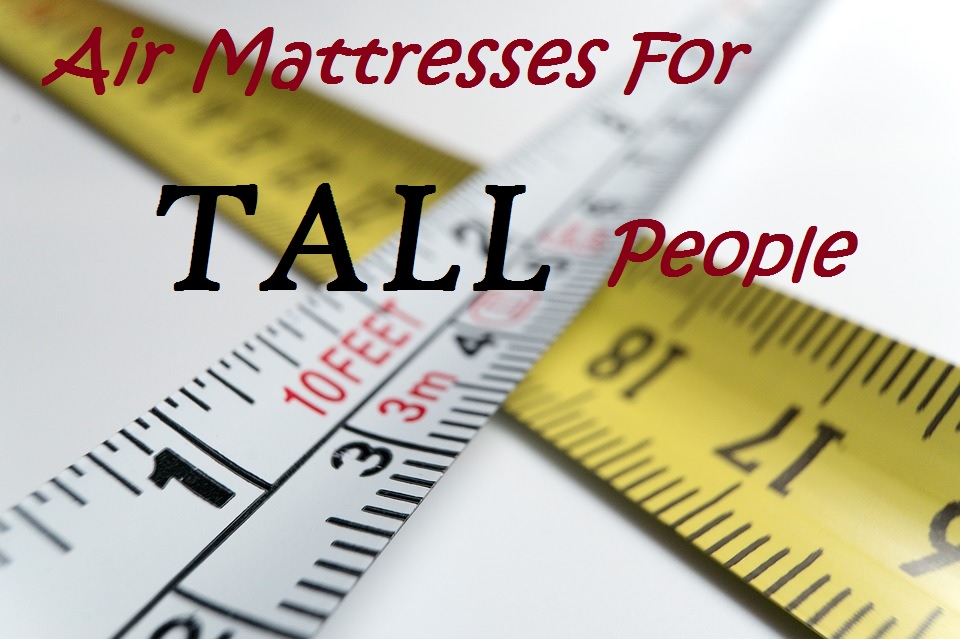 Being tall certainly does have its advantages. But when it comes to buying air beds for sleeping, being tall looses all height privileges. Trying to find extra long air mattresses for tall people is a mission in it's self.
Not only do short air mattresses make for a bad nights sleep when camping, but being tall in a short tent and sleeping on a inadequate bed is incredibly uncomfortable.
So in order to resolve this commonly faced problem by us taller persons, we have gone out to find queen, king, and extra long twin air mattresses for all occasions. So it's important to note that if you require a XL air mattress for camping then be sure to check the actual measurements of the tent so that the air mattress doesn't end up being longer than your actual tent. Now there's a problem I don't want to embrace.
What Are The Best Extra Long Air Mattresses For Taller Persons
So there's tall and then there's TALL. So keep this in mind, as we have tried to identify the best air mattresses we could access with a maximum length rating. The longest air bed we could track down is a true 80 inches in length. Which we will now discuss in more detail.
The Best Extra Long Twin Air Mattress By Fox Airbeds
The Fox Airbeds has an impressive extra long 80 inches in length to offer. 80″ is equivalent to a 6 foot 6 person. Some companies tend to exaggerate the 'real' length of the bed, but the Fox Airbeds has a true 80 inch length. So this air mattress is the best suited to be people over 6 foot.
What Size Is The Fox AirBed Available In?
The Fox brand air mattresses (Available on amazon) come in multiple sizes including Twin XL, Full, Queen and King. Weight capacities will vary from size to size, but because Fox makes these beds to be used for heavy duty use (43% thicker than competition as claimed for the brand), you know that you have one strong and stable air bed. So we believe it to be one of the best air mattresses for the big and tall people.
Who Is The Fox Air Bed Best Suited To?
This air bed is one of the best on the market in our opinion. The reason is simple, it's perfect for many occasions. This is because of the few key factors this air bed offers.
The built in air pump makes this air bed a no brainer for long term use. However it is not the best air mattress for everyday usage because the pump is not a 'neverFlat' pump. Meaning you will have to manually top the air bed up occasionally. But the simple to use pump does easily inflate and deflate via the flick of the switch.
The 'High Rise' height of the air bed. Another certain feature tall people wanting a air bed look for. Being double the height of a normal air mattress makes it resemble a normal bed and therefor great for unexpected guests or the guest room.
Campers love the Fox air bed because of 2 simple reasons. 1. The extra tough super strong material the bed is made from. Ideal for outdoor camping conditions. 2. The built in pump is great for powered camping sites. However this air bed allows you to use an external (Battery or foot powered) pump as well. So it makes for a great portable solution. Not too many air beds like the Fox offer the ability to use external pumps as well as the built in pump.
Why Wouldn't A Tall Person Want This
Because of the shear length and strength of this air mattress, I feel as tho many taller big people will absolutely love the Fox Airbeds range. The only negatives we found that's worth mentioning is the built in pump.
This may be being a little nit picky but it may be critical for some people. The pump doesn't automatically switch off when inflating.
So you have to manually stop the pump by flicking the switch so that the bed doesn't overfill. In hindsight, you do have the ability to customize your comfort level by stopping the air pressure whenever you feel the bed is comfortable enough for your body. Other than that, we highly recommend the Fox Air Beds Twin, Queen etc for tall people.
Best Camping Air Mattress For Taller Persons
The Sound Asleep Dream Series 78.75″ Extra Long
Sound Asleep produce some of the best quality all round air mattresses on the market in our opinion. The Dream Series caters to both indoors use and a special campers edition.
Yes they are 2 different air mattresses, but both kinds are suitable for taller persons. The length for the camping edition is a tiny bit longer being 78.75″ while the all purpose is 78″ even.
The Dream Series Camping Edition Review
The Dream Series camping air mattress by Sound Asleep is a single layer air mattress just like your traditional 8-9″ height mattresses. But what makes this air mattress great for extra tall campers is the 78.75 inch length. Being near on 80″ and a single layer you have less of a bulge which many manufactures measure the furthermost point from, So you won't get the diluted results in length measurements compared to a more bulgy center air mattress.
What makes the Dream Series perfect for tall campers is the fact it was built for camping. It has the necessary features to satisfy outdoor requirements. The pump is included and is rechargeable. So you can either charge the pump via your car 12V socket or at home using the mains. So you can take this air mattress anywhere and feel safe knowing that you have a pump that doesn't need power to inflate the air mattress.
The Best Indoors Air Bed For Tall People By Sound Asleep
While the Dream Series can be used either indoors or outdoors due to it's thicker heavy duty materials, we find it's best suited to indoor use. This is because of the build in 110V pump.
The built in pump is super easy to use and is conveniently placed so you don't have to get out of bed to inflate or deflate to your comfort level. Just lean over and flick the switch to the right to inflate and left to let some air out if you prefer a softer sleeping surface.
One of the unique features of the Dream Series range is the comfort coil technology. This is whats inside the air bed. The base to the support you lay on basically. The Dream Series offers an amazing 40 coil air flow system. This means you have 40 individual coils made of air unlike the springs you feel on a traditional mattress.
These 40 air coil channels make the bed more durable and offer a complete full body support system. So no more will one side of the bed sag when you sleep to one side on a Twin size, nor will it sag to a side when you sleep on one side of the Queen version while your Partner is not in bed.
The support these air coils offer is so good that when you sit on the edge of this bed it doesn't sag down to the ground like some of the traditional air mattresses. These are just a few reasons why we rate the Sound Asleep Dream Series as one of out top 3 air beds of all time.
Best Budget Buy Tall Persons Camping Air Mattress
Intex Classic Downy Airbed With 2 Pillows
The Intex Classic Airbed is ideal for couples on a budget looking for a quick air mattress for camping. This queen size extra long air mattress suits taller people with it's 80 inch length. The 2 included pillows could be also used for extra foot pillows if you are taller than 6″6′.
This is one of the best cheaper air mattress designed for camping and even comes with a pump. It's an old school foot pump, but for the prices it's a massive inclusion in our opinion.
The 2 in 1 valve opening is essential when using a foot pump. This will prevent any excess air from escaping when you go to close the valve. The design of the Intex Queen Airbed is not too dissimilar to the common air mattresses you see at your local Mall. A wave like appearance but with a waterproof top. Which is a very nice touch considering the cheap price.
The Best Backpacking Air Mattress For Tall Hikers
World Famous Ultra Lite Air Mattress 85″ In Length

Yes we even have the portable traveler covered in our extra long air mattresses for tall people guide. When it comes to backpacking around the country or hiking for days on end. Portability and lightweight are crucial components. So a lightweight and compact air mattress is ideal.
Weighing at only 1.3lbs and fits into a nice compact carry case you wouldn't believe me if I told you this extra long air bed even comes with a pump. But heck yea it does, a foot pump.
But a pump none the less and one which backpackers and hikers alike are use to using anyways. All in all it takes about 3-4 minutes to pump the air bed with the foot pump.
Can this mattress get any more feature packed for such a lightweight compact unit?. Well yes, glad you asked. Carrying around pillows while backpacking is such a pain in the you know what.
So to solve this issue, the World Famous Ultra Light Air Mattress comes with inflated pillows. Pretty cool right. Overall this is a very cool extra long air bed for tall people wanting a lightweight and portable sleeping device.
Save