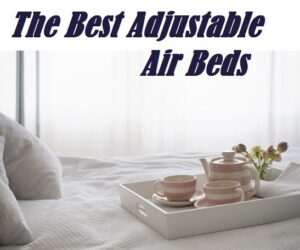 This is the best adjustable air mattress reviews page where you can find 3 of our top rated permanent comfort control air beds. These air beds are designed to be used as permanent bed replacements, not for temporary occassions. Therefor the prices will reflect the difference between these types of adjustable air beds and a typical
raised air bed for everyday use
.
*Alternatively you can view the cheaper adjustable typical air mattress which sits at 9″ in height. either side of the mattress can be adjusted to suit firmness. But is not as of high quality as the below permanent bed reviews. But will suit the avid adventurer that relies on a quality air mattress.

We have been researching far and wide, reading all the reviews on these high quality adjustable air beds for one main purpose. To try and find a common ground as to what exactly is the best of the best. While we have our own opinions, it's good to have a large number of people who also agree that what we think are the best, they do too.
Buying an adjustable air mattress is not something anyone would do sporadically, they are far too expensive to be treated like that. However, they are a personal investment in our opinion. An investment in our bodies.
Because we are sleeping on a mattress 1/3 of our lives, being comfortable and sleeping ergonomically are very important aspects. Hence why spending more money on a high quality air mattress is considered an investment in our bodies. Treat the body like a king when it's a sleep and feel like a king for the rest of the day. Anyone one of these top 3 rated adjustable air beds could drastically improve current sleeping conditions.
Common Reasons People Buy Adjustable Air Mattresses
Flexibility: Me and my Wife have very different sleeping styles and preferences. Having the ability to adjust either side of the beds comfort level means we are being flexible on which mattress to buy. Compromising on something we both love is how I see it.
Comfort Level: Many people have stated that these types of air beds are second to none when it comes to comfort, and we have to agree. The high quality adjustable air beds are compared to the feeling of 'like sleeping on a cloud'. Each mattress will have it's own unique features as will be discussed below.
Pain Relief: This one will be an individual case by case scenario. Nobody can claim that this type of bed will relieve any sort of pain. However, for many individuals this is the case. Because of the custom control you have over the firmness/softness of the mattress, there are benefits to targeting specific sore spots on the body. In particular the lower back pain and hips.
So What Is The Best Adjustable Air Bed
The Personal Comfort A8 Adjustable Airbed Review

Designed and manufactured in the USA, this particular adjustable air mattress is the 13″ A8 model by Personal Comfort. Let me just start by saying that this is one hell of a bed. It's what we like to think of as the air bed with all the bells and whistles.
It's even just released a app for your smart phone. With this app you can directly control the beds features without having to search for remotes or even get out of bed (assuming you are like the vast majority and have your mobile within an arms reach at all times).
The Personal Comfort 13″ air bed has the tick of approval for CertiPUR-US® standards for content, emissions, and durability. Which is a great thing knowing that you have the confidence to know you are buying something that's actually laboratory tested.
Even tho the Personal Comfort bed has a high end price tag, I don't mind this at all. You know why?. Because it's a bed I could use forever without having to worry about replacing. This is because all the parts can be replaced individually. Which to me is awesome. No more buying a new air bed every few years, just a small fee for a new part.
The design of this adjustable inflatable bed is quite genius. A common problem with air mattresses is the outer rim support. Typical you can expect to sag down. But the unique design of the Personal Comfort makes this pretty much non existent. there is a cloth covered foam rail which actually holds it all together. This creates extra support or firmness around the outer edge.
Like I said earlier, this model now comes with a smart phone app which you can use to control the chambers. However, it still comes with a digital hand control which the air pressure can be configured from 5 to 50. The dual chamber (1 each side of bed) is what allows you and your partner to customize the pressure settings to meet your specific comfort needs. All in all, the Personal Comfort is a great adjustable air bed, but in our mind is the best high end air bed on the market.
Personal Comfort A8 Adjustable 13
Watch To Learn More About Personal Comfort Beds
Innomax Medallion Vs Sleep Number I8 Vs I10 Reviews
Best Adjustable Air Bed For The Money
A close 2nd is the Medallion adjustable air bed by a company that's been around since 1975 called InnoMax. This mattress is 1 inch higher than that of the Personal comfort and has many different comfort setting to choose from, including air. There are many technical terms thrown around in the product description of the Medallion, so we will break it down into what matters.
Most folks may have heard of the Sleep Number i8 or i10 models. I find the Medallion by Innomax as a much better buy for the money. While Sleep Number has the popularity (For now), you will be blown away by what the Medallion has to offer. Including the price difference. If you value your money, then you can save big dollars with the InnoMax Medallion Vs the Sleep Number i8 Vs i10. So lets have a look at the reviews and find out what makes this adjustable air mattress so amazing.
InnoMax Medallion Adjustable Air Bed In Depth Review
Lets start at the top of the mattress, where you first get a feel for the comfort. Initially you can see the pressure relieving Petme Mink feel cover, but it's what's underneath that's really impressive. What lays beneath is that of the highest quality foam we have laid our eyes on. The cool Talalay latex and 4 pound memory foam padding provide the sensuous feeling of pure comfort. 2 of the best foams I have ever endured.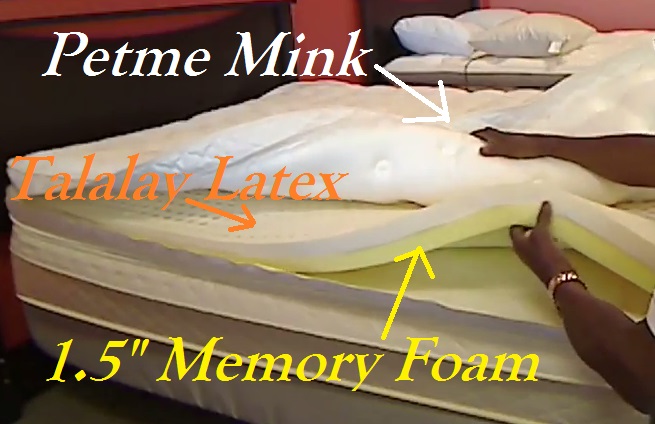 The Talalay latex foam sits on top of the 1.5″ memory foam to create one hell of a combination. The problem with memory foam alone is that when compressed, it gets hard. But team it up with Talalay Latex foam you have the perfect duo. The Latex takes the suspension and doesn't squeeze into a tight hard surface, while the memory foam acts as the comfort foundation for the Latex.
What lays beneath the foams is a water proof mold barrier made from Polyurethane. While you don't see or feel this feature, it's a very important layer to the adjustable air mattress. This barrier protects the 2 air chambers from moisture.
Adjustable Air Chamber Air Beds Explained
The 2 air chambers are the engine room if you will for allowing adjustable comfort levels of the air bed. If moisture gets into these chambers it can lead to mold and mold can lead to many un healthy occurrences none of us want. This is why the InnoMax Medallion is such a great bed. Not only is it made from the highest quality materials, but it is also covering your backside to future health issues, and or needing to replace air chambers.
The air chambers are what create the support which can be adjusted. What's good about the InnoMax chambers is that they are double heat sealed. Meaning they are twice sealed with heat to create a perfectly sealed leak free environment. The chambers are made from Latex, rubber and cotton which create a extra strong foundation and one that won't stretch.
Why Do Adjustable Air Beds Bow In The Middle?
Stretching of the chambers can lead to warping of the bed. Which is why InnoMax uses these 3 core materials to eliminate warping. Another issue other beds like the Sleep Number range face is bowing out in the center of the bed due to having 2 chambers.
What makes the InnoMax Medallion better in this regard is the border foam railings. A common complaint we found about the sleep Number i8 was the bowing of the bed, especially in the middle. This is due to poor construction of the bed.
The Medallion is constructed to be a much more heavy duty air bed in comparison. This is because of it's connecting borders. Unlike other adjustable air mattresses, the border or railing is connected to each other. Kind of creating a box like frame around the chambers. The left side is one piece connected to the right side border, and the same for top an bottom. This ensures the chambers are 100% stable and supported and won't bend out of shape. Making the bowing sensation up the center of the bed a non existent problem for this adjustable air mattress.
Each chamber can hold 500 pounds. So essentially this permanent adjustable air bed is perfect for obese people needing a much needed replacement to Hospital air beds. The 1000 Lbs rating will cover the majority of folks looking for the perfect bed.
InnoMax Medallion Adjustable Air Mattress 14
Final Review For These Adjustable Air Mattresses
The two adjustable air beds we have researched and reviewed are among the best if not the best air mattress system beds we have encountered. Both of them offer great value for money compared to the Sleep Number range, yet offer more in our opinion.
There's many more features we could get into here such as steel reinforced tubing (prevents kinking in the air line so you never have problems) that features a lock and barrel system that would blow your socks off even more. But we truly believe, you have to feel these things to believe them.
One of the best things about these high quality adjustable air mattresses is the fact, it may be your very last mattress purchase. Each section of the mattress is replaceable. Meaning you won't have to fork out big money to buy another mattress. Just get a spare part to replace any worn out part. But in saying this, you should make sure you get a heft warranty with any bed of this price range. I'm pretty certain you will get a really good warranty with both of these adjustable air mattresses.
Save
Save