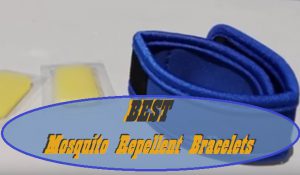 Mosquitoes carry all sorts of diseases that can be fatal for humans. In recent years the Zika Virus and Malaria have been the main headlines relating to these bugs. Stopping these insects has always been a problem for campers the world over. By investing in some of the best mosquito repellent bracelets for camping, you and your kids can have around the clock protection.
As previously mentioned in another article, it's best to have several types of mosquito repellents to best protect you when outdoors. Especially when you are camping near water. Mosquitoes just love the water and love that humans also love the water.
Do Mosquito Repellent Bracelets Work
Are They Safe For Kids?
A debatable question indeed and one that I'm sure everyone has an opinion on. There was a study a few years back which involved testing these bracelets effectiveness against mosquitoes, in particular against the Yellow Fever. The study proves that these bracelets do in fact work for repelling mosquitoes.
But, not as well you may be thinking. Typically around the areas which you wear the bracelet is pretty well covered, but areas like the back are still exposed. You can wear these bracelets around your ankles too for greater protection down there. As we all know, mozzies love biting our ankles.
Having a greater overall plan to defend yourself to mosquito bites is better than solely relying on a bracelet or two. But, in my opinion, a bracelet should be part of your mosquito protection plan. Anything you can do to arm yourself against these blood suckers is good in my books.
As far as I know, mosquito repellent bracelets with DEET don't exist. DEET is a chemical used in many sprays used against mosquitoes. Bracelets are all-natural ingredients that are safe for kids to use. The common mosquito repellents used in these bracelets are citronella, lemongrass and herbal essential oils. I am of the belief that if they could incorporate DEET into these bracelets, they would have greater effect on stopping mosquito bites.
2023 Best Ultrasonic Mosquito Repelling Bracelet
Ultrasonic mosquito bands are a relatively new concept in the fight against mosquitoes. While the principle behind ultrasonic frequencies to deter mosquitoes is not new, as it was a form of protection used by the Ancient Chinese people, in terms of wearing it on your wrist it is relatively new.
This one of the best ultrasonic mosquito-repelling bracelets on the market as it uses a frequency known to deter mosquitoes. The sonar of bats. As mosquitoes are part of the bats diet, our annoying little friends will do anything to escape being eaten by a bat.
As the soundwaves used resemble the sonar of bats, our pesky friends will run for the hills when they are in your radius. When using a method like this in combination with other mosquito prevention methods, you really can have a fighting chance against these blood-suckers.
How It Works
The M21 bracelet/repeller is a rechargeable device, so it has an internal battery with a capacity of 90mAh. This battery capacity allows the wrist band to protect you for up to 130 hours when in use.
To recharge the battery, you use the included USB cable and connect to either a USB wall plug, laptop/computer or power bank. Recharging takes less than an hour and the fact it can be recharged by a portable power source like a power bank makes it ideal for camping.
Features:
Rechargeable 90mAh battery, runtime 130 hours. Recharge time: 30-45 minutes
Water-resistant – Great for camping in wet conditions as mosquitoes are drawn to water
Non-toxic: No chemicals are ever used and it never needs to be refilled.
Includes 3 modes: Indoors, outdoors (for stronger protection), and sleep mode for protection while you sleep.
Best Waterproof Natural Bracelet To Stop Mosquitoes
Consider yourself a mosquito magnet and don't mind smelling of Citronella?. Then the
SuperBand
may be the answer to your prayers. This simple slip on bracelet is meant to last for 200 hours of protection.
Now I wouldn't count on them lasting 200 hours each as results can vary. However, to prolong the life of each band, store them in a zip plastic bag when you are not using them. Keeping the air from circulating the natural mosquito repellents while not in use.
The natural repellent the SuperBand uses is called Garaniol. Geraniol is a plant based repellent for mosquitoes that is also found in many perfumes and even an ingredient in cigarettes to improve the flavor. So there's no chemicals (DEET) and the SuperBand is 100% natural.
The thing I liked the most (Besides its effectiveness against mosquitoes) about the SuperBand is that it is waterproof. As previously mentioned, mosquitoes love wet environments. So these bands make a great addition to campers and Fishermen alike that love the water.
Whats To Love
Very affordable. They can be bought in bulk making these SuperBands even cheaper.
Suitable for kids over the age of 3. This is down to the wristband size and is suitable for adults.
Similar smell to citronella which is not bad compared to some other horrid smelling brands.
Lasts for a long time, each band up to 200 hours.
100% natural ingredients.
Can be worn around ankles and hands
Cons
I read somewhere that Garaniol is an attractive ingredient to bees. Not sure if this is true as I've never had a problem with bees.
Best Kids Mosquito Repellent Bracelets
OK, so they are great for kids, but perfect for adults as well. These NextGen bracelets come in a
large range of colors
the kids will love. Hence why my kids don't have a problem wearing them. But these also come in a black and camo colors which is good for camping and staying camouflaged while not getting bitten by insects.
These bracelets are a little different to the usual bright color bands you may have seen. These things are not throwaways. They come with refills that you use on the same wristband. So instead of spending over and over on new bands, you just have to buy refills to keep the mosquitoes away. This is good as it keeps each refill fresh.
The eight refills that come with the wristband is meant to consistently protect you for 2 weeks. Which is great value per day. The DEET free natural ingredients used to deter mosquitoes include: Garaniol (As mentioned on the SuperBand, Citronella, Lemon Eucalyptus and Peppermint.
The bracelet itself hold together via Velcro straps. So they can suit many size arms, including young kids. The material is Nylon, which is much more comfortable to wear than a rubber bracelet rubbing against the skin all day. The only negative to this bracelet is that it is not the best in water. The repellent is diluted when it gets wet, so I recommend sticking the bracelet in your pocket if it rains.
Overall I find it to be a very good choice for kids due to the great colors and the softer nylon bracelet. The repellent works well for stopping mosquitoes in their tracks. Highly recommended.
Essential Oil Infused Mosquito Repellent Bands For Children To Adults
These repellent bands are a little different again. They are essential oils infused in a see through tablet on the bracelet. The tablet releases these scents which drive mosquitoes away gradually. Each band can last a long time when properly stored.
This pack includes 2 bracelets that each have there own resealable zippered bag. So when you are finished using for the day, pop the band into the bag to prolong the life of each band. The manufacturer stats they can last up to 90 days, which in my opinion is a high estimate. But if you only use it one hour per day, then perhaps. But I would expect to get two weekends of full on camping out of each bracelet.
There are a number of oils mixed into this brew to give it a distinct yet fresh aroma while keeping the mosquitoes away. The oils include: Citronella, Mugwort, mint, chamomile, lavender and more. Combined its quite a nice smell.
The bracelet is made out f a soft silicon material. Which I found to be chaff free, even on hot summer days. The one thing I like about this bracelet over the others sis how it connects to your arm or ankle. Using a similar function to a watch. This way it wont come loose and get lost while hiking, swimming etc. The bracelet is also waterproof which is one less thing to worry about.
The only thing I don't like about this band is that once used up the bracelet becomes useless. There are no refills to put in the tablet as of yet. Perhaps the manufacturer will come out with refills in the near future.
Temporary Colorful Insect Repelling Wrist Bands
When you scour the internet looking for DEET free insect repellent bracelets, you will come across a lot of colorful temporary throw away bracelets to choose from. Problem is knowing which one to buy. While many of them are good at what they do, I have one brand in particular that I find the best. That brand is Mosquito Spell.
While they aren't as 'bright' as some other brands, they do come in a variety of colors and are one size fits all. So perfect for kids and adults. But what I like about the Mosquito Spell range over the others is the soft microfiber material the bracelet is made from. Unlike the rubber ones, these ones don't irritate the skin and look appropriate for camping. Not that the bright ones aren't appropriate, but I just like these ones as they kind of blend into the environment.
This bracelet also used the Garaniol oil extract like the SuperBand which I think is the better mosquito repellent on the market. It also uses common repellents such as citronella, eucalyptus oil, lavender etc.
Many temporary bands like these are not waterproof, the Mosquito Spell is waterproof which is great for campers. It's manufactured to last 240 hours which is quite a long time. To preserve the longevity of the bracelet, store away in an airtight bag when not in use. There really are no negatives to say about the Mosquito Spell repellent bracelet. They are affordable and work for a considerable amount of time.