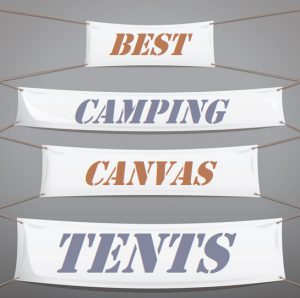 Withing these reviews, I reveal what I believe to be the top 5 best canvas winter camping tents in 2020.
When it comes to escaping the daily grind during winter, camping is not always the first thing people think of. But believe me, you haven't lived until you have tried it. If you are an avid camper looking to sleep out under the cool night air, then I highly recommend a tent made from canvas materials.
While there are plenty of good winter nylon tents to choose from, when it comes to winter camping. It has to be canvas. Some of the best canvas cabin tents are ideal for cold weather.
Unfortunately canvas tents are more expensive than the nylon variety, but they also keep the tent warmer inside during winter. Canvas doesn't transfer heat as well as nylon. So that means the warmth inside your tent can circulate for longer without being cooled down by the outside freezing temperatures.
Reasons Why Canvas Tents Are Better For Winter Camping
Canvas is more heavy duty and durable than nylon materials. A rip in a canvas tent can easily be sown back together, whereas a nylon tent will need a patch repair kit.
Canvas is a great all year round tent material. As I previously said, canvas distributes heat slowly. So in winter the heat stays inside the tent longer. But the added advantage is that in summer, canvas tents take longer to heat up in the blazing summer heats. A nylon tent can get scorching hot in minutes whereas a canvas tent will retain the cooler temperature longer.
While canvas tents are more durable and retain heat better, they need the extra ongoing maintenance of waterproofing. The canvas material can be sprayed with tent waterproofing periodically to ensure your next camping trip is a dry one. Whether you buy nylon or canvas, I always recommend giving the tent a coat of water proof anyways.
Longevity. Look after your canvas winter camping tent and you will get many seasons out of it. Treat it poorly and well, you know what to expect. Canvas is traditionally a longer lasting material, so while they are more expensive in the beginning, they last longer and become great value for money.
The #

10 YKK zippers are large and heavy duty. Small details like this are what make it one of the best canvas winter camping tents.
Top Rated Canvas Tent For Winter Camping
Kodiak Canvas Flex-Bow 8-Person Tent Review
If you're looking for a rugged, all-season tent to bring along for your family camp or hunting expedition with your buddies, then the Kodiak Canvas Range will be sure to be a consideration. While the Kodiak Canvas tent comes in a variety of sizes, I will be looking at the 8-Person.
You can see the available sizes on amazon here.
Starting with the construction, this is a tent like no other all thanks to its 100% cotton canvas and premium grade Hybrid-Shield. Whether it is foggy, snowy or rainy, you don't have to worry about getting wet inside because this tent boasts of a tight weave and silicone finish that keeps the tent completely watertight and at the same time breathable. This canvas tent also boasts a robust structure all thanks to its tampered, spring steel rods to keep it stable at all times.
Moving to the floor, this tent has a heavy-duty, puncture resistant that keeps any water out, besides preventing pricks from ground thorns. For convenient access, this piece of camping gear has a large front and back door. Ventilation isn't an issue as well because this tent has two vents and four windows for good air circulation.
What I Love About This Kodiak Canvas Tent
First thing I adore about this tent is the 6 foot 6 high ceiling. Finally I can walk around inside without having to duck and weave around.
Considering its a canvas tent (Generally harder to set up), this tent is easy to set-up and take down.
Very roomy inside. While there is a bigger and smaller option in the Kodiak line, the 8 person tent seems to offer great interior shelter
Tent is well-built, waterproof and stands up well against the wind. Survived winds up to 45 MPH.
What I don't Admire Too Much
Doesn't come with a tarp of tent footprint like most tents unfortunately
It's a bit heavy thus not an ideal hiking tent, especially if it gets wet.
While I love the zippers, they can get a bit sticky on the curved part of the doors.
Awning design could be better, maybe larger.
Kodiak Canvas Flex Bow 8 Person Tent
Springbar Highline 6-Person Tent Review
From car camping to base camping and family camping shelter, the Springbar 6-Person tent offers an all-season shelter solution for you and your loved ones. With a 10 feet x 10 feet base area and a standing height of 6.5 feet, this tent offers a living space of more than 100 square feet. This means that even the tallest adults will not have to clutch all the time to fit in the tent.
This canvas tent is pretty much easy to erect all thanks to the ingenious simplicity incorporated in its design. Better yet, this tent is made of premium quality, 100% cotton and tightly woven and finished Trade Marked HardyDuck canvas to keep water outside your tent. This tent also comes with a few extras such as guy ropes, an adjustable gear loft, shade awning and a storage bag.
Features Of The Springbar Highline
Similar design to the Kodiak tent, I find the windows on the Springbar to be just the right size for both ventilation and light. Good ventilation due to large screen areas in the back and front sides
Very roomy at 10 x 10 and comfortable living space.
Made from heavy duty material and has strong heavy duty tent pegs included.
Very durable and waterproof. One of the strongest looking tents I've seen and have had many chats with folks that have owned this tent for 8 plus years. It's built to last.
Springbar Highline 6 Person Canvas Tent
No Your Not Seeing Double
The Kodiak and the Springbar are very similar tents. In fact Kodiak used Springbars design as a baseline for improvements. With this they created a similar tent but without the expensive price tag. But by no means is the Kodiak tent a cheap rip off of the Springbar. It's still one of the best canvas tents going around. If you want to compare the tents side by side, visit my Kodiak Vs Springbar comparison review for more information.
Best Single Person Winter Canvas Tent
If you're a lone camper who prefers a single-person, highly versatile sleeping tent that is an advanced version of your traditional bedroll, then the Kodiak 1-Person tent is the product you need.
With a length of six feet and width of three feet, this tent offers sufficient room to spend a night in the woods and in winter temperatures. Its compact size also makes it an excellent option to set up on the ground or behind your camping truck.
For temperature and air flow management, this canvas tent has zip-open windows at the foot and head. The 100% cotton duck canvas material used to make the tent is not only durable but also water tight. For daytime relaxation, you can unzip the top and convert your tent into a screen shelter.
Pro Tip: Use this Kodiak one person tent/swag on top of a camping cot to distance yourself from the cold earth.
Kodiak 1-Person Canvas Tent
The Good
Good Quality Tent Made By Quality Brand
Simplistic Design
This is a lightweight tent
Very comfortable and durable
Comes in a cool carry case
The Bad
This tent is a little bulky to pack, especially if you're hiking for a long distance.
High End Luxurious Cotton Canvas Tent
Dream House Heavy Duty Safari Tent
With a floor diameter of four meters and a peak standing height of 98.4 inches, the Dream House Heavy Duty Tent is the best camping tent for a couple seeking some privacy in the woods. Made from a waterproof, cotton canvas fabric, this tent is completely waterproof.
For camping enthusiasts, this is an all-season tent because it has zippable sidewalls to roll up during the summer and a stove hole to set up your camping stove during the winter. You will not have to worry about mosquitos because this piece of camping gear has screen meshes installed on the door and windows to keep all bugs out. Something I find not all tents do.
Pros Of This Spacious Canvas Winter Camping Tent
Can be set up solo but I recommend getting a helper
Well-made canvas exterior and heavyweight PVC floor to keep the rain out
Has a simple but elegant design. A unique tent to say the least
Feels sturdy and durable
New meaning to the term 'Glamping'?
What I Don't Like
Some of the zippers are poorly sewn into the tent
Ropes and stakes are of a low quality so I recommend spending a few extra bucks on some heavy duty camping pegs.
Because of the Safari design, it's not recommended for winds greater than 30 MPH
Dream House Safari Canvas Tent
Best Canvas Cabin Tents
Trek Tents 7-Person Canvas Cabin
If you're looking for the best canvas cabin tents,  then this product from Trek Tents is what you may be after. If you want to enjoy the comfort of home away from your home, this piece of camping gear will let you enjoy a cool camping atmosphere within the 100% cotton roof and walls.
The rugged Vinyl floor is not only waterproof but also easy to clean. The tent's metal frame and side pole loops are sturdy enough to withstand torrential rains, strong winds, and snow. This tent also comes with a full fly to wrap around the fabric to protect the cotton canvas and prolong the tent's life.
Pros
High Quality zippers that can take a beating and still not get stuck
Very simple to follow instructions which is a huge positive for me
A very spacious 108 Sq. Ft. of living space.
Light colored roof allows maximum light into the interior while also being fully sealed to protect you from wind and rain.
Plenty of space to have a wood stove going, be sure to have a vent to allow the gases to escape.
I cant get enough of how high the ceilings are. No chance of banging your head in this rustic style cabin tent.
Cons
– To bulky for a single camper
– Too high hence easily exposed to strong winds.
Trek Tents Heavy Duty Cotton Canvas Cabin