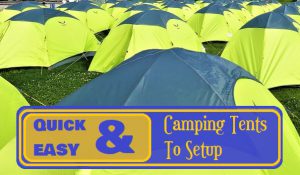 While some people love the idea of a complex and time consuming camping experience, for others it's the reason they don't go camping at all. Each to their own, but personally I prefer the set up of a camp site to be quick and easy. So what are the best quick set up tents for camping?.
There can be easy to erect tents in terms of assembly, but still time consuming to actually get set up completely. So there is a difference between easy set up tents and quick set tents also known as an instant tent.
For the purpose of this guide, we will be looking at the fast set up tents as they are generally easy to assemble as well.
The Benefits Of A Fast Assembly Tent
Many people are of the impression that a quick set up tent lacks features compared to a more complex design. This can be true in some regards. But for the most part, a high quality instant tent will boast similar features anyways.
So the main benefit is that you can get the tent up quickly without too many brain explosions along the way. This is especially important if you are setting up a tent for kids. As any parent knows, they can be very impatient when it comes to things like this.
It's also highly beneficial to have a quick set up tent if you arrive to your camp site late in the afternoon and daylight is against you. Trying to set up a tent in the dark is no fun. Ever!. So having a tent that gets the basics set up in mere minutes is especially useful.
This also goes for setting up your tent in bad weather. Whether it be a windy day or a stormy afternoon, you want shelter as soon as possible.
With fast assembly comes a speedy take down. Once the camping trip has come to an end, the last thing you want to do is spend an hour taking down the tent. So having the ability to take down the tent in the same amount of time it takes to set up is priceless.
The Best Easy To Set Up Tents
Instant tents come in a variety of sizes and designs. So with that in mind below you can find tents starting from 2 person tents and getting bigger as you scroll down the page.If you have your heart set on a 6 person, you need to check out these instant tents. Get all set up in under one minute.
Keep in mind that some tents are only 3 season tents which are not best suited to winter camping. Where there is a 4 season tent with quick assembly, I will be sure to list it here.
Easy Set Up 2 Person Tent
This 4 season tent by Toogh is quite the nice tent. It doubles up as a sun shape canopy or shelter if you want to go to the beach while camping.
How Quick Is It to Set Up?
This 2 person Toogh tent is one of the easiest and fastest tents to set up. Once you unpack it, you simple unfold it out and press down on the center hydraulic system. Then presto, the tent automatically sets up for you in under a minute.
Similar to how a pop up beach tent is assembled. This design is however unique and foolproof. Best of all you can set the 2 person Toogh 4 season tent up by yourself. Perfect for solo campers and backpacking.
Get To Know The Toogh
This tent is a small tent, so if you are looking for space, scroll on down. Ideal for 2 Adults that don't mind snuggling together. However if you are taller than 6'2″, you will find this tent not long enough. Your head and toes will be touching either end of the tent. In terms of height, its a generous 50″ tall. So you can easily sit up in this tent, but being a 2 person tent you won't be able to walk around inside the tent.
The Rainfly
The rainfly on the Toogh is quite unique. It can be used as a standalone sun shelter as well as your standard rain protection over the tent. Up the top of the rainfly is a air vent for circulating air in and out of the tent during rain and humid conditions. This will prevent condensation in the tent.
This tent makes for a great 4 season backpacking tent as it is quite light and well ventilated. There are 2 doors and a mesh ceiling for allowing air to circulate within the tent. During the colder months it is warmer than other nylon tents as the majority of the tent is not mesh. So the tent doesn't loose as much heat.
The floor utilizes the bathtub style for greater resistance to rain and water. Overall this is a nice and unique 2 person tent. Assemble and packing it down into the carry bag is not only fast, but very easy.
Easiest 4 Person Tent Set Up
A 4 person tent is a popular choice for couples going camping due to their size and space. They are not too small that you feel squished and they are not so big that you feel the setting up is not worth the hassle.
The easiest 4 person tent set up for mine is the Coleman Instant cabin which is also available as a 6 person instant tent when you need extra room for the kids.
The reason I like this tent the most for being a 4 person, is that is a instant cabin tent. You don't come across many 4 person cabin tents, not to mention instant cabin tents. Instant cabin tents are usually in the larger size varieties.
How Fast Is This Cabin Tent To Set Up
Being part of the Coleman Instant tent range, this cabin can be set up in 60 seconds. Allow a little extra to attach the rain fly if you buy it separately. But the bulk of the tent can be set up in about one minute.
Can the Coleman 4 person instant cabin tent be set up by one person?. Yes, depending on your height or access to a step stool if you're short. The ceiling height in this tent is almost 5 foot, so you will need to lean over the top of the tent. It's easier to set up with 2 people, but one person can certainly set up this tent in under one minute.
The Specs
2 Large windows along the long side of the tent.
8 foot by 7 foot dimensions.
Coleman Weathertec which means the seams are inverted so they are not in contact with the outside moisture/rain and floor is welded to the tent rather than sewn to prevent water seeping in through seam holes.
Rain fly is sold separately.
Folds down just as easy as the set up. Best of all it fits back into the travel bag.
Best 4 Person Pop Up Dome Tent
One of the best 4 person pop up dome tents belongs to a different kind of camping brand you may not be familiar with: Hui LingYang. Which means 'Antelope' in English.
Founded in 2011
, Hui LingYang is now available in more than 60 countries. Which is quite some impressive growth in such a short period of time.
It's easy to see why with this unique and high quality instant 4 person tent. First of all, it takes seconds to set up. Hence the name 'pop up'. After you take it out of the carry case, it pops into shape. Setting up a tent doesn't come any easier than with this Hui LingYang.
What Are The Features Of This Pop Up Tent
It's easy to think that a pop up tent can't really offer much in terms of features, but you would be dead wrong with the Hui LingYang. For a pop up tent, it's packed full of features every camper demands.
Starting with protection from rain. The floors are welded so that there is no stitching like on many other tents. What this does is eliminates the chance of water seeping in through the tiny stitching holes.
The front double door and 4 side windows have nylon flaps that can close up completely for privacy. But they can also turn into a rain fly by tying them off with the included guy lines. This creates additional air circulation when it's raining.
What I particularly like about the Hui LingYang 4 person tent are the windows and the tie back door. With many 4 person dome tents the front entry door is either zippered up or flapping open. This one has a cool system where it holds the nylon material back so its out of the way. Leaving you with a screened door you can see out of.
Why I Like The Windows
Instead of having 2 big windows on each side, this tent has a medium size and a smaller size window under that. This is good as it allows you to control how much air intake you want.
For example a large window may be too much and annoying if it's a windy day. So you could just have the top window open letting in only half the breeze.
Plus the fact they can be tacked off as a rain fly or awning over the windows is cool as well. Keeps the tent very well ventilated while it is raining.
Overall, I really like the design and the features of the Hui LingYang 4 person tent. It's available in a handful of colors and comes with a cool carry case that the tent actually fits back in. The super fast setup makes this a top rated 4 person tent for camping.
6 Person Instant Cabin Tent
This 6 person instant tent by Ozark Trail is a unique then in that it has features not many other tents can boast about. That is the Dark Rest feature.
What this Dark Rest feature does is blocks out sunlight which provides the following 3 main benefits:
Keeps the tent much cooler in the warmer months. Think of it like your camping under the shade of a massive tree.
Allows campers with young children to have day naps as the inside of the tent is dark.
Allows parents to sleep in longer in the morning without the sun blaring in their eyes.
While the dark rest makes the tent interior darker, it's not totally blocked off from sunlight. You can open the windows to let light in and you also get a skylight in the ceiling of the tent.
The skylight is a great feature. Not only does it allow you to have light inside the tent during the day, but at night you can leave it open and literally be sleeping under the stars. Yet protected from rain, bugs and mosquitoes.
Is It Easy To Set Up?
The instant 6 person tent by Ozark Trail is another 60 second erect tent. There's absolutely no assembly required as the tent comes with the poles pre attached to the tents lining.
So its a matter of taking the tent out, laying it flat and pulling the walls up. The poles are already attached and the hard work is done. Very simple to assemble this tent. Throw the rainfly over the top and tie it down.
While assembly can be done by one person, having a second person really does help with making the process faster. But then again, what is 2 minutes of your life.
Easy Set Up Screen Tent 8 Person
When there's a screen room involved with the tent, setting up the tent is always going to be slightly more difficult and take slightly longer. It's just the way it is.
I've found the Wenzel Klondike 8 person screen room tent the easiest to set up. It's also one of the best screen room tents on the market too.
The reason the Klondike is a rather simple set up is due to the fact the screen room and the main room are all part of the one tent. It's not a add on to the main tent. So assembling the tent is not so difficult.
In total I would allow about 5 to 10 minutes setting up. This will be based on your experience setting up tents. But his one really isn't that complicated.
More About The Wenzel Klondike 8 Person Tent
What's truly special about the Klondike tent is the screen room. Many tents with screen rooms are just that. But this Klondike tent can be turned into another room of the tent if you wish.
This is because there is a floor in the screen room. It's part of the main flooring, so nothing extra to set up. The walls are screen protected so bugs, mosquitoes and wild animals cant enter your tent.
But should the occasion come where you want to turn the screen room into an additional bedroom, you can. This is what makes the Klondike so special. There are interior walls in the screen room that can be zippered up. This gives you privacy and protection from wind an rain. This feature alone makes the Klondike 8 person the best easy up screen tent.
Some Wenzel Klondike Specs
6.5ft high ceiling suitable for most taller people
16ft x 11ft foot print with the screen room being 60ft2 and the main area 98ft2.
Large inverted 'T' style door makes entering and exiting the tent easy.
Power corners on the fiberglass frame to make the tent stronger in high winds.
Waterproof materials used from top to bottom of the tent.
Internal hanging pockets for keeping the valuables safe.
Well ventilated with a mesh ceiling and 2 large windows. Plus the air vent on the rear of the tent.
One of the

best 8 person tents

in general.
Easy Setup 8 Man Bighorn Tent
Browning Bighorn is one of the best 8 man tents going around. When you buy Browning, you know you are buying high quality gear that is built to last. They are a very recognizable brad in the outdoors world with a high reputation of making the best quality gear.
So if you're after a spacious 8 person tent that will withstand the weather, high winds, rain and storms then the Bighorn is my #1 recommendation.
Besides being a reputable brand they are also one of the best when it comes to customer service and satisfaction. You will see in the below video review that this Browning Bighorn tent was used everyday for 3 months. During a rain storm water leaked in through the floor. So the guy rings Browning and they send him a brand new tent. After 3 months of intense everyday use, this is an incredible gesture from Browning.
During the review you can see the take down of the tent and also the set up. So you know first hand what you are getting yourself into if you buy this tent. While it's not an instant tent, it's still a relatively easy tent to set up. This is because of the central hub on the ceiling. From there it's just a matter of putting in the support poles and your good to go.
The main reason I've listed the Bighorn is because of its high quality. It's a great family tent as it is built to last and hand;e tough camping conditions. The Browning lifetime warranty makes it a no brainer if you plan on camping a lot with the kids.
More BigHorn 8 Man Tent Details
Free standing tent which means it can be used without the need for stakes and guy lines. Although these are included if you don encounter extreme weather.
Huge 10ft x 15ft foot print.
Room divider with mesh storage pockets on the wall. Diving wall can be tied back to create a massive open plan tent.
Very tall height in the center which measures 87 inches.
Extremely well ventilated with 6 large windows and 2 doors. Finished with a mesh ceiling for ventilation and to reduce condensation during hot steamy days.
Awnings over the doors and windows for protection against rain.
Core 9 Person Instant Cabin Tent 14′ x 9′ Review
Now we are starting to move into easy set up family tents territory. The bigger the tents, the harder they are to set up. That is the myth behind these larger size tents.
But this CORE 9 person instant tent defies the odds and boasts a 60 second set up time. How is this possible you may be thinking. Well, lets walk through the set up shall we.
Remove the tent form the provided carry bag.
Place the tent the right side up.
All the poles are already connected to the tents main hub.
From one end of the tent, two people will pull up on both the end poles until they snap into position.
As one person stays on the one corner for stability, the other person goes around the tent and lifts up the other end poles. Now the tent is erect.
Each pole uses a telescopic method of raising to the full height of 78 inches.
That's it, set up in about one minute. Stakes and guylines are provided for holding down the rain fly in the even of bad weather. But the main of the tent is such a easy task its almost ridiculous.
Get To Know The CORE 9 Person Tent
2 Doors: One 'D' shape door on the side and a larger 'T' design door. Both doors have zip closing panels for privacy.
Room divider and ceiling hook for hanging lights.
14′ x 9′ with a ceiling height of 6'6″
Adjustable air intake vent to circulate the hot air out through the mesh ceiling.
Comes with water repelling rainfly to protect you from rain.
Hanging storage pockets.
Very large windows for maximum ventilation.
10 Person Instant Cabin Tent
10 Man tents can be quite difficult to set up alone. The are starting to get bigger in size and taller in height. But with the Columbia Fall River 10 person instant cabin tent, an experienced camper can have this tent up in 5 to 10 minutes.
That includes the rain fly. The main body of the tent can be set up in a minute or 2 as it is an instant tent design. Same structure as most instant tents. With the Columbia Fall River tent, you need to put the rainfly over the frame of the tent as it is half height. So before you extend the height of the tent, throw the rainfly over to make this a super easy set up 10 person tent.
The Fall River 10 Man Tent Review
While assembly is very easy and quick for this tent person tent, it also boasts some pretty cool features as well. The tents rainfly is coated with a special advanced repellent known as 'Omni Shield'. What this does is adds a protective barrier to the rainfly so that water is literally repelled. This keeps the tent dry and waterproof. Plus it means the tent is super fast at drying.
This is a 2 room tent so its important to understand that this is not a big open tent. It has a permanent room divider down the middle. This allows you to have privacy from the kids and or if you are camping with friends.
What I love about the Fall River id the huge opening at one end. This can obviously get zippered up, but for bringing in inflated air beds and bulk camping items, having a access this size is incredible. There is however a 'D' style door to enter and exit the tent as per normal if you close up the big opening.
The Important Stuff
Fully closable E Port for safely running electrical leads in and out of the tent.
Window covering and awnings for protection from the rain while leaving windows open.
2 Ground vents that are adjustable so you can control the air flow inside the tent.
Open mesh ceiling for ventilation and reducing condensation.
15ft x 10ft foot print with a ceiling that peaks at 7 foot tall. Very large tent.
Waterproof
Weighs 38 pound
The Best Instant Family Tents
Setting up a family tent can be a daunting task for a parent, especially when it comes to a multi room tent. When you have 3 or more kids, a tent with more than one room is essential.
Which is why this 12 person 3 room instant family tent by Ozark Trail is a good budget friendly tent. It's great value for money when you consider its massive 16ft x 16ft foot print.
But How Easy Is This Family Tent To Set Up?
This tent has been around for over years. The first edition back in the day was not an instant tent. So you may have seen families struggle with setting this tent up in the past.
But fast forward to 2018 and this tent is new and improved. Now the tent comes with the poles pre-attached to the tent. This classic 3 room tent now is an instant tent that takes just a couple minutes to set up. This is quite incredible for such a large family tent.
Although I recommend setting this tent up in your backyard first if you have the space. Because it is so large there is a bit of a learning curve. Allow 20 to 30 minutes to set up on your first attempt. From there it gets much easier.
What You Need To Know
Just the one ceiling hook on the back room for hanging a lantern, so make sure you have torches for the kids.
Boasts plenty of interior mesh pockets for storing valuables and keeping torches within reach in all rooms.
3 rooms that can be completely zippered off. Each room is 8ft x 8ft which can fit a queen air mattress.
Well ventilated with windows in each room and air vents to keep the room cool in summer.
Comes with a further 8 x 8 canopy area for sitting outside the tent with protection from the sun and rain.
Bathtub style flooring to keep water out.
Overall Opinion
Although this instant 12 person family tent is quite complex in design, setting up and taking down is much easier than you would imagine. It's very spacious and the option to close off each room is a great idea for large families.
I really like the tent but if I had one suggestion it would be to have a ceiling hook in each room. Other than that the Ozark Trail tent is great value for money when you consider the size and features of the tent.
How To Choose A Quick Set Up Camping Tent
When you demand an instant tent to take camping, one that is not only quick to set up, but easy to figure out as well, you aren't really considering what other features are important.
Sure a fast setup tent will make the experience start off on the right foot. Nothing worse than get tangled up in guy lines and mesh netting, only to find out the tent is faulty after one hour trying to assemble.
But there's more to a tent then just a simple setup. Below you can find some of the key elements to consider when buying a tent. Regardless of whether it is a quick setup or not.
Bathtub style bottom. This is the bottom of the tent when the actual tarp like material runs up the sides of the tent about 6 inches. This is a waterproofing feature and one that is mandatory if you expect wet weather. The extra 6 inches up the sides stops water flowing along the ground from seeping into your tent.
3 Season or 4 season tent. A four season tent will be capable of handling year round camping, including winter. A 3 season tent is better for the summer months.
Free standing tents don't require stakes to be put in place whereas some tents require them.
The actual tents weight is really only important if you plan to walk a fair distance to your campsite, or if you are a hiker. In this case a lightweight backpacking tent is the way to go.
Waterproofing your tent in my opinion is not optional. It's

cheap to waterproof a tent

to ensure that the tent will hold out the water. Not all tents come out of the shop with a waterproof label. Even then, yearly maintenance is recommended. I waterproof all my tents straight out of the box.
Weigh Up The Importance Of A Fast Erecting Tent
When you consider all the features, which there are many, picking the perfect tent can be quite overwhelming. If you are dead set on a quick and easy to setup tent for camping next season, then you are one step closer to choosing the best tent for you.
If you are a bit of a indecisive person like myself, I hope that my short list of tents has helped you with find a instant tent that is suitable. Without having 20 other tents on display, making the decision can be considerably easier.