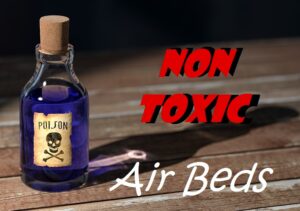 When it comes to Non Toxic Air Mattresses, looking for PVC free air beds is your safest bet. While the majority of air mattresses are made using PVC, how is one to avoid it, and is PVC even that bad?. Many folks aren't aware of the dangers of materials that incorporate
phthalates
and typically think that 'new mattress' smell is normal and will go away in a few days.
But there are some health concerns related to using such plastics, especially as a bed. Many Children's products are now opting for PVC free alternatives which begs the question. Why do manufactures still produce potentially dangerous materials for the purpose of an air mattress?. Is it harmful to sleep on a air mattress made from PVC on the odd occasion like camping?.
With so many unanswered questions, the world seems to be moving away from PVC products, especially for kids toys. But not just toys, big name Companies like Apple, Nike, Body Shop, Puma are pursuing the push for a safer PVC product range. The full list of countries and brands can be found here.
Compare PVC Free Airbeds
The Dangers Of PVC & Phthalates Toxins In Air Beds
Phthalates are used as a softening agent when combined with Polyvinyl Chloride (PVC). Phthalates are found in virtually all air PVC mattress so that the beds can expand and retract and bend. Such as a air mattress should right. But what is Phthalates doing to us as we sleep?. Is it dangerous.
Well for starters, 6 types of Phthalates have been banned for use in kids toys in the USA since 2008. So I know for sure that Parents would not feel comfortable with their Child sleeping on a air mattress consisting of the dangerous Phthalates.
According to Medial Device Developments, Phthalates is dangerous and as Doctors they are steering clear of using the plasticizing agent and transitioning into a safer option TPU. (Thermoplastic Polyurethane)
"At very high levels, phthalate exposure has been associated with health problems including liver issues, cancer, and disruption of the development of the reproductive tract in male infants"
Given that Doctors will enter a persons body with a medical device consisting of TPU (Thermoplastic Polyurethane) and are making 'in roads' to wiping out PVC and Phthalates altogether. I feel much more comfortable knowing that air mattress companies are now starting to also create PVC Free Air Beds and replacing them with the safer TPU.
Below You Can Find Non Toxic Air Beds PVC Free!
The Best Non Toxic Camping Air Mattress
The Alps Mountaineering Velocity Air
This 100% PVC and Phthalates free air mattress is perfect for the campers out there.
Available on amazon
in Twin and Queen sizes with weight capacities of 250 Lbs and 500 Lbs. The material used to construct this air bed is PVC free fabric. As it is a fabric air mattress you won't getting any stretchering or growing pains plastic air beds encounter.
As you can see from the image, the Alps Mountaineering Velocity air mattress is super tough. In this demonstration seen below in the video, the mattress can handle a pick up truck driving over it without popping. Incredible!.
As this is a chemical free air mattress, you won't get the usual plastic smell often found when first using. Which is great!. The inner workings of the air mattress consist of a spring coil resemblance, but with air instead of metal coils like traditional mattresses. This 'coil' system is the amazing support felt when laying down.
The coils provide a full mattress support system. This means when you lay on one side of the mattress, the other side won't pop up and you wont sag to the floor like you may do with a traditional horizontal style air mattress.

While this is a safe to use air mattress, the only negative is the external pump. It's not battery operated which I like for 'emergency' occasions while out camping. So you will need to charge the rechargeable pump prior to camping. Either via a power outlet or the 12v car socket. The lack of a remaining power indicator light is also a small annoyance as you never know when the pump will become flat. Other than the pump issues, I find the Alps Mountaineering Velocity Air Bed to be the best PVC product on the market in 2017.
100% PVC Free Alps Mountaineering Air Bed
The Best Queen Size PVC Free Camping Air Mattress
LightSpeed 2 Person Camping
This non toxic and PVC free air mattress by LightSpeed has exceptional support boasting there patented 'Stabilizers'. Being made from TPU, this bed is super tough, flexible and extremely lightweight. Exactly what you want from an air mattress when you go camping regularly.
Being a full Queen size, this bed is ideal for 2 people/couples. While it is a single level air mattress, it still boasts amazing support. So there's no need to panic if you are worried about sinking into the center of the bed, or the mattress distributing air unevenly.
The support is thanks to the LightSpeed Stabilizers. These Stabilizers do exactly what you think they may do. Make the surface firm and stable to sleep on.
Think of these stabilizers as little strong Men or Women standing on the inside of the air mattress. Arms raised to the top of the inner mattress and feet planted firmly on the base. These Stabilizers stand strong and tall to support the weight forced upon them. Now imagine a hundred of these guys. Ultimate full body support and even air distribution.
Besides being super durable and non toxic, the bed also comes with a handy pump suitable for camping. Powered by batteries, you never need to rely on a powered campsite or your car again to inflate your air mattress. The bed has a Boston Valve which is very handy for minimizing air lose during inflating. A really nice and strong PVC free air mattress highly targeted at campers.
LightSpeed 2 Person Camping Airbed (PVC Free)
The Best Phthalates Free Air Bed For Hikers/Backpacking
The Aerobed Pakmat
Reinforced with a tough polyester material the
Aerobed Pakmat is a Phthalate free
alternative to PVC. While this bed can be used for campers, it's better suited to hikers, Kayaks, Backpacking etc due to it's ultra light weight and portability appeal.
Check price on amazon here.
How light is this bed?. About 4 pounds and so compact you would struggle to not find somewhere to pack this air bed. While compact, it still has a nice expanded size of 26 inches wide and 78 inches long. As for regular air mattresses, 80 inches long is the longest we could source for tall people. So this being a PVC free and a super light bed, 78 inches is rather long and will appeal to other taller people out there.
The other important feature for hikers and co. is that this air bed relies on Human power to inflate/deflate. No, not by the mouth. But with the included built in pump which is used to pump the bed in about 2 minutes by hand. Which eliminates the need for a power source ever. Overal, this is a quality bed that has joined the plastic free product range and suitable for most outdoors people.
The Aerobed Pakmat Air Bed
The Best TPU Air Mattress (Thermoplastic Polyurethane)
Kelty Sleep Eazy PVC Free Air Bed Review
TPU
is a widely used PVC alternative and can be found in many products such as mobile phone, medical devices, power tools, caster wheels and now it's made it's way to the humble air mattress. Kelty is a outdoors and camping specialist and they provided this TPU air mattress as the demand for PVC air mattresses increase.
To describe the material the Kelty air bed is made from is similar to what a ultra heavy duty umbrella would feel like. So dust and dirt is much less of an issue when it comes to wiping or cleaning this air mattress. The bed comes with a very nice carry case also, once which is of higher quality compared to many others I've seen.
This bed is ideal for both indoors and outdoor occasions such as camping. This PVC free air mattress comes with a rechargeable battery operated external pump. Great for camping as no power source is need. But if you do run out of charge mid camp, the pump comes with a 12v car charger and your typical wall charger.
What we found from the Kelty air bed is that it holds the air very well, whether this has something to do with the TPU material or quality of seals is unknown. But from our research the bed lasted over a week of daily use without having to top up the air levels. This may vary from person to person tho.
The only real negative if we had to pin point one would be that the material is a little squeaky to lay on. So rolling over and such will make a crinkle noise. But nothing a sheet can't solve.
Overall if you're in the market for an Eco friendly, non toxic solution to the typical PVC vinyl air mattresses, I highly recommend the Kelty Sleep Eazy.
Kelty Sleep Eazy Air Bed
Save
Save
Save