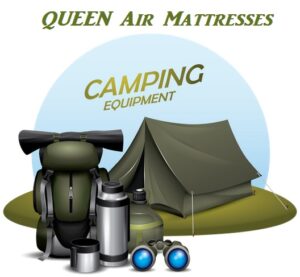 When it comes to camping with a loved one or a young family, it's needless to say a large sleeping vessel is required. But what is the best queen air mattress for camping then?. A queen sized camping mattress should be big enough for at least you and your partner.
Size is just one element you need to consider before buying a queen sized air mattress. When it comes to camping, everybody does things different, so it's impossible to title one singular aim mattress as the best for camping. However, we have found the top rated and highest reviewed air mattresses on the current market (2016) to make this list.
Before we reveal our best rated Queen camping mattresses, lets have a look at a few of the more important aspects of a air bed that you should take into account.
Queen Size Camping Air Bed Buying Guide
Built In Pump or Not?. This is the most important question in our opinion. Will you require a Queen size air bed with a built in pump or are you an old school camper with the love of using a foot pump.
Access To Power: This question follows suit to needing a built in pump. Have you thought about the camping locations and if you have access to power. Whether it be in the form of a generator, 12V from your car or battery powered pump. Many air mattresses these days require the use of power to inflate them.
No Pump At All? If you don't want to rely on any sort of pump to inflate a air mattress. Your safest bet is to buy a Self Inflating Air Mattress. These are super handy camping mattresses which are generally cheaper, but less comfortable. But you can also rest at ease knowing you have a reliable mattress.
Puncture Resistant. Depending on the terrain you plan to camp on, are more heavy duty air mattress will be a better suited product. While no mattress is ever 100% puncture resistant, spending the few extra bucks to get a thicker more durable material should be worth it.
Our Best Rated Battery Pump Queen Sized Camping Air Bed
Coleman Queen Airbed Cot Review

My Wife loves the idea behind the Coleman Queen Airbed Cot for 2 reasons and I'm sure she isn't alone with her thinking.
The air mattress is raised off the ground and is supported by a bed frame. While we all know that creepy crawlers exist and have only a small % of chance to get into bed with us, my Wife is still paranoid as all heck about them. So this Coleman camping air bed was a good compromise to get her out in the wilderness more often.
The battery powered pump was a huge reassurance. Knowing that if we have plenty of D size batteries, we would never have to sleep on the deck in a deflated mattress again.
Because this is only a single level mattress and isn't double raised, it may come off more firmer. Which for us is how we like it. It's still a very comfortable air mattress. From going through the cycle of camping sleeping phases; sleeping bag, foam, to cheap air mattresses and now to off the ground air beds. We can easily say that this Coleman is by far the best we have used for camping.
The bed frame itself can handle some good ole fashioned heavy duty use as well. It's built to hold 2 pretty plump campers. It has a total weight capacity of 600 pounds and you can see how heavy duty this air mattress is just by taking a quick look at the frame work. Not too squeaky either.
I'm also a fan of the little side tables with the camping chair style of cup holders. This little feature you don't see on too many other off the ground air beds, and is one I imagine many folks would take advantage of. The side tables and even the cup holders are a great place to put your keys and so on while you sleep.
As for packing away, the Coleman is not too different from any other air mattress you may have tried in the past. The battery powered pump can deflate the mattress from which you can pack away nicely into a carry bag. We also found the cover or protector that encloses the entire air mattress was a really great idea. Not only does it protect the mattress form dirt, grime etc, it also backs as a sheet. We highly recommend this Queen size camping Air Bed for anyone with similar needs to us.
#1 Rechargeable Pump Camping Air Mattress
If having a air mattress on legs is not your thing, but you still want a high quality and durable Queen air mattress for camping without the hassle of needing access to power. Then this special camping edition of the Sound Asleep range is the way to go.
Sound Asleep have an amazing double raised air bed with built in pump which is more designed for interior use compared to this camping series. Available in Twin or Queen, this camping edition is the next best choice in our opinion.
What makes this Queen size air mattress a great fit for camping is the fact it was designed specifically for outdoors use. The tough base and extra thick water proof top will embrace the great outdoors like no other. The mattress sits about 9 inches from ground level once fully inflated. Which is ideal for campers with a low hanging tent compared to a double raised air bed.
What Makes The Sound Asleep Air Mattress Good For Campers?
The pump I feel is probably the biggest selling point with the Sound Asleep camping air mattress. As it's a rechargeable pump, you can quickly inflate and deflate the mattress without the need for power. However, you must ensure you fully charge the pump before camping.
Pro Tip: As this air mattress is made from PVC, I recommend you inflate a day or 2 before going camping, then top up the mattress to fully flex the material so it's in prime position when you actually go camping.
Pro Tip: The rechargeable pump does not come fully charged, so make sure you don't go camping without charging it first. The pump can also be charged via your cars 12v inlet which is very handy if you plan to camp for more than a few days in a row without additional power source.
Highly Durable Double High Air Bed For Campers
The Coleman Support Rest Double High Queen Air Bed Review
Like the Sound Asleep mattress, this air mattress is also made from heavy duty PVC. Making it a great choice for campers. Coleman have a 'Air Tight System' which separates this mattress from many of the other camping brands on the market.   Durable Double High Air Bed For Campers
The air tight system is a factory tested design to pretty much guarantee minimal if any air leakage. While I don't believe anyone can guarantee anything, Coleman is happy to make this statement. However from the many amazon consumer reviews I read, it appears as tho the Air Tight System seems to work extremely well for many folks, so it's not just a once off luck of the draw scenario.
The mattress comes with a 'wrap and roll' carry bag. I've used many of these before and for lots of them, it's being like trying to wrestle a Alligator to get the air mattress to fit back in the bag. But this Coleman bag must be that bit bigger to make packing away that much easier and more space saving in the car.
The only Con which can be modified is the fact this queen air mattress doesn't come with a pump. So what I suggest you do is get a cheap battery powered pump and you are good to go. For a double high camping air mattress, we believe this Coleman to be up there for durability, quality and comfort. Highly recommended.
The Best Portable Air Mattress For Camping
LightSpeed Outdoors Queen PVC Free Air Mattress
Weighing just 6 pounds, this Lightspeed air mattress is perfect for the camper on the move (A popular choice among Hikers). Unlike the above air mattresses, this one is made from
TPU
–
thermoplastic polyurethane
and not PVC. What is the difference? A lighter, more durable and non stretch material. Which is why it is ideal for the portable camper. TPU is also a non toxic substance which is why this air mattress is one of our recommended
non toxic airbed
.
The Lightspeed Queen air mattress is a true Queen size, meaning queen fitted sheets should be snug fitting. While this air mattress has some advantage over the traditional PVC, it does however only sit about 6 1/2 inches in height from ground level. But becasue it is a low profile and lightweight air mattress, it makes it ideal for canoe camping.
When it comes to inflating this mattress, you won't need to do any material stretching the day before you go camping. That's the positive about being made from TPU. It can be inflated immediately and will never stretch.
The included pump is battery powered and runs off 4 'D' size batteries. The mattress has 2 valves to be used. One is for inflating the mattress, while the other valve is for deflating. This 'Boston' design valve system is to minimize air leakage.
 What Makes A Air Mattress Good For Campers?
So what is the best Queen air mattress for camping?. We have given our recommendations and insightful reviews. Now it's up to you to decide which mattress from this guide is best suited to your individual needs. Have you had any experience (Good or Bad) with the above Queen sized air mattresses while camping?. We would love to know. Please comment your opinions below.
Save
Save