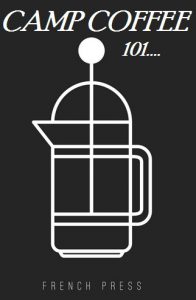 Making a Barista quality cup of coffee while camping is not as hard as you may think, especially when you have access to one of the best camping French Press coffee makers. These heavy duty devices are perfectly matched for the harsh conditions of the great outdoors.
A French Press is one of the easiest ways to make coffee when camping due to its portability and ease of use. Not requiring gas or electricity you can be brewing a beautifully made coffee in under 5 minutes. While the process of making a French Press coffee is very simple, you will require a couple extra tools of the trade to successfully create a cuppa in the open air.
For French Presses, a medium to coarse grain of coffee is ideal, where as a finer grade is recommended for camping Percolators due to the drip method. In order to maintain a medium ground bean, a custom fit grinder is recommended. These Burr camping coffee grinders are ideal as they are built heavy duty and have up to 18 different levels of coarseness. Once you have the beans ground, its a mater of weighing the amount required and adding hot water tot he French Press. Water can be easily boiled in a pot over a campfire or on a gas burner.
Few Tips For Using a French Press When Camping
Always measure the amount of coffee to water levels. This will result in a more even flavor every time. The amount of coffee required will be determined by each individuals taste buds. However, 25 grams or 3 table spoons is generally enough to make 2-3 cups of coffee.
If the coffee tastes too bitter or too strong, then you have ground the beans too fine. While if the coffee tastes too watery, than its because the beans haven't been ground enough. A medium to coarse grind is our recommendation.
Pour a little bit of water into French Press initially to heat up the cylinder, preparing it for the beans and water. Dry the inside with a towel before commencing
Once beans are ground and measured, add enough hot water to just cover them and let the beans soak in the water for 30 seconds. After this add the rest of the hot water and allow to sit for 3.5 minutes.
Decanter the coffee first before serving to reduce the chances of the coffee being burned or too bitter.
The Best French Press Coffee Makers For Camping Reviews
Stansport Delivers A Glass Alternative
Many presses are made from glass, which is fine for indoors coffee. but when it comes to camping, glass is not our friends. Anything can happen while transporting goods to and from the camp site, so dropping a glass French Press is a possibility I'm not willing to take.
This Stansport Press may look like glass, but the carafe is in fact a heavy duty plastic called Triton. Which is BPA free which means it's very safe to use for drinking purposes and  is even dishwasher safe. I like the fact it's not glass, yet still see through. This makes it easier to see the water levels especially when adding the first bit of water to soak the coffee grinds.
I also love how the clear plastic sits in a cradle like device. This adds an extra element of protection when facing the daily activities of camping. Holds up to 800 ml, so great for a family of coffee drinkers depending on how much each person drinks. The only negative I see is that after long term use, the plastic can become slightly scuffed up. Not broken but a bit scratchy due to stirring the coffee beans with a spoon and day to to day wear and tear. Other than that, I found the Stansport to be a great heavy duty French Press option for camping purposes. See through and not glass. It's a winner!.
Stansport Heavy Duty Plastic French Press
Super Tough French Press For Campers That Love A Strong Coffee
Linkyo Stainless Steel Double Wall Coffee Maker – Fine Ground Coffee At It's Best
Another great alternative to glass French Presses is the Linkyo. This mighty tough coffee maker consists of heavy duty stainless steel with a double wall construction which is resistant to corrosion which is essential for outdoors camping. Holds 1 Lt which is great for a group of campers.
What I love about the Linkyo is how easy it is to use. Nothing complicated with this French Press. It's pretty much all one piece and is as simple as adding ground beans and water. Push down on the plunger and presto, Barista made coffee by the campfire.
The Linkyo is one of the better French Presses for finer ground coffee beans due to the multiple fine filters. Unlike some presses which are designed for more coarse beans, the Linkyo can handle finer ground beans for a richer and more intense coffee flavor. Whats very nice about this model is that you get 2 additional filters to keep as spares. Normally you would have to buy these separate, so I found this to be a really good selling point.
Unlike other French Presses, the Linkyo is insulated to keep the coffee warmer for longer. Which is perfect for waking up on a sunny day and simply relaxing with a hot cup of coffee. There's nothing I dislike about this design, it's simple, heavy duty and even looks fancy. Highly recommended.
Linkyo Fine Grade Stainless Steel French Press
The Perfect French Press For The Solo Camper & Backpacker
12 Oz Vacuum Sealed Portable ZELL French Press
At first I was a little suspect as to whether this design could actually work. To my surprise,
The ZELL
works wonders. I was fearful of the coffee grounds getting mixed back into the coffee after being plunged. But to this day, it has been an amazing on the go French Press without any grounds coming to the surface. Once you get to the last sip you may encounter a ground or two. But this is pretty normal with French Presses.
I've been using coffee travel mugs for a long time, but I never thought I would see the day I could make my own fresh coffee inside of a travel mug. That is exactly what this portable mug does. It works as a French Press inside of a travel mug.
Inside the mug the walls are double insulated, so the coffee stays hot for a very long time. While the outside of the stainless steel mug remains relatively cool -warm at best. I was fearful of the outer steel becoming too hot to hold, but I was wrong.
This kind of French Press is an amazing idea for the solo camper, or for the only coffee drinker on site. Also great for bush walking and backpacking as the coffee stays hot for so long. This is how simply the ZELL portable French Press is to use:.
Put ground coffee beans in the bottom of the mug
Add hot water to mug
Give the beans a little stir to encourage flavor release
Steep for 3-5 minutes
Press down on the screen and you are away.
To add milk or sugar you have to put it through the mouth hole. Avoid taking the lid off and trying to tilt the mug to pour in the milk as this can disrupt the filter and cause grounds to sneak into your coffee. This would be my only complaint, if they could figure out a way to easily add milk and sugar than this french press would be truly amazing.
ZELL Portable French Press Coffee Maker For One
See First Hand How To Brew Fresh Coffee Outdoors!
This is a great video that runs for about 10 minutes showing you how to grind the beans and then make a French Press coffee all while out in the middle of nowhere. Great insights for first timers wanting to make coffee while camping.