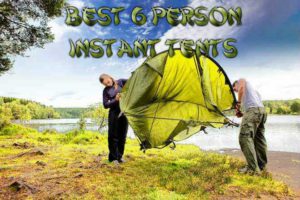 Setting a tent up can be a real pain in the backside, especially if you're racing the sun as it quickly sets for the day. By investing in one of the
best 6 person instant tents
for camping, you can reduce the amount of stress and heartache you face when you've left it too late to set up camp.
Not too mention if rain appears out of nowhere as soon as you roll up to your camp site. Believe me, I've done both before, set up in the rain at sunset and it's not an enjoyable experience like camping is meant to be.
While I have discussed various easy set up tents in the past, this review is all about instant 6 person tents. The types of instant tents listed on this page will include cabin, dome and hybrid style dome tents.
Do note that the tents listed here are tents labelled for 6 people which basically means 6 people can technically sleep inside the tent, but with minimal comfort. If you're actually planning to sleep 6 people inside a single tent, I would highly recommend you look at the larger tents for a family of 6 people. However, these won't be instant tents.
Are Instant Cabin Tents Good
An instant tent is basically a tent that comes pretty much pre-assembled. Meaning the poles will already be attached to the walls of the tent. So when it comes to assembly, you expect no more than a 60 second set up for the basic tent.
With instant cabin tents, there may be a further step involved which literally takes seconds. Some instant cabin tents utilize a telescopic pole system. So you will have to extend the poles in order for it to instantly pop up.
Because these tents are so quick to set up, many people get the wrong idea about them. They assume that they are low quality and are prone to deteriorating under storm like condition.
I don't know where this impression has come from, but the best instant tents are not designed to fail on you. They are designed to make your life easier, not harder. So the quality of the poles and tent materials are still there, provided you're buying the best tent and not some cheap and nasty variety.
But like most tents, there will be some areas where one tent is better than another. Its just the way of the world. However, most tents could really do with an upgrade to their stakes. But that's another topic altogether. But if the fear of whether or not instant tents are really good or not is holding you back, fear not.
Best 6 Person Instant Cabin Tent
I find the CORE instant tent close to perfection for my needs. It packs a punch in terms of features while not hitting your hip pocket too hard. Super easy to assemble and is a decent sized 6 person tent.
The CORE utilizes the telescopic poles approach which come attached to the tent walls. To assemble this tent you need to extend the steel poles out and then simply raise the tent. Before your eyes a 6 person tent appears. Setting this part of the tent up can easily be done by 1 person in under a minute.
Assembling The Awning
Hooray, the tent is up and ready for sleeping in mere minutes once you stake it down etc. But you will still need to assemble the rain fly which has a small entry door awning attached to it. But don't worry, this too is about as instant as you can get.
Feed a pole through the middle of the rain fly and throw it over the tent. The area where the pole is attached in the fly, is where the front door awning is. This pole helps to give the awning strength so that rain doesn't simply fall onto the entry door.
The awning itself comes out from the tent about 10 inches, so not a huge awning but enough to keep the rain from pounding the front door. Quite a nifty idea by CORE.
T Style Door
One of the features of this CORE I found very impressive is the T style door. This replaces the more common D style doors you may be used to seeing. So instead of zipping the door up like a D shape, its more of an upside down T which allows you to enter both sides of the tent.
I'm not sure why, but I prefer this type of door over the D doors. Having the door like this does allow more air to enter in the tent which is a bonus.
Great Ventilation
The CORE tent is quite airy, it has great ventilation and a ground vent help circulate air even better. The ceiling is mesh as are the 3 windows of the walls the tent. The back wall however is full tent material and features a wall hanger, just an amazing idea. 
The ground vent has both mesh and tent material, so you can open up the vent to allow more air inside the tent, without having to compromise your safety from mosquitoes. There's also an e-port, but you will have to make sure you fully zip this closed once you bring your lead in through it.
All in all, I'm relatively impressed with the CORE instant 6 man tent. Its super easy and fast to set up and has amazing ventilation. The little awning, while small is a touch of genius and the interior wall hangers a brilliant. Why don't all tents have this feature.
If I had to complain about anything, it would be that the tent doesn't have bathtub flooring. So the bottom few inches of tent could be a hazard for heavy ground water. So I would ensure that the tent is sitting on a tarp in the vent of a heavy down pour. But like I said, no tent is perfect, but this one is pretty close for the price you pay.
Best Instant Tent For 6 Person Family
I love this inspiring tent known as the Mobihome. It's a great tent if you're camping with a couple more people as it is a larger 6 person tent then the others listed on this page.
While I will admit from the get go, the Mobihome is not a 100% instant tent. But before you shoot me down, its not as difficult as you may think.
Setting Up The Mobihome
I would imagine the name Mobihome derives from the words mobile home, because this tent is very easy to set up, semi automated and quite spacious, like a home. Certainly much quicker than building a house tho.
To set up the tent you un-roll the tent into the position in which you want it. Snap together a few poles for structural support. With your hand pull up the center 'Quick Up' hub which is in the middle of the tent.
When you pull up the hub system, the tent will automatically form before your eyes. Well, most of the tent. There's still a small amount of work to do on your behalf. Next you need to feed the 2 end poles through the loops and locks into the clips at the base of the tent.
Presto, the main section of the tent is complete ready for star gazing on a beautiful night. The Mobihome also comes with stakes and guylines if you wish to stake down the tent in the event of high winds.
Quick Set Up Rain Fly
Setting up the rain fly is one of the easiest out there. You feed another pole through the middle of the fly while its on the ground and then lay it over the 55″ tall tent. Tie it down as you normally would and you have quick protection from the rain.
Because the tent is not overly high, it makes putting the fly on so much easier. With taller tents, you're always battling against the odds trying to put it on yourself. But with the Mobihome, its much easier and I love that.
Great Instant Family Hybrid Dome Tent
Overall, the Mobihome is a great option for larger groups that want a 6 person instant tent. Measuring 13.5′ x 7′ it can fit 2 queen airbeds inside and you still get a little room to play with. In terms of tent quality and features, I find the Mobihome to quite decent.
From the waterproof 1500mm coated bathtub floor with sealed seams to the roll up windows and large entry door, the Mobihome is a decent quality 6 person instant tent. The little extra work to set up is well worth the investment if you demand a little more space.
Best Pop Up 6 Person Dome Tent
A really creative 6 person pop up tent is this one by Hui LingYang. Not a name you would probably expect from a camping tent, but nonetheless, its as a fast a set up as you can get. Plus you don't see too many instant
dome 6 person tents
either.
If you have ever used one of those pop up shower enclosures, then you know exactly how this works. So to set this tent up, you first undo a clip. Next you step back and magically the tent pops up. Hows that for speedy, not bad for a 6 person tent right.
Packing the tent away is just as easy, unlike some of the shower enclosures that you have to wrestle back into their carry bags. To pack it away you obviously have to remove all items from inside the tent. Next you grab each end of the tent with your hands and put them out in front of you.
Next you push the base of the tent away from your body with your foot. By pushing your hands together, the tent will naturally fold down into the 8 position. From there, you simply fold the tent in half, clip it back together and pack it away. Super easy.
More About The Hui LingYang Tent
Being a instant pop up tent, you may be fearing the worst. But don't, its actually a pretty good tent. To start with, its a 4 season tent, so there's no mesh ceilings and is a double layer tent to keep you warmer in colder climates. Which means you can use this tent in winter should you please.
During the warmer months there's air circulation via the windows on either side of the tent, plus the front door and there's also a air vent on the rear wall up near the 52″ tall ceiling. So the cooler air can vent the hot air up and out through this vent.
The tent is waterproofed and has heat sealed seams so water can't seep in through the seam holes with taped floor seams. In terms of size, its not a bad 6 person tent measuring 12.5′ x 8.5′. 
I like how the front of the tent is like a mesh zippered vestibule, but can also act as a living room. Quite spacious for up to 4 people to camp comfortably. But its really the effortless pop up feature of this tent that's so appealing. If you want lazy camping, this is it!.
Quickest Set Up Instant Tent
The Coleman 6 person instant tent is the quickest set up simply for the fact it has an integrated rain fly in the ceiling. So once you spend the minute or so setting the tent up, there's no need to worry about another step. The rain fly is already in place. 
Similar in design to the above CORE tent, the Coleman also uses a central hub that you use to pull the tent up. The poles come attached to the tents walls, so all that's left for you to do is extent them out, pull up the hub and the tent is ready to go.
Being a freestanding tent, you literally can be up and camping in about one minute. However, if there is strong winds around, I highly recommend attaching the guy lines and staking the tent. Since you save time setting up the tent, there's no harm in making sure the tent stays put now is there.
Like most tents these days, you will need better stakes if you plan on camping in winds in excess of 35mph. The stakes that come with the tent are about average and will be fine for most campers. But people camping on the side of a mountain, may want to invest in some more heavy duty stakes.
Quite A Spacious Tent
The Coleman 6 person instant tent is quite a spacious tent, its a little deceiving at first. But you can actually fit 2 queen airbeds inside as the walls measure 10'x9′. But whats more impressive is the tall ceiling. It's 6 foot tall, so most people bar the extra tall folks will be able to stand inside the tent without ducking their head.
Waterproof
While the tent does come with a built in rain fly, I would suggest taking the offer on the additional rain fly. This is a separate rain fly designed for this tent. If you don't plan to camp in heavy rain, you may not need it. But does anyone ever plan to camp in heavy rain.
The addition of the extra rain fly will make this tent much more waterproof. Besides the rain fly, this tent also utilizes the Coleman WeatherTec system. What this means is the floors are welded and the seams are inverted. This pretty much eliminates water entering your tent via the seam hols as the seams are facing inwards instead of being exposed to the weather.
Overall, It Passes The Test
Overall the Coleman 6 person instant cabin tent is pretty decent. I like how they have included the integrated rainfly as not everyone wants  a full blown rain fly due to how heavy they can be. So this is a nice and simple instant tent that takes the headaches out of setting up a tent.
The option to buy an additional rain fly is also a nice touch, it gives families the options to fully protect heir tent should they please. My only gripe with this tent is that one wall doesn't have a window.
A window on every side of the tent would have given it more of a 360° view of the surrounding campgrounds. The CORE is also like this, but the CORE has a very nice wall hanger built into this wall, where the Coleman has smaller pockets for storing smaller gear.
Largest Instant Tent For 6 People
If you need space for 6 people to actually sleep inside the tent with enough space for your gear, then the Gazelle T4 tent may be a viable option. Its listed as a tent suitable for 4 to 8 people, which to me makes me think its the best for 6 people.
If you don't mind waiting the extra 30 seconds, you can have this tent set up in just 90 seconds. Not bad for a tent of this size. Speaking of the size, the Gazelle T4 measures 7.8′ x 14. Essentially this is a pop up tent on steroids.
It comes assembled and pops up to form a large and quite a unique cabin tent. Everything from the design to the features are quite unique on the Gazelle T4 Hub Tent. I guess when they say they reinvented camping, they meant it.
The zippers are just incredible, YKK zippers which are very heavy duty. These are not the flimsy zippers you get on most cheaper tents. I really like the beefier style of zippers on this tent.
Very Unique Tent Floor
If you've been camping before, I'm sure you're well aware of the need to bring a dustpan along with the rest of your camping gear. What for you may ask, well to sweep out all the sand and dust you accumulate living inside a tent for a few days.
The Gazelle T4 has a new approach to the age old problem. It has a removable floor. Yes, the floor can be completely  removed so you can shake it off for a quick and stress free way to get rid up sand build up inside the tent.
Extremely Waterproof Instant Tent
For those that want the best waterproof from their 6 person instant tent, the T4 oozes water protection. The tent has a 2000 mm coating of waterproof, which means it can handle a ton of rain without compromising its effectiveness. Most tents have between 1000 and 15000mm coatings.
So the 2000mm coating means you're getting some solid protection from the rain. But what I love about the T4, is the rain fly. This things is not only eye appealing due to its uniqueness, but manages to cover the essential areas of the tent so you stay dry.
The fly comes away from the tent on each side to create 4 large sized awnings. The fly runs all the way to the ground and acts as a barrier between the windows, screen room and the fly. So you can leave the windows open when it is raining without getting hold and sticky.
Its a great tent, there's no other way to explain it. However, there is one drawback and that is its weight. This is strictly a car camping tent as it weighs about 50 pounds. Which can be as heavy as 2 regular 6 man tents.
However, due to simplicity of the instant set up, the weight won't pose much of an issue for you. I love how the floors can be removed, this is a great idea if you're camping with a dog and have the front room dedicated to mans best friend.
Best 6 Person Lightweight Instant Tent
Weighing less than half of the above Gazelle T4 is this smaller 6 person instant tent weighing just 20.46 pounds. This is the Alpha Camp tent designed for people on the move. While it can still be a great car camping tent for long term, the fact it sets up in under 60 seconds and is so light, means travelers also love the Alpha Camp.
The tent comes with a rain fly that coves the top of the tent mostly. Under the rain fly is a ceiling which comprises of large mesh triangles for better air circulation from the large windows. The front door is also quite large and features a mud flap so you can get your shoes on or off without having to get dirty standing outside the tent.
Personally I would have liked this tent to have a rear door as well, saves the congestion at the front door when camping with multiple people. This may or may not deter you from the Alpha Camp tent.
Light & Easy To Set Up
Overall the Alpha Camp 6 person instant tent is a pretty basic tent. Basic does not mean bad tho. It's main appeal is the weight, its super light and set up takes just one minute. So there's certainly people that demand this kind of set up.
If you're elderly or have an ongoing injury, the lightweight and ease of set up are 2 huge features to look for in a tent. I feel the Alpha Tent coves both of these features extremely well. However, I am not completely sold on the rain fly, I wish it covered more of the tent. This is when a tarp is handy to have in your gear.
The Difference Between An Instant And Easy Set Up Tent
Companies like to use snazzy words like instant, easy or fast set up to lead you down the path of deception. Believe it or not, there is a difference between an instant tent and a easy to set up tent.
If you're after a tent that basically sets itself up in under a minute, than an instant tent is what you're after. A easy or fast to set up tent can mean that the tent has simple to follow color coded poles and loop holes.
So easy to set up, but it still may take you upwards of 5 to 10 minutes. Now me personally, I don't mind if it takes 10 minutes to set up a tent. Setting the thing up is part of the camping experience, so why rush it. Unless there's ominous clouds hanging around or the sun is setting for the day, then usually I'm in no rush.
So now you can determine what are the best 6 person instant tents from the misleading titles of easy set ups, its time to get out there and start camping.