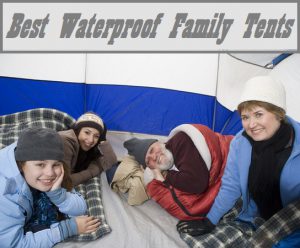 As the 2023 camping season continues and 2024 fast approaches, it's time to start thinking about the
best waterproof family tents
for 2023 to 2024. With several kids myself, I know how important it is to spend quality family time together. Nothing is more exciting than preparing to take the family on an outdoor camping trip.
The last thing I want to do when taking the troops out into the wilderness is to worry about getting drenched from the rain in our tent.
Not all tents are waterproof, even if you handed over several hundred on a brand new one. Not everybody knows this and unfortunately ends up finding out the cold and wet way.
While you can make any tent waterproof yourself, I find it more convenient to buy an already waterproof tent when taking the family camping. Mainly due to the inconvenience of needing to prepare the tent before heading out and also time restrictions. As any parent knows, finding 5 minutes to yourself is sometimes impossible.
However, in saying this. It's important to understand that a tent will need maintenance. Every couple of years you may need to seam seal the tent seams to stop water penetrating in around the windows and joints. So with that in mind, it's time to look at some tips for choosing a rainproof tent and then check out my recommendations for the best waterproof family tents of 2023.
Compare Waterproof Family Tents for 2024
Choosing A Waterproof Tent Starts Here
Single wall or double wall tent. For maximum protection from the rain, I recommend a tent with a second wall known as the rainfly. It's also important that the rainfly can be taken off during the hot days to allow maximum ventilation.
Bathtub bottom lining in the tent. This is when the tents base material runs up the side of the tent 6 or so inches. This stops water on the ground from flowing into the tent.
Straight up and down walls are good for limiting the rain from 'sitting' on the walls of your tent. But against strong winds, they can be considered negative.
Some tents come with a 'Mud Room' or Vestibule. This is an area of the tent which is covered from the rain. but not inside the tent where you sleep. This mudroom is great for taking off wet clothes, muddy boots, dusting off sand, etc before jumping into the living space of the tent.
Lightweight tent shells generally deflect water easier than heavier tents. So choosing a lighter tent not only makes carrying it easier but also more waterproof.
Size: For a family, you're going to be looking at a larger style tent. These tents have been specifically picked out based on the number of family members you have: 5 Member tents, 6 member tents.
Best Family Tents For Wind & Heavy Rain Protection
The best large family tent for rain and wind resistance belongs to
NTK Laredo tent
which is the international brand for Nautica. NTK also has another 100%
waterproof tent for a family of 5
which is slightly larger than this one.
The description of this product states that they are a Brazilian company that makes tents to withstand the wild and harsh conditions of the Amazon. It's easy to see why when you get up close and personal with this tent.
Built For A Large Family
First of all, it has got the family covered. Being a true 9 person tent, you can technically fit 3 Queen size air mattresses in this tent. Provided they are a single layer mattress as the tent angles in a little.
The Laredo is a super spacious tent by no stretch of the imagination. Measure out 10 feet by 15 feet in your backyard and then you can see the actual footprint. But that is not the whole scope here. Add in high ceilings and this tent becomes a very nice family camping tent.
What Makes This The Best Waterproof Tent For A Family
What makes this tent the best waterproof tent of 2023 are the features NTK installed into this tent. First of all the base of the tent is a bath tub style bottom. This seamless waterproof bottom goes up the tent walls an incredible 8 inches. Providing a very dry sleeping area regardless of whats going on outside the tent.
Working our way up the tent, you come across the seams. These seams are very heavy duty, meaning they look like they ain't going to pop open anytime soon and allow water inside. They are what are known as heat welded/sealed PU seams. Very robust.
The most important part about the NTK being waterproof is the inclusion of a full rainfly. This second lining of the tent is watertight and covers the whole tent. The opening of the tent is covered by the rainfly awning.
This is in the middle of the tent and allows airflow into the tent when the cover is on. With the rainfly on, you are very well protected from the rain and the little awning makes a decent 'mud room'. Do note, with the rainfly on you must peg down the tent.
Wind Resistance Is Also Important
So we know the tent is very water tight, how well is it built for windy conditions. There are two critical factors that make the NTK are a very good choice for windy conditions.
First is the design of the tent. As the walls are not straight up and down like a cabin style, the wind simply rolls over the tent. Instead of blowing into a horizontal wall and taking it miles down the road.
The walls at the very bottom start in a rather vertical position to give the tent a solid foundation. Then as you look up the tent, it curves inwards towards the center. Allowing strong winds to blow over the tent. All while having high ceilings. Quite incredible really.
The other thing that makes the NTK good for windy conditions are the support poles. Made from a Nano Flex fiberglass they are capable of resisting stronger winds as they are strong and more flexible.
While there are many other features like storage pockets, air vents etc, for what we are wanted to know is covered. In my opinion, the Laredo tent by NTK is the best waterproof tent for rainy conditions suitable to sleep a large family. Highly recommended.
NTK Laredo GT 10x15 Ft. Waterproof Tent
Family Size Tent To Withstand Rain And Bad Weather
Designed For Families With Kids
A very popular waterproof tent for families is the
Coleman 8 person Red Canyon Tent
. This tent is certainly built for larger families with it's 10 feet by 17 feet measurements.
The 72 inch ceiling height in the center is just high enough for me. Any taller and you will have to duck your head. But I consider myself taller than average, so most people should be fine with the height.
Now I love my family to bits, but one of the features that drew me to this tent was the fact it can be turned into multiple rooms if need be. The Red Canyon comes with room dividers to make 3 separate rooms. One room for the Adults and the other two rooms divided between the boys and girls.
Waterproofing Features Of The Tent
As for waterproof and rain resistance, Coleman guarantees that you will stay dry in this tent. I'm not sure if I would guarantee anything, especially when it comes to tents. But nonetheless, Coleman has put their name to it with their unique Coleman Weathertec System.
The Red Canyon family tent comes with a fairly large rainfly which covers about 3/4 of the tent. There is a small awning at the front entry which you can use to keep dry while taking boots off. Like the above NTK tent, this Coleman tent has a well-designed structure to resist strong winds and also boasts the flex tent poles.
The advantage of buying a Coleman tent over something like the NTK is that you can easily get spare parts if need be. Being a world known popular camping brand, Coleman stocks many replacement parts for when the unfortunate happens. For example, some folks have complained about the zippers failing on this tent.
Now I don't have this issue and I have a feeling these campers are pulling the front flap too tight. This is causing too much resistance on the zippers and pulls the teeth out of order. So keep that in mind when you assemble this tent.
Being a little cheaper, I find this tent to be the best family tent for the money in 2023 – 2024. Waterproof guaranteed with a very spacious interior and flowing air to keep moisture levels down while staying strong in the winds.
Coleman Red Canyon 10 x 17 Feet Weathertec Tent
Rain Resistant Camping Tent For Small Family
The
Kelty Acadia
is a tent you may not know much about. But let me tell you, it's one heck of a tent. A little smaller than above two mentioned tents. But still roomy enough for a family of 4-5 people.
Looks may be deceiving when it comes to the Acadia. The height on this tent is actually 2 inches taller than the Red Canyon. Measuring in at 74 inches. The footprint measure 10 foot by 8 foot. While not the largest tent in the world, still spacious enough for a smaller family.
Where this tent comes into its own is through superior quality, especially against strong winds. While set up is very very easy, the tent folded in half when strong winds arrived.
This was due to not having the guy lines down. To my surprise, the poles and even the tents polyester mesh-like material were in perfect condition. After being forced out of position like that I was expecting a torn tent with broken poles for sure. But the Kelty Acadia stood up to the test and passed with flying colors.
The front awning is a nice touch, but not quite big enough that adults can sit on chairs under neath it for protection from the elements. This is because of the sloping entrance to the tent which makes for better wind protection. But it still makes decent entry way to get out of wet and sandy gear.
High Level Of Waterproofing Qualities
As for waterproof, it's almost one of the best. I say almost because there's no tub base on this tent. But it does have a full rainfly that protects the entire tent from rain. An easy fix for this is to lay down a tarp to prevent and moisture getting in through the grass.
Other than the one oversight by Kelty, I find this tent to be really good for a family of 4 to take camping and camp safely in rainy conditions. Premium quality materials are the stand out for me.
Kelty Acadia 8 Ft. By 10 Ft. Full Rainfly Tent
5000mm Waterproof Family Dome Tent
Dome tents are often overlooked when it comes to a tent for a family, but I find them to be excellent for protection against water. This is because they offer a decent amount of room and are really easy to set up. This allows you to spend more time relaxing with the family than setting up your tent!
This Mountainsmith tent has one of the more important things for a tent to be waterproof. Which is it's a double wall style of tent. Which as mentioned earlier, are designed with keeping the wet weather out and you dry.
This works even better since they added a PU coating (5000mm) on the floor of the ten, making it even more waterproof. When you see a tent with a waterproof rating like 5000mm, what it means is the tent is durable enough to handle 5000mm of rain in one session without letting the rain penetrate the floor. The fly has a decent waterproof rating of 2000mm.
To put it in layman's terms, the waterproof coating of 5000mm is more than double the average level of waterproof protection on tents. So you can rest assured that this tent has a high level of protection from rain.
Waterproof & Durable
Durability is a big factor in whether a tent is worth using or not in my opinion. It could have all the bells and whistles in the world, but then can't handle 20mph winds. Mountainsmith made the poles of this tent out of durable aluminum that can handle some really strong winds.
One of the best features of a dome tent is the extra room the vestibule gives you. It allows you to store your gear inside your tent but not right beside where you're sleeping. I really like them for when its been raining so I can get out of the rain and take my boots off and not get inside my tent all wet.
Freestanding Tent
Having a freestanding tent is really useful for when you're out camping so I like that this Mountainsmith tent is. It allows you to move the tent without it losing its form which is useful if there's a shift in weather coming. Since you can just pick it up and move it to somewhere better suited.
Being a dome tent it doesn't take very long to set up and is possible with just one person. The height of the tent does make it a little more difficult with one person if you're short, so a second would come in handy.
Mountainsmith Cottonwood Tent
Large Waterproof Tunnel Tent
There's a lot to love about this impressive Skandika waterproof 6 person tent. It offers a lot of space, comfort, and protection from the elements which makes it an easy recommendation for the best waterproof family tent in 2023.
Space is the name of the game with this tent and one of the reasons it's an excellent tent in my opinion. It offers a lot of sleeping area for those larger groups as well as giving you an area that will let you relax when it's raining outside. This alone makes this tent worth considering in my opinion.
Protect The Family From The Rain
To be on this list the tent needs to be able to handle the rain and keep you and your gear dry. This tent offers that with its 5000mm waterproof seams and material. This really helps with keeping the rain getting inside the tent or prevents the water from soaking into the tent.
A small example of how good this tent is when it comes to handling the wet weather. It's one of the more used tents in the UK and if you've ever been there you know just how much it rains there. If it can handle the UK weather it can handle practically any in my opinion.
Carrying around this tent when it's down isn't difficult thanks to it coming with a carry bag which also makes it easy to store. It weighs around 58lbs which might be too heavy for some people but you could always get someone to you with it if you think it's too heavy.
One feature of this tent that I really like is the windows that it has which helps it breathe. It has an impressive 6 windows which makes a big difference when you combine that with the 3 doors it has. This makes a big difference in the warmer months and makes them much easier to camp in.
Do note that this tent is an international item as the brand Skandika are a German brand, however, you can still order it through amazon.com here. If you want an awesome family tent with uniw=que features that repels the water, then you have to consider this option.
Skandika Waterproof Nordland Tunnel Tent
Best 'Instant' Waterproof Camping Tent For Families
There has been some confusion over this 8 person
Coleman Instant 2 room tent
for many years now. But don't worry, I have you sorted out so you don't make the same mistake so many others did.
The Coleman tent comes with the rainfly separate or together with the tent as a bundle. But, Coleman has 2 similar 8 person instant tents. One being smaller.
So more often than not, people were buying a rainfly that was too small for the tent. But this 10 x 14 foot tent comes with a stunning blue rainfly that complements the dark grey and white tent quite nicely.
The best thing I found about this tent (besides the super easy and fast assembly) in regards to catering for families is the extra front room. This is a great feature the other 3 tents I have mentioned don't have.
Some people call this a screened room, or it can be an additional bedroom if you wish. But if you have dog, then I find tents with this front screened room ideal for camping with dogs. Alternatively, it makes a very big open activity room and the biggest mud room listed here.
Heavy Duty Water Resistant Floor
The underneath/bottom of this tent is one of the thickest and most waterproof materials I have seen in a tent. It's very well coated to stop water penetrating into the base of the tent. This is another tent by Coleman with the Weather Tec walls. This is a thicker material that makes the walls waterproof.
The only downside to this tent is the zippers require two hands to unzip. So this only becomes an issue if you are carrying something into the tent. Because one hand needs to hold the base of the zipper while the other hand lifts the zipper up to open. Only a small complaint really for a very spacious waterproof and cozy family tent. One of the best buys in 2023 if you ask me.
Coleman Instant 8 Person Tent With Rainfly
Most Waterproof Teepee Family Tent
Teepee tents
are making a comeback, they are growing in popularity, especially with families. They boast a unique design which is not only ideal for combating heavy winds, but also quite waterproof. The unique design allows the rain to run off and away from the tent, rather than to pool up on top of the roof like cabin tents.
This yurt tent by Danchel is an impressive tent that offers a lot to improve your average camping trip. This tent was designed to handle almost all but the most intense weather with it being able to handle everything but the cold weather. Which is fine in my opinion since it's not proclaiming to be an all-season tent.
Ventilation is really important in a tent and is essential for the warmer times of the year. It has an incredible amount of ventilation thanks to it having 5 windows and the 3 ventilation holes which allow this tent to breathe really well.
5000mm Waterproof Material
You'd think with this tent having so many ventilation holes and windows it wouldn't be good for rain. This isn't the case as this tent has the clever design choice of making it with 5000mm waterproofing. This combined with being able to close the windows will help keep the rain out!
So it can handle the hot weather and rainy weather which is great and makes this tent an easy choice. Danchel then went another level by giving a great amount of UV protection. What this does is help prevent it from going brittle when it's out in the sun for long periods of time making this tent really durable.
With this tent being an 8 person yurt tent there is plenty of room for people and their gear. It has a 13-foot diameter and does have the option of coming in a 16.4-foot option if you're looking for even more room. At the peak of its height, it's 8-foot high so tall people won't have any height issues.
While this tent is great and full of good design choices there is one that is a bit frustrating. Which are some of the windows only zip up from the outside. This means if it starts raining and you're prepared then you need to go out in the rain to zip them up. It's not a dealbreaker for me but it's still an odd choice.
DANCHEL 13ft Light Weight Tipi Family Tent
Best Waterproof Family Air Tent
Air tents aren't exactly the most common style of tent on the market but they do fill a good niche in the market. They're very quick and easy to set up while still offering a good amount of room. With all those being great advantages of having an air tent I'm surprised they're not more popular.
Having inflatable beams instead of fiberglass may cause some people to worry about using an air tent. Having air beams doesn't affect this tent in more volatile weather so there's nothing to worry about with this quality tent. Air tents are designed to be able to handle this weather.
Waterproof Level: 4000mm
While it's waterproofing may not be as high as some other tents on this list it still has an impressive 4000mm protection. This is still a lot better than your average tent and won't affect how well it handles the wetter climates.
Often overlooked is how much light a tent can let in or keep out. Letting the light in is great for when it's raining as you don't feel your cramped in a dark space that this tent doesn't do to you. Yet the sleeping area is double layered so it keeps the light out so it's easier to sleep which is something I think a lot of people will like.
The groundsheet of this tent is one of my personal favorite types which is it can be attached or detached. This makes it a lot easier to clean which is always the worst part of camping, the cleaning that comes afterward.
Space in this 6 person tent has been designed very well with it being thanks to its inflatable beams. They're pre-angled so they set to an optimized position, unlike your standard tent where it's curved. Having this more angled square allows you to use the space in a more optimal way in my opinion.
Vango 6 Person Odyssey Air 600 Tent
What To Look For In A Waterproof Tent
Whether you're buying a 2 person tent or a 12 person family tent for a family of 6, the waterproof features don't change. There are certain features that make one tent more waterproof than the next.
In order to find the best waterproof family tent for your needs, you need to be able to distinguish the differences. If you already know what size tent you need, then half the battle is over.
As I briefly touched on at the beginning of this guide, the features that make a tent waterproof will either make or break the tent. It's important that you understand what these features mean and how they actually make the tent resistant to rain and ground water.
Protecting The Tent From Ground Water
Most people don't think about protecting the bottom of the tent against water when they first buy a tent. I can understand why, waterproof tents will generally have a rather heavy duty material used on the flooring.
But when you experience a huge downfall of rain, the floor of this tent is not always enough. Water pools up on the ground and can go underneath your tent. If there are any blemishes on the floor of the tent, this water will find a way in and start wetting things inside your tent.
So people tend to take an extra tarp with them to place under the tent. Its often wondered whether the tarp should be larger than the tent or not. The quick answer to this is no, as water can pool up on the tarp surrounding your tent. This pooled up water can and will start making its way in through any tiny hole it can find on your tent.
Bathtub Flooring Is An Essential Waterproofing Tent Feature
Many family tents utilize the bathtub flooring these days, which is a really good thing for the industry. But unfortunatley, some brands like to cut corners and don't have this feature yet.
If water pools up around the edges of your tent, it will find those tiny seam holes where the tent walls meet the floor of your tent and starting seeping in. With a bathtub floor, the floor actually comes up the sides of the tent about 5 inches to prevent groundwater from penetrating these holes.
So ideally, to best protect your family tent from groundwater, you should have a tarp slightly smaller paced under the tent, and the tent must have bathtub flooring.
How The Tent Protects You From Rain
In order for a tent to be fully waterproof, it must also be able to protect you from heavy rain. Most tents have some form of resilience against slight showers, but when the heavy rain falls, they find themselves in a world of trouble. This is because the tent's waterproofing is so low, it can't handle heavy rain.
Waterproof Ratings Explained
On most tent's description, you will find that the brand has mentioned a waterproof rating in the form of a number followed by 'mm', for example, 2000mm.
This is telling you about the thickness and durability of the waterproofing agent applied to the tent. We all know what a rain fly is and how it's designed to stop the rain from entering the tent's inner walls, usually with a mesh ceiling.
But what many people don't know, is that a rainfly is useless if it doesn't have good waterproofing. It's essentially just a temporary blockage for rain before it starts seeping in through the rain fly and into your tent.
So to stop rain from penetrating the rain fly, a waterproofing agent is applied, some tents also have it applied on the inner walls as well. How much waterproofing applied is represented in the form of a number as explained above.
Most cheap tents will have around 1000mm waterproofing protection. This means that the tent will survive about 1000mm of rain before the waterproofing gives way and you get wet. The better tents have a waterproof rating of 3000mm upwards.
The higher the waterproof rating, the better the tent will perform under heavy rain. This is why I have listed each tents waterpoof rating above, so you can get a good idea as to how much rain the tent can handle before it starts to leak.
Ensuring Water Doesn't Pool Up On Your Tents Ceiling
The last tip I have is to limit the amount of water that can pool up on top of your tent. This pooled water can leak its way through the seams of the tent and cause havoc for you.
To best protect your tent from pooling water, you need to ensure you have set up the tent nice and taught. If the rainfly is sagging and loose on the ceiling, water is going to gather in these areas and create a  pool on top of your tent.
Some tents are designed poorly that allow rain to pool up on awnings and porch areas. So look for tents that have the awnings that minimize the amount of water that can build up. For example, if the awning is higher than the ceiling of your tent, the water has no way to run down the awning and away from the tent. So water will pool up here, which you don't want.
Awnings Are Notorious For Leaking Water
If the awning on the tent makes up a large part of the walls of the tent, it will often include the rain fly section of the windows. While this does create a nice big area for you to sit under away from the sun, it does leave you exposed to water leaking in through the zipper of the windows, which now make up part of the awning.
So when it rains heavy, its best to put your awning down so water can't pool up on the windows zippers and start leaking in. With all these tips and recommendations for the best waterproof family tents in 2023, you have no excuse to get out there and enjoy the outdoors.
Tent Ventilation During Rain
One feature that is often overlooked is ventilation. A tent can be the best waterproof tent in the world, but if it doesn't circulate air well while the whole family is trapped inside during a storm, you may as well just go play in the rain.
It can become quite humid, sticky and hot inside the tent while you wait for the rain to pass. The problem is, you have the tent completely sealed up so no rain gets inside.
This is fair enough, but there are tent options to help you out here. This is in the form of air vents. Air vents can be situated either close to the bottom of the tent, or up high, usually under a small awning.
Having these vents open while it's raining can help the fresh air enter the tent and let the hot stale air pass out through the mesh ceiling.
Another option is to have a tent with a large awning like the Wanderer 12p that acts more like a gazebo than an awning. This way you can leave the doors open under the large awning and let fresh air circulate. This awning area also allows you to stand outside without getting wet as well.
How To Enjoy Camping In A Tent During Wet Weather