I hope you love the products I've recommended below, just a heads up that as an Amazon associate, I earn from qualifying purchases. This means I may earn commissions on products bought via links on this page.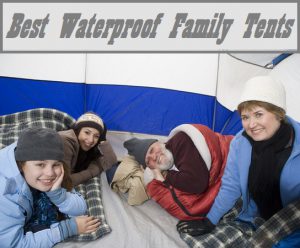 As 2017 winds down, it's time to start thinking about the best waterproof family tents for 2019. With several kids myself, I know how important it is to spend quality family time together. Nothing is more exciting than preparing to take the family on a outdoors camping trip.
The last thing I want to do when taking the troops out into the wilderness is worry about getting drenched from rain in our tent. Not all tents are waterproof. Not even if it's brand new. Not everybody knows this and unfortunately end up finding out the cold and wet way.
While you can make any tent waterproof yourself, I find it more convenient to buy a already waterproof tent when taking the family camping. Mainly due to the inconvenience of needing to prepare the tent before heading out and also time restrictions. As any parent knows, finding 5 minutes to yourself is sometimes impossible.
However, in saying this. It's important to understand that a tent will need maintenance. Every couple of years you may need to seam seal the tent seams to stop water penetrating in around the windows and joints. So with that in mind, it's time to look at some tips for choosing a rainproof tent and then check out my recommendations for the best waterproof family tents of 2019.
Choosing A Waterproof Tent Starts Here
Single wall or double wall tent. For maximum protection from the rain, I recommend a tent with a second wall known as the rainfly. It's also important that the rainfly can be taken off during the hot days to allow maximum ventilation.
Bath tub bottom lining in the tent. This is when the tents base material runs up the side of the tent 6 or so inches. This stops water on the ground from flowing into the tent.
Straight up and down walls are good for limiting the rain from 'sitting' on your tents walls. But against strong winds, they can be a negative.
Some tents come with a 'Mud Room' or Vestibule. This is a area of the tent which is covered from the rain. but not inside the tent where you sleep. This mud room is great for taking off wet clothes, muddy boots, dusting off sand etc before jumping into the living space of the tent.
Lightweight tent shells generally deflect water easier than heavier tents. So choosing a lighter tent not only makes carrying it easier, but also more waterproof.
Size: For a family, you're going to be looking at a larger style tent. These tents have been specifically picked out based on the number of family members you have: 5 Member tents, 6 member tents.
Best Family Tents For Wind & Heavy Rain Protection
The best large family tent for rain and wind resistance belongs to NTK Laredo tent which is the international brand for Nautica. NTK also have another 100% waterproof tent for a family of 5 which is slightly larger than this one.
The description of this product states that they are a Brazilian company that make tents to withstand the wild and harsh conditions of the Amazon. It's easy to see why when you get up close and personal with this tent.
First of all, its got the family covered. Being a true 9 person tent, you can technically fit 3 Queen size air mattresses in this tent. Provided they are a single layer mattress as the tent angles in a little.
The Laredo is a super spacious tent by no stretch of the imagination. Measure out 10 feet by 15 feet in your backyard and then you can see the actual footprint. But that is not the whole scope here. Add in high ceilings and this tent becomes a very nice family camping tent.
What makes this tent the best waterproof tent of 2019 are the features NTK installed into this tent. First of all the base of the tent is a bath tub style bottom. This seamless waterproof bottom goes up the tent walls an incredible 8 inches. Providing a very dry sleeping are regardless of whats going on outside the tent.
Working our way up the tent, you come across the seams. These seams are very heavy duty, meaning they look like they ain't going to pop open anytime soon and allow water inside. They are what are known as heat welded/sealed PU seams. Very robust.
The most important part about the NTK being waterproof is the inclusion of a full rainfly. This second lining of the tent is watertight and covers the whole tent. The opening of the tent is covered by the rainfly awning. This is in the middle of the tent and allows airflow into the tent when the cover is on. With the rainfly on, you are very well protected from the rain and the little awning makes a decent 'mud room'. Do note, with the rainfly on you must peg down the tent.
Wind Resistance Is Also Important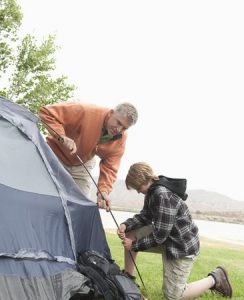 So we know the tent is very water tight, how well is it built for windy conditions. There's two critical factors which make the NTK are very good choice for windy conditions. First being the design of the tent. As the walls are not straight up and down like a cabin style, the wind simply rolls over the tent. Instead of blowing into a horizontal wall and taking it miles down the road.
The walls at the very bottom start in a rather vertical position to give the tent a solid foundation. Then as you look up the tent, it curves inwards towards the center. Allowing strong winds to blow over the tent. All while having high ceilings. Quite incredible really.
The other thing that makes the NTK good for windy conditions are the support poles. Made from a Nano Flex fiberglass they are capable of resisting stronger winds as they are strong and more flexible.
While there are many other features like storage pockets, air vents etc, for what we are wanted to know is covered. In my opinion the Laredo tent by NTK is the best waterproof tent for rainy conditions suitable to sleep a large family. Highly recommended.
NTK Laredo GT 10x15 Ft. Waterproof Tent
A Extra Large Tent To Withstand Rain And Bad Weather
Designed For Families With Kids
A very popular water proof tent for families is the Coleman 8 person Red Canyon Tent. This tent is certainly built for larger families with it's 10 feet by 17 feet measurements. The 72 inch ceiling height in the center is just high enough for myself. Any taller and you will have to duck your head. But I consider myself taller than average, so most people should be fine with the height.
Now I love my family to bits, but one of the features that drew me to this tent was the fact it can be turned into multiple rooms if need be. The Red Canyon comes with room dividers to make 3 separate rooms. One room for the Adults and the other two rooms divided between the boys and girls.
As for waterproof and rain resistance, Coleman guarantees that you will stay dry in this tent. I'm not sure if I would gurantee anything, especially when it comes to tents. But nonetheless, Coleman have put their name to it.
The Red Canyon family tent comes with a fairly large rainfly which covers about 3/4 of the tent. There is a small awning at the front entry which you can use to keep dry while taking boots off. Like the above NTK tent, this Coleman tent has a well designed structure to resist strong winds and also boasts the flex tent poles.
The advantages of buying a Coleman tent over something like the NTK is that you can easily get spare parts if need be. Being a world known popular camping brand, Coleman stocks many replacement parts for when the unfortunate happens. For example, some folks have complained about the zippers failing on this tent. Now I don't have this issue and I have a feeling these campers are pulling the front flap too tight. This is causing too much resistance on the zippers and pulls the teeth out of order. So keep that in mind when you assemble this tent.
Being a little cheaper, I find this tent to be the best family tent for the money in 2019. Waterproof guaranteed with a very spacious interior and flowing air to keep moisture levels down while staying strong in the winds.
Coleman Red Canyon 10 x 17 Feet Weathertec Tent
Rain Resistant Camping Tent For 2 Adults And 2-3 Kids
The Kelty Acadia is a tent you may not know much about. But let me tell you, it's one heck of a tent. A little smaller than above two mentioned tents. But still roomy enough for a family of 4-5 people.
Looks may be deceiving when it comes to the Acadia. The height on this tent is actually 2 inches taller than the Red Canyon. Measuring in at 74 inches. The footprint measure 10 foot by 8 foot. While not the largest tent in the world, still spacious enough for a smaller family.
Where this tent comes into its own is through superior quality, especially against strong winds. While set up is very very easy, the tent folded in half when strong winds arrived. This was due to not having the guy lines down. To my surprise the poles and even the tents polyester mesh like material was in perfect condition. After being forced out of position like that I was expecting a torn tent with broken poles for sure. But the Kelty Acadia stood up to the test and passed with flying colors.
The front awning is a nice touch, but not quite big enough that adults can sit on chairs under neath it for protection from the elements. This is becasue of the sloping entrance to the tent which makes for better wind protection. But it still makes decent entry way to get out of wet and sandy gear.
As for waterproof, it's almost one of the best. I say almost becasue there's no tub base on this tent. But it does have a full rainfly that protects the entire tent from rain. An easy fix for this is to lay down a tarp to prevent and moisture getting in through the grass. Other than the one oversight by Kelty, I find this tent to be really good for a family of 4 to take camping and camp safely in rainy conditions. Premium quality materials are the stand out for me.
Kelty Acadia 8 Ft. By 10 Ft. Full Rainfly Tent
Best 'Instant' Waterproof Camping Tent For Families
There has been some confusion over this 8 person Coleman Instant 2 room tent for many years now. But don't worry, I have you sorted out so you don't make the same mistake so many others did.
The Coleman tent comes with the rainfly separate or together with the tent as a bundle. But, Coleman has 2 similar 8 person instant tents. One being smaller. So more often than not, people were buying a rainfly that was too small for the tent. But this 10 x 14 foot tent comes with a stunning blue rainfly that complements the dark grey and white tent quite nicely.
The best thing I found about this tent (besides the super easy and fast assembly) in regards to catering for families is the extra front room. This is a great feature the other 3 tents I have mentioned don't have. Some people call this a screened room, or it can be an additional bedroom if you wish. But if you have dog, then I find tents with this front screened room ideal for camping with dogs. Alternatively, it makes a very big open activity room and the biggest mud room listed here.
The underneath/bottom of this tent is one of the thickest and most waterproof materials I have seen on a tent. It's very well coated to stop water penetrating into the base of the tent. This is another tent by Coleman with the Weather Tec walls. This is a thicker material that makes the walls waterproof.
The only downside to this tent is the zippers require two hands to unzip. So this only becomes an issue if you are carrying something into the tent. Because one hand needs to hold the base of the zipper while the other hand lifts the zipper up to open. Only a small complaint really for a very spacious waterproof and cozy family tent. One of the best buys in 2019 if you ask me.
Coleman Instant 8 Person Tent With Rainfly
Enjoy Camping In Wet Weather