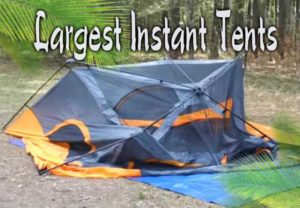 For a family of campers wanting to cut down tent assembly time so that they can get to the fun stuff as soon as possible, finding the best large instant tents is a surefire way to achieve this.
Instant tents have grown in popularity over the years and its easy to see why. In today's age of 'instant gratification' thanks to the likes of the internet and technology growing exponentially, people have become accustomed to getting results fast.
This also translates into the camping world, where no longer is it acceptable to spend an hour setting up a tent. With an instant tent, you can literally be up and ready to go in just a few short minutes.
Compare Large Size Instant Tents
Can You Buy Oversized Instant Tents
While the desire for speed and ease of assembly may be warranted, this does not always mean its possible. Instant tents are not like your traditional tents, so the number of large instant tents is not as many.
However, there are some huge instant tents presented below. Just be mindful, that the bigger they are, the longer they will to take to set up. Instant or not instant, this will always be the case.
Instant Tent Vs Pop Up Tent
This is because instant tents are different to large pop up tents. Pop up tents are the kind of tent that sets up in seconds from the simple release of a latch. They pop up and spring into the form of a tent.
However, due to the design of pop up tents, you're unlikely to find one bigger than a 6 person tent. Whereas an instant tent can serve sizes up to 12 persons. With an instant tent, the poles come pre-attached to a central hub.
Many times an instant tent will have telescopic poles attached to the hub. So when you're assembling the tent, all you need to do is extend the legs of the telescopic pole and the tent will erect itself.
Because instant tents use poles rather than a flexible spring like system, they are much more stable in the event of heavy rain and strong winds. A stronger foundation is always going to be the better option for camping in the wild. While pop up tents serve a purpose, in general I don't recommend them for long term camping.
Largest Coleman Instant Tent
Who hasn't heard of Coleman right, they are a brand we all know, love and trust. Ok 'love' that may be debatable, but there's no doubt they make affordable yet quality camping goods most of the time.
When it comes to the largest Coleman instant tent, its not the largest on this list of instant tents, but it certainly is my favorite. Even tho its only a 10 person tent, I can't get enough of this 'Dark Room' instant tent.
Why I think This Is The Best Large Instant Tent
The appeal to me is simply the dark room technology. Sure Coleman includes some other pretty sweet features, but its the dark room technology that I can't get enough of.
So what is this dark room stuff I'm going on about?. Well simply put, its a technology that has been designed to keep the inside of the tent much cooler than your regular nylon polyester tent.
How does technology keep a tent cooler you ask?. Well, its said that the UV protection barrier on the tent can block out up to 90% of sunlight. But not only this, the walls on the interior are a dark color to assist in providing shade and keep the tent much cooler.
Tents can get quite hot in summer, so having this dark room feature to bring down the temperature is truly a remarkable feature. The added benefit to this is that you can sleep in longer in the morning. The darkness of the walls keeps the inside of the tent darker. So if you're anything like me and hate waking up to the sun blaring in through your tent at 5 in the morning, you're going to love the dark room feature.
Instant Cabin Tent
Oh yea, don't forget. This dark room tent is also an instant cabin tent. The poles come pre attached to the tent so you can assemble the tent in a matter of minutes. I've also found the poles on this tent to be superior to other instant tents. As a result of this, the tent has been tested to withstand strong winds of up to 35mph. Not bad for an instant tent if you ask me.
With just these features alone, I love the Dark Room tent by Coleman, But there is so much more to this tent that I haven't shared. Including the Coleman WeatherTec waterproof features, D shaped hinged door, reflective guy lines so you don't trip at night and bathtub flooring. Overall, its a very high quality large instant tent.
Coleman Dark Room 10 Person Instant Cabin Tent
Video Review Coleman 10 Person Dark Room Instant Tent
Largest 3 Room Instant Tent
If size is the most important feature you're looking for, than chances are you're in the market for the largest instant tent possible. One of the largest versions of an instant tent I have come across is this monster by Ozark Trail.
Ozark have knocked it out of the park with this impressive large 3 room tent. It's an affordable yet quality tent that any large family could add to their collection. The space it offers is definitely one of it's best features. It will solve your space problems!. However, it offers more than just space, so lets take a look.
Just How Big Is It
It's an impressive 16 feet x 16 feet, which offers a lot of room for people and gear. This amount of room is made better since it's a 3 room tent. Having the separate rooms lets several people have there space. Not only this, it lets you have a dedicated room for your equipment should you choose.
While having all that space is great, it's not what made this tent stick out. It's how easy and quick it is to set up. Considering this is such a huge tent, one would be forgiven for not expecting it to be an instant tent.
However, it has a slight learning curve, but that's with all tents to be honest. Once you do get use to setting it up, it doesn't take long at all. With some people saying it only took them 2 minutes by themselves. I would certainly allow more time than this on your first attempt. Because it is a multi room large tent, it will be a bit more involved than a smaller tent.
There is one thing with setting this tent up that you need to be careful with. The fact that all the poles are inbuilt and connected, you'll want to be careful not to damage the tents poles or material when unfolding. Since breaking one can cause you some issues, and trying to get a replacement can be difficult.
Awesome Summer Tent
I'm a big fan of the awning at the entrance of the tent. This allows you to sit and relax underneath it, if the weather starts to turn. It just prevents the feeling of being cramped and stuck in a room.
A good thing to note is that the tent is also water proof and comes with a solid rainfly. This makes it handle the heat and rainy weather better. An open mesh ceiling like this, allows the heat inside the tent to escape up and out through the gap between the rainfly and the mesh ceiling. All while giving you shade from the sun.
There are also built in ground vents which can be used to flow air from outside the tent to the interior. This assists in circulating the hot air out of the tent. The ground vents can also be used as air conditioning ports if you're that keen to stay chilled.
Ozark Trail 12-Person Instant Cabin Tent
Best Family Instant Tent 12 Person
Like the above Ozark Trail, this Core tent is another instant 12 person tent. A different design and one that is better suited to car camping. This is because the shape of the tent is better suited to camp sites where allotted sites are allocated.
With a tent like the above Ozark, you may find it restricts the options of where you can camp with it due to its gigantic footprint.
This is a large tent that offers some features that some other tents don't. This is a smart move by Core, since having features like this allows them to help more people. This allows the tent to cover a wider variety of people, and fix some issues some people might have with other tents.
Well Ventilated Tent
It's a very breathable tent that excels at summer camping in my opinion. This is is a big part thanks to it having front and back doors. This allows air to pass through and let the heat out. So it makes it more comfortable during those hot humid nights.
It also has a rainfly that can be removed. When you remove it, it reveals a mesh ceiling. This allows people who want to star gaze to sleep directly under the stars. Provided it doesn't rain that is. It's a small addition, but it's something that appeals to a variety of people.
Since it does have the rainfly as well, does mean it can handle the wet weather. So this tent can cover a variety of situations, tho I wouldn't call it a four season tent. I do like how the rain fly extends over the front entry to make a sheltered entry point.
The Size Of The CORE
There is a good amount of room in this tent for a number of people. It's 18 feet x 10 feet, so it's got some serious room for a 12 person tent. At the very center at it's highest it's close to 80 inches (6'6″). So most people will be able to stand up in it, unless you're really tall.
The set up of this tent is fairly easy and doesn't take a lot of time. With it only taking only around 10 minutes for most people to set it up. One word of recommendation is to make sure you hear the poles click into place, this will help with some issues people have had with set up.
CORE 12 Person Instant Cabin Tent
Extra Large Instant Tent With Screen Room
When it comes to breathable large tents, you can't go past this Ozark 12 person tent. It's one of the most breathable tents on the market in my opinion. It offers a lot room, and allows a lot of air to pass through it. Which is one of the reasons it made this list, and not just because it's an instant tent.
There are some simple reasons why this tent is so breathable, and the most obvious is the crazy amount of windows. It has a total of 10 windows which makes it pretty obvious why it's so good for summer. You're also able to close up these windows as well.
So as you might of guessed, with that much ventilation. It's not very good for cold weather camping, which is disappointing. It really only has the rainfly to help with the colder weather, which does a bit, but not enough sadly.
The Godzilla Of Instant Tents
Space is important for large camping trips and this tent has plenty of it. It's a 20 foot x 18 foot tent, which is a gigantic amount of floor space. The space is separated into 3 rooms like their other model, so you get the same features as that model. Just on a slightly larger scale.
They did include a room dividing mesh with this tent. This makes it really good for people, who want that little bit of privacy. So it makes it a great tent for a family, with the parents that want a bit of private space away from the kids. Well as much of a private space that you can have with kids!
You shouldn't let that it's not the best for cold weather deter you. Apart from that it's a great tent with a lot of space. The space and quality of this tent are very hard to pass up. The fact is an instant tent and assembly is so easy, its hard to not consider this tent.
Ozark Trail 12 Person Instant Tent With Screen Room
Oversized Instant Tent With Awning
I'm a big fan of tents with awnings as you may have noticed. Which is one of the many reasons that I really like this excellent tent. Having a front awning is one of those small quality of life improvements. I like having it there just to keep some of the weather off you before entering the tent. Along with it providing more shade on the inside of the tent when the sun is blazing from overhead.
For those who want a large 12 person tent, this is a good choice. It has a lot of room since it's 20 feet x 10 feet. It's also 80 inches high which is close to 6'6″ tall. So this will allow for most tall people to be able to stand up. So as you can see there is a lot of room in this tent.
2 Room Dividers Included
The space in this tent does allow you to have your rooms set up in different ways. I find it a good idea to have two rooms dedicated to sleeping with a queen air mattress in each. Then leave the middle room for a family room. I find this the optimal way to set it up and have a good amount of room.
However, the way you set up the tent will greatly depend on your needs. If you're camping with 6 people, then the middle room may need to be turned into a sleeping room.
Quick Set Up Tent
Setting up and taking this tent down is really quick and easy. There is one tip I'd recommend when setting it up. Which is to attach the rainfly before you extend the legs, this will make life easier when setting it up. You're able to set it up with just one person, but it's a little difficult due to the massive size of the tent. With it being much easier with two people doing it.
Privacy is important for some camping groups. Which is one of the reason I really like these 3 room tents that come with removable room dividers. Being able to section of rooms in the tent is really useful in my opinion. It let's groups of couples have there own individual areas.
I love the huge awning out the front entry, it provides a great little spot to stay protected from the sun, while giving you somewhere to stand without getting wet in the vent of rain. For a large instant tent like this, I find the awning a great little bonus.
20'x10' 12 Person Instant Family Tent Ozark
Coleman Instant 8 Person Tent
Coleman is one of those brands that you can trust when it comes to quality camping products. They pride themselves on quality which is a big reason they're market leaders. Which is what this tent is in my opinion, one of high quality large instant tent for camping.
There is a decent amount of space in this tent considering it's the smallest on this list. It measures 14 feet x 10 feet which is a good amount of room. So you can fit a good amount of equipment into a tent of this size.
While it's an 8 person tent it does make an excellent tent for just 2 to 4 people who like space. This is something that I like with larger tents, since I do like having an extra room to myself. This tent is a good size for various situations, whether you're a family, or just a couple in my opinion.
Is It Quick To Assemble
As with a lot of these instant tents that claim they can be set in up in a few minutes. Rarely is that ever the case for us normal people, who don't practice setting it up day in day out. So the set up time is more along the lines of 10 minutes with some practice.
This does make a good summer tent in my opinion since it's very breathable. This is in big part thanks to the multitude of windows that you're able to close as well. It allows the the air to pass through and keep it cool.
While the 150D material it's made out of are water resistant. It does struggle with really heavy rain, so if you're camping in one of those areas. I'd recommend to add a coat of waterproofing to the tent before use.
Its also worth noting that the rainfly is sold separately on this tent. Why Coleman has done this is beyond me. I would never go camping without a rainfly, but that is just me. Tho you shouldn't stop you from considering this tent, it's a minor issue that can be fixed relatively easily.
Coleman 8 Person Instant Tent
Are Instant Tents Good For Camping
If you have never camped in an instant tent before, its only natural to wonder if they're any good. This is a fair question considering they are relatively new in the grand scheme of things.
To start with, just because they are called instant, doesn't not mean they erect in a matter of seconds. Compared to a regular set up, they could be considered instant. But by no means are they as quick to set up as pop up tents for example.
But overall, they are considerably quick to set up, but are they any good. The simple answer is yes, instant tents are good for camping in. Some people may argue with you that its not real camping, while you're sitting back sipping on a cool beverage while they struggle to fight with poles and posts on their time consuming tent.
But that's not the point, not everyone goes camping to experience setting up a tent. If the instant tent is quality and features a sturdy high wind resistant frame like the Coleman Dark Room, then you really have nothing to worry about.
Its the same as buying any tent, you need to look for the features that appeal to you the most. Certainly wind resistance and waterproof capabilities are high up on that list. So provided the instant tent can handle strong winds and protect you from the weather, they are absolutely fine to go camping with.