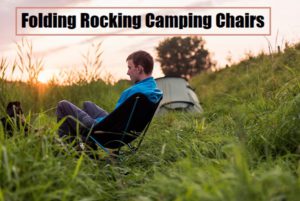 There's a hidden gem out there that many campers neglect and that is a rocking chair. When people think of a chair like this, they think back patio, porch, or for on the deck, but not for camping. These are the best folding rocking chairs for camping that will give you the competitive edge over other campers on site.
I don't know about you, but I have found myself trying force a regular camp chair to rock on more than one occasion. This is because regular chairs are well, boring in comparison.
These rocking chairs will not only make sitting by a campfire all that much enjoyable, but they will increase the overall level of your camping experience. Below you can find 7 options catering to people of all heights and sizes. So get amongst them!.
Compare Suitable Camping Rocking Chairs
| | Capacity | Features | Price |
| --- | --- | --- | --- |
| | 250 LB | 19.7" Seat height, lightweight Steel/Aluminum hybrid frame, mesh paneling promotes airflow | Check Price On Amazon |
| | 300 LB | Securely locks into place when folded for storage or open for relaxing, 600D Polyester fabric, Pro-tech, powder-coated steel frame | Check Price On Amazon |
| | 265 LB | Solid steel frame, foldable and lightweight design, weather-resistant polyethylene mesh sling fabric with double bungee cord for strength. | Check Price On Amazon |
| | 600 LB | Frame: Steel; Fabric: 600-denier polyester; Seat Dimensions: 25"w. x 21"d.; Seat Height: 22" | Check Price On Amazon |
| | 300 LB | Reclines as well as rocks, adjustable headrest, can use on rocky ground, low to the ground. | Check Price On Amazon |
| | 320 LB | Quick setup with a single internal bungee cord, Chair frame is constructed from advanced proprietary aluminum alloy to provide maximum strength at a minimum weight | Check Price On Amazon |
| | 300 LB | Compact foldable design,TechMesh fabric provides a sturdy comfortable and breathable rocking experience, 22" W x 17" D x 31" H | Check Price On Amazon |
7 Best Camping Rocking Chairs
Camping chairs are something that is far more important when you go camping than you might think which is something that GCI Outdoor understands. This has allowed them to make what I consider to be the best rocking camping chair on the market and one of the best ways of helping you relax even more when you go camping.
Being a rocking camping chair you can already get an idea of how it will make you more comfortable when you go camping. Thanks to the shocks on the rear legs this chair will give you a more gentle rock than you would get on a normal rocking chair. This is something I really like since the gentle rocking is more comfortable.
Intelligent Design
One thing that I really like about this camping chair is how GCI Outdoor has made the backrest of this camping chair out of a mesh. This allows the chair to breathe really well as it allows air to pass through easily making it a great option in warmer climates, or if you will be sitting for long periods.
By using a combination of aluminum and steel for the frame of this chair is a very clever design choice. It allows the frame to be tough but also lightweight so carrying it won't be an issue. It only weighs 12.8lbs in its carry bag so it's really easy to transport in my opinion.
Saves Space
Anyone who has been camping knows that space is a premium and you want to save as much as possible. So I really like that this chair folds down to an impressive 8.1″ by 9.1″ by 43.3″ which makes it easily fit in your vehicle or tent when camping.
When you have it unfolded (26″ by 24.8″ by 39.8″) it does take up a bit more room but that's to be expected with a rocking camping chair.
GCI Outdoor RoadTrip Rocker Outdoor Rocking Chair
Rocking Chair That Folds Down
This camping chair from ALPS Mountaineering is more like your traditional rocking chair combined with your traditional camping chair. This combination of features on this particular model works really well together and is one of the ways to increase your relaxation when you go camping.
One thing that I really like about this camping chair is how the front of the chair is higher than the back. With the front being 21″ from the ground and the back being 16″ it really made sitting it more comfortable and even gives some good lower back support.
Made With High-Quality Materials
What a camping chair is made out of is far more important than most people think since most people think. This is a mistake in thinking like this since it can lead you to end up with a weaker product. This is why I like this camping chair since it's been made out of high-quality materials like the powder-coated steel frame.
While it's easy to think the steel frame is where this camping chair gets its strength from you'd be wrong. The impressive 600D polyester they have used for this chair gives it a good amount of strength with it having a weight capacity of 300lbs.
Easy To Transport
Something that really stands out about this camping chair for me is just how easy it is to transport around. While it does weigh slightly more than the GCI Outdoors camping chair I find it easier to carry since you can just put your arm through the leg and carry it like a bag.
To make this even better ALPS Mountaineering has made it safer to move with the way it can be securely locked. So there is no risk of the chair unfolding while you're carrying it or have it stored away which can help prevent injury or damage to your house.
ALPS Mountaineering Rocking Chair
Best Rocking Reclining Camp Chair
There are rocking camping chairs and there are reclining camping chairs, then there are ones like this model from Outsunny who thought, why not combine both of these features. So you end up with an incredibly relaxing reclining rocking camping chair that will take your comfort to a whole other level when you go camping.
You might think that with a camping chair offering both of these features that you could only recline or rock individually. While yes you can do both individually, but you can also rock while you recline which makes this an extremely comfortable experience when you use this camping chair.
Smart Accessories
I really like when manufacturers add extra accessories to their camping chairs as sometimes the simplest of things can make the biggest difference. This is why I really like the removable headrest since it makes relaxing even better on this camping chair and if you don't like it, you're able to remove it.
Another accessory that I really like is the included tray that attaches to the camping chair. It's been designed to be able to hold a number of things like 2 drinks. your phone, or your book which is an extremely useful feature.
Safety Is A Priority
Being a reclining rocking camping chair does sound a little dangerous when you think about it but Outsunny has planned for this. The rocking feet of this chair has extra feet on them that will stop this camping chair from rocking so there is less risk of the chair rocking when you're reclining.
When you put this chair into its reclining position there is a safety lock that you will use to help prevent it from moving from its position. These features combined make this one of the safer camping chairs on the market that doesn't take away the useful features they offer.
Outsunny Folding Zero Gravity Rocking Lounge Chair
Rocking Camp Chair For Heavy People 600 LB Capacity
Being a bigger person and wanting to go camping can be a very difficult task as finding something to suit your size is not an easy feat. This is where Guide Gear come in and offer big people a chance to actually feel not only comfortable but safe when they sit in this excellent camping chair.
Something that makes this camping chair even better is that it is still a rocking chair as well. This is pretty rare in the camping industry to have this level of strength and still offer rocking capabilities which is something that I really like.
Designed For Big People
This is the thing that really stands out about this chair is just how tough it is and how it can make heavy people feel safe when they sit on it. This is because of the combination of the steel frame and 600D polyester fabric that give this camping chair an impressive 600lbs weight capacity. While its not the highest weight capacity camping chair, the fact this one can rock a person weighing up to 600 pounds is very impressive.
Just having this higher weight capacity isn't enough in my opinion since you need to be able to fit comfortably on the camping chair. Guide Gear has achieved this with the seat measuring 15″ wide with a depth of 21″ giving it a lot of room for you to be comfortable on.
Something To Consider
Since this is such a big chair it can make storing it a little difficult as it will take up a lot of room when folded up (43″L by 33″W by 7″H). If you're trying to keep space down it can be an issue but since it's designed for heavier people I don't think space is as important as feeling safe like you do when you sit on this chair.
Even tho it's a bigger chair and takes up more room they have still kept the weight down. With it only weighing 17.5lbs does mean it's fairly easy to carry from a weight perspective.
Guide Gear Oversized XXL Rocking Camp Chair
Luxury Rocking Camp Chair
There's comfort then there is luxury, which is something that Nemo understands that there is a difference between the two and have gone out of their way to show with this camping chair. Which is one of the reasons that this camping chair has made this list as it's one of the most luxurious on the market.
Quality Of Life Features
In my opinion, this is one of the main things that sets this camping chair apart from a lot of the others on the market. While some chairs might have more features, the quality of the features on this chair is what sets it apart. Something as simple as a cupholder is done better on this chair since it's a no-spill holder compared to your standard cupholder.
The headrest is adjustable instead of removable which is something I like since it allows you to put it into a more comfortable position for your needs. The headrest is a little thicker than your standard headrests which is something that I really like.
One thing that I really like about this camping chair is the armrests that it has which might sound a little strange. This is because Nemo has added padding to them which makes them more comfortable than your standard plain fabric armrests.
Usable Anywhere
Something that can be an issue when camping is uneven surfaces and trying to sit on your camping chair suddenly feels like you're taking a risk. The feet on this camping chair have been designed to be used on these types of surfaces so it really helps in those situations.
One Downside
While I like this camping chair a lot and it's easily one of the best on the market, it's hard to ignore that it does cost more than your standard camping chairs. This is something to consider beforehand and work out if spending this much on a camping chair is worth it for you
Nemo Stargaze Recliner
Best Lightweight Rocking Chair For Backpacking/Hiking
Helinox have knocked it out of the park with this excellent lightweight reclining camping chair that really stands out from the pack. While the lightweight factor is impressive and something I will go over, it's not all this camping chair has to offer.
I really like how the carry bag converts into a headrest on this camping chair so you will always have a pillow for it. It's surprisingly comfortable which you might not expect so I like how they have designed it.
Something that Helinox has done differently is that you're able to remove the rocking part of the feet for when you need the chair to be still which is a useful feature. This might seem to go against looking for a rocking chair but I like how it gives the chair more versatility compared to a lot of others.
Lightweight Is Standout Feature And How They Achieved This
You would think Helinox has some mad scientists working for them with how they have managed to keep the weight of this chair down to 4.1lbs while having a maximum weight capacity of 320lbs. This is lighter and offers more strength than some chairs that are 5 times its weight which is impressive.
A big part of the reason for this is the incredibly well-designed aluminum alloy they have used for the frame. This type of aluminum is much lighter than your standard type and offers more strength as well but it does cost more to use sadly which is shown in the price of this camping chair.
Tougher Than You Think
In my opinion, the rip-stop polyester they used on this camping chair is one of the features most people seem to ignore but shouldn't. How often have you used a camping chair and it tears or has a tear in it? This type of fabric really helps with preventing this.
Helinox Chair Two Rocker Lightweight
Rocking Chair For Short People
Shorter people rejoice! Finally, there is an option that has been designed for you so you can finally be comfortable when using a camping chair. ALPS Mountaineering is on this list again with another great entry but this time they have designed a rocking
camping chair for shorter people
.
This is a low profile rocking camping chair which does mean it's lower to the ground which is one of the reasons it's better for shorter people. The seat height only measuring 15″ means that your feel will easily be able to touch the ground when you want them to which will help with posture when sitting.
Safety features on rocking chairs are a must in my opinion, so I really like that ALPS Mountaineering has included one of the best. This is anti-rocking feet at the end of the rocking feet that when put down prevent this chair from rocking too far and causing an accident.
Great Comfort
The gentle rocking of this camping chair is really comfortable that works really well with the mesh fabric they have used for it. The mesh allows it to breathe and isn't uncomfortable when you're sitting on it which is something that makes this chair good in a number of situations.
Easy To Carry
Thanks to the over the shoulder carry bag that this camping chair folds in to do make transporting this camping chair really easy to do. It only weighs 11lbs so it's not too heavy when you have it over your shoulder.
One Thing You Might Not Have Considered
Something that this chair really works well for is if you have a new baby in the house. The gentle rocking motion works really well at keeping them happy and it's easy to get out of if they fall asleep. While this isn't something that everyone will need, it's a nice added bonus for people who are in this situation.
ALPS Mountaineering Low Rocker Chair
Guide To Buying Rocking Camping Chairs
There are a few questions that people often want to know when it comes to rocking chairs with some of them being important, and others not as much. But learning the answers to some of these questions will help with understanding the importance of rocking chairs in my opinion.
The funny thing is I've had people ask me the question of what is a rocking chair used for so many times that I've lost count. Considering rocking chairs originally started as a piece of outside furniture that was used for an older woman they have come a long way. They are now used to help put kids to sleep and help with relaxing.
Design-wise, a rocking chair is very simple which makes people think they are easy to make. Camping rocking chairs can have massive design difference with some models using shock absorbers and other mechanisms to get them to rock, instead of the simple two curved legs that only touch the ground in two areas.
Two Questions I See A lot
These two questions are how much weight can they handle and are they good for you? The second question is a little more difficult to answer than the first in my opinion. What weight a rocking chair can hold will vary greatly from company to company as you would have noticed above with one only holding 180lbs, while another 600lbs.
Something that a lot of people don't know is that rocking chairs are good for you. They help with blood flow since they are a physical activity which is great for those who are limited in movement, and they can help with back pain from the gentle rocking. These two reasons alone are great examples of why they're good for you!
Where You Can Use A Outdoors Rocking Chair
One of the best features of an outdoor rocking chair is that it can be used in a wide number of areas. This makes them extremely versatile which makes them a great choice for a lot of different people in a number of situations which is one of the reasons I really like them.
The Most Obvious Area – Taking It Camping
Every time I go camping I always see several people using a rocking camping chair which does make sense with just how comfortable they are. This level of comfort and how they fold up like a standard camping chair makes them a great option for those who want ultimate comfort when camping.
There's no better way to relax outdoors than on a rocking chair. If your tent has a screened porch area, you can sit outside for hours on end protected from mosquitoes, rain and harmful UV rays.
In my opinion, rocking camping chairs suit almost all different styles of camping with there only being a few styles they don't. Going car camping or caravaning are the two areas where they really excel at and make a great option if that's what you will be doing.
The one area they don't work in camping is something like backpack camping. Any style of camping where space and weight need to be kept down does make them not the best choice.
Be careful On Uneven Ground
The rocking sensation is a great one, there's no denying that. But if you are rocking away on unstable or uneven ground, it can quickly turn bad. If you anticipate camping on rocky or uneven ground, ensure your camping chair has adjustable legs.
This will give you the freedom to set up your chair just about anywhere your heart desires.
Out On The Back Patio Or Yard
Rocking chairs make a great addition to close to anyone backyard or patio in my opinion. There is just something enjoyable about sitting on the patio watching the sun go down with a drink in hand that is so hard to beat. This is only a part of the reason that a lot of people like them in their backyard.
They're often cheaper than going with a full outdoor set of chairs which can cost a lot of money and most of the time not as comfortable. A lot of rocking chairs have a feature that allows you to stop them rocking so you can use them as your chairs around an outdoor dining table.
Are There Other Areas You Can Take A Rocking Chair
One area that rocking chairs are great for is the beach if your chair will allow this. Your standard design rocking chair most likely won't be very good for being used at a beach since the legs won't rock. So you would need a rocking chair that has a mechanism to rock for you.
Taking a rocking chair to the park is a great option since you can relax with a book in hand and just listen to nature in the background. So as you can see a rocking chair is extremely versatile and while worth your time picking one up.