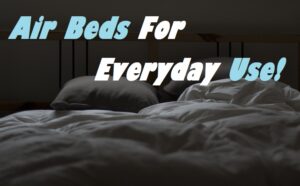 Buying the best air beds for everyday use is something that should not be taken lightly. There's a massive difference between taking a mattress for a 2 day camping trip and using a air mattress for extended home use, especially in 2018.
Using a air bed around the house has plenty of benefits if the right bed is chosen. Some of the benefits can include: Quick and easy to set up, great space savers when not in use, very beneficial to people with bad backs, adjustable comfort settings and so on. But it's extremely important that you buy the best air mattress designed for everyday use. A cheap camping air bed is simply not going to go the distance. You will be forking out for a new bed in no time.
With advances in modern technology, air beds have become a very popular sleeping arrangement around the home. This advanced technology is critical to you choosing a high quality air bed that will last a long time and serve your body well.
Our Top 5 Recommended Air Beds For Everyday Use
The Serta EZ Bed For Permanent Use
Serta
have some amazing air mattresses on the market, however the EZ bed is by far the best air mattress for everyday use. There's 2 main reasons why we highly recommend the EZ bed as a permanent air bed.
Resembles a real bed. The built in frame which supports the air mattress resembles a bed, making it a obvious choice as a bed replacement. The EZ bed can easily fold away into a small carry bag on wheels. Which makes it a good temporary guest room air bed as well. When assembled and the air mattress blown up, the height from floor to top of mattress is about 22 inches. Which is not too dissimilar to a regular bed.
The Serta 'Never Flat' technology. The EZ bed comes with 2 pumps, one for inflating and deflating the bed (rather quickly mind you) and another for controlling the air level inside the mattress. This Never Flat pump is pretty much silent and runs on autopilot. The pump ensures that the mattress never looses air as it tops up the bed with air when needed automatically. Which is just a terrific feature to have if you are looking to buy a everyday air bed.
Pro Tip: While the EZ bed has 3 different comfort settings (Plush, Medium and Firm), I recommend long term users to have settings set to medium. I found this to be the best setting as it has less air leaks, which therefore requires less automatic inflating by the pump. Saving you money in the long run.
If you choose to buy a EZ Bed, I also recommend owners to buy a Visco 3″ Memory Foam topper. Not only with this send comfort levels through the roof, but it's a fantastic way to add extra resistance to punctures. Especially if you have a cat or small dog that loves sleeping on your bed. The 3″ of memory foam will safeguard your investment.
The Serta EZ Bed
The Best Double Height Raised Air Bed For Frequent Use
The Sound Asleep Dream Series
For the fraction of a quality standard mattress you can get a lot more from this Queen or Twin size Dream Series air mattress. This mattress has been used by months straight by visiting in laws without any complaints and only compliments.
The only thing I don't like is that it isn't on a bed frame because I like the under bed storage the EZ bed by Serta offers. However, the Dream Series still has a inflated height of 19 inches, which works well as a permanent bed replacement. But where this air bed really shines is in it's comfort. The dream series are our top rated mattress in general because of the comfort level.
With 40 inner air coil channels, your body is supported extremely well. These air coil channels act as the foundation and allow in my opinion a better sleeping surface than that of a quality standard mattress. In fact, I have found many other people who highly regard this air bed in regards to back pain relief.
Another feature of the Dream Series that I believe is important for everyday use is the external crevice. This crease or crevice is designed so that either Queen or Twin size fitted sheets fit perfectly into the crevice and stay there the entire night.
In conclusion, I cant look past the Dream Series air beds as the best standalone long term air mattress. While the brand itself may not be as well known as the likes of Coleman, Aero etc. I personally think this air bed is a far superior product that has longevity built into the quality of the materials.
Sound Asleep Dream Series Air Mattress
Good Long Term Camping/Indoors Air Bed
Coleman Premium Double High Support Review
Whats a air bed list without mentioning Coleman right?. While many people probably think of Coleman as the
camping
experts, this premium double support rest air bed makes for a wonderful sleeping vessel for every day use.    Best Air Beds For Long term use
The height when fully inflated is about 18 inches off floor level. So it has the right height, and also has a built in 120v pump. So inflating and deflating this bed is just a matter of plugging it into the wall and within minutes your all good.
However, unlike some other Queen air mattress with built in pumps, this Coleman doesn't have the internal cavity to store the power cord when not in use. But it does come with a soft case to put the lead in to prevent the end of the cord puncturing the air bed.
Another feature this Coleman lacks when compared to our #1 pick: The EZ Bed is the 'Never Flat' 2nd pump. While Coleman claims that this mattress is a air tight system and has been factory tested for leaks, I like knowing that there is always a source of extra automatically pumped into the bed if need be. Nothing worse then waking up on the hard floor due to loss of air.
Coleman Premium Double High Support
See Our Number 1 Recommendation
The Best Air Bed For Everyday Use
Want to see what the Serta EZ bed looks like and how easy it is to inflate and deflate, then watch this short video demonstration to get a better idea before you buy the Serta Ez Bed.
Save