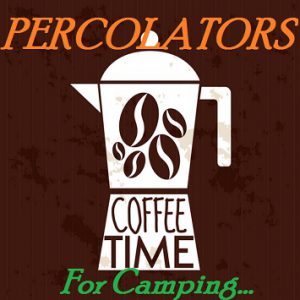 It doesn't matter if it's the chilly cold of Winter or in the middle of a scorching Summer, waking up to a quality cup of coffee while immersed in nature is a sure fire way to get the days adventures off to the best possibly start. Today we are listing the best camping coffee percolators from reviews of outdoors people that are sure to satisfy the avid coffee drinker.
While I'm not the #1 coffee connoisseur in the world, I do fancy a decent cuppa in the morning. I can't remember the last morning I woke up without a coffee brewing away. So when I discovered these awesome coffee makers for camping purposes I knew I had to get one. But which one is the best?.
After doing a boat load of research and spending hours reading consumer reviews, I finally settled on the below 5 camp percolator coffee pots. Who knows, I may even buy them all. One can't be too prepared right?. But for now, this buyers guide corresponds to the order of which I found to be the top rated portable coffee makers in 2017. While there are multiple ways of making coffee outdoors, percolated coffee is one of the more popular methods. Which we will now look into further.
Our Top Rated Camping Coffee Percolator Pot
#1.The GSI  12 Cup Stainless Steel Heavy Duty Review
The Company
GSI
is a global distributor, but started up the business in the USA, San Diego, however now resides in Spokane Washington. Which is always good when a company remains to manufacture in America. So you know the products are suitable for the American way of life.
Whats great about this 12 cup stainless steel camping percolator by GSI is the simplicity of it. No power is required, so no messing around with 12v sockets or digging up solar panels. To make matters even easier, the silicone handle is heat resistant.
So this means you can place the coffee percolator directly over a heat source like a grill or even a camping dutch oven and your good to go. No fear of burning the handles or yourself when you go to pour the morning cuppa. I'm all for simplicity when it comes to camping and this coffee maker is right up there.
The other feature that make the GSI a stand is its durability. Things get bumped around and even broken on camping trips, so the equipment we take must be heavy duty. That's what I love about the GSI percolator. It's made from heavy gauge stainless steel. Even the inner mesh basket and stem are made from steel. The other bonus to stainless steel is that it doesn't add a aluminum taste to the coffee after some time like some of the Aluminum models have done in the past.
Finishing off why I think that this is the number one portable coffee percolator in 2017 – The see through top and coffee basket lid. The lid which sits over the coffee grounds prevents any unwanted grounded coffee falling into your already amazing coffee. The clear resin top/dome is great for checking out status of the brewing process.
It's very hard to find faults with the GSI camping stainless steel coffee percolator, so it's clear to me which model I will be buying. Even for home use when we loose power due to storms and such, this portable percolator will be handy. To compliment this percolator, GSI also has a unique manual coffee grinder so you can make your own fresh blends of coffee from the middle of nowhere.
My #1 Pick - GSI Percolator
#2. The Coleman Stainless Steel 12 Cup Coffee Percolator
Best Tasting Coffee Pot Percolator
Another high quality stainless steel 12 cup coffee maker that only needs heat to work. The main differences between the Coleman and the GSI percolator is that the Coleman has a Glass viewing top rather than a Resin one of the GSI. Both are see through, but with the Coleman you must be careful of expanding and retracting steel/glass.
While I love the idea of glass as it won't leave any bad tastes or corrode, it can break. It is glass after all. Both the steel and glass expand when heated, so a way to prevent the glass breaking is by not over tightening the lid. Just tighten it a little until you feel friction. No more.
However, a new glass percolator top isn't expensive. So what I suggest is to buy an additional glass top at the time of ordering the Coleman percolator so you have a spare on hand at all times.
The benefits of having a clear glass top is that you can see and control how dark or light you want your coffee. Which is a huge factor to consider if you are picky in terms of coffee strength. Overall, the Coleman Percolator is another fine choice for waking up in the outdoors to a nice fresh brewed cup of coffee.
Coleman 12 Cup Stainless Steel Glass Percolator
Best 9 Cup Camping Coffee Maker By Texsport
One of my personal favorite outdoors equipment provider, Texsport have produced this awesome 9 cup stainless steel coffee percolator. Fully stainless steel (Which heats up quickly) bar the insulating timber handle and glass top. Apparently other reviewers have noted that it comes with 2 glass tops which is super handy in the event of braking the glass.
This particular model is a 9 cup, however Texsport has a huge 28 cup coffee percolator for those camping events with many coffee driven people. But 9 cups is more than enough for a few coffee drinkers in a small tent site.
The cup measurements on the side of this pot is a nice touch as it makes it easier to allow enough coffee to suit 1 person, 2 persons etc. When it comes to pouring the coffee, the welded spout on the Texsport looks to be fairly well constructed. The shape and size of the spout should make pouring the hot coffee all that much easier.
The stainless steel basket is fine enough that if you have course coffee it shouldn't end up in your drink as much, but for a better tasting coffee. A filter is a must. The only thing I don't like about this portable coffee percolator is the fact the handle is wooden. While it is insulated I still prefer the silicon handle of the GSI.
Texsport 9 Cup Stainless Steel Edition
The Best Portable Coffee Maker Percolator For 1 -2 People
I love the idea of this Winterial 1-2 person very lightweight coffee percolator for a few reasons. One it is very portable due to it's lightweight and compact design. Great for romantic getaways with just the Partner (Or even fishing trips with buddies).
The actual 'pot' for this single percolator is the coffee cup itself. It comes with 2 cups, so it's extremely handy as all that's literally needed is a heat source and your good to go. A portable camping burner is the best option in my opinion and won't set you back too much either.
The other feature is the Winterial's simplicity to use. Taking about 5 – 8  minutes from set up to pouring a nice coffee is perfect for my camping experiences. Water goes into the bottom compartment, up to 2 cups and in the above section (aluminum basket) is where you put the ground coffee, just below the filter. Tighten the lid and go off and prepare breakfast, sweep out the tent etc then come back to a nice outdoors style coffee. I'm thinking this little camping coffee percolator will make a great Fathers Day gift!.
Winterial is a relatively new outdoors adventure company based in California USA but are already impressing many people including us. In particular we love their Tent Cot for taking it to the ever popular Kamp-Rite model.
Not Sure How To Use A Coffee Percolator?
This short video is very helpful for the first time outdoors coffee Baristas. Take 5 minutes to learn more about preparing coffee before you go camping for a more positive experience.
Save
Save
Save
Save