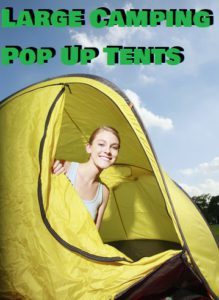 Not everybody has 30 minutes to an hour to set up a large family tent. Many people are chasing the best
largest pop up tents for camping
as a way to avoid the time consuming process of setting up a tent.
Some people downplay the quality of a pop up tent, not realizing on what they are missing out on. Sure its the lazy way to set up a campsite. But hey, there's plenty more fun things you could be doing with your time.
Pop up tents are also frequent festival goers choice of accommodation. Unfortunately many people treat these types of tents disposable. Which is certainly not the case. Sure its cheaper to sleep in a tent compared to a hotel, but that doesn't mean you throw your money down the toilet like that. Plus its also a waste of materials.
But when you have the right intentions and want to simply minimize setup time while camping, then pop up tents are a great way to go. However, for a larger size family, finding pop up tents for more than 6 people can be pretty much impossible. But don't worry, I have got the perfect solution listed down below.
Pop Up Tents Are NOT Instant Tents
Whats the difference between a pop up tent and an instant tent. Well in a manner of speaking, there's not a great deal. Both are fast set up tents, but one is more structurally sound than the other. So lets quickly compare the two so you know what type of tent you're actually buying, or trying to buy.
Instant Tents
As the name suggests, instant tents have a very fast set up time. This is achieved by having a mechanism at the top of the tent in the center. This usually has the ceiling poles pre attached to the mechanism. Most tents like this you will have to attach the remaining poles. Other instant tents have the poles attached with the poles being extendable. From here you simply need to raise the poles to set up the tent.
From there all you have to do is lift up the mechanism and the tent will instantly form in front of your eyes. Do note that many manufacturers will claim that you can have a tent up in under one minute. But this is not the case when you have to attach the rain fly, stakes and guy lines. So sure, you can get the foundation set up in a minute, but to complete the whole process, allow more like 15 minutes. These tents are far more structurally sound compared to a pop up tent.
Pop Up Tents
Pop up tents do exactly what the name suggests, they pop up and form into a tent as soon as you realize the tie that holds it into the compact size. Much like pop up shower enclosures, they spring to life in less than a second. Job done, tent assembled.
Problem is, you can't get extra large pop up tents. I believe it would be too difficult of a task to achieve such a process on a 10 or 12 person pop up tent.
Which is exactly why I have listed both a 8 person and a 10 person hybrid pop up instant for the people that want the largest pop up style tents without having the hassle of too much set up. Sure there's a little more set up involved, but nothing compared to your regular tent set ups. Considering I have never seen a pop up tent larger than a 6 person, I find these hybrid pop up instant tents to be the next best thing.
Largest 10 Person Pop Up Tent
Hybrid Pop Up Cabin Tent
This Outbound tent is one of the largest hybrid pop up tents you can find on the market in my opinion. Being a hybrid tent gives it that ability to put up quickly, and also have plenty of space. Both of these are crucial factors for camping in my opinion.
While technically its not a pop up tent that you throw on the ground and it magically forms in front of your eyes, its a relatively quick and simple process to erect. But as there's no large pop up tents that I could find anywhere for more than 6 people, these hybrid tents as I like to call them are the next best thing.
It only takes two people to set up, which does make life easier. Just make sure you follow the instructions, otherwise it can be a bit difficult. So this is highly recommended.
With how large of a tent it is being 14 feet x 10 feet, it can fit up to ten people. However it would be a little difficult to include your gear as well with this many people. So unless you have somewhere extra to store your gear, it would be better to have a few less people in it.
From my experience, this size tent is a great size for a family of four campers. It gives you the space and privacy a small family needs.
The thing that does really impress me with this tent, is just how light it weighs. It a large tent so only weighing 12lbs, is impressive for such a large family tent. It does come with a duffel bag to carry it as well, so it gives it more portability.
Best Extra Large Pop Up Tent
This is a large and spacious tent by Gazelle Tents that suits up to 8 people. It has a floor space of 110 sq feet. It has a few really nice features that make great for a wide variety of people. From larger groups to smaller groups that like extra space.
While they claim it takes 90 seconds to set up, that's more for there smaller tents. It does take around 10 minutes to set up, on your first try. You will get quicker the more you do it tho. It's possible with one person, but two will make it easier getting it into position.
The pop up part of this tent doesn't really happen until you put the rain fly on. Until then you need to maneuver it into a spread out position. Once you have it spread out, and almost all the way up. Then you put the rainfly on, and go inside and pop the tent up. It takes some getting use to, but once you do it's easy.
Once folded down and put into it's bag, it can be carried on your back. Depending on your situation you may find it to heavy, to carry yourself. This is because it does weigh a fairly solid 47lbs. This does rule it out for some camping styles, such as backpack camping.
They made the clever decision of letting you set up a barrier in the middle of this tent. This allows you to have some privacy, if you have a few people. Or my personal favorite, it allows you set up half as more of relaxing area. This is really useful for when it's raining. Since you're not all crammed in on the beds.
This tent is easier to clean then a lot of other tents on the market in my opinion. This is due to you being able to remove the floor. It allows you to take the floor out and shake it for dirt. A small quality of life improvement that makes life easier.
Features A Nice Screen Room
The reason this tent a little longer to set up is because it features the inclusion of a screen room. But if you ask me, spending the extra minute or so is very much worth it. Being able to have a screen room with your tent allows you to keep a space for sitting and relaxing in the open air.
Except with the screen room, you're protected by any annoying insects, in particular mosquitoes. What I also like about this tents design is how the rainfly allows for maximum airflow. It is stakes down further away form the tent to create small awnings. This allows air to circulate inside the tent better than any other tent I have used.
Short Assembly Video  
Best 6 Person Pop Up Tent
This spacious 6 person tent is great value for money, and will save you a lot of time. Its more along the lines of a traditional pop up tent is one of the largest pop ups I have come to see. Setting the tent up is as easy as unclipping the clip and then the magic happens. It pops up into a tent.
I find it's difficult to get a tent of this quality, without breaking the bank that is. For a simple pop up tent, the Hui LingYang is exceptionally good. It's 12.5 feet x 8.5 feet, so it has a good amount of room. It should give you enough for you and your gear.
The biggest and best feature of this tent it how quick you can set it up. It will only take a few seconds to set up which allows you to spend more time relaxing. This is also advantage if you know you're going to be showing up to camp late at night. Since you won't have to spend ages setting it up.
Pop Up, But Requires Skill To Pack Away
There is one frustrating thing about this tent, that does hurt it some bit. Which is how difficult it is to fold back up. It would be a good idea to watch some videos on it, since it is so difficult. Even with a video it's still difficult to do, so if you do get this tent. I highly encourage you to practice folding it down.
Its pretty much like trying to fold up a pop up shower enclosure, its never easy the first few times. There's a certain way you need to twist and turn the tent and then it magically folds down into a compact circle shape. Once folded down, its so small in size that storing it in your vehicle is certainly no drama.
I find the water resistance is overall very good, and reliable. It wouldn't hurt in putting your own coat of waterproofing over it. Tho you can say this for a lot of tents. As its a single wall tent, there's only one layer of protection between you and rain, so if you're planning to camp in some harsh conditions, it may be worthwhile bring a tarp to set up over the top also. Overall it's the fast set up of this tent that gives it the most value.
Large Pop Up Tent For 5 People
If you're looking for a more durable pop up 5 person tent, then this maybe a good candidate for you. Oileus use a stronger grade of polyester compared to a lot of other tent manufactures on the market. This does give it more appeal when looking for something that will last, more then one trip.
Especially as pop up tents can be on the cheaper side. Many people use pop up tents for quick disposable options when camping at festivals and so forth. But if you want a tent to take with you on many camping expeditions, a more durable option like this is recommended.
Having a breathable tent is important depending where you're camping. This tent is really well suited to warmer climates. This is due to it's two doors which allows it to breath better. This makes it really valuable for summer camping.
Skylight Feature Is Amazing
But what I really like about this pop up tent over any others, is the skylight. Inside the tent you have access to a mesh screened skylight. With this left open, you can stargaze until your hearts content, without being eaten alive by mosquitoes.
It only takes one person to set up this tent, and doesn't take long at all. Which is the best feature of these kind of tents. It really does take the worst part of camping out of it. Not having to spend an hour putting a tent together makes a big difference.
The amount of space in this tent is fairly decent, with it's measurements being 78.4 inches x 114.17 inches. This size tent means you can fit a queen airbed inside, which is pretty good for a pop up tent. This will also allow you to fit a few people and their gear comfortably.
One thing to note with this tent is that it's also only water resistant. So you shouldn't take to places that have extreme weather. You should also put your own waterproofing on it like the other tent on this list. This will make your trip less hazardous.
Pop Up Vs Regular Tents
If camping is your primary goal, you may be stuck between deciding to opt for a pop up tent versus a regular or instant tent. As you have just seen, in terms of large camping pop up tents, there's not much out there. Simply because the bigger they are, the less possible it is for the pop up function to work adequately.
So when a large size is of utmost importance, chances are you're going to need to opt for a regular tent or an instant tent. Which is certainly not a bad idea if you plan on going camping more than once.
An instant tent is stronger and can handle harsher weather better than a pop up tent. Taking it one step further, regular tents with double walls held together by steel poles will genuinely be stronger again. While it may take longer to set up, the level of comfort you will feel from a sturdy and safe tent will outweigh the cons.
Pop Up Tents Can Be Used For Camping
But this is not to say that pop up tents don't have their place, because they certainly do. Pop up tents are great for overnight camping or random festivals that you go to on the odd occasion.
But pop up tents can be extremely vulnerable to strong winds. If the tent is not staked down and a sudden burst of strong winds come from nowhere, I can confidently say it won't be there when you return. Even when staked down, due to the flexible nature of the pop up design, the tent will be blowing around and bending to all sorts of shapes.
However, finding large pop up tents for camping with more than 3 or 4 people can be a serious challenge you will face. Camping can be a rough experience and the last thing you want is an unreliable tent when the going does get tough.