For most people, camping usually consists of a tent, sleeping bag, and some
basic camping equipmen
t. This is pretty much the norm. For people that want to take camping to the next level, there are more versatile options out there, which I will be discussing today: Hammock VS Tent camping.
When preparing for an overnight open-air, you have to plan everything. Sleep is essential, and you have to be well adjusted when the night comes. A night out can be cold, rainy, full of biting insects and roaming scary wild animals. Safety and comfort are essential for a good night's sleep whilst out in the woods.
Regardless of whether you are hammock camping or tent camping, your health and wellbeing should be your number one priority. You should understand the pros and cons of hammock camping vs tent camping alternatives so that you can make an informed choice. Read on to understand the different sheltering options you should consider.
Basic Tent Camping

A tent is a temporary shelter made of different types of fabrics that are draped over supporting poles. It can be set up outdoors for use overnight and then brought down.
Some of the main features of a tent include:
i). User-Friendly
Tents are easy to use as the instructions on how to pitch them are straightforward.
You can put up tents in the wilderness with minimal or even no tools. Many outlets selling tents often offer a demonstration on how to use the temporary shelters.
ii). Complete Shelter
Tents are semi-houses that lock out the weather and bugs, some tents look like houses also. The accommodations are usually waterproof and create privacy in a shared ground. You can sleep comfortably in an individual tent and share it with others around the bonfire.
iii). Safety
Tents protect you from the harsh outdoor elements while you sleep. Under the pitched tent, you can stay warm as you lie on your sleeping bag or camping pad.
iv). Far More Tent Options Compared To Hammocks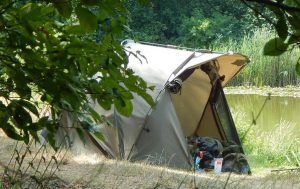 The market is full of different brands of tents. They come with various features so that you can find the best alternative for any camping site. The type of tent you need will be determined by your camping situation.
For example, I love going camping with my family in a tent with a screen room. This extra room that is sheltered from the sun and rain, is also screened off to protect you from annoying insects. Making it the perfect spot to pull up a camping chair with a good book and relax for the rest of the afternoon.
v). Compact
Camping tents are portable. Though they differ in sizes, you can find the right size that can fit in a backpack or one that you can carry in your vehicle. However, winter canvas tents are heavy and bulky but provide greater insulation from the cold weather.
Benefits Of a Tent Versus A Hammock

A single tent can shelter several people including very large families whereas a hammock is best suited to 1 or 2 people maximum.
They are user-friendly and fast to set up. Many tents can be put up by yourself and don't require trees around for hanging like on a hammock.
You can easily find camping tents on the market whereas hammocks have less market influence.
Shelters a camper entirely from weather elements (Provided you have a good quality waterproof tent)
Available in different designs
Cons of a Tent
Tents for accommodating many people at a go are bulky and heavy to transport
Shelters can become very hot in summer but there are ways to make a tent less hot in summer
Good quality tents are expensive.
Camping In A Hammock VS A Tent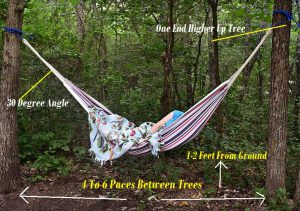 Hammock camping allows you to sleep on an elevated bed instead of the ground. This can be both a positive and negative if you don't know what you're doing. While many people swear by their hammocks, there are also a lot of people that can't master the art f hammock camping. When camping with a hammock, you have to understand how to handle this shelter.
i). Hammocks Are Less User Friendly
Hammocks are challenging to set up, especially outdoors, because they do not come with the suspension poles. It can take a lot of time to search for an excellent place to hang a hammock. Besides, you have to get the height right and pick a position where you can sleep comfortably.
ii). Hammock Comfort Beats The Tent Hands Down

A hammock provides a near-bed comfort. You do not have to lie on the ground, and you are safe from crawling insects.
Further, you do not have to experience the discomfort of lying on rocks and plants. In terms of comfort, many people will never go back to tent camping after spending a camping trip in their hammock.
iii). Safety
With a hammock, you will be exposed to weather elements, and there is little to no privacy. You hang out there exposed to winds, bugs, and rain.
Although there are rainproof hammocks, they expose you to cold. So it's important you invest in a hammock tent that provides both protection from mosquitoes, rain and the cold. A hammock does not deliver well on safety and protection but in saying this, in the presence of a bear a hammock or tent is vulnerable.
iv). Variety Is Minimal Compared To Tent Camping

Hammocks are available in different brands, but the designs are similar. However, some campers request for customized hammocks to suit their body shapes and sizes.
v). Hammocks Can Be Easier to Carry Than a Tent

Hammocks are available in different sizes and weights. They are mostly portable so that you can carry them in a backpack even for long walking distances.
vi). Pros of a Hammock
Compact and portable
They are affordable
Offers high comfort
Ideal for tough terrains
Protects you from crawling creatures such as snakes and red ants
vii). Cons of a Hammock
Hammocks are best for relaxing, many people will find sleeping overnight is better left to an airbed in a tent.
Exposes you to harsh weather elements
Complicated and hard to set up if you're a beginner
Can You Sleep in a Hammock While Camping?
Sleeping on a hammock overnight is not as comfortable as resting on it as you read a book. Campers say that they find it hard to sleep as they can only lie on it like a banana on the side. However, this is certainly not the case for everyone. Will a hammock suit you, I guess the only way to find out is to give it a try.
Further, a hammock exposes you to the weather unless you set up a tarp or have a hammock tent, and you have to share your sleeping space with your commodities.
Compared to a tent, the hammock is restricting to sleep in, cannot be shared, and it exposes campers to cold weather easier than a tent.
If you plan to go hammock camping, here are some tips.
Avoid sleeping at the center of the hammock to avoid feeling as if the fabric is enclosing your body.
Consider using a pillow so that your head can rest at a comfortable angle.
Attach the rain tarp so that you do not soak wet if you are out in rainy weather.
Remember to secure the bug net so that you can sleep peacefully without mosquito bites or any other nocturnal insects.
Keep your stuff safely in the accessory hanger attached to the hammock.
Which Is Warmer, Tent or Hammock?
A tent is warmer than a hammock. Some campers say that a tent can be quite hot. On the other hand, the hammock beds expose campers to severe cold. You will require packing warm blankets and sheets to combat cold throughout the night
Secondly, tents are easy to set and up and settle in for sleep, but a hammock has to be suspended carefully. If you want to keep warm on a camping night, then a hammock may not be suitable.
The bottom line is that tents shelter you from outdoor elements, but a basic hammock can expose you.
Are Hammocks Lighter Than Tents?
Hammocks are compact and portable. You can carry them on a backpack.
In contrast, tents are bulky and ideal if you travel to the camping site using a car.
Tents are heavy to carry on a hike. Even though there are small varieties, the accessories used to pitch the accommodation occupy space and are weighty. If you are looking for a lighter load, then a hammock is the best choice.
Do Hammocks Offer Protection From Rain & Mosquitoes?
Hammocks expose campers to outdoor weather and bugs. However, modern outdoor beds have a tarp for trapping rainwater, and net for protecting you from mosquitoes. Before you sleep, you should secure the rain tarp and put up the bug net.
A tent protects you from bugs and rains completely. If you were going camping on a rainy season, it would be good to rethink a hammock.
Is A Hammock More Expensive than a Tent?

You can find both high-end hammocks and tents on the market, but you should be keen on the best choice for you.
Both of these outdoor shelters are valid choices for camping nights. However, you should look out for essential features such as the under quilt on the hammock. It should be firm and not too stretchy. Also, ensure that all the accessories required for suspending the hammock are included in the package.
When buying a tent, you should know:
The price will be slightly higher than that of a hammock, as tents are generally pricey
The modern lightweight tents are expensive but more portable
Tents are costly because they can last many years
Multiple campers can use the shelters at once
The accommodations are also ideal for any type of terrain
Tents are considered safe for outdoor sleeping as they protect you from the harshness of the wilderness effectively.
Hammock Or A Tent For Camping? Why Not Both?
Are you still confused by hammock camping vs tent camping? Your needs and preferences should guide the choice between a hammock and a tent. Every camping situation is different. If you like sharing sleeping space, maintaining your privacy, and sleeping in a warm environment, a tent wins.
On the contrary, for campers looking for lightweight sleeping gear, above-the-ground sleeping position, and bed space for only one person, a hammock would be the best choice.
If your budget and storage space allows for it, why not pack both a hammock and a tent for your next camping adventure. If you find that hammock camping is not for you, you still have your trusty tent with you as a safety net.
Due diligence is indispensable to understand the differences between a tent and a hammock. The research will help you pick a portable outdoor shelter that will match your requirements perfectly.