In these reviews for the best 8 person tents, you may just find the perfect tent you have been searching high and low for.
After much in-depth research, the results listed below will give you insight into; the size of each tent, how many people can comfortably sleep inside and the varying features which make them some of the best tents on the market.
Buying a tent can be quite a challenging task, especially if you have multiple campers sleeping inside. The most challenging part is finding the right sized tent for 8-10 persons.
To make the research all that much simpler, I have listed what I believe to be the best 8 person tents for camping. The reviews below will walk you through what each tent is about, and why they made it onto this buyer guide in the first place.
Compare The Best Rated 8 Person Tents For Camping
What Size Tent For 8-10 People
Before you dive into the reviews below, it's important to understand what an 8 person tent really is. If you actually have 8 people to sleep in one tent, then you're going to need a much bigger tent in my opinion.
A typical tent that has been described as an 8 person tent will be smaller than you may imagine. A tent that can handle a family of 6, would probably be preferred over an 8 person tent if you actually have 8 people to cater to.
However, its good to know that some tent brands listed below offer multiple sizes of the same tent, so if you need a larger tent, just chose the 10+person size.
Technically….They Do Sleep 8 People
While a tent of this size can technically sleep 8 Adult size people, you don't get any space for your gear, food and camping equipment. So knowing exactly how much floor space your tent has, will ultimately determine how comfortable you will be.
In all reality, an eight-person tent is better suited to a family of 4. It offers just the right amount of living space along with privacy for the campers.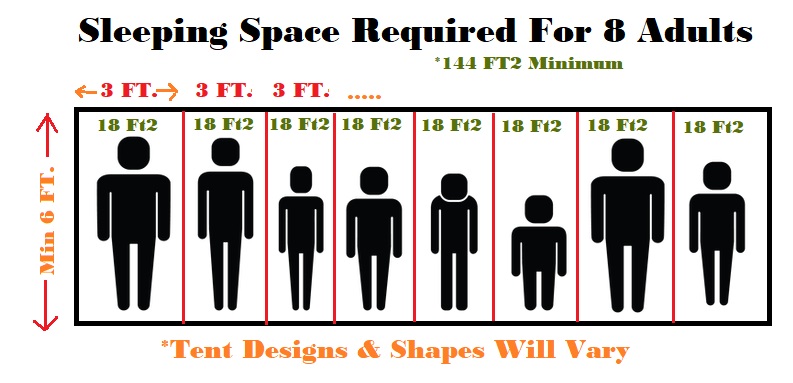 Amount Of Tent Space Each Person Needs
Do you really need an 8 person tent? The answer to this will be determined by how many adults and how many children are camping with you. For example, 6 full-sized adults will need more space compared to 2 adults and 4 children.
The average adult takes up between 18 and 25 square feet of space. This allows you to have 3 foot wide by 6 foot in length. When you lay down 8 average size people, you are going to need 144 to 200 square feet just in sleeping space.
Allow for less footprint if you have small children coming along. On top of the minimum of 160 ft2, you need to allow for enough space for your camping gear. This is where a tent with a screen room or vestibule is handy. This tent add on allows you to keep your gear outside the tent, yet still sheltered from bad weather.
Guide To Buying The Best 8 Man Tents
Here are a few of the features to look out for and the terminology used when buying a tent of this size.
Instant or Pop Up tent – This type of tent comes with the poles pre-attached. This makes it much easier and quicker to pup a tent together. Ideal if you have no camping experience.
Free Standing – A freestanding tent means it doesn't require stakes or guy lines to assemble the tent. However, stakes can be used in times of increased winds.
Screen Room – A screen room is usually found on the front of the tent. It is often is protected from rain, but lacks the sidewalls for privacy. It is, however, bug proof. Making it ideal for storing gear, games room, eating area, etc.
The vestibule is a small wing-like section often found on backpacking tents. This little area is great for storing boots and great outside an otherwise small tent.
Bathtub style flooring – Its always recommended finding a tent with bathtub flooring. What this is, is an extension of the heavy-duty waterproof flooring which runs up the sides of the tent about 6 inches. This keeps and water running on the grass outside from seeping into the seams of the tent.
With all tents, regardless of whether it's waterproof, you should always waterproof the seams and material.

Not all tents are waterproof

when you buy them.
Style and materials used on the tent. Most 8 person tents will be either a cabin style tent or a dome tunnel style. These allow for greater living spaces. The most common material used is a polyester-nylon which is great for summer conditions. The more

heavy duty canvas tents

are ideal for cold weather and lasting pretty much a lifetime. but are more expensive.
Best 8 Person Tent For Rain
I find one of the
best 8 person tents for rain
to be the Larami NTK. It's one of the largest 8 -10 person tents I have come across that also offers the best features in regards to rain protection.
There is nothing worse than a rainy camping trip, other than a tent which isn't capable of withstanding heavy rain that is. Which is why I love the Larimi by NTK.
This outdoors brand makes some of the finest tents for families and to be honest it was a toss-up between this model (Larimi) and the Arizona tent by NTK. Both are great for rain protection, but what got the Larimi over the line was the extra square feet.
Does This Tent Sleep 8 People
Absolutely. It's classified as an 8 to 10 person tent with a total tent footprint of 10 ft x 18ft long. Which is a total of 180ft2. When you consider the minimum I require for 8 people is 144 ft2, this is a decent size tent.
This works out to be 22.5 ft2 per person. Inside the tent, you can fit 3 x double beds and 2 x single or twin beds. Alternatively, you can have 3 queen size air mattresses fit side by side with plenty of walking space in between. Speaking of walking inside the tent, you get an impressive 6'9″ of height. At almost 7 feet tall, it's one of the best tents for tall people going around.
Why It's One Of The Best 8 Person Waterproof Tents
When it comes to waterproof tents, the NTK Larimi is certainly well prepared. Here are a few of the things that make this such a good tent during storms and bad weather.
Bathtub style flooring that keeps pooled up water stay outside the tent.
The rain fly comes all the way down the sides of the tent which reduces the chances of water seeping in through the inner layer tent seems.
The large D style door entryway is protected from the rain with an overhead awning.
2500mm PU (Polyurethane) coated and 190T polyester laminated rain fly.
PU heat sealed seams to prevent water seeping in through seems.
Overall It's A Great Tent
The NTK Larimi is a great tent overall. While it's my top rated for protection against wind and rain due to the tubular design and waterproof features, it's also a spacious and breathable tent.
Underneath the rain fly is a full mesh ceiling with mesh windows and vents to allow airflow in and out of the tent. This reduces condensation build-up and helps keep the tent cooler during the hotter nights.
I really like the large D shaped doorway, but I would have preferred there be two entrances for a large tent-like this. But as that is my only gripe, I think it's certainly a dream tent for up to 8 people.
NTK Larimi 10Ft x 18Ft Tent
Top Rated 8 Person Tent
If you're anything like me, you simply love the idea of a screen room. They are great areas to get outside the tents sleeping area while still being protected from wet weather. They allow you to get fresh air, sit down on a camping chair and relax. Take time to watch the wildlife o read a book. All while being protected.
However, there is a downside. That is the screen room usually takes up some of the living space. As is the case with this Klondike tent by Wenzel. While it's certainly one of the best screen room tents on the market, the actual tent size is a little short on size if you ask me.
Does The Klondike Really Sleep 8 People
The Wenzel Klondike tent is classified as a 8 person dome tent, but I think it's best suited to 4 people. Even 6 people may be pushing it. The reason being the screen room is a designated sleeping area for 3 people.
While some campers don't mind sleeping in the open air, I know some demand privacy. While the inside of the tent is very private, if you end up being the unfortunate one that sleeps in the screen room, you may not be impressed.
Total Tent Foot Print: 158FT2
Sleeping Room: 98Ft2
Screen Room: 60Ft2
Overall It's A Winner, If…
As you can see from the above measurements, the main area is not huge. So unless you have a could keen campers willing to sleep in the screen room, this tent may be too small. While the screen room is completely bug poof and even has a waterproof floor, some demand privacy.
But if you are looking for an 8 person tent with a screen room to suit just 4 or 5 people, then the Wenzel Klondike is certainly a great choice. It's well-ventilated thanks to the unique '+' style windows and the air vent on the back wall. The mesh ceilings allow air to flow even when it's raining and you are all zipped up.
For a cheap 8 person tent, it's very well priced. I don't think you can find a better-priced tent with this screen design near this price. Considering the high-quality materials used, it really is quite cheap considering 8 people can sleep in this tent if desired. However, I wouldn't go too overboard on the number of campers in this tent at one time. Best for 4 to 5 people in my opinion.
Wenzel Klondike 16 x 11-Foot 8-Person Screen Room Tent
Get A Closer Look At The Wenzel Klondike
Before moving onto the next tent, take the time to see what this tent really offers. A video review can certainly help you decide if its the right tent for you.
Best 8 Person Cabin Tent
This Ozark Trail 8-10 person cabin tent is very unique. It's the unique features that make this my top rated 8 to 10 person cabin style tent. Being a Walmart brand, it's easy to be skeptical about the quality and durability of this tent. But to my surprise, it's quite a nice tent.
In regards to size, its 14ft x 10ft with a total of 140ft2. So it's a bit tight for 8 adult-sized people to sleep comfortably in my opinion. But if you simply need a tent for 8 people in a sleeping bag on the floor, this tent can certainly achieve this. The tent also has a decent ceiling height of 6'5″.
The Features I Love The Most
This tent is very unique, there are not many like it. The two features I am talking about are:
Dark Rest Technology
Instant Cabin
The Dark Rest Technology Explained
I have young kids, so this dark room feature is a godsend. What it does essentially is, it makes the interior of your tent darker during the day. So much so that you can sleep in longer in the morning, or as I said if you have kids, you can lay them down for their afternoon naps without the bright sunshine in their eyes.
There are 4 skylights on the ceiling. These can be zippered up so that the ceiling is completely black for when you need to rest or sleep in longer. You may be thinking that during the day time it may be too dark that you can't see anything right?.
This is when you unzip the skylights and the clear rainfly above lets the sunlight in. This also allows you to sleep with a clear ceiling during the night so you can still see the stars. Even if it is raining!.
The interior walls are also dark. What this all does besides allowing you to sleep during the day, is keep your tent cooler in Summer. Think of the interior like being in the shade of a tree. So now you have a tent you can sleep in at any time and feel cooler than most other tents on the market.
An Instant 8-10 Person Tent Review
The bigger the tents, usually the harder they are to put up. But this Ozark 8 to 10 person cabin tent is, in fact, an instant tent. Meaning it comes with all the poles pre-attached. So setting up is less of a hassle.
While I won't comment on how long it takes, as most of us work at different speeds, I will say it does make it less of a headache having the pole already in place.
This tent has many more great features like air vents, 2 room divider, e-port and storage pockets. But it's the above two features that really make this tent unique from the rest of the cabin-style tent on the market. It may not appeal to all people, but for most families, I think they will appreciate the shade and cool conditions this tent offers.
Ozark Trail 10-Person Dark Rest Instant Cabin Tent
Best 8 Person Family Tent
This is a very spacious 8 person tent by Coleman. It's the Elite version of the Montana. It's so big you can fit 3 queen air mattresses inside as its an open room rather than a two-room tent.
There are a few things I love about this tent. They are the hinged door, the large covered entry that surrounds the door and the included light system.
About The Features
The hinged door is just that. It operates like a normal house door but is stopped with Velcro straps. Certainly, a time saver when you have young kids going in and out of the tent every 5 seconds. Makes fighting with the zipper every time a thing of the past.
On the outside of the tent is a huge awning that can wrap around to make a covered area for standing while it's raining. So you don't get wet trying to get in the door.
The 'Elite' range of tents by Coleman comes with a built-in lighting system. This is basically a light switch on the wall of your tent which operates an LED light on the ceiling. It has 3 settings such as low, normal and nightlight. The nightlight setting is very good when you need to get the kids to go to bed earlier than you, or if you need to get up during the night to go to the toilet.
What You Need To Know
6'2″ high ceilings. Certainly not the tallest, but still adequate for most campers.
E-port for running leads safely into the tent.
4 pole dome design. It can be tricky to set up alone. So I recommend one person on either end and allow 15 to 20 minutes to set up.
Large ceiling mesh and 2 large windows on the 2 ends for great crosswind ventilation.
The Elite model comes with self-rolling windows. Is this camping or glamping?.

450mm hydro-static rating

for waterproof materials. Certainly not the highest, so I would invest a few bucks to add additional

waterproofing to the seams

.
Overall Opinion
If I had to give this tent a score out of 10, I would rate it around the 7.5 area. It has great features, large windows and of course the hinged door. These are all unique and very rewarding features.
While it is a very spacious tent, there is one area of concern for cot campers. That is the depth of this tent is only 7 ft. So it's more of a longer rectangle tent and you may have to have you cots running lengthwise. Which is not a huge concern if you only have 4 cots. Also having no room divider may turn some people off.
But for me, the positives outweigh the negatives. With a little extra waterproofing done (Which takes minutes and costs a few bucks), you can have a really good tent at a very good price. However, if the extra waterproofing turns you off, you should opt for the NTK Larami as it's 2500mm is higher than this Colemans 450mm rating.
Coleman Elite Montana Lighted Tent
Best Pop Up Tent For 8 People

Being a pop-up tent that is also an 8 person tent is an awe-inspiring feat. Pop-up tents are more known for there smaller 2 or 3 person variety, so I'm impressed that Gazelle managed to make such a great 8 person variety. 
But in saying that, its more of a hybrid pop up instant tent. As poles do need to be inserted once the ceiling has popped into position. So, in theory, it's not a genuine throw on the ground, and magically the tent pops up into shape as those smaller pop-up tents do.  
A Luxury 8 Person Tent
The thing that makes Gazelle stand out are the small things that they do with their tents that shows they care about their products. The features of this Gazelle make it one of the more luxury camping tents available.

They use YKK zippers, which are the best zippers on the market, whereas most other companies will opt to use a cheaper version to save a few bucks. It tells me that they thought about everything when designing this tent.
Thanks to it being a pop-up instant tent, you can expect quick set up times. While you may never get to the 90 seconds they claim it takes to set up. You'll still get some reasonably quick times. I like this because I often find myself running late and having to set up my campsite late in the afternoon. So the quick set-up is very appealing to me for this reason.
Suitable For Up To 8 Persons
The customization of this tent is rather impressive as you can convert one of the spaces into a leisure area. So if you're a smaller group who want that extra space, this tent is an excellent option thanks to the front screened room. You can also keep that area as a second sleeping area for additional guests if need be.
Removable Flooring – Say What!
Cleaning a tent can be a frustrating and slow task that can put some people off camping altogether. Gazelle has helped with this issue by making the floor removable, so you can shake all the dirt and sand off the floor without having to get out the dustpan and broom.
A small quality of life improvement but one that's important if one of your pet hates is walking in top of sand inside your tent.
Gazelle Instant Pop Up Tent With Removable Floor
Canvas 8 Person Camping Tent By Kodiak Review
When it comes to canvas tents, there's none better in terms of value for money than the Kodiak Flex Bow 8 person. In this
comparison review
, you can see that the Kodiak is considerably cheaper than the big name in the business, Springbar.
The Kodiak brand has been around for just over ten years now and they have quickly cemented themselves as one of the best canvas tents of all time. Which is certainly a good thing for us consumers.
I have found Kodiak deliver much better bang for your buck. I feel as tho they offer too much for the price, to be honest. Especially as a high-quality canvas tent like this can last you a lifetime if looked after well.
Get To Know This 8 Person Canvas Tent
A canvas tent is thicker and more durable than the common polyester nylon tents. So they can last a very long time if maintained. The downside is that they don't breathe as well as nylon. So during summer, they will be warmer inside.
However, in winter, the heat from your body and heaters stays inside canvas a lot better than nylon. So warmer in summer. With that said, let us look at what makes the Kodiak 8 person flex bow tent so great.
The Kodiak utilizes hydra shield canvas on the ceiling and the walls. Which is 7% stronger than the main competitor. 100% cotton duck canvas.
Stronger steel poles are used in comparison to aluminum.
The tent's floor is extremely thick and heavy-duty. At 16oz, it's almost double what other canvas tents offer. Seams of the floor are welded rather than stitched. This means greater water resistance.
10ft x 14ft dimensions with a ceiling height of 6'6″.
Has 2 doors for access to either side.
Has a 4ft x 7ft awning to offer protection from the rain and sun.
4 meshed windows and 2 air vents allow for greater air circulation.
Let The Kodiak Protect You From Bad Weather
If you are anticipating bad weather and want a tent that can survive almost any tough weather system, the Kodiak is up for the challenge.
Being one of the toughest tents made from the toughest materials, I would prefer to spend the night in this tent over any other in the middle of a storm. The heavy-duty canvas, which is also watertight and breathable, combined with the reinforced steel poles makes the Kodiak a tank-like tent.
While canvas tents are more expensive, I believe the investment into the Kodiak is worth far more than having to replace nylon tents every few years or so. So if you plan to go camping quite a lot, I would recommend you take a look at the Kodiak more seriously.
Kodiak Canvas Flex Bow 8 Person Tent
8 Person Tent With Build In Closet
Coleman has come in again with yet another great 8 person camping tent. I believe this tent is well worth your time considering before your next camping tent purchase.
There are several reasons you should consider this tent. From its ease of set up to, having a good amount of living space, I find this tent offers it all. 
Need Storage For Your Clothes?
This tent has a lot of nice quality of life features that make camping much more enjoyable. With my personal favorite feature being the built-in closet . A closet like this already built into the tent is handy for organizing clothes or storing just random bits of gear in. A small but very useful feature that I am a huge fan of.
Includes The Famous Coleman Hinged Door
While they went with the standard rectangle design, they decided to do something different with the door. It's a hinged door instead of the usual zip-up door. A hinged door like this is surprisingly useful for when you're trying to get inside the tent quickly, no mucking around with zippers.
Since they've gone for the standard rectangular design, the measurements are relatively simple to gauge. With it being 13 by 9 feet, it gives a good amount of space to have up to 8 people in it at one time. It also has a decent amount of height to it, with its peak being 6'8 high.
Carry Bag On Wheels!
One of the remarkable features that I like is the carry bag it comes in. The carry bag has wheels, so it's easy to move around and helps with the weight of the tent. Speaking of the weight of the tent, it does weigh approximately 34lbs, which isn't too much when you compare it to some canvas tents that weigh upwards of 70 pounds.
Overall I find the Coleman a fantastic choice if you need that bit of extra room and are n love with the idea of a hinged door and a built-in closet. I know I am!. 
Coleman 8 Person Tenaya Lake Fast Pitch Cabin Tent with Closet
8 Person Tent With 3 Rooms Review
When people want a large family tent, often they also want privacy within the tent. This is what makes the Coleman Red Canyon tent so special.
*Do note the Red Canyon comes in 3 color designs, not just blue.
So what the Red Canyon has done has given you the opportunity to split this very spacious tent up into 3 rooms. With two wall dividers, you can now turn this 170 ft2 tent into 3 separate rooms.
Great for keeping camping gear separate from living quarters, or letting the kids have their own rooms.
Can This Coleman Tent Sleep 8 People?
Out of all the labeled 8 person tents, the Red Canyon is probably the closest to actually sleeping 8 people comfortably. Being 10 foot wide means that the typical length of a queen air mattress (80″)  can comfortably fit with another 40″ of space either above the bed or below the feet of the mattress.
So you could line up 3 queen air mattress lengthways and have a 40-inch wide pathway along the front where the door is. This is enough space to sleep 2 more adults in sleeping bags. Or have 3 people on the queen airbeds if you so desire.
What Makes This 8 Person Tent Top Rated
The rain fly covers all the windows and creates an awning over the front door to better protect you from getting wet.
Utilizes the Coleman Weather Tec system. This means the seams are welded and inverted so no moisture can seep in at all. The joints in the flooring have also been welded so there are no little holes from stitching to let water seep in.
The extra strong frame which is more responsive with high winds. Along with the triangular guy-lines to keep this tent firmly planted on the ground.
Large 'D' like door which has zipper covers over them. The covers are made from the same waterproof tent material so that water can't penetrate through the tiny holes in the zippers.
Time Tested Tent
A good sign that a tent is quality and can withstand camping conditions is how long it has been on the market for. The Red Canyon has years of camping proof online which shows that it is a high-quality tent and not some cheap rip off.
While it is battle-tested and has lasted the time test, it still has its concerns. For starters, it is not the easiest tent in the world to set up. It's not designed to be an instant pop up tent tho. So, with the Red Canyon, I would allow 30 minutes for 2 people to really get it set up.
The other concern is that the air vents are not zippered. There are permanent vents to circulate air. Which is fine on a hot night. But if you were to use this in freezing weather, you would probably freeze to death. Not the best in terms of staying warm during winter. But overall it's still a good 3 season 8 person tent.
Coleman Red Canyon 10 x 17 Feet Weathertec Tent
Freestanding 8 Person Cabin Tent Review
For the best freestanding cabin tent, it's hard to look past the
Browning Bighorn
for camping and hunting. Its freestanding design makes setting up a breeze. It's just a matter of connecting the clips to the poles and away you go.
Besides being freestanding (also comes with steel stakes and guy ropes for more intense weather) and easy to assemble, it's quite a nice design for 8 people.
Decent Size Rooms
It's a 10 ft by 15 ft tent with a room divider down the middle for the privacy of having two rooms. So 150 ft2 in total giving you a comfortable amount of space for 8 adult people.
What makes the Browning Bighorn one of the best 8 person cabin tents is the quality of materials used. When you have up to 8 people running a muck inside a tent, it's going to take some wear and tear. So high-quality materials are a must. Especially if you have kids running around.
With the Bighorn, you get just that. The floor is almost double the weight of other nylon because the Bighorn uses a 150D Oxford floor. This means it can take more heavy-duty use in comparison to a lesser quality floor.
Well Ventilated 3 Season Tent
Like the above Coleman Red Canyon, this Browning Bighorn is a 3 season tent. So cold weather camping is off-limits unless you have a very warm sleeping bag. The large ceiling is a mesh material to allow air circulation during rainy nights with the 75D Polyester rain fly on.
Being a two-room tent that can be zippered shut, it's only natural to have 2 separate entry doors, which the Browning Bighorn has. Along with the 6 windows that make this tent very breathable during hot days and stormy nights.
While I haven't personally experienced the Bighorn in a hail storm, I have read reviews of this. I am blown away of the pure structural design of the Bighorn. It survived one of the harshest storms possible which included a torrential hail storm for almost an hour.
This speaks volumes of the steel poles used for reinforcement and the durability of the fiberglass poles for the frame. The tough 65D rainfly was able to handle the hail and not tear open causing a flood inside the tent. Very impressive to say the least.
Review Conclusion
Because the Browning Big Horn tent is a high-quality product, the price is going to be higher. But not as severe as a canvas tent naturally. But if quality and longevity are your main concern when buying a 8 person tent, this is the tent I would opt for.
It has a very strong structural support system with high-quality waterproofing qualities. The moment you see this tent and compare it to your neighbors camping tent, you will notice the improvement.
My advice is, if you do buy this tent, to put the rain fly on before you raise the tent. It can be quite difficult to add the rain fly on after because this is a cabin-style tent. Especially with a center height of 87 inches. Besides the tent being pure quality, I highly recommend the Bighorn for the brand name and their customer service. Second to none in my opinion.
Browning Bighorn Person Tent
Unique 8 Person Octagon Tent
It may come as no surprise that Coleman are the leaders in the world of family camping. They continue this trend with this unique 8 person tent that offers a good amount of room and comfort for up to 8 people.
Its unique octagon design is made to optimize space, so there aren't any wasted areas of the tent. Because of this design, it's able to fit two queen air beds. I like this amount of space as most people only take two queen beds when they go camping in a group.
Coleman has used some ingenious intuition that makes this octagon tent great for rainy weather. By this, I mean the inverted seams. These inverted seams mean the needle holes are hidden inside the tent.
Whereas in other tents the seams are on the outside of the tent exposed to rain. When you combine this with the great rainfly that it comes with it, you're getting a superb tent suitable for wet weather.
Setting up a tent can be complicated even if you have the instructions, and have done it a few times last camping season. Coleman made the smart choice here by making their poles color-coded. By having color-coded poles, it makes learning how to get the tent set up a much easier task.
High Ceilings, Yes Please!
The amount of space in this tent is made better by it having a relatively high ceiling for taller people. It has a maximum height of 6'10 inches, giving you plenty of headroom. The height of the ceiling works well together with the whole tent, which measures 13 by 13 feet.  
The combination of a mesh ceiling and large windows makes this one very breathable tent, in my opinion. The polyester it's made out of is Taffeta 68D, which is a sturdy yet lightweight fabric. So it makes for quality material for a three-season tent like this one.
The Coleman Octagon
Top Rated 8 Man Tent (Vestibules)
The Bushnell tents are another tent distributed by Walmart. The Bushnell cabin style 9 person tent is yet another product from this distributor that has impressed me.
For a more cost-effective 8 to 10 person tent, I highly recommend giving Bushnell a shot. In particular this instant cabin tent.
Weather Protection A+
This tent is part of the 'Weather Shield series', so it is designed with the best protection from rain in mind and keeping the interior of the tent cooler on hot days.
How large is this family tent?. It's certainly a suitable 8 person candidate with a total tent footprint of 135ft2. Which is 15 feet long by 9 foot wide. What awesome about this tent is that it comes with front vestibules. In these areas, you can store your shoes or any gear you want to really. It's a nice sheltered area for things you don't need inside the tent.
For more information about the instant cabin Bushnell tent, check out my full review here.
Best 8 Person Teepee/Yurt Tent 
Danchel Outdoor has knocked it out of the park with this impressive 8 person tent. The efficient yet straightforward yurt design is perfect for larger groups that demand a little touch of tent camping luxury. Yurt tents are typically made with larger groups in mind and as a result, offer more room than your average tent.
High Level Of Waterproofing
How often has rain ruined your camping trip because your tent wasn't waterproof? Thankfully this isn't the case with this Danchel tent since it has waterproofing of 5000mm. If you don't know what the 5000mm terminology means, it basically means that it has more than double the amount of waterproofing compared to your average tent. Which is why the Danchel is far from your average tent.
It's a three-season tent, so I don't recommend it as a winter tent as it's not made out of canvas material. It doesn't hurt this tent that it's designed for only three seasons, as most camping is done during warmer months. As it's a 3 season tent, it breathes exceedingly well thanks to the multiple ventilation windows.
UV Resistant Material
One thing I really like about this tent is the UV resistant fabric they used when making it. I like this because it makes it more durable in the summertime. Over time, exposure to the sun can make other tents brittle and make them unusable. This tent will hold stronger under harmful UV rays thanks to UV protection on the tent.
For such a large tent, you'd expect it to weigh something crazy like 70lbs. That's not the case as they've managed to keep the weight down to an impressive 25lbs overall. This makes it easy to move when it's packed down and can be transported by a single person.
Setting this tent up isn't difficult at all, with it only taking around 15 minutes once you get used to it. It's easy to set up with one person, but a second person will certainly make the task much more enjoyable.
Because this is a large 8 person tent, it does require a good amount of space when you have it set up with the ropes, needing roughly 17ft diameter of space. So keep this number in mind when you're booking your next campsite. 
DANCHEL 13ft Light Weight Tipi Family Tent
Buying An 8 Person Tent For Camping Is Tough
While it's not easy pulling the trigger on any large size purchase, I hope these 8 person tent reviews have enlightened you enough to narrow down your list of potential tents. Each and every tent on this list has been thoroughly researched with the intention of someone looking to buy a tent that is labeled as 8 persons.
While some say 10 people or even 9, the true intent is to comfortably sleep 8 campers. But at the end of the day, not every tent will suit everyone's needs. You may have an idea in your head already, and none of the above-mentioned tents fall into this idea.
Which is completely fine. If this is the case, drop us a comment below and we will look into a possible solution for you as soon as possible. I know all too well that we all have different tastes. Some of you may or may not have kids as young as 3. So this sets a new ball in motion in regards to the right type of tent.
But for others, an 8 person tent is about luxury. Having space to kick back and relax. Not having to squeeze 4 people into a 6 person tent for example. Some campers hate the idea of a screen room, whereas I love the idea. It's a super place to sit back and watch the world go by.
Read The Tent Reviews
So buying the best 8 person tents for camping can be overwhelming. But don't let it drive you mad and force you to be indecisive to the point where you don't even go camping. That would be the worst-case scenario possible. After all, camping is about having fewer options and more fun.
It's important to read as many 8 person tent reviews as you can about any tent that is taking your interest. Other people reviews may shine a light on an area of interest to you that is not described in the product description.