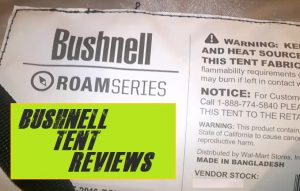 In this post I will be reviewing 4 of the best Bushnell tents available. Bushnell are a fairly popular brand name tent for families on a tight budget. Sure they are not the best of the best when it comes to premium features, but they won't set you back one weeks wage either. They are a good moderately priced tent which are higher in quality than the Ozark Trail tents in my opinion.
Who Makes Bushnell Tents
After scouring the internet for the last couple of hours, it's obvious that there is not a huge amount of information regarding who makes Bushnell Tents. There are people stating that Ozark Trail has acquired Bushnell tents. But there is no mention of this on their website or on the Bushnell wiki page which documents their company history.
On the Bushnell website, there are no tents to be found. Which would lead me to think that they have indeed handed over the rights to the tents which are still branded as Bushnell. Ozark Trail may be the wholesale distributor of this brand of tent as they are predominantly found on Walmart. Ozark Trail is the outdoor brand name used by Walmart.
Where are Bushnell tents made? Are they made in the USA? Unfortunately not. Well for the tents I've owned they come with a 'Made in Bangladesh' marking. But this doesn't take away from how great and affordable these tents really are.

However in saying that, Bushnell tents can be found on amazon listed under the Bushnell seller. When you click on the Bushnell name on amazon you can see that it is the actually company with listings of all their other Bushnell products; Binoculars, trail cameras, rangefinders etc.
Regardless of who makes Bushnell tents, it's great that they are now available from more than one distributor. This could mean you could potentially find a cheaper price when comparing the two. Amazon being the online giant while Walmart being the retail giant. With that said, lets take a look at 4 of the best Bushnell tents with reviews and available to buy.
Bushnell Shield Series Tent Reviews
9 Person 15 x 9 Instant Cabin
When it comes to a larger tent that offers incredible headroom and space for adults then the Bushnell Shield Series 'Instant Cabin Tent' is absolutely perfect. It can sleep up to nine people . But if you really want to enjoy the space and comfort of this tent then you might want to consider just two queen sized inflatable mattresses.
This tent is also great as it incorporates Bushnell's 'Heat Shield Technology' which keeps the interior of the tent cooler – letting you snooze for that hour or two extra in the heat of the morning sun. This is achieved by a special coating on the underneath side of the rain fly. It reflects the sun which creates a darker tent interior. Perfect for me as I do like my sleep ins.
It's also incredibly easy to set up – pros can do it in around a minute – but the robust frame may take just that little bit longer to erect for those who are newbies to camping – but it's certainly not complicated. Allow yourself 5 to 10 minutes and you should be up and ready to go.
This tent is fairly tough for the moderate price tag. Which is one of the things I love about Bushnell tents. They are strong and heavy duty, yet don't add hundreds onto the bottom line. For the exact price check price on amazon here.
Check out the video below for  a rain test. But do note that this person stated tiny bit of water got in under the window. This is due to the rainfly and the base were not tight enough. It's very important that the tent is set up correctly so this doesn't happen. Otherwise the rain can pool up under the vents and seap in due to too much sag in the tent.
What I Like & Dislike About The Bushnell Shield Series 9 Person Tent
While it is a waterproof tent, I highly recommend investing a few bucks and 10 minutes of your time to

apply a further coat of tent waterproof sealer

. This will ensure the tent stays dry and for lasts longer.
One cool and unique feature is that the front vestibule (sheltered entry area) has storage pockets on the side. This is just brilliant and I don't think I've seen many tents with this feature. It even has a pocket for a flash light. Now that's intelligent thinking right there.
The tent has 2 spacious rooms with a divider. So you can use one room for sleeping and one for socializing. Or use both as sleeping rooms. Up to you
It also has 2 doors which are zippered and screened. This is a great feature, especially if you have kids.
Cushioned poles so the corners don't rip the rainfly or make holes.
Comes with electrical ports that seal well. Great for running leads to power while keeping rain out.
Very well ventilated with large windows. Although I would prefer one side to have full rain fly to the ground.
Very thick bottom and durable materials.
Comes with a carry bag. I wish it was fractionally bigger so the tent can squeeze back in easier. While it does fit back in the original carry bag, it does take some effort.
Overall Opinion
My review of the Bushnell 9 person Shield series instant cabin is majority positive. The big thing with this tent is the price tag. If it were a $500 tent, I would be complaining a lot more. But as it's a very family friendly affordable tent, I can't help but give it a solid 8.8 out of 10.
Bushnell Shield Series 11′ x 9′ Instant Cabin Tent Review
Then there is the Bushnell Shield Series six sleeper. A little more petite – but with more than enough floor space to let everyone in the party stretch out and enjoy a goods nights rest.
This is tent that takes only minutes to set up. It provides more than ample room for three double air air beds. Even one single person can put this tent up without breaking a sweat. The entrance makes it a pleasure to use and the airy design keeps it cool under even the most demanding of conditions. User reviews are all extremely positive – easy erection, great comfort and space make this one of the best value tents on the market.
What I Love About The 6 Person Bushnell Tent
6 Foot high ceilings allow most people to walk around inside without ducking their heads.
Well ventilated thanks to the 3 wall windows and large door. The door which is a full door doesn't leave behind a trip hazard like on other half size doors.
Also comes with the unique vestibule storage pockets on the outside.
Very spacious for a 6 person tent. 99 square feet of room. Can fit 3 x twin airbeds and still have room at the end of the beds for storing equipment.
Comes with built in storage on the walls and on the ceiling. I would prefer the wall storage to be a bit bigger tho.
Made from quality thick materials. No flimsy business here. Which means it isn't quite resilient to wind and rain (Always waterproof your seams). Withstood typical strong Missouri storms without flinching an inch and remaining dry on the inside.
Overall Thoughts
Being a smaller version of the 9 person tent, I had high hopes for this tent to be more resilient to wild weather. The bigger the tent, the less likely it will survive a severe storm. So being 11 x 9 feet, I got the results I was after. Turns out to be a pretty good tent for strong winds.
The price of the Bushnell 6 person cabin tent is simply too good to be true. But somehow it defies logic and actually performs as good as the tents in the $300 bracket. So therefor I find it to be a great value for money tent that has plenty of features thrown in.
Best Bushnell Backpacking Tent
Bushnell Roam Series 8.5′ x 3′ Backpacking Tent Review



If you are going to be backpacking then weight is going to be an issue. And over night stays in harsh conditions can be a challenge. Weighing just 3.6 lbs, this backpacking tent by Bushnell is a prime example of a great value for money tent.
I found many other user reviews of the Bushnell Roam Series backpacking tent seem to indicate that it might just be one of the best value for money options for those who will be spending their time in the great outdoors. This tent also makes a great motorcyclists camping tent due to its weight and one person capacity.
Watch The Video Review Now
Prices can range anywhere up to $120, but keep your eye out for bargains. Because this is a value for money single sleeper tent that punches way above its weight class when it comes to quality and comfort.
The light weight aluminum poles make it easy to pack and transport, even on long hikes. The ripstop fabric is incredibly tough and will allow the tent to endure even the harshest conditions. Easy two pole design means that it can be set up in only minutes – perfect for the explorer after a long day in the wilderness. Mesh walls allow the explorer to admire the night sky and durable material shields them from the elements. This is just about as close to perfection as a single tent can be.
Whats To Love About This Tent
It's a four season tent, so can be used year round.
Stays dry inside even without a tarp underneath the tent. However, for long stays I would invest in a cheap tarp as well.
For a single person tent it has a good amount of height. With a 36″ ceiling you can sit up in this tent. Which unlike many other backpacking tents, this is not always possible.
Reflective strips on the rain fly which is a huge feature.
The cons would be that it is not a freestanding tent. You must stake it to be assembled. Also I wish there was a vestibule for storing dirty boots and gear etc.
2 Person Bushnell Roam Series 7.5 x 4.5 Review

For those couples who will be exploring the wilderness together the Bushnell Roam Series 2 sleeper is a pleasure to sleep in. Those lightweight aluminum poles make hiking with the tent an absolute pleasure, while the Weather Shield technology allows the tent to cope with the worse that nature can throw at it.
Nature is waiting – and Bushnell has just the solution for your camping needs. Make the right decision you and the outdoors both deserve it.
Whats Great About This 2 Person Tent
The large vestibule is great for me being a larger person. It allows me more space inside the tent while storing some gear under the vestibule entry.
The vestibule also has the storage pockets. Well done Bushnell!.
The design and construction of the tent is very well thought out. One of the better constructed tents you will find in the category.
2 doorways are a plus if you do decide to bring your partner.
Waterproofed and the design of the vestibule helps keep the tent dry.
Well ventilated so condensation doesn't build up inside the tent.
Bit bigger than traditional 2 person tents which is a plus. Which means it a little heavier (just under 7 lbs), so probably not the best tent for solo back packing.
Why Buy A Bushnell Tent?
Now there are many tents on the market – and they are available at a variety of price points – but when taking the above into consideration which are the best value for money, quality shelters that you will be able to source easily.
One of the best manufacturers is without a doubt Bushnell. this is a company that has built a reputation over many years for the manufacture of camping equipment (including tents) of the best quality that is available to consumer across the globe.
It has become a trusted name when it comes to the production of camping equipment that can stand up to the harshest of conditions. From Africa to Australia Bushnell is a trusted brand.
So if you want to choose the best tent for your outdoor experience then what Bushnell product is best for you?
How To Select The Best Bushnell Tent For You
Experiencing the great outdoors is an adventure that many people crave, however the correct equipment is absolutely essential in order to really get the most out of the experience.
So if you want to get the most of the outdoors what are you going to be looking for? In the first instance you are going to be looking for some simple functionality. After reading the above Bushnell tent reviews, you may still be stuck on deciding which one to buy. You will want your shelter – in the most cases a tent to have the following attributes:
1. It should shelter you from the elements.
It should be able to cope with those elements even in the harshest of conditions.
It should be easy to transport.
It should be easy to erect – and should not pose a challenge for even the novice outdoorsman or woman.
It should be comfortable and easy to access.
Should be within your budget. Fortunately Bushnell make high quality yet affordable camping tents, so this should not be too much of an issue.