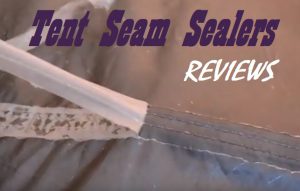 Are you prepared for the rainy weather that was NOT forecast during your camping expedition?. Of course not, that's why you're here looking for the best tent seam sealer reviews. Which is what I'm about to deliver.
After using many brands over the years, it's easy to know which brands are better than the rest. While most seam sealers are quite affordable, nobody wants to waste money on a product that doesn't keep the rain out.
So by going through some reviews online, you can get first hand information as to whether the brand you have your eye on is worth the money.
Top Rated Tent Seam Sealer Quick Comparison Review
Tips For Sealing Seams On A Tent
Before you get to the reviews (Below), I want to share a few tips I have picked up over the years in regards to tent seam sealers.
The most important thing to understand about waterproofing your tent seams is that it is really only half the battle. More often than not, a nylon tent will spring little pin holes from general wear and tear. These little holes form when the tent starts to deteriorate from the UV rays the Sun so graciously provides.
So every time you bump or touch the inside of your tent, the drips of water can run down and seep into these tiny holes. To prevent this, I highly recommend you also maintain the whole tent with a UV water proof spray for tents.
If you bought a new tent, look for taped seams. This will be obvious as the seams will be a tad glossier than the tent and will feel smooth. In this case the seams may not need to be sealed.
If no taping is obvious, then you need to seal it. This is because there are hundreds of little pin holes along the seams where moisture can penetrate inside the tent.
Often the seams on the inside of the tent don't need to be sealed. Check to make sure they have a porous mesh of nylon. Seams not exposed to the weather are also safe to leave alone. But for the effort it takes, I would seam seal every seam for the sake of it.
If you are resealing a previous tent, be sure to get rid of the old seam sealer. Scrape the seams with an old toothbrush or use a alcohol swap.
Keep up the maintenance. Don't ruin the tent over a few bucks every 2-3 years.
Best Heavy Duty Seam Sealer For Large Tents
McNett Seam Grip Review (Gear Aid)
When it comes to some super hard wearing seam grip, McNett/Gear Aid is the real deal. Confidence is reassured when you coat up the seams using this product. It goes on nice and thick and dries to a very water tight shiny hard rubber like surface.
This tent seam sealer comes in two sizes, 1 oz and 8 oz for when you have bigger jobs to do. The 1 oz is a good starting size for medium size tents. But if you have something like a 3 room tent, you probably are going to need the bigger 8 oz version.
The only drawback to getting the larger size is that you will need a cheap artists paint brush or something similar to apply to the tent. The 1 oz comes with its own applicator.
This product is a urethane sealer, so do take care to well ventilate the tent when sealing the seams. The fumes can give you a headache. But becasue its urethane, its a superior product to water based products from my experience.
I found the McNett to work on just about all tent materials bar silicon impregnated fabric. So in most cases you can use the sealer to not only do your tent seams, but also on clothing and boots etc to make them waterproof as well.
McNett Seam Grip (Gear Aid)
Easiest Tent Seam Sealer To Use
Kenyon Made In The USA
The next seam sealer I recommend is by a brand you may not know too much about. Kenyon. Made in the USA, this is one of those hidden gems when it comes to high performing products.
The thing I like about the Kenyon seam sealer most is probably the size of the bottle 2 oz and the built in applicator. The size is double that of the above McNett, yet doesn't reflect in the price tag. But I found 2 oz to be a good size for most tents. Remember, you don't need to seal every seam. Only the ones that get wet!.
The other cool feature is how you apply this sealer. Because its made from Aqueous Urethane, you don't really want to be handling it with your hands. So the bottle acts as an applicator.
This way you never touch the sealer. You simply apply it to the seams like you would with a roll on deodorant. But instead of a rolling ball, its a sponge applicator.
Overall, I don't think you can beat the Kenyon for value for money. It's a great size bottle, very easy to apply, safe and works like a charm. I do however suggest you apply either a liberal coat or 2 even coatings. But becasue the size is bigger, 2 coasts shouldn't be a drama.
Kenyon Made In USA Seam Sealer
Best Water Based Seam Sealer For Tents
McNett Seam Sure Review
McNett has provided the goods again with a high quality water based urethane seam sealer. Made in the USA as well, this stuff dries much faster than non water based products. When time is against you, you must get a water based sealer and in my opinion. The McNett Seam Sure is the best out there.
This 2oz bottle comes with a brush applicator. However, I find the brush is not the best when you need to apply sealer when you have to stretch your arm above your head. This is becasue the bottle needs to be upside down like a sauce bottle to work. An easy fix to this is use a small paint brush or foam brush.
I also find that water based products don't stretch as far as the non water based. This is common in other liquids such as paint. So if you are in doubt for coverage, buy 2 bottles to be sure.
The other main advantage which is a huge one, is that there is no irritating smell. Because it is a water based seam sealer, there are no strong smells and it dries super fast. So no lingering smells either.
Overall, I really like the McNett Seam Sure for when I need to water proof something in a hurry. But ideally, I like to use the non water based products when I can. But sometimes, time just simply doesn't permit it.
Seam Sure By McNett
Save
Save
Save