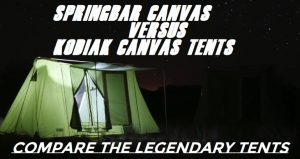 A strong long term canvas tent is certainly an investment many families aspire to adding to their camping equipment. When it comes to canvas, there's usually two brands that get compared a lot. That is Springbar Tents Vs Kodiak Tents.
They look very much alike and both are great tents. So how do you decide which one is right for you?. For most it will come down to how much the tent costs and where they are made.
Considering they are both very similar high quality tents with similar features, the cheaper option is naturally the way to go. Depending on where you shop, I have generally found the Kodiak canvas tent to be best value for your dollar.
Compare & Check Prices Here:
But if price is not a factor for you (seeing as tho there can be a $100 difference at times), what else is there to compare?. Because the Springbar Vs Kodiak war has been raging on for many years now, you have to get into the real gritty details to see some real differences.
Compare The Kodiak & The Springbar Tents History
The Springbar tent was first designed back in the 1960's. So it has a lot of heritage and experience behind the name. Along with many upgrades and improvements to their tents. Kodiak Canvas tents are a younger name in the industry, being in business for over 10 years now. While being younger, this does not take anything away from the quality of the Kodiak Tents.
So the Springbar tent was invented first. The owners behind Kodiak must have loved the design and quality that much that they wanted to take the same concept but improve on the Springbar tent. In which they have done. Without sacrificing quality and looking like a cheap rip-off brand either.
So it would appear as tho Kodiak has used a similar if not the same design as Springbar, but made it more affordable. Is there anything wrong with this business approach?. I'll let you decide on that. But I personally feel there is nothing wrong with it as it gives the consumer choices and competition brings prices down.
Where Are Springbar VS Kodiak Tents Made
With so much of our day to day products being made in China, it's a welcomed relief when you find out something like a tent is made in the USA. But out of these two tents, only one of them is made in America. That is the Springbar Highline.
Springbar have been manufacturing their tents for over 40 years now out of their Kirkham's Salt Lake City factory. Does this make the Springbar tent automatically the better choice?. For some people the simple answer is yes.
Whereas the Kodiak tents are made in China but use cotton that is grown in the USA. While patriotism will win for some buyers, for the people concerned about lower quality we have come to expect from products made in Chins, you can be rest assured the Kodiak is professionally made overseas to the same high standards the American people expect. So in terms of quality, nothing is lost by making Kodiak tents in China.
The Main Differences Between Kodiak & Springbar
With that little bit of a history lesson out of the way, what you really want to know is what are the differences between the two tents. Here is a quick summary of the major differences on a broader spectrum according to Competitive Edge Products. Below this you can compare two of the most popular canvas tents side by side.
The Kodiak has 7% Stronger Canvas
Kodiak tents use stronger galvanized steel poles compared to the aluminum of the Springbar.
The floor on the Kodiak is thicker (16oz compared to 8oz of the Springbar) and more waterproof due to having the seams welded rather than sewn.
Longer stronger metal stakes with the Kodiak compared to the 9″ plastic.
The Kodiak comes with 2 doors (Front and back) compared to one of the Springbar.
Kodiak Canvas Flexbow 8 Person Vs SpringBar Highline Canvas 8 Person Tent
Both of these canvas tents are extraordinary. But there comes a time when you are going to have to choose Kodiak or Springbar. To make the buying decision we have compared both tents to give you a better idea. The bottom line is, you cant go wrong with either tent.
The Springbar uses a Hardyduck canvas where the Kodiak uses the cotton duck canvas. Both are extremely durable and watertight. As mentioned above, the Kodiak is slighter thicker and is a tighter woven canvas which means it could last a little longer in rougher conditions.
But in saying that, there are stories of Springbar tents being passed down to the next generation making the tent 30 plus years. Which is quite good value for money!. If you can get any tent to last longer than 10 years you are on to a winner. Kodiak being still a younger Company, the test of time comparison is not relevant.
Features Of The Kodiak Canvas Flexbow 8 Person Tent
4 Large windows for great ventilation and air flow during the hotter months.
2 'D' shaped doors, front and back which makes it easier for getting in and out of the tent when sharing with other people.
2 Vents to funnel air flow for temperature control.
7 Foot long awning for protection against rain.
1 inch galvanized steel poles which have a maximum length of 48 inches.
Kodiak Canvas Flex Bow 8 Person Tent
The Good
The more affordable option
Thicker 16 Oz vinyl flooring
Welded seams compared to sewn for protection from seaping water
6'6" high ceilings
Tempered steel rods (Flex bow) keep the tent taut
Slightly lighter weight (79 lbs) compared to 86 lbs of the Springbar
Innovative carry bag easily straps around tent when folded down
Takes 10 minutes to set up
The Bad
Heavy - Ideal for car/scout camping
Not very portable
Can be warm in summer
Features Of The Springbar Highline 8 Person Tent
2 Large windows with no-see-um mesh to keep the bugs out.
Time tested since 1961.
100% cotton duck canvas
Duffel style carry bag
6'6″ high ceilings for head clearance
10ft x 14ft footprint
Made in the USA
Springbar 8 Person Highline Canvas Tent
The Good
No Rainfly is needed due to the tight woven canvas which repels water, wind and snow.
Made in America since 1961
Aluminum poles which are lighter
Enough room to fit a queen air mattress
A ground tarp can be bought separately for this tent.
Lifetime warranty on manufacturing defects
6.5ft wide awning
The Bad
More expensive than the Kodiak
Thinner bottom which will require a ground tarp.
Less doors and windows than the Kodiak.
Longevity Of Each Tents?
How long a tent lasts will differ greatly on how well you maintain the tent, how often you use it and any damage that has been caused to it. Sometimes damage and wear and tear is unavoidable while camping.
The good thing about both the Springbar and the Kodiak line of tents are that they have been around for some time. So you can get a good idea on how well the overall product is made and how long you can expect your tent to last.
Below you can find a couple of video update reviews on both tents so you can see first hand how well they compare after some use.
2 Year Update Review For The Kodiak Canvas Flexbow Tent
This is a good update review from Chris who has been using the Kodiak canvas as his go to tent for the last 2-3 years. In this time he estimates he has spend about 40 nights in the tent. Which for most people is about 8-10 years worth of camping.
*Do note: At about the 2 minute mark Chris says that you need to have the awning up while it is raining. This also causes the water to pool on top of the awning. This is actually an error made on Chris's behalf and Kodiak reps have stated that this is not the case.
In order to stop the water pooling up in the awning, you need to angle the poles so that the awning slants downwards. This way the water runs straight off the awning and away form your tent.
Living In A Springbar Tent For 6 Months
This is a different kind of review for the Springbar Canvas tent. This video shows how a young couple spent 6 months living out of a Springbar tent. This goes to show how tough and durable these tents really are.
Should You Buy The Springbar Or The Kodiak Tent?
After digesting all the information above and watching the reviews, its easy to see that there is not much difference between the two tents. Both tents are ideal for car camping and extended camping expeditions. But not suitable for back packing and may be too heavy for wild camping.
For me personally I think the Kodiak has a little more to offer with the stronger poles and the thicker flooring which has welded seams over the sewn seams. This just adds a little extra strength and waterproofing to the Kodiak which gives it he slightest of edges over the Springbar.
The bottom line for me is that the Springbar will need a tent tarp underneath to give extra protection form twigs and rocks which adds to the price. For the difference of lets says $80-$200, I would be mad not to buy the Kodiak Canvas Flex Box tent.
Take Care Of Your Investment
Because both the Springbar and the Kodiak are canvas tents, you need to ensure you practice good maintenance to ensure you get the longest lifespan out of either tent. Many campers use these tents as full time camping tents because they are so heavy duty and resilient to harsh weather. So it's important you treat these tents for what they're worth.
Whichever tent you buy, you will need to ensure you are storing your tent correctly. Especially after camping in humid or wet conditions as this can lead to mold and mildew build up. The waterproofing agents can also deteriorate much quicker when not stored correctly.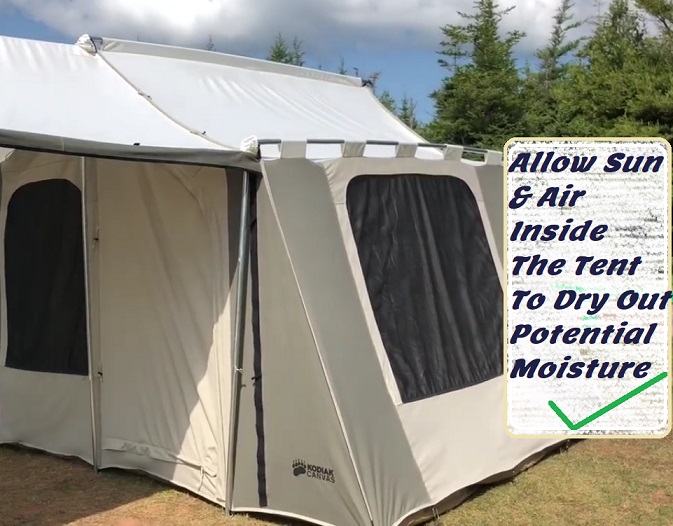 Maximizing The Life Of Your Springbar Or Kodiak Tent
In order to prolong the life of a canvas tent you need to be aware of the precautions to take once you are the proud owner of one the finest tents made. Especially if you are camping for extended periods of 21 days or longer. Some of the precautions you can take include the following:
Extending the life of your canvas by limiting exposure to UV rays. While canvas is far more durable and resistant to UV, it's not bullet proof so to speak. If you were to leave your tent set up in full sunlight every day the canvas would start breaking down after a full year. So to prolong the life of the canvas you should try to set up camp under the shade of a tree or in an area that is not as exposed to sunlight. This will also help keep the tent cooler in summer.
Canvas rot is a real possibility when you own either the Springbar or Kodiak tent. Canvas rot usually occurs on the bottom of your tent because it is always exposed to moisture in the earth. Even if it hasn't rained for weeks, dew can eventually lead to rot. To avoid this you should either invest in a quality ground tarp or try find the driest area possible to set up camp. Again this is only applicable for long term camping.
Mold and mildew can occur as a result of incorrectly storing your tent after use, or by not allowing sunlight and air inside the tent while in use. When the sun is shining, open up the windows and doors of the canvas tent and allow the light and air to dry out any possible moisture inside the tent.