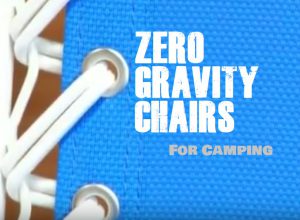 The pressure on my mid back region which is causing some intense pain right now is the inspiration for this article on the best zero gravity chairs for camping. Normally I don't go outdoors without having a camping chair like this at my disposal. But this was a very random and drop of the hat camping trip and the chair was left behind.
So if you too suffer from back pain when sitting in the conventional camp chairs, it's time you invested in your body and got some relief from a zero gravity chair. Not only will you be sitting in a pain free manner, but you will also be the talking point of the camp site.
Not enough campers use zero gravity chairs and I don't know why. The benefits and relaxation a chair like this offers makes up for the added weight. Unless you are backpacking through the Wonderland Trail in Mount Rainer, you need a zero gravity chair when camping. These camping chairs are ideal for car camping tents due to there comfort and relief they offer.
The Best Padded Zero Gravity Chair
When it comes to relaxing in the great outdoors while camping, comfort is the number one feature to consider. It's pointless escaping the day to day hustle of life just to end up in a chair that causes you more stress and pain to your body.
Which is why I have the top rated zero gravity chair for camping listed by Phi Villa. It's well padded and even comes with a padded head rest. The seat and back rest have padding to make relaxing in the zero gravity position all that much more rewarding.
But is the padding safe to use while outdoors?. I know what you may be thinking, the padding can get wet and grow bacteria and mold. But this is not the case with the Phi Villa. Not only is it water resistant, but it's UV and stain resistant as well. It's a true outdoors padded material designed for the harshest of weather.
This was my initial concern with buying a padded zero gravity chair, as I didn't want to have to go fetch it every time it rains. Such a relief to be able to take it camping or leave it by the pool and not worry about the padding becoming spoiled. But do know that you will need to throw a towel over the top if the padding is still wet. It's not like a mesh chair that dries instantly.
What Makes This Zero Gravity Chair A Great Camping Companion
There's more to this chair than just the weather poof padding. While that is the most important aspect, there are some other cool features that make this zero gravity chair stand out from the rest.
Come With A Side Table
When camping, having table access can be a hard thing to find at times. So the fact this chair comes with a removable side table is just brilliant. Not just a cup holder, but an actual side table. Perfect for having dinner around the camp fire.
Easiest Lock & Un-lock Feature
Some chairs are ridiculous when it comes to locking them into position, and or unlocking them. It can be more stress than its worth and can force you to not use the zero gravity position. Which is the main attraction for this kind of chair.
But with the Phi Villa chair, it's as simply as flicking your finger. So when you first sit in the chair you need to recline into position. Using your finger flick the small trigger downwards. This will lock the chair into a firm and safe position. To unlock, you just need to flick the switch back up and recline forwards to get out of the chair. No headaches from having to deal with tension knobs.
Overall Opinion
While I think the Phi Villa is a seriously bad ass camping chair, it's not for everyone. Reason being: It's a large chair, it's not your tiny run of the mill camp chair. So petite campers may find it too big.
The XL size comes with a hefty 350 lbs weight capacity making it one of the best zero gravity chairs for heavy people and larger Adults.
I find the Phi Villa zero gravity chair great for camping as it folds down to a manageable size chair to carry. But it is a little heavy due to being so well constructed. So while perfect for camping, its certainly not a backpacking chair.
PHI VILLA Oversize XL Padded Zero Gravity Lounge Chair
Camping Zero Gravity Chair With Canopy
If you don't have the shade of a tree of some form of protection from the sun, perhaps a camping zero gravity chair with canopy is the best choice.
When you spend a whole day out in the sun you need to be conscience of the damage the Suns harmful UV rays can cause. Both immediately (sun burn) and in the long tern (Skin Cancer). When camping we tend to spend far more time outdoors, so having a zero gravity chair that offers sun protection on the face is ideal.
About The Best Choice Products Chair
From my extensive research, this zero gravity chair is by far the best value for money. Considering it comes with a canopy and side table with cup holders. This is a dream for campers on a tight budget.
Starting at the top, the canopy can swivel behind the chair when you don't need it. Which is a relief as it could get annoying at night time when there's no need for it.
On the back rest is a pillow for resting your head. What I love about this pillow is that it can be taken off completely (If you don't like it) or you can use it as lumbar support for the lower back if you have back pain. I really like that this model has the detachable pillow for this reason alone.
About The Locking Mechanism
Being a considerably cheaper zero gravity chair compared to the above Phi Villa, some sacrifices had to be made. That is in the locking mechanism. This chair uses the tension knob to lock the chair into any position you like, including the zero gravity position.
The tension knob is a negative, but for the affordable price tag I can close my eyes to it this time. But in saying that, this chair is very sturdy and solid as it is. So you may find that you wont even use the lock in tension knob. You may just recline back and find a position comfortable for you, then simply lay there. The chair is stable enough that you may not need to lock it into position.
Overall It's A Winner
With the above features and the affordable price tag its hard to go past this zero gravity chair. Add on the UV resistant, weather resistant textilene fabric and the double bungee cord system that allows the material to contour your body shape, it's very good value for money.
Like most double bungee cord chairs, this one is also very comfortable to lay in. I wouldn't put it past some campers to use this as their camping bed permanently,  its that comfortable. Weighing about 20 lbs and being fold-able, it's a camping chair with a canopy that you don't want to miss out on.
Best Choice Products Zero Gravity Canopy Sunshade Lounge Chair
Best Outdoors Zero Gravity Chair
Back where it all started for me, with the Caravan Sports zero gravity chair. This chair is amazing and has seen many camping trips over the years. However, recently Caravan Sports has updated the trigger lock system. Which is a vast improvement.
To lock and unlock the chair into the zero gravity position you use the finger loop trigger. Using your finger you just got to pull the loop downwards, this will lock it into position. To unlock you just pull the trigger back up towards the armrest. The trigger is also conveniently placed just under the arm rest so you can lock it while laying on your back.
More About The Caravan Sports Infinity Chair
This is the standard size chair, but Caravan Sports does have an oversized version which is 5 or 6 inches wider with a higher weight capacity. The main focus with this chair goes into the quality construction and materials used.
This chair doesn't add any attention to cup holders, side tables or a canopy. Which some people like, the bare bones zero gravity chair for camping.
But what it does boast is a super sturdy powder coated steel frame which utilizes the double bungee cord system that gives this chair it's stability and flex. So when you move, the textilene material moves with you. It's not a hard uncomfortable surface to lay on.
Because it is textilene 2X1 fabric, it is 100% weatherproof. Making it one of the best outdoors zero gravity chairs on the market. Also quite breathable on the body on those hot summer days.
There is a adjustable head rest that can also be used as lumbar support when your back is aching. This pillow just slides down the two side frames and you place it wherever you need the support. The feet grips along the front bar and rear feet bars are quite durable. So when on hard flat surfaces they can grip onto it quite well.
The only thing this chair really needs is padded arm rests. With the inclusion of a little more padding, this would be the ultimate zero gravity chair for camping. Comes in a variety of colors.
Caravan Sports Infinity Zero Gravity Chair
The Benefits Of Camping With A Zero Gravity Chair
In case you stumbled onto this page by accident and are not really sure why zero gravity chairs are the latest and greatest thing in the outdoors seating space, lets take a look at the health benefits of using a zero gravity chair.
Firstly, zero gravity chairs come in a variety of forms from camping chairs to full on recliner and massage chairs. They are not a brand of chair, but a specific position the chair is able to recline into.
The concept that started zero gravity chairs is based on Astronauts preparing for lift off into outer space. Astronauts enter the zero gravity position to reduce the amount of force and pressure that is placed on their bodies.
But I'm Not An Astronaut
You may be thinking, what does this have to do with a camping chair. Well you're right, we are not astronauts and sitting in a camp chair is far less intense than blasting into outer space.
But as we walk around, stand and sit each and every day, gravity does force pressure onto our bodies. So like the Astronauts that use the zero gravity position to blast off, we need to use the zero gravity position down here on earth as well.
Health Benefits Of A Zero Gravity Chair
So whether you are camping, backpacking or simply cleaning the house, our bodies can take a beating without knowing it. That is until the lower back pain starts to kick in. So by having a zero gravity camping chair that you can practically use anywhere, you are prepared to take on back pain each and every day.
So how does a zero gravity chair relieve pain?.
Whenever we are moving, gravity is applying pressure to our spinal discs and our muscles. What this pressure does is compresses the discs in your spine and constricts the associated muscles. This can be quite painful for anyone that has chronic back pain.
A zero gravity chair is designed to relieve the pressure on your spine and muscles which result in your discs going back to full size and muscles relaxing. Basically a position in which your body feels no pressure from gravity and your body weight.
This is why every morning you wake up, you are slightly taller than what you were when you went to bed. The discs in your spine are not compressed and have gone back to full size. But after a hard days work, your spines discs get compressed again. This can have a long term effect as you can shrink about 20mm everyday. Long term this can break down the cartilage and cause sever back problems and lose in height.
This is why it's important to look after your spine, and a zero gravity chair is just one way to reward it. Even while camping in the outdoors.