I hope you love the products I've recommended below, just a heads up that as an Amazon associate, I earn from qualifying purchases. This means I may earn commissions on products bought via links on this page.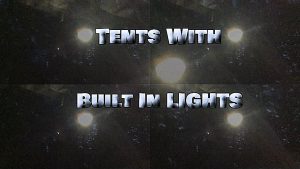 When I go camping with my kids I find the tents with built in lights to be the most practical and useful feature of the tent. The first time I experienced a tent which had existing lights already built into the tent was when I visited my Parents on there cross country camping trip. I just thought, "Wow, that's an amazing feature to have".
My parents are much older now and they still prefer the ease of use and less stressful method of obtaining lights inside the tent. So these built in light systems are not only great for a young family, they also are a particularly handy feature for the elderly campers.
So when my kids were old enough, the first tent I bought was the Coleman Elite WeatherMaster tent purely for the fact it has built in lights. This 6 person tent is an upgraded model of the standard WeatherMaster tent.
But Why Buy A Tent With Lights Already Installed?
I briefly touched on the demographics of who would buy a tent like this, but why go down this route at all?. For me and a lot of other campers it comes down to the instant setup appeal. Casual campers don't want to spend hours trying to figure out solar panels or deal with electrical cables running through the tent.
So a tent that comes with the lights already set up and ready to go is super appealing. As long as you have batteries on hand, you got light for your entire camping trip.
When you have kids under the age of 4 or 5, sleeping in the dark is not all that enjoyable for them. So unless you bring a night light from home, the chances of getting them to go to sleep while you relax outside around the campfire is slim. Which was another appealing factor about the Elite WeatherMaster. So lets take a look at the options you have when you want to buy a tent with built in lights.
The Coleman Elite WeatherMaster 6 Person Tent
While this tent packs all the features I desire, it was the built in LED lights that won me over. Having 3 kids under the age of 7 I knew camping in a tent was not going to be easy. Especially getting up in the middle of the night with no lights.
My other concern was of course getting the kids to sleep at a reasonable hour while so us parents could enjoy some time around the fire. So the light system of the Elite comes with 3 light settings, low (42 Lumens), high (100 Lumens) and nightlight (5 Lumens). That was me pretty much sold when I heard that this tent has a nightlight.
The nightlight mode is great for getting the kids to sleep without having a blaring light in their face. It was just like being at home in their own bedroom. So the problems I had were instantly resolved thanks to this built in nightlight feature.
About The LED Light System In The Tent
The Coleman Elite comes with a energy pack which is what powers the LED lights. This pack takes 4 'D' size batteries. Once you put in the batteries, the light switch located on the side wall next to the door will become illuminated to a orange/red color. This is a very cool feature as it allows you and the kids to find the light switch in the dark.
Because the lights are already installed when you buy this tent there are no loose cables or wires exposed. They are built into the tents material. The wires go from the light switch up to the LED lights in the ceiling and down the other side of the wall to the energy pack. The energy pack is a little bulky and heavy as it has 4 x D batteries. So it's best to keep this pack out of reach of the kids.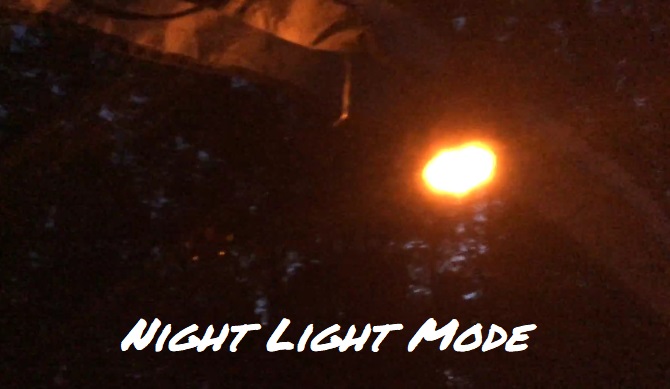 How Long Does The LED Lights Last
Provided you use high quality D batteries you can get a fair amount of time from the lights before the batteries need recharging/replacing. Don't go cheap on the batteries if you are intending to stay for more than a couple nights.
Also try to keep the light to either nightlight mode or on the low setting. This will maximize the length of run time before batteries need to be replaced.
As a guideline Coleman includes the following on runtime
High Setting 100 Lumens – Expect about 26 hours of use
Low Setting 42 Lumesn – Run time for about 65 hours
Nightlight 5 Lumens – 81 hours of continued use.

Why Choose The Coleman Elite WeatherMaster
So we have gone over the amazing built in LED light system this tent has, but what else does this highly popular family camping tent have to offer. As I touched on earlier, this tent has all the quality features I look for in a tent. Best of all it's not too badly priced either.
You can see the exact price on amazon and decide if this tent fits into your budget.
Here's a brief run down on a few of the high quality features this tent offers:
Bathtub Flooring
This is a special type of tent flooring which makes the tent more waterproof. What this does is prevent water and rain from entering the tent at the base. The heavy duty flooring actually runs up the sides of the tent a few inches. This stops pooled up water from entering in through the seams where the flooring meets the nylon walls.
Welded & Inverted Seams
Another unique yet highly effective water proofing system where the floors are welded rather than sewn. This means no little holes for the water to enter. The inverted seams mean that water can run down the sides of the tent and enter through tiny seam holes like on other tents.
Screened Porch Area
This is a must for me and my family as we like to sit out the front and relax, while not being eaten alive by bugs. Having a tent with a screened porch comes in handy more than you realize. Great area for watching the rain and reading a book without feeling claustrophobic inside the main tent area.
The Finer Quality Features Make This Tent One Of The Best
Without turning this into a full on review, you can see the above features alone combined with the built in light system make the Coleman Elite WeatherMaster one of the best tents around. But I have barely touched the surface when it comes to the 'Elite' features this tent offers.
There is much more to this tent such as Hinged doors, self roll up windows, room divider, electrical port access and even a small vent for grabbing a coldie from the cooler outside the tent. All in all, this tent is amazing with very minimal drawbacks.
Coleman Elite WeatherMaster Tent with LED Light System & Screenroom
8 Person Tent With LED Light Installed
The Montana is more of a dome style tent rather than a cabin style. It measures  16ft x 7ft so its a longer tent yet still has an impressive ceiling height of 6'2″.
The reason I went with the WeatherMaster VS the Montana Elite basically boiled down to the front screen room. Both have comparable light systems built into the tents. But for my family, a screen porch is just priceless.
However, you may need a larger tent to fit more bodies and don't particularly car about the screened room. If this is the case, the Montana Elite is the preferred tent.
Coleman Elite Montana Lighted Tent
Best Lighted Tents For 6 To 8 Persons
Again Coleman strikes with one of the best lighted tents available. This time its the popular Tenaya Lake Lighted tent. This tent is available in either 6 person or 8 person models.
The LED lighting in this tent is in the form of an overhanging light. This is operated by a switch which is installed into one of the wall mesh pockets. So no lose wires running around the tent for the kids to trip over. I like having the central overhead light as it provides enough light for the whole tent to do the basic things without having to turn on a torch.
Other Amazing Features
The Tenaya Lake tent doesn't stop there in terms of features. As I said earlier, this tent comes in ether 6 or 8 person size. With each tent there's a slight difference, not just in size.
The reason this tent is one of the best 6 person cabin tents is due to the 2 storage cabinets. These 3 cabinets are on the outside of the tent, but are accessible form the inside off the tent. So you don't lose any space inside by having the cabinets attached to the outside of the tent.
For the 8 person tent, you get a taller closet for storage. Again, the closet is on the outside of the tent, but accessible from the inside. The closet even has curtains so you can close it off to be out of sight.
Inside the closet you get a mesh storage basket with 3 mesh shelves to store your clothing and gear. But whats really cool is that the closet has a rail at the top so you can hang your clothes on with coat hangers. Not many tents have this feature at all.
Coleman Features
Being one of the exclusive tents to boast a hinged door, the Tenaya Lake tent really does have the lot. A hinged door may not sound like much, but believe me when I say it is super helpful. Especially if you have kids that get zippers stuck several times a day when trying to enter or exit the tent.
Its also a fast pitch tent, said to be 55% faster at setting up than regular Coleman tents, while also incorporating the WeatherTec waterproof features: Inverted seems, welded floors etc. So all in all, the Tenaya Lake is really a feature packed tent. Best of all, ti comes with built in LED lights.
Tenaya Lake Lighted Fast Pitch Cabin Tent
Smaller Tent With Interior Light Technology
Big Agnes range
of tents comes with what they call mtnGLO technology. Which as I'm sure you have figured out stands for mountain glow.
So just imagine yourself and your loved one (human or pet) camped up the side of a mountain on a beautiful clear night with the lights turned on in this tent which glowing a vibrant green color. Sounds almost romantic right.
Romance aside, how does this tent fair and what are the lights like anyways.
The Lights Are Literally Built Into This Tent
Unlike the above Coleman tents, this Big Agnes has a different kind of light system. With the mtnGLO range of tents, the LED lights are actually built into the seams of the tent. So they are protected from any misuse and misadventure. You never have to worry about banging your head on the light hanging from the ceiling, especially as this is a low profile dome tent, due to the lights being built into the framework.
The LED lights are controlled via a push button remote. It's a pretty basic design and setup with 3 functions. On, off and 50% light. Which is all you really need in a tent of this size.
The lights are powered by 3 AAA batteries which is a relief for backpackers due to being much lighter than the heavier D size batteries.
But whats really cool about these lights is that you can also use a USB power bank to give power to the lights. Power banks are all the rage lately and you can run many devices using this external power source. Including this really cool looking tent by Big Agnes.
Big Agnes Tumble 4 MTNGLO Tent
6 Person Dome Tent With LED Lighting
Because the Sundome is part of the Elite series it also has the unique features of the other two Coleman tents mentioned above. That is the self rolling windows and the hinged 'D' shape door.
Along with the electrical port access so you can run leads in and out of the tent when car camping and the WeatherTec technology waterproof attributes. This includes the heavy duty bathtub flooring with welded seams.
Get To Know The Sundome Tent
So its got the cool and unique Elite features, but what else does the Sundome tent offer. For starters its quite a tall tent for a dome tent. The center ceiling height stands 6 foot tall. Which is quite a bit when you consider many dome tents having you crawling around on your knees. The average height American will be able to fully stand in the center of the tent without hitting their head on the ceiling.
Another handy feature Coleman added was the front awning over the hinged door. This little awning while small is quite effective. Nothing worse than copping a face full of rain as you exit the tent.
The Specs
Super fast set up. Give yourself a generous 10 minutes.
10ft x 10ft footprint – Quite a large 6 person tent which can fit 2 x queen airbeds.
Rainfly included with a mesh ceiling for superior ventilation.
1000D polyurethane bathtub flooring. Not the most heavy duty but respectable enough to not be too concerned.
Air vent for controlling airflow inside the tent.
Freestanding tent for the quickest and easiest camping trip ever.
Coleman Elite Sundome 6 Person Tent
Rooftop Tents With Internal LED Lights
Overlanding tents while being around a long time, are all of a sudden growing in popularity. These are tents that are mounted to the roof racks of your vehicle, whether it be a SUV, sedan, truck or even a trailer.
They are very easy to set up once they are mounted to your racks and take less than a few minutes to erect. When people go overland camping, they are often on the road for months on end.
So a rooftop tent with built in LED lights like the Smittybilt RTT is a feature all overland enthusiasts are after.
Lights Inside The Tent Is Mandatory
When it comes to buying a tent, don't skimp out on the lighting. Light is your best friend at 1am when one of the kids needs a toilet break. Lights inside the tent come in handy more than you may realize if this is your first camping trip. From the simple activities like reading a book to the more laborious preparation of dinner, having adequate light is essential.
All the above tents have built in lights and are very good quality. Each tent differs from each other and serve a different kind of audience. So hopefully one of these tents has inspired you to pack the bags and go camping this weekend. Alternatively your option is to look into solar lights or battery powered lanterns as a means to create light inside your tent.
But Is A tent With Internal Lighting Really Necessary?
You may not be sold on the whole pre-installed tent lighting and asking yourself whether its really necessary. If there's not a huge difference in price between a regular tent and a tent with the lights already switched on. Then of course it makes sense to buy a lighted tent. Better bang for your buck.
Another good reason for buying a tent with built in lighting is that you will always have light. How many times have you forgotten your Coleman Lantern & Sound light and had to eat in the dark, minus the tunes.
Provided you have batteries, or the batteries in the built in lighting are not flat, you have the reassurance that at minimal, you will have one functional light for when you go camping. Should you ever forget the regular lanterns.
Should You Just Buy LED Light Strips?
You may also be toying with the idea to buy LED light strips. These things are amazing and produce such good lighting for a campsite. I would highly recommend you buy some LED light strips as well. These strips come in handy around the camp table, outside the tent and under the gazebo.
So they are certainly not a bad idea. But they do cost a fair bit of money and most likely you will need a external battery source or large power bank to run them on long camping trips. So you will need to weight up the pros versus the cost of setting up a tent with LED light strips.
At the end of the day, how much lighting your tent needs comes down to how many kids you have and or how many people are camping in your tent. One lantern wont go far when you have more than 2 people. So a tent with built in lights will certainly help the cause.