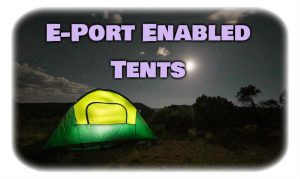 Car camping is the most common type of camping for families across America. This is due to having easy access to amenities and power. But to safely run a power lead inside so that you can charge your smart phone or boil the kettle, you really need to look into tents with electrical access ports.
Otherwise known as an E-Port, this access point on a tent is a highly sort after feature among campers. Especially families due to the number of electrical devices on the go at any one time.
But not all tents go the extra mile and offer E ports. Which can lead to unwanted consequences if you just run your power lead through the front door. Water from gushing rain and insects like no-see-ums can enter through the small gap between the lead and the zippered door.
You may also be wild camping and rely on a generator for power. Running the lead through an electrical access point in the tent again is the ideal method. It's not worth the risk of letting rain seep into your tent and possibly your electrical devices.
In A Hurry? Skip The Reviews
I know how it is. Camping awaits and you just want a tent with an E-port pronto!. Below you can compare the following 6 tents that all have electrical power ports pre-installed.
6 Of The Best Electrical Port Enabled Tents
Buying a tent with an existing E-Port is the safest and easiest way to power devices inside the tent. It is worth noting that these E-port are not the AC ports (air conditioning ports) you can find on some tents. These ports are much larger compared to the ones designed for electrical leads.
Below you can find some of the best tents with e-ports in varying sizes to suit mostly Families. After which you can find out a couple of ways to incorporate a e-port into an existing tent that does not already have one.
Eureka Copper Canyon Tent
The Eureka Copper Canyon 6 or 12 person tent is a popular cabin style tent. It has a power access port via a zippered flap.
The 6 person tent is a little cramped on space for a large family, but for 2 adults and a child the 100ft2 of living space is ample. The 12 person variation is ideal for families as it has 168ft2 of sleeping area.
The reason the Copper canyon is a popular tent comes down to a few of it's awesome features. First of all it's a free standing tent, so if the weather is not wild you don't need to muck around with guy lines and tent stakes. Perfect for the car camping relaxing experience.
But if the weather does turn sour, you should tie the tent down. Whats cool about this design is that it has dedicated pockets for storing the guy-line when it's not needed. This way you never lose it and its always on hand when required. The rain-fly has tie off points to better protect the tent in strong winds.
Well Ventilated
The Copper Canyon is one of the better designed tents when it comes to ventilation. The 7 foot tall ceiling acts as a vent due to being mesh (underneath the rain fly) and each of the walls has a huge square window.
The 'D' shape door ( 12 person has 2 D doors) also has a window in it to allow for great cross ventilation. Great for those hot summer days and when it becomes muggy the hot air gets blown out through the mesh ceiling. This prevents moisture fro building up on the inside of the tent.
The Quick Stats
10ft x 10ft footprint or 14ft x 12ft.
Unique steel/fiberglass frames for greater resistance
Simple ring and pin set up. Allow 20 minutes for your first attempt.
Very tall ceiling allows tall people to stand inside the tent easily.
Bathtub flooring to keep water on the grass outside stay outside and not seep into the tents seams.
12 person tent comes with a room divider
Freestanding tent with electrical access port.
Eureka Copper Canyon Tent With E-Port
Coleman Sundome 4 Person Tent
Electrical access ports aren't all that common on smaller 4 person tents, but the Coleman Sundome is one of the few that do have this feature. The E-port on this tent is located in the front corner under a zippered panel.
This tent is a great little tent, yet can fit a queen air mattress, suitable for hot conditions and backpacking due to its lightweight (around 10 lbs).
The Sundome is so well ventilated that it's a very popular Summer tent. The ceiling is mesh for the hot air to rise out of while also giving you a bug free view of the night sky when you take the rain fly off.
There is also a ground vent at the rear of the tent to push cooler air in from below, along with the window and half window 'D' style door. So keeping this tent moisture free and well ventilated certainly is not an issue.
Is It Waterproof?
The question is 'are tents waterproof when brand new'?. In theory some are, but not all. I always recommend you apply seam sealer at the very minimal on all new tents.
What makes the Coleman Sundome pretty cool is that the seams are inverted, meaning they show on the inside of the tent. This prevents rain from penetrating the seams. Along with the heavy duty tarp like bathtub flooring, the Sundome is a pretty decent wind and rain proof tent.
Coleman Sundome 4 Person Tent
Fast Set Up Tent With Power Port
The Columbia Fall River 10 person tent is one of my favorite
quick set up tents
. Although it's a large 10 man tent, you can knock this bad boy up in about 10 minutes. Which is quite impressive for such a hefty tent.
In regards to the electrical power port, you can't miss it. It's located under a red triangular flap that completely protects the inlet from the elements. The port is located just behind the entry 'D' door. So it's quite conveniently placed for on the go power access.
At one end of the tent is a cool little awning that covers the width of the tent. Below the awning is a huge 'U' shaped door that is basically as big as the end of the tent. This is a awesome entry point for loading camping cots and gear in without having to squeeze in through the regular side door. The door is also fully zippered and protected from rain and insects.
Overall its one of the best value 10 man tents on the market. The price to feature ratio is incredible. To see the exact price you can check price on amazon and learn more of these awesome features.
Other Cool Features Of The Fall River Tent
Comes with a pre-installed room divider. So if you have kids it's the best way to maintain privacy while staying in the same tent. Or keeping a area separate from the sleeping zone. The divider is permanently attached with a door on it so you can enter the second room.
Extremely well ventilated and has an additional 2 ground vents for circulating the hot air up through the mesh ceiling.
High 7 Ft ceilings with a spacious 15ft x 10ft living zone.
Special 'Omni Shield' protection added to the tent materials to make it lighter and more resistant to the weather.
Includes internal storage pockets.
Columbia Fall River Instant 10 Person Tent
Core 9 Man Instant Cabin Tent
The Core Cabin tents are a popular choice for families due to their cabin like design. This 9 person tent features a electrical access point which can be completely closed off when not in use. The E-Port is located just behind the large 'D' shape door. The port is around waist height, so you have no chance of rain pooling on the ground entering in with your electrical devices.
More About The Core 9 Man Tent
Besides having a fully functional power port, this tent is extremely popular because of how quick and easy it is to set up. It's an instant tent be design. The tent simply unfolds and is raised on each corner until the tent is fully raised. So easy the kids can even help out.
However the ceiling height is quite high (78 inches tall), like most cabin tents you will be able to walk freely underneath the ceiling. So when assembling the corner posts an adult will be required to reach the tall heights.
The Core tent is yet another amazing tent for ventilation. The ceiling is completely mesh so hot air can escape. While the large windows allow for great air flow. There is also adjustable air vents located on the bottom of the tent. This can be altered to allow more air intake or decreased if you want to keep as much warm air inside the tent as possible.
Some Quick Stats
9 Person 14ft x 9ft tent
Instant setup tent – takes just minutes to set up.
Fairly lightweight for a family size tent weighing just 29.5 lbs
Heavy duty steel stakes included for holding down the tent.
Come with a room divider that can be taken removed if you prefer the larger open space.
Huge 'T' shape door on the end for moving larger gear into the tent.
Heat sealed seams are a unique feature that blocks rain from penetrating the tiny holes normally found on the seams.
Fully functional electrical port access.
Large enough to sleep 2 x Queen airbeds.
Center room hook on the ceiling for hanging lanterns and night lights.
CORE 9 Person Instant Cabin Tent - 14' x 9'
Awesome Family Tent With E-Port & Screen Room
This one of my favorite family camping tents when bringing the kids. It is packed full of features that only Coleman knows how to do.
This is of course the Elite version of the ever popular WeatherMaster tent. It's considered the luxury family tent suitable for 6 persons.
What makes this tent so luxury is the fact it has a covered E-Port located in the front corner which can be zippered up. But there's much more to this tent than just a outlet for your electrical cables.
Great For Camping With Kids
What makes the Elite WeatherMaster one of the best tents for camping with kids are the unique features not seen on too many other tents.
Starting with the built in LED light system. This is a superb feature, especially if you have younger kids that need to get up during the night to go to the toilet.
With the built in light system kids or adults can get up during the night without having to search for torches. On the inside wall of the tent is a illuminated switch which controls the LED lights on the 6'4″ ceiling.
With the wall switch you can turn on the lights to 3 different settings. If you have younger kids that go to bed earlier, then you're going to love the nightlight mode. This is a great setting for getting the kids to sleep without having too much light on in the tent.
What Makes This Tent 'Elite'
While I personally think the built in light system is reason enough to class this tent as luxury, there are even more features that set this tent apart from the rest. These include:
Includes a front screen room that is completely insect proof.
Bathtub flooring system to keep rain from entering under the tent.
Large hinged 'D' door. This door operates like a regular door around the home. It uses Velcro to attach to the tent. So you can swing it open and closed like a regular door.
Auto rolling windows have to be seen to be believed.
Weather-Tec system exclusive to Coleman for superior protection form the elements.
Welded floor and inverted seams make water penetration from the ground near impossible.
3 room tent with a luxurious living space of 9ft x 17ft.
Coleman Elite WeatherMaster Tent with LED Light System & Screenroom
Backpacking Tent With Electrical Power Port
While access to electricity when backpacking is not always the main prerogative, it's still a nice feature to have. Especially in this technology driven world.
The Alpha Camp 3 person backpacking tents is one of the best tents with an E-port. It's lightweight weighing just 7.6 lbs and sets up and packs down considerably quick.
The power port flap on the Alpha Camp tent is located on the front left corner. So just as you enter the tent you can get access to the electrical devices immediately. The flap covers over the port so that rain can't seep inside the tent.
The tent comes with a PU (polyurethane coating) coated rainfly, welded floor and the seams are inverted to offer greater protection from moisture and rain. While also having 3 windows that can be zipped up when the weather goes a bit crazy. But regardless of the features that make a tent waterproof, you should still go the extra mile and apply some tent waterproof spray to ensure maximum protection.
While its a really good tent for fighting off rain, it's also a considerably strong wind resistant tent. This naturally comes from the lower profile and dome design. But the high quality fiberglass poles that construct the tent also give it extra reinforcement form strong winds.
What Else The Alpha Camp Tent Offers
Very good value for money considering the list of features.
Large mesh ceiling pocket and side wall pockets for storing valuables.
Small front awning to offer that little bit extra protection from the rain.
Conveniently placed electrical port for access to power.
The tent rope is reflective at night so that you don't trip over the guylines.
Very fast setup and comes with a nice size carry case for when its time to pack away.
8ft x 7ft dimensions with a center ceiling height of 50 inches. Do remember it's a dome shape tent when allowing for a camping cot. The walls are angled in so you do lose some space in regards to cots.
Satisfies the fire retardant standard of CPAI-84
Alpha Camp 3 Person Dome Tent With E-Port
Do You Really Need A Tent With Electrical Access Ports
So that is a overview of 6 tents that come with a pre installed E-Port. While there are more tents available, these 6 tents all satisfy a specific market. Whether you need a tent for a family of 6 or whether you need a lightweight backpacking tent, the options are here.
Many folks don't think about an electrical port until it's too late. So that begs the question, 'are they really required?'.
No they are not required, but sure make car camping a heck of a lot easier and safer. So if you find the ideal tent and it has a e-port, snap it up right away. Having this cool little feature will be used much more than you realize.
But if you find your ideal tent only to realize that it doesn't have and cable access inside the tent, should you continue with the purchase?. Well that's a tough one. Me personally, I would modify the tent and make a custom e-port flap as described below.
But I know not everyone likes the idea of cutting a hole into their brand new tent. If this sounds like you, then you should continue your search until you find the best tent with a power port for you.
How To Add An E-Port To Any Existing Tent
If the reason you were looking to buy a new tent was to get one that comes with a e-port because the tent you currently own doesn't have one, there is another way.
On the inner layer on your tent underneath the rainfly you can manually add a small zipper. Don't worry this is extremely easy to do and much cheaper then buying a new tent.
Simply buy a self adhesive zipper roll and cut off 3 to 5 inches worth. Peel the backing off the adhesive tape and place it on the tent where you want the e-port to go. Unzip it so that the teeth are not together.
Now cut a vertical line about half an inch. Seal of the ends of the tent material so that it doesn't fray. Now you have a quick and easy custom made e-port for your old tent. Insert the electrical lead and close the zipper. As the zipper is under the rain-fly it is protected from the elements.