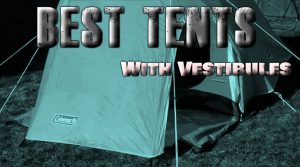 When it comes to finding the best tents with vestibules, intent of your expedition is important. This is because tents these days have all sorts of different shapes and sized vestibules.
Having a tent that has a vestibule for your general camping trip or when backpacking is particularly useful. A vestibule can be particularly helpful for a number of reasons. Most of us use them in different ways for different reasons.
More commonly found on backpacking tents as the extra covered area is a great place to store muddy or wet hiking boots and gear that you don't want to take inside the tent and cause a dirty mess.
Another reason people prefer a tent with a vestibule is that when set up right you can give you self another small sheltered area. So in the wetter parts of the country, it's not uncommon to see a tent with a vestibule being used frequently.
Essentially the vestibule is used as a mud room, but this area can also be an area for cooking or boiling the kettle when you are surrounded by bad weather. However this will depend on the size and design of the vestibule. There is great risk of burning the tent when cooking underneath the sheltered area, so while not recommended, it is a common practice. Caution and common sense go a long way, especially with a lightweight tent.
Do You Really Need A Vestibule?
Below you can find an assortment of camping tents with vestibules and backpacking models. But the question is, 'do you really need one'?.
If you are simply car camping, the answer is not always a yes. Some of the best car camping can be done with a tent with screened porch instead of a vestibule. This essentially is an oversized vestibule, but with protection from annoying insects.
For backpacking, it's an astounding yes, you should seriously consider the idea of buying the best backpacking tent with a vestibule you can afford.
I don't know how many times I've heard from hikers and backpackers that they never really did appreciate the true value of a vestibule until they were suddenly hit with wild weather.
A backpacking tent is light and very small. Now do you really want to have your wet boots and wet clothes inside a confined area while you try to sleep?. I didn't think so. For this reason alone, a backpacking tent should have a vestibule.
Best 4 Person Tent With Vestibules
Starting us off is the Alps Mountaineering 4 person Taurus tent. Whats great about the Taurus is well many things.
Starting with the affordability. I find the Taurus to be of the same high quality as tents double the price of this tent. Which is the reason I paid attention to the Taurus in the first place.
How much exactly?. Check price on amazon to see todays price.
But what sold me completely were the 2 vestibules. One on either side above the two doors. That's correct, this 4 person tent has 2 doors and both offer vestibules for protection. So keeping the wet gear, backpacks and boots outside during the night is certainly not a problem with the Taurus.
What else I found appealing was the large interior space. As someone that is over 6 foot tall, I expected to be cramped inside this tent. But to my surprise it's actually quite roomy for a 4 person tent. It's one of those tents you want for 2 adults and still have enough room inside the tent for other activities.
While I do find the Taurus great value for money and the vestibules are simply amazing, the tent stakes I found to be quite weak. However this is a freestanding tent, so unless you expect high winds, you may not even need the stakes. Or just buy a set of more heavy duty stakes and this tent instantly gets a 10/10 from me.
The Taurus Quick Stats
25ft2 of vestibule space and 64ft2 of internal living space
Generous 52″ tall ceiling.
Footprint: 7.6 x 8.6
Mesh ceiling for ventilation
2 doors, both come with mesh window inserts that can be zipped closed or left open for ventilation.
Freestanding tent that sets up in 3-5 minutes. Very simple design.
Includes rainfly and factory sealed seams with a heavy duty 2000mm floor.
Weighs just over 10 pounds.
Alternative 4 Man Tent With Large Vestibule
The Coleman Hooligan 4 Man tent is a great choice if you want a more spacious vestibule area. The rainfly on the Hooligan covers the entire tent and extends out to make a awesome covered vestibule area.
On the underside of the rainfly there's a neat little pocket. This is for when you want to unzip the vestibule area and tuck one side away for increased ventilation. So if you want full protection from the rain it's possible while still having a decent circulation of air.
I really like the large entry doorway to the Hooligan. It is big so you can easily get in and out through the vestibule. The door has 2 latches on it so that you can latch it back if you want to leave it unzipped. However, due to the bulky vestibule area, putting your gear into the tent will be easier before you assemble the rainfly/vestibule area. Unless you don't mind getting on your knees and passing gear through.
Ventilation And Waterproofing Qualities
For ventilation, the inner walls of the tent are basically made of mesh. So air can flow in and out as it pleases. Leaving the vestibule open will also increase the circulation. But there is also another unique ventilation feature on the Hooligan tent.
That is the ceiling vent which can be zippered up in the event of rain. A rod like mechanism allows you to manually open and close the vent if you ever need more air inside the tent. Great little feature for hot humid nights.
Overall the Hooligan is yet another great Coleman tent. Boasting the usual waterproof features of the Coleman Weathertec system (inverted seams and welded bathtub flooring). A great choice for a coupe looking for a spacious 4 person tent with a larger sized vestibule.
Best Backpacking Tent With Vestibule
Some might say the most important feature of a backpacking tent is that it is lightweight. If this is the case, the second most sort after feature for me is the vestibule. Basically because you don't get much space inside a backpacking tent and having vestibules is key to a successful trip.
The Big Agnes Copper Spur UL2 tent is a very popular 2 man backpacking tent due to its incredible light weight. Having a trail weight of just under 3lbs, this thin material yet very durable tent is ideal for stuffing away in its carry bag for light travel.
The additional 9ft2 of vestibule space make this 3 season tent a sure win for backpackers. While I say 3 season, it's not uncommon to see the Big Agnes Copper Spur UL2 6 inches deep in snow. Many people swear by it's durability to withstand a snow storm.
What You Need To Know
Ultra lightweight tent packs down into carry on luggage
Innovative aluminum poles for extra strength yet maintaining the lightness.
29ft2 floor space with a 9ft2 vestibule area.
Vertical walls more so then dome style allow greater living space with the 42 inch ceiling height.
Dual door design with covering vestibules.
Very high quality which sadly does bump the price up considerably.
Includes rainfly, stakes, guy lines, poles, tent and instructions.
Best Travel Tents With Vestibule
One of the best travel tents with a vestibule is the quite affordable and versatile Kelty Salida 2 man tent. Weighing just over 3 pounds, the Kelty Salida is the perfect travel companion.
Due to its unique fold down poles, the Salida can be taken just about anywhere. It packs down so small you will barely notice it in your backpack. When you pack it down it is packed into a unique packing bag that compresses it further. In all it's probably about a foot long and 4 inches thick. Perfect for travelers, hikers and backpackers.
In regards to size, it can certainly fits 2 adults side by side. The tent is about 88 inches long with a width of 55 inches. So even tall people will be loving this tent.
The vestibule is on the long side and the flaps can be tied back. The 'D' shape door makes getting in and out underneath the vestibule fairly easy compared to other doors. The floor space is just over 30ft2 and the vestibule is just over 10ft2. So ample space for 2 adults to sleep while keeping there gear safe under the vestibule.
The Kelty Salida is a very appealing tent. Made form a reliable brand name in the industry and is quite well priced. The design is great for backpackers and fighting against strong winds. The rain fly does sit about 3 inches off the inner wall, so you do get cross ventilation from here when it does rain. Overall for the price and quality alone, you can't go wrong with Kelty.
Vestibule Tent For 1 Person Or A Couple
A great roomy camping or backpacking tent for 1 person is the Luxe Tempo. While classified as a 2 man tent, unless you are a tight nit couple, you will probably find it a little too squishy. Perfect for one person, backpack and a dog.
The vestibule feature is really spacious on this tent. It has 2 doors which can be completely covered over by the rain fly producing 2 covered vestibules. Between the 2 vestibules you get a generous 13 ft2 of space to keep your gear safe while you sleep during the night.
The reason the Luxe Tempo tent made it on this list was because of the shear level of workmanship. It's not your run of the mill big box store camping tent. This tent is design and constructed out of premium grade materials.
So you can expect a longer life span from this tent as well as easier to use functions. Such as the zippers. On a cheap tent the zippers are often the worst part of the tent. Which is kinda stupid when you think about it. If the zipper gets stuck or breaks completely the tent is just about useless if there are bugs around.
The Luxe Tempo uses a premium zipper brand 'SBS' which is comparable to the highly known YKK zippers made in Japan. These zippers are on par in terms of quality and level of heavy duty rating. So you can rest easy knowing the Luxe Tempo has got you covered (or zippered) when it comes to keeping the rain and bugs out.
A Great Waterproof Tent
Speaking of rain and bad weather, this little tent is a ripper for protection from the elements. The rainfly vestibules do an amazing job at keeping the rain out. The bathtub flooring also stops water on the ground to penetrate in through the seams of the tent.
Most tents a PU (Polyurethane) coated to make them water proof. Which is fine, except eventually the suns UV rays will break down the PU coating. This is when you must waterproof your tent again. This Luxe Tempo uses a unique method I'm not to familiar with. But is considered to get far more beneficial than using standard PU coatings. By adding a Poly Ether to the PU formula, Luxe Tempo have achieved a longer lasting water protection tent.
Camping Tent With Large Vestibule
As you move into larger tents designed for families, tents with vestibules start to become rare. This is because these tents will start including awnings, covered patios or
large screened porches
. So the need for a vestibule is fairly limited. Many family tents are cabin style which include covered areas.
However, this 5 to 6 person tent is one of the rare tents of this size that has a large vestibule to keep your gear safe and dry. This tent is the NTK Indy GT XL which sounds like more of a racing car than a tent to be honest.
Besides the complex name, the tent is actually a real beauty to camp in. It's a squishy 6 man tent, but ideally suited to 2 adults and 2 kids if you ask me. This will take up most of the living space of this 14.2ft x 8ft tent.
The Large Vestibule Area
This is where the large walk in style vestibule comes into play. You can use this floored vestibule area as a mud room or storage area. The whole things zips up and looks like part of the tent.
Access into the vestibule is through the side 3/4 way up the tent. When you walk in, access to the living space of the tent is on the right. So you won't be fighting each other to get in and out of the tent. There's enough room in the vestibule to walk around each other. Inside the vestibule are 2 clear panels so you can even set puppy up inside so he/she can look outside when inside the tent.
But the fun doesn't stop there. The very end wall of the vestibule also acts as a patio ceiling. This entire wall can be raised up to create a large sheltered area for sitting under during rain or to simply create a shaded area for the kids.
Overall the NTK Indy GT XL is an amazing tent with some quite incredible features. The vestibule is a dream come true. There's more to this tent than just the vestibule such as the 2500mm coated rainfly, which is considerably thicker than other tents offering greater protection from the rain.
The fact the vestibule area has a floor makes it the perfect mud/change room for camping. It's very rare to find a tent with a vestibule area that include flooring for greater protection from water laying int he earth. A great feature and one that has won me over time and time again.
Unique Pop Up Dome Tent With Entry Vestibule
The Hui LingYang tent is a unique tent in many ways. Firstly its a pop up tent so you can be set up and under way in mere minutes. This is a feature many campers seek out.
But whats relevant to this theme is the walk in vestibule at the front entry. This front vestibule really does act as entry way to a house. But for a tent. So you can leave your gear at the front and enter the tent dry and clean.
While its not a huge area, it's enough space if you want to sit down and take the wet boots off and get changed into clean clothes. This is possible because the vestibule area is floored like the rest of the tent. So it's a cool little area to have on a pop up dome tent like this.
Other Features Of The Hui LingYang
Great window ventilation – each side has a small and large window you can open and close from either the inside or external of the tent.
51.18″ tall ceiling – enough space to comfortably sit in.
Mesh vent in ceiling for air circulation.
Storage pockets built into interior walls.
Pop up tent available in a selection of colors.
What Is A Tent Vestibule And It's Purpose
A tent vestibule is a feature not found on all tents. As you can determine from the above tent reviews that not all vestibules look the same, have the same shape or location. So therefor buying a tent with 1 or 2 vestibules comes down to what you need the space for.
A vestibule can be as versatile as a outdoors entertaining area in terms of camping experience. What you get out of your vestibule comes down to the size of tent you buy and the size of the vestibule.
The main purpose of a vestibule is to either keep boots and general camping gear dry while you sleep allowing you greater living space inside the tent. Or to be an area you can leave your wet clothes and boots before entering the dry tent. So that you don't end up with wet gear inside your living quarters.
Alternatively you can buy add on vestibules to certain models of tents. Or if you are particularly handy, make your own vestibule from an existing tarp or poncho as seen in the video below.