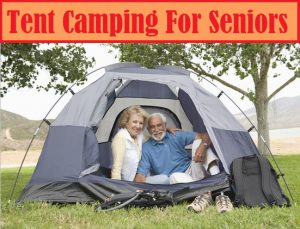 Camping… What a wonderful way to get back to nature and relax for days on end with no interruptions. Most of us have experienced this natural outdoors entertainment at least once in our lives.
But sometimes people slip through the radar and before they know it, camping seems like something only the youngsters do anymore. So when it comes to tent camping for senior citizens or as an older adult, it can be quite daunting if you have waited your whole life for this experience.
Even if you have been an active camper, but it was 30 years ago, this does not mean you have to give up camping when you hit your golden years. Camping is an activity that people of all ages can enjoy.
However, as an older Adult myself I know all to well that camping changes as the years go by. Things get heavier, knees become sorer and the idea of 'fun' is now simply gazing up at the night sky.
With that said, here are my recommendations and tips for camping as an older adult in a tent. In particular car camping as it is just much easier nowadays.
Camping Tips For Older Adults Otherwise Known As Over The Hill
Comfort Is Number 1!
I don't know about you, but I'm well and truly over the 'rough it' days where sleeping on nothing but a sleeping bag on the dirt was classified as camping. These days I'm all about comfort.
In particular, not waking up in the morning feeling like I have been run over by a truck during the night. Which brings me to my number one tip: Sleep comfortably when camping. It's simply a must.
How To Sleep Comfortably When Camping
As an older person simple things like getting in and out of bed can be an issue. Especially if you experience back pain. The lower to the ground your camping bed is, the more difficult and painful it is going to be when you try to get out of bed in the morning. This is because the lower center of gravity is pulling you down while you want to get up.
So the first step is to look for a camping bed which sits high up from the ground. A 6 inch thick camping pad is seriously not going to end well for an elderly person.
Sleeping Solutions For Older Campers
So obviously you want the most comfortable camping bed possible. One which sits high off the ground preferably. There are 3 main options for a camping bed.
Air Mattress + airbed on bed frame.
Camping Cot
Camping Hammock
Choosing The Best Air Mattress For The Elderly
The absolute best option for an older adult is to get a
air mattress which has an included portable bed frame
. The reason this is a great choice is because it elevates you to a similar height to a regular bed which makes getting in and out of bed a simple task.
Plus the support from the frame and the fact the air mattress is not in direct contact with the ground means you don't lose body heat as easy while sleeping. Especially important on colder nights.
A air mattress that is on the ground is not well insulated. The cold from the earth sucks any warmth from your body leaving the air mattress a cold air filled sleeping surface.
However, with these kinds of air mattresses, you will need access to power to self inflate the bed. But as I recommend car camping as the best option for senior citizens, access to power should not be an issue. But if you feel that you won't have access to power, than you should choose one of the airbeds designed for camping.
Camping Cots For The Elderly? Good Or Bad Idea?
A camping cot is often thought as the army bed which is perceived as uncomfortable. But this is certainly not always the case. A padded camping cot will provide enough comfort while also being raised off the ground to get a good nights sleep.
A camping cot is one of the better 'air mattress alternatives' in general. Add a layer of padding for even more comfort and you're good to go the next day.
The last solution was to use a hammock. I don't really recommend this option if it is your first time camping or if you don't have the physical strength to hang a hammock as trees are not always available which can cause quite a dilemma. So stick with an airbed or a camping cot.
What Are The Best Tents For Older People?
If you're going to be camping in tent, you'll want to make sure you take the right tent. You should make sure that you are able to set up your tent without any problems. You'll also want to make sure that your sleeping bags provide the kind of support that you need.
A lot of tents these days are very easy to set up and can be done by a single person or two person in under 30 minutes. The weight of the tent can be an issue if you feel that you're not strong enough to carry around a heavy canvas tent. So a nylon tent would be more appropriate.
In this article here: Car Camping Tents, you can find both the best nylon and canvas tents which are perfect for the elderly when camping. Here's why:
Tents are roomy and spacious so you don't feel like a tinned sardine when trying to sleep on one of the above camping beds.
The tents have high ceilings which means you don't have to hunch over or crawl just to enter the tent. These tents have clearances that even a 6 foot person can easily stand up and walk around in.
They offer great protection from mosquitoes and other annoying bugs.
Plenty of large windows for air ventilation
They also offer a reading are or shaded area where you can simply sit back and relax while not being inside the tent.
A lot of senior citizens skip tents and choose to camp in RVs. If you plan to do a lot of camping, you might want to invest in an RV. If you're not ready to buy an RV, you might want to consider renting a vehicle for your camping trip. The last option is to turn your suv into a tent via an external SUV tent which attaches to your suv and creates a rather mobile camping experience.
Research Campsites Before You Head Out
Spend some time looking into campsites before you decide where you want to go. You should try to read reviews for different campsites. Find a campsite that offers a lot of appealing amenities.
When you're looking at reviews for campsites, you might want to loo for reviews that were written by other seniors. If senior citizens have a lot of positive things to say about a campsite, that's an excellent sign. Take the time to find a safe and appealing campsite that you'll enjoy staying at. Toilets and access to power and water are a must!.
Pack Your Bags Carefully
You need to be very cautious when you are packing for your camping trip. You will want to make sure you bring all of the items that you need for your trip.
What sorts of things should you be packing? The most important thing you can bring with you is water. You'll want to make sure you are able to keep hydrated during your trip.
In addition to water, you'll want to pack the right food. You should make sure you have plenty of nourishment when you go on your trip. Foods that don't need refrigeration are best if you don't have a portable fridge.
You should also pack a number of protective items. When people age, their skin becomes more delicate. You should pack sunscreen, a hat, and sunglasses. Bug bites can also pose a lot of problems for seniors. You should take some sort of bug spray and a mosquito protection system with you so that you can keep the bugs away.
Make a list of the things you want to take with you on your camping trip. Go over your list carefully and make sure that you haven't forgotten anything important. Ensure that you bring everything you need with you on your camping trip.
Remember To Take Your Medication
A lot of senior citizens have to take medication. If you take medicine, you'll want to bring that medication with you on your trip. You should also make sure you bring a copy of your prescription with you. That way, if you lose your medication, you'll be able to head to a pharmacy and get a refill on your medication.
Not taking your medication could cause significant health issues. Your medication is one item that you won't want to forget. Check and double check to see if you have your medication before you leave your house. Make sure you back your medication in a place that is easy to reach.
Make Sure People Know Where You Are Going To Be
If something goes wrong on your camping trip, you'll want to make sure that you'll be able to get the help you need. You should talk to your doctor, your friends, and your family members about your camping trip. Make sure people know exactly where you are going to be.
You'll also want to check in with people at designated times. You might not get phone service at your campsite. See if there is a separate phone that you can use when you need to check in. Let people know that you're safe and sound.
Show Caution When You're Building Your Campfire
A lot of camping accidents are related to campfires. Because of this, you should be extra cautious when building a campfire. You should only build a campfire in a designated area.
You should try to clear a 10 foot diameter around your fire pit. You should make sure you have an easy way to put out your fire at the end of the night. You will also want to avoid sitting too close to the fire. If you aren't careful when you're sitting near a fire, you could wind up getting burned.
A campfire is a great way to indulge in hearty meals using a camp cast iron oven. While also offering warmth and a place to talk among friends and have the odd sing a long. However, just remember the dangers a fire can pose.
Don't Let Being Older Stop You From Camping
Don't let your age keep you from enjoying the activities that you love! If you're a senior citizen, and you like camping, you should keep on engaging in your favorite hobby.
If you have never camped before, but it's on your bucket list. Than just do it!. As long as you keep these camping tips for the elderly in mind, you should have an excellent time or one heck of a story to tell to the grand kids when you return wet dirty and tired. Either way, it's sure to be an adventure.