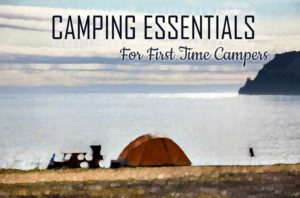 Camping for a beginner can be overwhelming and quite scary to some. There's always the fear of forgetting something. But with this checklist of the camping essentials for first time campers, the chances of you forgetting something are fewer.
However, no matter the amount of preparation one does, how much research they do, chances are you may forget a thing or two. It's only natural. It's not until you cook up your hot dogs that you realize you've forgotten the ketchup. Yes I'm speaking from personal experience.
Certainly not a life or death situation, but the point is, you will gradually learn your own specific camping needs with every passing trip.
Chances Are You'll Pack Too Much
In fact, the first time you going camping you will probably be over prepared and bring too much stuff. Because we fear that we may forget something or need something specific, we bring everything, some people even bring their sofa with them.
Now I'm not one to judge what you bring or what you don't bring, but over time you will perfect your camping essentials due to gained knowledge from the previous trip. I can almost guarantee you that on your first camping trip you will say one of two things:
"Next time we go, we got to remember to bring …….".
Or "We brought too much stuff, maybe next time we can leave ……. behind".
The Basic Camping Checklist For Beginners
This basic camping checklist of essential items will cover the absolute necessities you need when you go camping. For this list, I will be covering camping equipment you need for basic car camping. Following this list will be more elaborate camping gear you may need further down the track.
As a first time camper, more often than not car camping is the camping style of choice. This is basically when you drive to a camp spot, holiday park etc which provides both electricity and water. Many holiday parks are suited to first time family camping as they provide showers and toilets. This is pretty much a requirement for first time camping with younger kids.
As the kids get older and gain some more basic experience, then it's likely you will want to rough it up a bit and go camping off grid. This is when the adventure really gets interesting. No electricity and no fresh running water. So I'll also include some off the grid camping essentials following the basic car camping needs.
Tips For First Time Camping
While having all the essential gear is important, there are some tips and tricks a beginner camper can learn to enjoy the trip all that much more. In this comprehensive guide to camping for first timers I cover all the aspects you need to know before you get in the car, and to getting home and unpacking all your gear.
Car Camping Essentials – What To Pack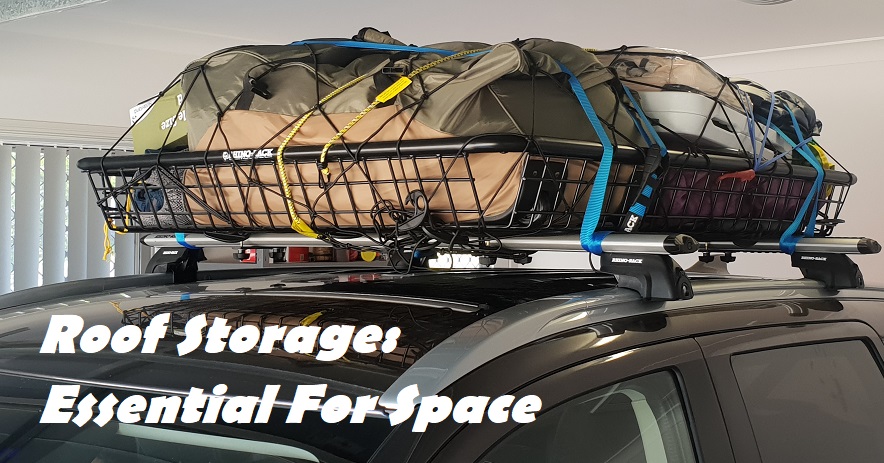 Car camping is certainly the easiest method of camping, but you still have to ensure you have packed all the important equipment and belongings. It's a good idea you pack up your car, truck or trailer the day before. This gives you time to find out whether or not everything fits in.
Packing your car can be a bit like a puzzle. Mix and match your gear until it fits nicely. Roof racks with a storage basket will give you a heap of extra space to pack up your vehicle. If you do pack the day before, you can also spot any things that you are missing and give yourself enough time to head off to the shops to buy it. Making departure day stress free and smooth sailing.
Car Camping Equipment Essentials
Car Camping Tent
Buy taking a tent suited to car camping you are setting yourself up for an enjoyable trip. I would find it hard to 'forget' the tent, but I'm sure its been done before. With all the emphasis on remembering things to bring, you forget the most obvious piece of camping equipment.
I usually pack up the truck in order of importance, so the tent gets put in first. As its quite bulky, it needs a lot of space. So packing things around the tent is a lot easier than trying to force the tent into situations where its not not going to fit. Make sure to check that all the pieces are included with the tent before you head out the door. Last thing you want is to get to site and set up to discover a part of the pole system is missing.
Essential Camping Sleeping Equipment
Once you have the roof over your head, the next thing you need is sleeping gear. For first timers I would highly recommend spending a bit extra on a high quality camp airbed.
This will ensure you get a good nights sleep. Because it's your first time camping, the last thing you want is to be up all night unable to sleep. A poor performing airbed can and will do this to you. A bad experience like this may turn you off camping all together, which nobody wants.
If you go the route of an airbed, its important you take a camping pump. Not one that relies solely on electricity. One that can be recharged using batteries in the event of no power source.
Camping cots are also a good idea for car camping. This is because they are quite heavy and bulky. Something you certainly don't want to take hiking or remote camping when you have to walk several miles to get to site.
But pulling up beside your tent and unloading a camping cot is not an issue. Some people prefer a cot over an air mattress because there's no chance of leaking air during the night. Plus the firmer supportive base is preferred in some cases.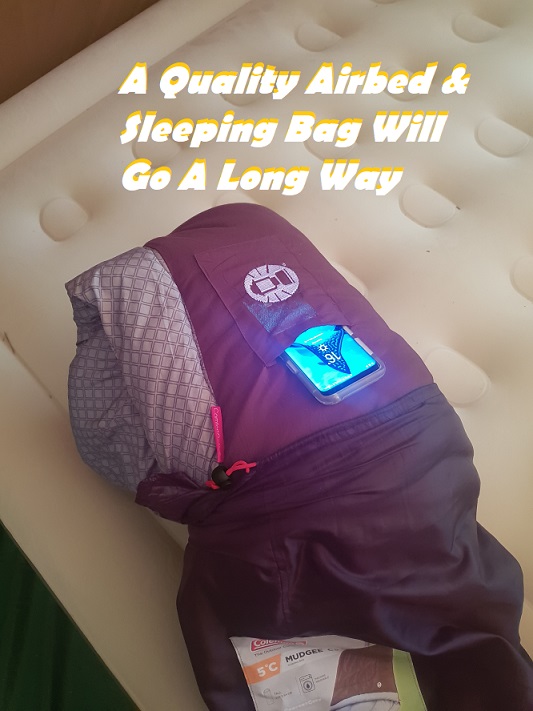 Sleeping Bags & Pillows
Sleeping bags are pretty straight forward and are usually item number 3 on my camping checklist. Without one you could freeze during the night. Its important to check the temperature rating on the sleeping bag and match it up with the temperature you expect it to be when you go camping.
The other thing to consider for a sleeping bag are its dimensions. Especially taller folks. Big and tall people will need a sleeping bag that is suitable for their size and height. You can find a number of extra long sleeping bags here.
While there are inflatable pillows you can use for camping, I prefer to bring my pillows from home. Its well worth the space in the car if you ask me. One trip we forgot out pillows and I did not sleep all night, it was horrible. So if you're as reliant on a pillow as I am, be sure to add this one to your checklist.
Things To Take Camping For Light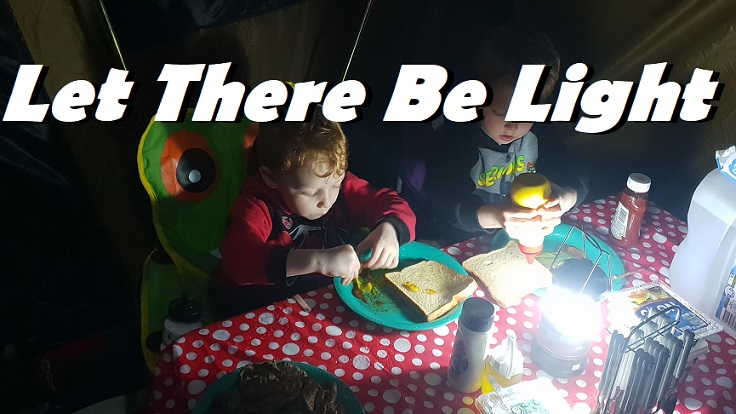 Chances are you won't forget to bring some lighting for your tent, heck you can even get tents with built in lighting which is rather helpful. But often this alone is not enough, or you don't bring enough lanterns.
So be sure to pack enough battery powered lanterns and then pack a couple more on top. Especially if you're camping with kids for the first time. Most kids are afraid of the dark and the more light the better while sleeping outdoors.
I recently purchased the Coleman Light & Sound Lantern. This is a very cool camping device as it not only allows you to have light at the camp table, but can also provide you with music streamed from your phone. Great for playing tunes to get the kids to sleep and for relaxing with some music with your partner by the campfire.
Rechargeable Batteries
Its a good idea to bring spare rechargeable batteries with you. Also ensure the batteries in your lanterns have enough juice in them before you go. The batteries will come in handy more than you think, and best of all they can be recharged for using on other camp gear like a portable fan.
Portable Fan
If you're camping in the summer, its a good idea to bring a portable fan with you. It gets hot, depending where you're camping. If you're running off a powered site, you can even bring a larger fan if you have the room in your vehicle.
Some tents even come with air conditioning ports so that you can set up air con inside your tent. If you do this, be sure to invest in a silent running air con or your neighbors could really get annoyed at you.
Dustpan
The dustpan is an often overlooked piece of camping equipment which I consider essential. You may be thinking, 'what on earth do I need a dustpan for', but I assure you, its well worth the space it takes up in your vehicle.
No matter how hard you try and clean your feet before you enter the tent, grass, dust, sand, dirt will always find a way inside the tent. This is where the dustpan comes into its own as a very valuable piece of gear.
Clothing
Needles to say, you're going to need clothing. But make sure you pack enough for the entire trip unless you want to pay over the top laundry fees at some of the camping parks. Make sure you bring some clothing you don't mind getting dirty in and remember to bring waterproof boots or hiking boots if you plan to see the sights.
A camping clothesline is also quite important whether you are staying one night or ten. They are handy for hanging out towels and wet clothes from swimming. Plus if you do use the powered laundry, you can save money buy hanging the clothes on your camping clothesline.
Sun Protection
It's easy to forget about the harmful rays of the Sun when you're having so much fun. Its just as easy to forget to bring the sunscreen and wide brim hat. If you anticipate lots of fun in the sun and the water, add this to your checklist now.
Camping Kitchen Essentials
Food Storage
When you stay for a few nights, you're going to be packing a bit of food to survive. So having somewhere to neatly store your camping foods, tinned foods and fresh foods is ideal. A fold down kitchen organizer takes up hardly any space, yet makes your camp kitchen more functional and eye appealing.
First Aid Kit
I like to keep my first aid kit in the dry storage area of the kitchen compartment. This way I know where it is and its easy to reach. No matter what type of camping you do, you should always bring a first aid kit or two.
Folding Cooking Table
If you plan to do a bit of cooking, which you should, you're going to need a cooking space. There are a number of cooking tables which fold down compactly, perfect for camping. Some of them include a sink area to clean dishes in, cutlery holders, utensil holders, lantern clamps, racks for pots and pans and so forth. A really great piece of camping equipment for the cooking enthusiast.
Camp Cooking Equipment Checklist
How you cook while camping will vary from one person to the next. But for the most part, the cooking essentials are the same. Here's a list of the key equipment to bring so you can cook from your campsite.
Gas Burner & Propane bottles. More people to cook for, the more burners you would need.
Camp kettle for boiling water to clean dishes and make instant coffee.
Camping coffee machines for the real coffee hit.
Cooking utensils such as tongs, egg flips, knives, cutlery, stirring spoons etc.
Pots and pans
Cast Iron Dutch Oven for the campfire cooking experts.
Don't forget condiments, cooking oil and the ketchup!.
Cleaning bucket & dish washing liquid to wash up your dirty dishes.
Paper towel, scraper and or BBQ wipes to clean cooking equipment.
Outside the Tent Essentials For Beginner Campers
With our shelter, sleeping and kitchen areas under control, we move to outside the tent. If your tent has a screened porch or awning, chances are you are going to spend a decent amount of time relaxing in the fresh air outside the tent. Which brings us to camp chairs.
Beginners Guide To Camping Chairs
There's a whole world of camping chairs available from $10 to over $100. So how do you know which one to buy?. Well obviously it depends on your budget, but the level of comfort is sacrificed the cheaper you go.
For me personally, I can't go camping without my zero gravity chair. These things make amazing camping chairs if your goal is to lounge around in the afternoons as the sun goes down. But as I'm taller, I do need full length zero gravity chairs to cater to my longer torso. This allows me to recline all the way back into the most comfortable position.
These types of chairs also work around the campfire, but I also like to take a regular camp chair where I can sit forward more. Which also doubles up as my fishing chair too.
If you like to have a drink while relaxing in your chair, look for a chair that comes with drink holders and preferably a side table. This will cost a bit more, but certainly makes life more easier when your outdoors.
Its Essential To Pack Insect Protection
Its critical you pack ample amounts of insect protection. Don't be fooled into thinking that you're car camping and won't need it. I once camped at a RV camping park and my kids looked like they had measles after one night. Packing enough spray and equipment to fight off these bugs is crucial.
There's many ways to protect yourself from mosquitoes and no-see-ums. Even if your tent has a flyscreen, these bugs still manage to get in. You can buy mosquito nets to hang inside your tent over your air mattresses. This is a second line of defense against these critters that manage to sneak inside the tent.
Then there are other forms of mosquito repellents to drive these nasties away from your tent. The more options you have, the greater chance of no coming back looking like you've eaten alive.
Outdoor Camping Mats
A great way to reduce the amount of grass and dirt you drag inside your tent is by placing down a outdoor camping mat. We actually take 2 of these mats, one for underneath the tent to reduce the amount of twigs and rocks from penetrating the floor of the tent and the second for in front of the tent.
Placing one of these outdoor mats on the ground in front of the tent gives you a clean area for the kids to play on and set up your other outdoor camping gear like folding tables and kitchen equipment. These mats come in various sizes to cater to various size tents.
Folding Tables
Once you have the ground mat in place you can set up a folding table or two. One table is usually enough for one or two people. But when you have kids I highly recommend taking two tables.
One table for keeping lanterns, cutlery, bug spray, water bottles etc on. The second table can be for eating around or used as a separate kids table.
Pack A Gazebo
An outdoor camping essential that will be determined by amount of camping space you have is a gazebo. As seen in this image, they make for a great area to set up your camping kitchen. Keeps the tent free of any cooking equipment, food and unnecessary items.
It's also a great place to socialize around with friends and the kids without feeling like you're living in your tent. But a gazebo takes up a fair amount of area both on your vehicle and on the ground.
So ensure your vehicle has the capabilities to carry a gazebo on the roof or trailer. Also, be sure the camp spot you have booked allows for enough space for both your tent and your gazebo.
---
Essential Items Needed For Off Grid Camping
While the above list of essential camping gear for first time campers is suitable for most car camping experiences, when it comes to wild camping off the beaten track, you are going to need more equipment.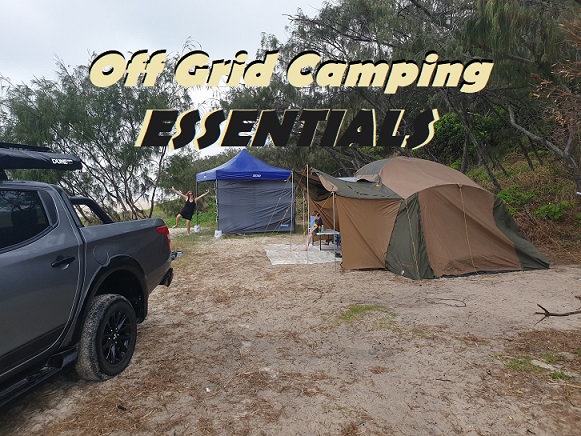 Solar Powered Gear For Camping
Access to a power source is usually not possible without the aid of your cars 12v battery, generator or solar power. I prefer solar power because its essentially free electricity. A generator can be too noisy and some places won't allow such noises after a certain time.
Unless you have a second 12v battery hooked up in your car, its not the best source of reliable power. Which is where solar power plays a lead role for wild camping.
Whats Needed
The most basic solar power set up for camping requires a bit of money invested up front. But from there on its essentially free energy. To set up a solar powered campsite you will need a battery to store the energy in.
Most people have these set up in their cars but I prefer to keep the battery in a battery case. This is because I leave the camping fridge set up on the campsite, not the back of my truck. So you need a consistent power going to the fridge, which is fine if you don't move your truck from site.
If you go on day trips and take your car, unless you take your fridge with you, you're not going to have power for your fridge.
Solar Panels For Camping
These days you can get folding portable solar panels which draw energy from the sun. These panels are connected to your external battery through a regulator. This powers the battery and stores the energy inside.
From there you can connect your 12v fridge to the battery for 24/7 power to your fridge. Other accessories like a smart phone or iPad can even be charged directly from the battery case if it has USB ports. Without a fridge, its very difficult to keep food fresh when you are camping away from powered sites.
4WD Recovery Kits
Depending on how off the beaten track you go, you may need to think about buying 4WD recovery kits. What happens if you're in the middle of nowhere and you get bogged in mud. No one around to help pull you out.
This is where a winch or recovery tracks are an essential camping item. You can get yourself out of the mud, sand, water etc whatever it is without anyone around to help.
A GPS Is Essential For Wild Camping
With proper planning and preparation, wild camping can be very successful. But no matter how well prepared you are, things can change in an instant. It's very easy to get lost in an area you have never been before, especially in national parks and forests.
A GPS for camping is essential to help you find your way to safety. While many phones these days offer this service, a GPS is still the better option due to lack of phone signal in large amounts of state forests.
Water A Life Necessary
One thing you should never go stingy on is water. When you are remote camping access to water can be very limited. So it would be wise to invest in some seriously big water gallons. Make room for these in your truck or trailer. It's essential. If possible, you can even get your truck or trailer custom designed to allow for water drums to be built into the design.
Must Bring Items: Axe & Firewood
If you plan to stay warm at night, an axe and firewood are essential. Wheres the fun in camping if you can't get a fire going. However, its always important to check whether campfires are permitted before you hit the road. Last thing you want it ti turn up, start a fire and wake up to a hefty fine from the national park.
Whether you chop your own or buy firewood, much of it may need to be cut into smaller pieces. So remember to bring an axe, kindling and a firestarter.
Hot Water Showers When Camping
Some people may argue that a hot water shower is not an essential for camping, but for me it simply is. If I'm camping for a long period of time, I need some luxuries in life. Such as hot water after a big days adventure hiking.
Once you set up a shower/toilet enclosure, you can obtain hot water provided you have access to water, propane and a battery. With these hot water shower options for camping, you can feed them through the enabled shower enclosure and really take camping to the next level. Many RV campers use these, so why not us tent campers too.
First Time Camping Checklist
While this has been a pretty exhausted list, I'm sure I have forgotten a thing or two. But nonetheless, most essentials for the first time camper have been covered here. Whether its car camping or wild camping, you can use this checklist to guarantee you have everything you need.
Found Something I Missed?
If there's something you think is an absolute must for the first time camper, be sure to drop your suggestion in the comments below. I'll rectify this checklist to ensure the beginner camper has all the knowledge they need to go camping for the first time.