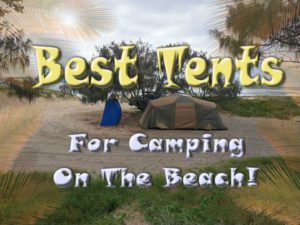 I have learned from that experience and now know what to look for when buckling down to find the best tents for beach camping.
I remember the first time I went camping on the beach and it was a shocker. My friend couldn't have chosen a worse tent suitable for the conditions.
Beach camping is not exactly the easiest form of camping out there. But it sure is one of the most rewarding experiences anyone can undertake.
Depending on where you are in the world, you're guaranteed a sunrise or sunset over the ocean. While laying back in your tent with a cold beverage is just divine. To be honest, I'm not sure if anything beats this lifestyle.
While bathing in the ocean, tanning on the soft white sands and breathing in fresh open air sounds appealing, because it is. Beach camping can also be a camp trip from hell if you don't prepare correctly. There is so much that can go run from getting bogged if driving, flooded due to high tides, sandy tent, storms, bugs and snakes, etc etc.
But forgetting all those other issues, we just want to find the best tent for going beach camping. So when it comes to buying your first tent to tackle the sand and ocean, you need to be prepared for a few things.
Compare Beach Camping Tent Features
| | Size | Features | Price |
| --- | --- | --- | --- |
| | 10 Persons | Single wall tunnel tent, 3 seasons with center mud room for changing out of sandy clothes | Check Price On Amazon |
| | 9-10 Persons | Best protection from wind and rain, full rainfly, Bathtub floor, Wall vents on both ends | Check Price On Amazon |
| | 1-4 Persons | Instant Pop up design with large front vestibule fro changing out of sandy & wet clothes | Check Price On Amazon |
| | 6 Person | Heavy duty canvas tent with large doors, YKK zippers and awning. Best for staying warm on cold ocean breeze nights. | Check Price On Amazon |
| | 4 Person | Large pop up beach shelter for day trips to the beach. Zips up for privacy and includes sand stakes. | Check Price On Amazon |
| | 1-2 Persons | Unique design with strong wind resistance, 2 door design with entry vestibule for storage. | Check Price On Amazon |
Are Rooftop Tents Suitable For Beach Camping?
A growing number of people are using overland tents for beach camping. These are tents that are mounted to the roof of your 4wd, SUV, truck and even a trailer.
Not only are they space savers when it comes to setting up camp, but they are also time savers. once a tent is mounted onto your roof racks, you can be set up in just a few minutes. But for me, the reason I love RTT for beach camping is, you get the absolute best view of the ocean, sunset, sand from up there. Nothing beats it.
What To Look For When Buying A Camping Beach Tent
One size does NOT fit all when it comes to beach camping. Not everybody wants a family-size tent, especially solo campers that want to ride it out with a camping tent cot which is perfect for one person beach campers. But with the size of the tent being variable for most campers, let us look at a few things all beach tents should compose.
Wind resistance is important as it doesn't matter what beach you camp on, you are just about guaranteed wind will upset your camping trip. A tent with straight vertical walls is not as wind resistant as a tent with walls on an angle.
A full-length rain fly is recommended. As beaches can take a fair beating when an unexpected storm arrives, you don't want to end up drenched. The rain fly also allows you to block sand from flying into the mesh windows from strong winds. Nobody likes a sandy tent.
Waterproof basin style base of the tent. For obvious reasons, we don't want to get wet from the moisture in the sand or an unexpected high tide. So make sure the base of the tent is a waterproof product that comes up the side of the tent at least 6 inches.
My Top-Rated Family Beach Camping Tent
Taking the Wife and kids camping on the soft white sand is one of our favorite summer activities. We don't do it enough. But there's one thing that drives me crazy while camping on the beach and that is getting sand inside the tent.
A sandy bed is never going to end well in my tent. Which is the main reason I love this SlumberJack Overland 10 person tent. It has a unique design that you don't see that often.
It's a tubular design but what's unique about this tent is that it has a 'mud room' or 'sand room' if you will. In the center of the tent is the main entrance. This is a large and tall zippered door. What's cool about it is that you can open the door and walk into an entry area that you can use to shed any sandy and wet gear.
Dust yourself off inside the tent before you spread sand from one end to the other end. All while being out of the wind blowing in your face with sand pelting into your eyes. As well as out of the cold wet if it happens to rain. As this tent is waterproof, you won't get wet while changing clothes in the entry room.
If you are camping on a dog-friendly beach, the entry space makes this a great dog tent because it's the perfect space for Fido to sleep without dragging sand and water all through the tent.
On either side of the entry room are big spacious bedrooms. Both can fit a queen air mattress. Perfect for the Adults up one end and the kids down the opposite end. Five windows with 3 big zippered doorways allow for great airflow on hot summer days. The windows have a zippered flap to stop sand and rain from flying into the tent which is critical when camping on the beach in a tent.
Beach Friendly Design
The tubular design works well for windy beach conditions. Wind naturally follows the curves of the tent rather than facing a horizontal wall and being forced to push the wall down. Also because it is a straight-line design, the crosswinds won't be an issue if you face this tent parallel with the wind.
Overall, my family and I really love the SlumberJack. Its waterproof design with the front entry change room are the key features. To me, it's built perfectly for sandy beach conditions.
Slumberjack Overland 10 Person Tent
Best Tent For Insects & Stormy Beach Conditions
While camping on the beach is one of the best things you can do, it can quickly turn into a nightmare if a storm appears on the radar. Not to mention the mosquitoes and other irritating insects.
I consider this tent by NTK a heavy-duty all-purpose tent. It goes by the name of Arizona GT and is made by a cool bunch of Brazilians that design gear to survive in the Amazon jungle. So you just know it's been made tough to handle any conditions.
Why Is The Arizona GT Good For Beach Camping?
Firstly, this is a larger tent suited to 9 to 10 people. (For smaller tents, scroll down Buddy) But what's awesome about this tent can be explained in three easy to digest bullet points below.
Fully-screened for ultimate

mosquito protection

. On hot summer nights, the last thing you want is to be cooped up inside a tent. With this tent, you can take the lid off and enjoy the open beach air without the fear of getting eaten alive by mosquitoes.
Full-size rain fly. The waterproof rain fly on this tent is a full size, meaning it comes all the way down the sides of the tent offering protection from wind and rain regardless of how horizontal the rain is pelting in at you. If I was in a desert storm, this is the tent I would choose!.
The highest quality products used on the tent floor and frame. To be able to withstand the harsh sandy winds the beach often serves up, you need a tent with flex and strong poles. The Arizona GT uses some of the best in the business if you ask me. Nano flex fiberglass shock-corded poles. Built tough.
The tent boasts a super strong and anti-fungal bathtub style tent floor. This means the water under the sand stays OUT of your tent and won't start going all green and gross on you.
Should You Buy This Tent For Camping On Soft Sand?
Do I recommend this tent?. Absolutely, it's one of the best family size beach tents on the market. The sheer design and full-size rain fly combined with the strength of the amazon jungle are enough to tick all the boxes for me.
The only thing it's missing is an entrance gazebo. But this can easily be arranged elsewhere if need be. The design of this tent is what matters and it's one I'd gladly take to beach camping in Southern California.
NTK Arizona GT 9/10 Person Camping Tent
Best 3-4 Person Beach Camping Tent
Night Cat has produced this quite unique, yet very suitable tent for beach camping. There are a lot of reasons to like this tent since it has so many useful features that make camping at the beach more enjoyable and more comfortable. 
One of the things that can ruin any camping trip to the beach is spending ages setting up a tent. Owning a tent like this pop-up tent makes this a lot easier. But it's not your regular style pop up tent, its quit the large pop-up tent with unique front storage and change room.

If you've ever camped in a tent on the beach, then you'll know how annoying it can be when you drag sand in the tent. This tent has a separate area so you can get changed in and not drag sand inside, making this an invaluable tent for beach camping.
Lightweight For Travelling On The Sand
It's a surprisingly light tent when you have it packed up in its carry case, weighing a small 8.8lbs in total. So it's easy to carry and will fit in your vehicle quite easily, which makes these useful for a day trip or an extended camping expedition.
Being lightweight and easy to set up like this Night Cat tent is, gives you the chance to maximize time on the sand with your fishing line out in the water catching the nights' dinner.
The tent is made out of a 210D waterproof oxford fabric that is strong and can handle the weather well. As with most tents and waterproofing, I'd still recommend putting an additional coat of waterproofing on it before using it to be safe. There's nothing worse than buying a new tent only to discover that it hasn't got the best coating of waterproof spray on it. 
Wind at the beach is something you should expect, and these stakes are pretty decent for most casual uses. If you are going to be camping at a beach that is known for being windy, then you might want to invest in stronger stakes as these are good standard use, but will struggle with heavy wind. Spend the extra few bucks to buy stakes designed for sand, and you will never regret the purchase.
Overall, I quite like this tent as it has a front change room where you can get changed from swimming gear without dragging sand and water inside the sleeping area. Trying to sleep on your airbed with sand between you and the sheets is enough to put off any camper, which is why I rate this tent quite high for a beach tent. 
Night Cat Instant Pop Up Beach Tent
Best Canvas Tent For Camping On The Beach

This Kodiak tent is an excellent tent for camping at the beach, especially if you're camping in the colder months. The reason being, it's a canvas tent that maintains warmth well. In the hotter months, the canvas is better at breathing, which means the tent won't heat up as fast as a nylon counterpart. 
With it being a canvas tent does mean it handles the cold better than most. If you've ever been camping at the beach for an extended period, you will know it can get quite cold at night. 
Purchasing a canvas tent like the Kodiak can be extremely useful for when it gets cold at night from the ocean breeze. The heat generated during the day stays present inside the tent for longer. Providing you with a nice comfortable tent to fall asleep in while listening to the waves crash into the shore.

Kodiak is known for making quality tents, and they continue this trend with this excellent tent. They make their tents from high-quality fabrics that are durable, breathable, and water-resistant. 
What makes the Kodiak superior in my opinion, is the duck canvas, which is woven more tightly than regular canvas. In fact, it's in my top 2 canvas tents currently on the market.

One of my favorite features of this tent is that they went with having two large doors on it. The doors work well during the day when you can have them open and let the tent breath. I find it certainly does help on the warmer days as it allows in the fresh ocean breeze.
This is a heavy tent that does make it difficult to recommend as a day tent at the beach. It weighs an impressive 73lbs, which does make it hard to move around.
The small things a company does when designing their tents can tell you a lot about them. Such as Kodiak using YKK zippers on this tent, which is something most people don't consider. But YKK zippers are some of the best on the market and when a company makes sure the smallest thing on a tent is such high quality, it tells you they aim to please.
Kodiak Canvas 6 Person Cabin Tent
Portable Shelter For Day Trips To The Beach

Camping on the beach usually means most people go with a pop-up tent, which is an excellent type of tent, but not what everyone wants. 
This is what this impressive Easthills outdoors camping tent comes into play with it, offering something different compared to the others.
So while you may lose the quick set up of a pop tent which to some people will be a bad thing, this tent is still a quick and easy set up with it taking roughly 10 minutes after you get used to the set-up. However, as usual, you could get it up even quicker with two people.
This tent has a complete 360 view from inside, which is great for viewing but, more importantly, better for ventilation. With how vital ventilation is for a tent to be comfortable while camping on the beach, it's fantastic to have such inclusions with the Easthills. 
Having your tent being portable will make a big difference to your camping trips. In its carry bag, it measures 41″ x 8.5″ x 8.5″ which makes it very compact while also only weighing 8lbs. So it's lightweight and portable, which are two critical factors in not only beach camping, but most types of camping.
This tent handles the sun well since it's coated with a UPF 50+, which is designed to block UV rays. So this gives this tent an advantage in the sun with it being able to stop the fabric from fading and getting weak from constant UV rays. Having this level of sun protection is something I wish more companies would start doing.
Easthills Outdoors Instant Shader Deluxe XL
Best 2 Person Tent For Beach Camping
Smaller tents are a lot easier to manage than the larger family size tents. Especially on a windy day at the beach. So these two-person tents are great because they can be set up very quickly and you only need one person to assemble.
While there are many to choose from, I really like these Chillbo Cabins tents. They are well designed for protection from the rain and the strong winds. But most of all, they come with some pretty funky designs. No boring tents with these guys.
Looks aside (Yes you will be the talking point of your stretch of open sand), the tent is rather well designed for beach campers. It's low to the ground with a full rain fly that gives a small yet important entry way into the tent.
This little entry way not only gives you protection from the elements while entering the tent, but it also is a great wind breaker. Wind will glide over the tent without needing to force its hand on your tent.
Inside it's a pretty basic tent as you would expect for a two-person tent. It does have the water proof tub design flooring that is super important on sandy surfaces. So that's pretty much ticked off all the boxes in regards to being a beach-friendly tent.
Chillbo Cabbins 2 Person Tent Ideal For Beach Camping
More Small Beach Tents On Amazon
Basic Tent Camping On The Beach Tips
When tent camping on soft sand, be sure to use tent pegs designed for sand. These will hold a better grip and won't pop out of the sand as regular tent pegs could.
Be mindful of where you park your tent. Don't park down by the water's edge. Don't be surprised to wake up to high tide with water gushing in and out of your tent.
Stay at least 160 feet from the water's edge if you are unsure how far up the high tide rises.
Avoid setting up in vegetation. Not only is this bad for the habitat that lives in the area, but it could very well invite snakes and all sorts of animals into your sleeping area.
The best place to set up your tent when beach camping is a few feet out from where the vegetation meets the sand. Not only does this keep you out of other animals' habitat, but it also puts you out in a bit of wind. Some wind is good as it helps

keep the mosquitoes away from your tent

(and other bugs).
Avoid setting up the tent in the 'wet sand' or middle grounds. Besides the risk of swimming in your sleep due to high tides, you also will cop the full grunt of beach winds. An inferior tent won't survive the night!.
Find shelter from nearby sand dunes, cliffs and or your vehicle. Whatever you can use as a windbreak will be much-welcomed relief. Trust me on this one. While swimming in the wind is fun, try sleeping with howling winds banging on the tent walls. It's not pleasant.
How To Go To The Toilet When Beach Camping
Many people avoid beach camping because they are of the belief that using the toilet is impossible. While some people just do their business up in the dunes, I am not one of those people. I think we should all respect nature enough to not disturb it in any way, and that includes doing your business on their territory.
Some beaches, not all, include a public toilet and even have hot showers if you're willing to pay a few dollars for a short amount of hot water. So if you do your research beforehand, you can eliminate the beaches without public toilets and find the ones that do. Then you plan to arrive on the beach early so you can find a camping site close enough to amenities.
Bring Your Own Portable Toilet
However, I don't like to take the chance and be left stranded in the middle of the beach without access to a toilet. Packing your own portable toilet is the easiest and best route to take when going to the bathroom when camping on the beach.
It's as simple as setting up a single or double pop up shower enclosure and placing your toilet inside. I prefer double enclosures as I like to bring hot water along for having warm showers on the beach. There are a number of ways to get hot water when camping, so having a hot shower after a day playing in the sand and ocean is very doable.
The portable toilet options can range from a bag in a bucket, to a fully flushing portable RV type toilet. I have taken both types of toilets camping, and having the flushing option is certainly more helpful, especially if you are camping for a number of nights. 
Where To Dispose Of Your Toilet Waste
If you're lucky enough, the beach already has a public toilet close by. Some of these also include a dump point for disposing of your waste, including bins for your food scraps, etc. To empty a portable toilet, you just need to open the big round end cap and pour the waste into the dump point hole.
The special chemicals in the toilet make the waste turn to liquid material for easy disposal. A hose is often provided so you can wash out the inside of your toilet.
No Excuses To Not Go Beach Camping
So there you have it, the best tents for camping on the beach and some useful tips to help your first trip more enjoyable. Camping on the beach with a flushing toilet, running hot water and warm showers. Life doesn't get much better than this.