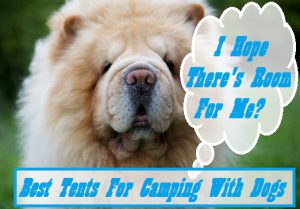 When it comes to finding the best tent for camping with dogs, there's two options in which you need to first decide on. This decision will vary from family to family as some pet owners insist their animal sleep outside. While others are quite happy to have their best friend in the same room as them.
The first option you have is buying your dog its own tent and Fido sleeps outside the adults tent. This option is viable if your dog currently sleeps outdoors or at least a fair distance from you at home. These camping dog tents are brilliant for keeping your dog safe and restricted to your camp site.
The second option you can go with is buying a tent suitable for your dog to sleep inside with you and the kids. Basically a family tent which allows for a dog or two. This is the type of tent we will be recommending today.
Compare Dog Friendly Camping Tents
Take The Family Hound Camping In This Tent
The Overland 10 by Slumberjack is a unique tunnel design tent specified to 10 campers. Or a large family and a dog. What I love about this tent and why I think it makes the perfect tent for camping with dogs is its design. I haven't seen a design like this before and I must say I am impressed.
The reason I think the Overland 10 makes a great choice for dog owners is that it is 3 separate rooms. With the entry being in the center. So if you have kids you can put them on one side of the tent while the adults are on the other side.
In the middle is where Fido the pooch sleeps. This middle room that zips up and is completely waterproof is typically used as a mud room. An area where you leave your muddy boots, wet clothing etc before entering into either side of the tent.But I think this area is perfect for a dog. In the middle of the family keeping everyone safe.
Each of the three rooms could fit a queen size air mattress, not that you will need that much sleeping space for pups. So there is plenty of sleeping room. In regards to ventilation, this tent is on the mark. It has both high and low air vents to help circulate air through the tunnel design. Brilliant feature and an important one. Plus there are large screened windows in the rooms to add even more air flow.
The windows zip up from the inside which is very good for when it rains. No need to go outside to zip them up. When you walk into the tent you will love how spacious it is. I'm talking about the head height on this tent. It's an incredible 10 feet of clearance, even in the entry door, so you never have to duck your head in this tent. My only complaint is that there is not enough storage mesh baskets. But overall, I find it to be great in the weather and perfect for the family and our dog.
Slumberjack Overland 10 Person Tent
Best Canvas Dog Proof Camping Tent
Canvas tents are the better choice if you dog is always jumping up on the walls. As their claws can easily tear through a nylon tent, canvas is the best choice in this situation. When it comes to canvas, theirs not too many better than the Kodiak Canvas Flexbow Deluxe
The Kodiak Flexbow is a 8 person tent made from superior materials. It's one of the best quality tents I've had the privilege of using. The quality doesn't finish on the watertight canvas either, it continues into the tent with some seriously sturdy steel poles. Not plastic or any inferior poles here, pure steel for a highly durable tent.
The sturdiness of the poles and the way the tent is designed makes this a one person set up. I'm not just saying this either, one person can easily set this amazing tent up.
Possibly the best feature about this tent is its ability to be used in both Summer and Winter. Kodiak uses a special tight knit duck canvas that has a silicon finish. Unlike any other canvas tent you may have used before, this stuff repels water, snow and wind. But also allows for air to breathe in between the tight knit weaves which help prevent condensation build up in rainy hot weather. Plus their are air vents to increase the air flow as well.
With this tent, you will have to have your dog sleep inside with you. There is no extra screened room (Like most canvas tents). However, there are entry awnings for extra protection from the elements. But as it is a very tough canvas, I have no issues with dogs sleeping inside this 8 man tent.
Kodiak Canvas Flex Bow 8 Person Tent
Best Dog Friendly Screen Room Camping Tent
When it comes to tents with a separate screened off area for pups to sleep in, I cant recommend any better than the Wenzel Klondike. I think its a great area for our dogs to sleep while us adults stay in the walled area of the tent. The dogs love the fresh air as well as being able to see whats going on around the tent. Keeps them entertained.
Area For Dogs
The screened area along with the rest of the tent has a bath tub style bottom. This means the tarp bottom comes up the walls about a foot or so. This keeps any water on the ground from entering the tent and in the dogs room.
The total foot print of the tent measures 16 x 11 feet and has a 6.5 foot high ceiling. The screened dog area is 60 square foot. So plenty of space for a small family with a couple dogs.
But if your dogs don't like to sleep in the open air, the Wenzel Klondike tent allows you to zip up the walls in the screened room. This essentially adds a second room to the tent. A very nice touch that not many tent brands actually do. So when it rains or is super windy, just zip up the sides.
The seams of the tent are actually sealed with waterproof. This is another feature many brands leave out to save on costs. Same as including the rain fly in the price. Some sneaky brands charge extra once you are at the register for the rain fly. But it is included here.
Overall I find the Wenzel Klondike a quality made tent with attention to detail. Very spacious and allows for two queen air mattresses in the rear of the tent. Has great air flow with large entries and windows. If I had to complain about one thing, that would be there are no 'E ports' like you find on some other multi room tents. It's certainly not a backpacking tent as its too heavy to hike with, but it makes for one of the best car camping tents on the market.
Wenzel Klondike Multi Room Screen Room Tent
Two Person Camp Tent With Room For Doggy
I love this tent, it suits me to the ground!. While it looks a little different, it serves a great purpose. Especially if you like to 'relax' on your holidays. By this I mean sleep in longer in the morning. Most tents will heat up quickly and allow the bright light to penetrates in one way or another.
But with the Coleman Carlsbad 4 person 'Dark Room' tent, sleeping in is no longer a light issue. The creative design f this tent or dark room technology as Coleman calls it apparently blocks out 97.5% of afternoon/morning sunlight.  Great for dog naps or cat naps as well. This design is also meant to make it about 10% cooler in direct sunlight as well. This is a feature I really do like. I can't stand sweating it out in summer.
When it comes to being dog friendly, the front screen room would be the place to be if your a hound. Zips all the way up to keep out the bugs, while also boasting a ruggered bottom. The only downside to this tent is that the screened room can't be walled off. So if it rains, be sure to have a tarp prepared to keep our beloved doggies dry.
While I'm sure there could possible be many more products to suit, these however are my recommendations for the best tents for camping with a dog. They suit my ideal features while also offering something new in each tent. Feel free to leave a comment below if you have any other suggestions.
The 'Dark Room' Tent By Coleman
Things To Consider When Buying A Pooch Friendly Tent
Tents with a front entry that is at the very minimum screened off is one option for doggy to sleep. Some tents have the foot print tarp bottom in this area as well.
Prevent dog claws from tearing through the base of the tent with some cheap interlocking floor mats. These are typically made of foam and will prevent Fido from tearing a hole in the bottom of the tent.
Invest in a dog bed for camping. This will not only help preserve the bottom of your tent, but will also provide a clean and comfortable area for your dog to sleep. Not to mention keeping the dog hair spread to a minimal.
A canvas tent will serve you better in the long run in regards to puppies claws scratching at the side of the tent. A bit more expensive, but normally will last longer than that of a nylon tent.
Live like a king?. Large sized tents come with separate rooms. This could be a good idea to buy a three room tent and keep Fido's dirt and sand to himself in his own room.
Ventilation is important for adults and our dogs. So be sure to buy a tent which has plenty of air flow.