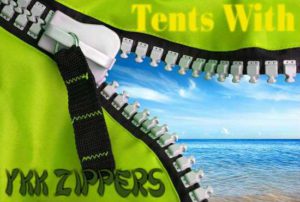 There's no doubt you have come across tents with YKK zippers before. There's a lot of hype around the YKK zipper and for good reason. But I'll get into that bit later on after we look at what brands of tents use these types of zippers.
The zipper is a relatively simple design consisting of two lengths of jagged steel teeth that work together to form what we've all become accustomed to. But if you've ever been camping in a tent before, you know all too well the importance of having good quality heavy-duty zippers are.
YKK Zippers are basically a brand of zipper born in the mid-1930s. These are the invention of a Japanese company that has long since guarded its secrets to making the best tent zippers in the world.
When you buy a cheap tent, don't expect it to feature YKK zippers. Chances are, the reason you're looking for tents with YKK zippers is a direct result of a tent that uses cheap and nasty zippers.
There's nothing more frustrating than trying to deal with zippers on the door or window of a tent when they get stuck, broken and even fall off the tracks. Having a bad experience like this can completely turn you off camping. In fact, it can completely ruin your day if you can't manage to get the screen door zipped up allowing bugs and mosquitoes to fly freely inside your tent.
The solution to this is to invest in a tent with high-quality zippers or simply replace the existing zippers with something more heavy-duty. But replacing the zippers yourself can be quite the chore. So scrapping the old tent and buying a new one may be a better option if you're not very talented with the sewing machine.
What Brands Of Tents Use YKK Zippers?
While I'm sure there are more brands than the 6 tents I have mentioned below. However, all of these tents specify that the tents have YKK zippers. Now if you're buying a tent online, these details are extremely important.
There's no chance I'm buying a tent online 'hoping' that the tent has YKK zippers. It needs to be clearly stated on the description page. Otherwise, I classify it as a tent without theses zippers that I so desire. Which is why I have just 6 tents listed below.
After sifting through literally hundreds of tents, these are the 6 brands of tents that I could find that use YKK Zippers:
Best Canvas Tent With YKK Zippers
Having a quality reliable tent is extremely important when camping, the last thing you need is something breaking from cheap manufacturing. This isn't what you get when you go with Kodiak tents as they make some of the
best canvas tents
on the market in my opinion.
There is a lot to like about the Kodiak tent that it's hard to know where to start with this review. It's designed to be breathable thanks to its 2 vents that help circulate air inside the tent. It has two large doors that have YKK zippers that also help with airflow, making this breath even better.
Good Size Tent
Looks can be deceiving at times which sums this tent up really well. It's a much larger tent then you'd think with it being 10 feet x 14 feet and has an 8 person capacity. Tho it's the height of this tent that really impresses me and will be good news for some taller people out there, with it being 6'6″ high.
It's a fairly heavy tent that does make it difficult to transport over longer distances on foot. It weighs a solid 79lbs which is including the stakes so it might be a bit too heavy for some people and their current gear set up.
This tent is really good at handling the wet weather compared to a lot of other tents on the market. You could still put your own water sealer on it if you want to take extra precautions, which isn't always a bad way of thinking. Especially with where some people choose to camp.
Being a high-quality canvas tent, you can expect to camp year-round. As canvas is great for retaining heat inside during the winter and takes less time to heat up in summer compared to your regular nylon tents. Plus the durability of canvas means you can expect this tent to last much longer than your regular tent. The heavy-duty YKK zippers are a great match for this tent as they too can last a long time.
Family Tent With YKK Zippers
Gazelle has knocked it out of the park with this tent that can fit up to 8 people. It's a large, high-quality tent that offers not only comfortable camping but reliable camping. It has a few extra features that are useful that other tents don't offer and that helps it stand out from the pack.
The tent is made out of nylon that is thicker than an average tent which works well when combined with its metal hub and fiberglass tent poles. This gives it a lot of stability and durability when it gets windy and lets it handle the wet conditions really well.
Having to clean out the floor of a tent can be frustrating to do and often people will just forego doing it because it's too difficult. This Gazelle tent makes this easy by being able to remove the floor of it, so you can easily shake out the dirt that's built up.
The ability to remove the floor as this tent does give it some extra uses that other tents don't offer. You can remove the floor on one side of the tent so if you take this tent to the beach, you can have your kids play on the sand and not risk too much time in the sun. This is useful for people who have babies who can't really run around on the sand being exposed to dangerous UV rays.
Large Instant Family Tent
Setting up this tent is really simple and doesn't take a lot of time which gives you more time to enjoy camping. While others spend an hour setting up their tent, you can have this Gazelle up in mere minutes. This is because its a large family instant tent. Meaning, the poles come pre-attached to the central hub. All that's left for you to do is raise the sides of the tent and the hub will do the rest of the work for you. Brilliant.
This is a big plus for people who're just looking to get straight into camping. As with all tents tho, it's easier with two people to set up. Finishing the tent with YKK zippers really adds that extra bit of value to this family-size tent.
Do note: This tent can come with or without the screen porch. If you don't need such a large tent, then just go with the hub. But as I do love my tents with porches, I will always opt for the larger version.
Bell Tent With Heavy Duty Zippers
This tent is one that really stands out when you have it set up and there's a good chance if you saw it while camping you'd be jealous! It's known as a bell tent or a
yurt camping tent
, which are designed to be used for extended periods of time, so they're good for those who like to go away for long periods.
Most tents have the weakness of only being good in a few seasons of the year, which is fine for some people. But if you're someone who wants to camp no matter the time of the year, you'll be happy to know this is a four-season tent. This is an important thing that makes it really stand out compared to others.
Great For Winter Camping
There is more good news for those who take a stove when they go camping. Since this tent includes a stove jack that's actually set up in a smart place for it. The 5-inch stove jack port is placed on the lower side of the ceiling so you don't need such a long pipe to emit the fumes outside.
White Duck made the smart decision to have this tent come in three different sizes which are 13′, 16'5″, and an impressive 20′ diameter. This gives it a lot of versatility as there are options for smaller groups and much larger. Having these kinds of options does set this tent apart in my opinion.
This is an extremely well-ventilated tent that is great for when your camping in the hotter months, with it's smallest size tent having an impressive 8 windows. The hotter months and camping can be quite harsh so having a good amount of windows does make this period a lot more bearable.
Backpacking Tents With ZKK Zippers
Looks can be deceiving when it comes to tents and this tent is quite possibly the poster child of that saying in my opinion. At first glance, it looks like a cheap unreliable tent and I wouldn't blame you for thinking that. Except this tent makes that saying look like a fool with just how good of a tent it really is.
For a lightweight 3 person tent, it's got a good amount of room in it with it measuring 5.6 ft x 11.2 ft. So it's a good amount of room for a couple of keen backpackers and also makes a great tent for someone who will be sleeping by themself.
Lightweight With YKK Zips
Lightweight is the name of the game when it comes to this tent. It makes a good trial tent with it only weighing 4.2lbs making it easy to carry. When it's packed down into its carry case it measures 6.5 inches x 19.7 inches making it fairly small for backpack camping as well.
The instructions on setting this tent up are a little hard to understand, but once you work it out it's an easy tent to set up. It's a little difficult to set up in the snow which, but you come to expect that when winter camping. However, having the YKK zippers really do assist in the colder months, especially if there's sow present.
It's surprisingly marketed as a four-season tent which you wouldn't think so by looking at it. It's possible to camp with this tent in the winter and also high winds. The sloped dome design of the tent with the front vestibule allows wind and gushing snow to blow over the tent. Rather than banging into the walls and potentially blowing the tent away.
Mier is a premium brand in the camping world, so it's no surprise that they include YKK zippers in their tents. When paying top dollar, you expect the best. Which I think Meri delivers quite well. Meir also includes the tent footprint with this tent, which is not something you come to expect these days. Quite a nice touch.
Hyke & Byke YoseMite Tent Review
These smaller 1 and 2 people tents don't get a lot of attention since most people want more room. I do recommend sleeping in these smaller tents as they off a lot of versatility that other tents don't do. They're perfect for people who are trying to save space and work really well for solo trips.
This tent is designed to be a backpacking tent. This is in big part thanks to it only weighing 3.26lbs which makes it extremely lightweight and very easy to carry. Combine this with how small it is when it's packed up makes this an easy tent to backpack camp with.
Since this tent is only meant for one or two people the set up is really easy to do. It's easy to set up with just one person which is a big plus in my eyes, as having a difficult set up can make a tent go from 10/10 recommended to 1/10.
Multiple Color Options
While this is only a small thing this tent does come in 5 different color options. This isn't a big thing but it's good to have these kinds of options, especially if you're considering this for your kid's tent.
Waterproofing is important in a tent and this tent has it thankfully. Tho I'd still recommend putting a coat of waterproofing on it yourself. You can never be too cautious.
You can set this tent up in the snow but it's not something I'd recommend. It doesn't have a snow skirt and if you know winter camping you know this is very important. So this isn't something this tent can very well do but it can do the warmer seasons easily.
2 Person Tent With Ykk Zippers
Mier has a habit of consistently making quality smaller tents. It wouldn't be a stretch to think they're the market leaders for smaller tents. They've done it again with this smaller 2 person tent which they made with quality components such as KYY zippers which are often overlooked.
This is a 3 season tent and it handles all three of those seasons really well with it being really breathable in the warmer months. There is a 4 season option if you like this tent and want it in a 4 season variant. But it's the 3 season version that's really impressive in my opinion.
The inner part of the tent is made up of no see-um mesh wall which is one of the reasons this tent is so breathable. Combine this with the ripstop nylon 15D rainfly makes this tent able to handle some intense weather tho it might struggle with the heaviest types of rain as it is quite a small tent.
When it comes to setting this tent up there isn't a lot to it which does make life easier when camping. It doesn't take long and only needs one person both big advantages in my opinion. Taking it down is fairly simple but trying to get it back into its carry bag is a little difficult.
The seams of this tent are really well done and quite durable. They're double stitched which does make a difference in terms of durability and the lifespan of the tent. Which to me shows that Mier has focused on quality over quantity. When you combine this with how they've reinforced the most critical areas of a tent, it makes this a very durable lightweight tent.
Feature Packed
Includes 2 hooks for hanging up a lantern and or fan
Lightweight, weighing just 4.6 pounds
Comes with a tent footprint
Double-wall tent for dealing with various extremities of weather
2 Doors which is rare for a tent of this size
Decent size vestibule for storing your boots and gear outside undercover.
Why Are YKK Zippers The Best
Now that we have looked over 6 tents with YKK zippers, let's look at what separates this brand from any other zipper brand on the market.
While a YKK zipper is a relatively simple design, it has only been in existence for about 100 years now. 17 years after the zipper was first founded, Tadao Yoshida from Tokyo founded YKK Zippers.
What Does YKK On Zippers Stand For?
YKK basically stands for the founder's last name and company. What it stands for is this: Yoshida Kogyo Kabushikikaisha . Which roughly translates to Yoshida limited company. So nothing special about what YKK stands for, it's just the founder's last name as the company.
Why Are They So Good Then
To put it in simple terms, Yoshida has never let the cat out of the bag and has kept his secret to making a quality zipper within his warehouse. As a result of this, high quality has always remained high. The problem with growing exponentially as a company is that you can lose focus on your quality control when you start outsourcing tasks.
Yoshida however, has never lost focus on maintaining a quality zipper since day 1. Over time, he has managed to bring every aspect of creating these zippers to be in house. This way, quality can't be compromised with outside sources.
Everything from smelting the brass to spinning and twisting the thread is done in house by YKK. Yoshida even went as far as to design his own custom-built machine to produce the zippers exactly how he wanted them. Pretty crazy for a tiny little zipper when you think about it. When someone pays this much attention to the small things, you know you're getting some serious quality as a result.
What Makes YKK Zippers So Good
There's one word that answers the question as to why the YKK zippers are so darn good, and that is reliable. Whether the zipper is to be used on a tent, sleeping bad or a dress if the zipper fails and becomes unreliable, chances are the product is completely ruined.
While you may not think that many people are concerned about the type of zipper used on a tent, you could be wrong. Once you have experienced the zipper from hell, I can assure you that there will be even more folks researching to find the best zipper for tents.
The reliability, the fact no corners are cut and that the zippers are made completely in house where quality is maintained, makes the YKK zippers hands down the best for camping. Whether it be for your tent or your sleeping bag. Always ensure the zipper is YKK if you want a reliable product.