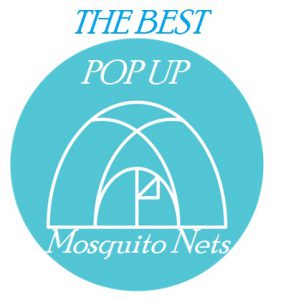 Keeping yourself protected from disease carrying mosquitoes is up there in regards to achieving a successful outdoors adventure. Whether it be camping, hiking or traveling around the world with just a backpack. One of the best ways to keep yourself protected while sleeping is by investing on the best pop up mosquito nets available. The
Kamp Rite Insect Protection System
is the best pop up dome style product I have used.
A pop mosquito net is a huge convenience for campers and backpackers due to the quick set up and lightweight materials. A camper can safely sleep in a tent or out under the stars without having to bug proof the entire camp site. A high quality free standing mosquito net will be sufficient in keeping the bugs away.
When looking to buy a pop up insect protection system like this, it's important to make sure you buy one that will actually keep the bugs out. How do you know this without testing one first?. Below I will be haring some of my trusty favorites.
But as a quick guide, here are a few things to keep an eye out for:
Has to be a free standing mosquito net. No point buying a 'Bell Net' if you have no where to hang the net from. This is the convenience of using a pop up net. You can set it up in seconds anywhere you like and be ready for a good nights sleep.
Mesh Hole Size: Most tent windows with mosquito netting have a hole size of 1.2mm. This is sufficient for stopping mosquitoes. But it won't stop the smaller 'noseeums' that can fit through. So when applicable chose a poop up net with 0.6mm hole size to keep the annoying 'no-see-ums' out.
Hole Count: The amount of holes per square inch is important for overall breath ability. A mosquito net with 300 holes per square inch is going to allow more air circulate inside your sleeping area compared to a netting that has only 150 holes per square inch. A 400 hole per square inch netting is going to stop noseeums. Which is ideal.
PRO TIP
Mosquitoes can get in when you least expect. For the best protection and defense against diseases like Malaria, Wear an Ultrasonic Mosquito Band while you sleep. This band will send out defensive signals to any mosquitoes nearby, ultimately creating a mosquito-free zone around your pop up netting.
Best Pop Up Mosquito Net Tent
A pop-up mosquito net tent is the ultimate insect-proof solution for campers and even backpackers. A pop-up tent like this is super simple to assemble and comes with a fully enclosed tent that is mosquito proof.
The best pop up mosquito net tent from my experiences has been the Kamp Rite edition. Suitable to sleep tall campers as the tent is 84 inches in length. Sleeps just the one camper as its width is 28 inches.
But what makes this mosquito net tent stand out from the rest is the fact it comes with a rainfly and weighs about 5 pounds. Many leading pop up mosquito tents like the "SansBug" don't include a full rainfly like this Kamp Rite. What this means is that you are protected from rain and wind when sleeping in the Kamp Rite. Which I think is extremely important if you plan a trip that involves sleeping under the stars. Weather can be unpredictable as we all know.
The other notable important aspect of this Kamp Rite is its weight and how compact it packs down to. Weighing about 5 pounds means it is light enough to take hiking and be used by backpackers. When it's packed down (Which is super simple to do) it can fit in most backpacks. Maybe not the smallest of small backpacks, but it's compact and portable enough to take just about anywhere.
Another great feature about this tent netting is that it can be used on the direct ground or on top of a camping cot. This model comes with a tarp floor which is waterproof to keep you dry when camping on the earth. But if you want to sleep on a cot, you can attach this pop up net to a standard size cot and sleep in ultimate comfort.
The no-see-um mesh that keeps even the tiniest insect out is very high quality. Good luck to anything trying to get into this insect protection system. Overall I find this is the best camping net a single camper could buy when looking into the pop up market. Lightweight, compact, great protection from both mosquitoes and the rain. This one will be hard to beat.
Kamp Rite Cot Insect Protection System
Pop Up Mosquito Net Double Size
When it comes to keeping the mosquitoes out of your sleeping space you generally need 360° protection. When sleeping outdoors or even indoors on top of a bed, many people opt for the drapes. Which is fine, but I don't find they offer the full 360° protection from insects.
Which is why I love this pop up double mosquito dome net. It's big enough for two people, can squeeze in a queen air mattress and offers all round protection from mosquitoes. The actual measurements are: 70″ x 78″ x 59″.
Because it literally just pops open, you can have a insect proof dome net withing seconds. Getting in and out of this dome net is very simple as well. The dome has two double sided zippers so that you can open from both the inside and outside. This makes it much easier to enter the dome with minimal insects following you in.
The netting is not the most heavy duty in the world, but it does stop mosquitoes from getting inside. The hole count is roughly 206 holes per square inch. So mosquitoes are not welcome with this net. The bottom of the dome is netted as well. So no chance of the blood suckers getting in. But this means you have to slide your air mattress/bed inside the zippered entry door.
The dome uses a thin steel frame that is flexible so that it easily 'pops' open and folds down into a compact and very lightweight 2 pound package. The sewing of the seems is well constructed. The only area I could foresee issues is if you have sharp items close to the edges of the netting. Avoid this any not mishaps should take place. Overall its a very simple dome mosquito net that works extremely well for travel and camping.
DaTong Pop-Up Mosquito Net Tent
Best Sleeping Bag Net Protection From Bugs
A very simple yet effective design suited to the travelers that pull up a spot anywhere and sleep on the ground. When you don't need arm room or head space and just love sleeping on the ground with maybe an air mattress, this is the mosquito netting for you.
Its a free standing mosquito net that follows the shape of your body. So it has a dome area around the top half so that you can sit up and not smack yourself into the netting. This is freestanding and held up by the three triangular walls. From there the netting slopes downwards to cover your feet area.
There is no bottom to this netting, which is a little annoying. But it comes with loops that you pin down into the ground to keep the dome mosquito net firm in place. From there you can just lay under in a air mattress or curled up in a sleeping bag.
Overall I find this product to be effective however I do prefer there be a base to it. A tarp or a tent footprint can easily rectify this. It's very easy to assemble but some folks have had trouble taking down. This is becasue of the 'twist' motion as you can see in the video below. Once you master this action, it's very easy to use.
Pop up Epa Approved Insect Shield Treatment
Best Free Standing Mosquito Nets
While there are many options available to the hiker, camper and backpacker, the above are what I consider to be the best free standing mosquito nets to suit any outdoors man. All three are very easy to 'pop up' and protect well against insects.
When camping, there are other forms of mosquito protection available as well. If you are a hammock camper, there are special mosquito nets that can form to just about any size hammock and provide 360° protection form these blood suckers. This is a great idea if you currently own a hammock.
However, if you don't yet own a hammock, the best kind to buy are the ones with mosquito netting already attached. This will save you from having to buy additional insect protection down the track. These nets create a bubble protection system around the hammock and are very easy to use.
Lastly, similar to these pop up mosquito nets, you can buy insect proof nets made for camping cots. Whether you need extra protection inside the tent or want to sleep out under the stars on your camping cot, these nets offer the best solution.