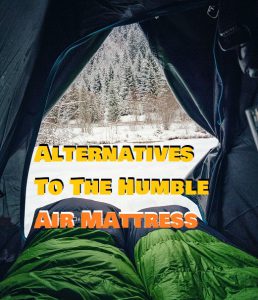 If you are looking for an air mattress alternative for camping or for your guests to sleep on, chances are you are fed up with springing a leak during the night and waking up on the hard earth beneath you. Or in the case of guest beds, the constant battle to keep them inflated.
Or perhaps the fact air mattresses don't retain heat all that well, so they can be quite cool to sleep on. Especially while winter camping. A well designed air mattress will repel the cold air and keep the warmth of your body inside the air mattress.
Nobody likes a cold sleeping surface, I get that. But there are ways to combat this if you are happy with the performance of your current air mattress, but you just don't like the cooling factor.
Airbed Alternatives Overview
However, some folks just don't want the hassle of potentially springing a leak in the airbed. Nor do they want to bring along a puncture repair kit. But if you buy an almost puncture proof airbed, chances are you won't be needing a repair kit anytime soon.
But if you're completely done with relying on air all together, what are the alternatives to an air bed?. Quite simply there are 5 options you can embark on. Below you can find out the alternatives on offer and along with it what I believe to be the best choice in regards to comfort, durability and ease of use. The following air mattress alternatives will be discussed in greater detail:
The Alternatives To Air Mattresses & Guest Beds
Guest Bed Alternatives
When you have guests stay over, it can quickly become overwhelming when you have to find bedding for them. Especially on short notice. Buying a brand new bed and mattress is just out of the question. They are bulky, expensive and take up too much room.
So whats the best guest bed alternative?. Well this will depend on the guest you have to stay over. Some folks are happy with the sofa, but others demand comfort and a supportive bed to sleep on. A double high air mattress that's good for bad backs with a built in 240v pump is one of the best options you can have.
An air mattress can be deflated and rolled up into a compact unit for easy storage. A double high bed will look and feel like a real bed so your guests will be happy. Chances are they will even comment on the comfort of the bed if you buy a supportive model.
Temporary Bed Solutions For Indoors

But if you don't like the idea of a air mattress and need other temporary bed solutions, you're in luck. These days you can get some pretty good air mattress alternatives, even for the guest bed.
The best temporary bed solution for guests in my opinion is the rollaway or foldaway beds. In particular the Zinus Memory Foam Resort Rollaway folding bed. This bed looks and feels amazing to sleep on. Guests will have no qualms getting into this temporary bed.
Whats cool about this bed is that it is designed to look like a box platform bed with your traditional cover, but it folds away for compact storage when not needed. A truly unique and brilliant idea. One the guests will love.
Awesome Folding Bed For Small Spaces
We haven't finished with the Zinus bed yet, this thing is too good just just leave it at that. So it looks like a box frame bed which is appealing to guests, but it is also a great folding bed for small spaces. It comes in either twin or narrow twin for small rooms or places with limited space.
The mattress itself is 5 inches thick. The top layer is 1 inch of the latest in memory foam technology; BioFoam. What this does is eliminates the problems traditional memory foam has. That is the lack of ability to breathe. With this BioFoam the mattress can breathe better allowing heat to transfer out of the bed and reduce sweat while keeping the mattress fresh.
Underneath the memory foam is 4 inches of high density foam. What this does is offer support to the guest. The top layer memory foam offers superior comfort while the dense foam keeps the body well supported.
But best of all, this folding bed is super easy to assemble. Can you screw on some caster wheels?. If so you're good to go. When it comes time to pack it away, you can tightly fold it in half and wheel it away into a closet. One of the best temporary bed solutions when comfort and compact design are required.
Zinus Memory Foam Resort Folding Guest Bed with Wheels
A Camping Cot Is The Best Alternative
Some may agree, while some may argue that a camping cot is the next best thing compared to an air mattress. Sure some of the military cots you may be thinking of are uncomfortable and often you can feel a metal rod running down your back as you sleep.
But not with actual camping cots designed for camping conditions. These cots are in a league of their own in regards to user comfort and ease of use.
The camping cot can come in a variety of forms to cater to all types of campers. Regardless of your size, height, income level there is bound to be a cot that's right for you. From the most luxurious cots to the cots with an incredible 600 pound weight capacity, everyone is covered. Even the kids can get there own kid friendly camping cot.
The Benefits Of Using A Cot Over An Air Mattress
Stability first and foremost. Provided you buy a decent quality cot, you can expect to sleep on a stable and safe camping bed.
Durability and longevity is greater compared to a air mattress. Again provided it's a high quality cot and not a cheap throw together made out of paper and sticks.
Can be made super comfortable with the addition of a memory foam pad which will be discussed further down.
No chance of leaking air during the night.
Can be warmer during colder nights as you are not in direct contact with the cold ground which absorbs your core body temperature.
Brilliant space saver. With an air mattress you loose 20 square feet of space roughly. With a cot you still have all that space for storage under the cot.
Disadvantages To Using A Cot
Can be bulky and heavy to carry around. But in saying that, you can buy a camping cot as low as 3 pounds in weight. But often the bulkiness of the steel frame can turn people off if you have limited space in the trunk.
Poorly designed camping cots can result in a horrible nights sleep. While you can throw a foam pad on top, you often can still feel the middle support bar through it. However, this is on the poor design models.
Not ideal for backpacking due to their size.
Memory Foam Camping Pads
So foam pads. We have all seen them at some point, but have you ever slept on one?. It can be a required taste on a traditional foam pad. These pads can be so thin, it feels like you are sleeping on the ground anyways.
However, not all hope is lost. One of the best camping nights sleep I ever had was on a memory foam camping pad known as the Laid Back Pad. This thing is incredible.
While just under 3 inches thick you may think it's too thin. But believe me it's not. This camp pad is unique in that it is open cell and closed cell memory foam. The open cell which expands and caters for any bumps and possible gravel on the ground. While the closed cell creates warmth during colder nights like no other.
The Laid Back Pad is quite roomy when you compare it to the more traditional narrow camp pads which I quite like. I'm not one for laying straight all night. It's 72″ in length and 24″ wide.
Because it is memory foam, your body heat is retained quite well compared to air mattresses. So if the reason you are ditching the airbed is because it's too cool, then you won't be disappointed with memory foam.
But the best part is that it uses no air at all so it can deflate or get punctured. What a relief. As a bonus it has connectors so that it rolls up quite tight and won't take up a heap of room. Certainly one of the best alternatives to an air mattress for camping on the ground or even on top of a camping cot.
LaidBack Memory Foam Sleeping Pad
A Open Core Self Inflating Pad Vs Airbed
A self inflating air pad or air mattress is a good alternative to an air mattress as it doesn't require the demand for any pump at all. No foot pump, no rechargeable battery or mains power required. Pure and simple, these things are a delight to camp with. They give you greater freedom in terms of how and where you sleep.
What they are is foam pads inside an encasement. By opening the valve on the pad, the pad self inflates to become a mixture of air and foam bedding.
In terms of comfort, these things rock. While not as thick as your traditional air mattress, they have the bonus of being filled with open cell foam. This foam expands as you open the valve and the air hits it. So it's a very nice and comfortable solution.
However, they can spring a leak like an air mattress. But are less frequent and a quality self inflating pad should come with a repair kit. They are typically warmer as well due to being made from foam.
Camping Hammock Versus Air Mattress
Most campers seeking an alternative to an air mattress may disregard the notion of sleeping in a hammock while camping. But trust me, it can be one of the greatest ways to truly enjoy the open air outdoors. But don't just go blindly into hammock camping, I recommend getting some hammock camping pointers first.
Unless you are buying a hammock on a portable stand, chances are you will be sleeping outside the tent. So when compared to sleeping on an air mattress, things can be a little more wild.
Dealing with mother nature can be your worst enemy. Strong winds, rain, storms and even extreme heat can put a damper on your camping trip. This is why you need to do some research ahead of time. Don't just buy the cheapest hammock on the market. Think about what you can expect when you go camping and make sure the hammock is up to the task.
To help you out, visit my guide to the best hammocks for camping conditions. This will run you through what you need from a hammock as well as how to protect yourself from those nasty insects.
That's right, hammock camping leaves you exposed for the bugs to go to town on your blood. That is unless you have utilized a hammock tent. These things are brilliant at keeping you 100% safe from mosquitoes and n0-see-ums. Is it a hammock?, or is it a suspended tent?. Who knows, all that matters is you are protected from the elements.
The Best Alternatives To An Air Mattress For Campers
Well that pretty much sums up a broad approach to the various substitutes for sleeping on a air mattress. While I didn't mention the humble sleeping bag, I feel the majority of you are looking for something a little more comfortable. So I hope these possible solutions come in handy to you.
While personally I am a big fan of air mattresses, I can absolutely see the benefits and desires for alternatives. At the end of the day, it's what works for you and your situation. Feel free to comment below for any other alternatives and options other campers may find beneficial.