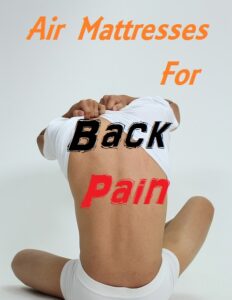 Before I bought my recent permanent bed I always looked for reasons to sleep on my air mattress.
For people with bad backs
looking to find the best air mattress for back pain reduction then you too will understand why in a second.
My air mattress use to do wonders for my lower back problems. But the problem was, I couldn't use it all the time as my Wife didn't like the feel of the air bed on a permanent basis.
So any chance I could sleep on my air mattress I would. Simply because it was far more comfortable for my back then my previous bed was.
Not too many people are aware of the benefits an air mattress has for people with back pain or problems. This is because a high quality regular style bed has many great options to relieve lower back problems, but only people with deep pockets can usually afford such a bed.
Hence why I loved the air mattress back pain treatment as I call it. An air mattress is considerably cheaper than those high end beds which do actually relieve back pain. But it's the high ticket price which makes them unreachable for many Americans.
So before I share the air beds I found to be best for people with bad backs lets take a look at why air beds do such a great job for painful backs.
Quick Comparison For Airbeds For Bad Backs
| | Sizes | Features | Price |
| --- | --- | --- | --- |
| | Twin, Queen, King | Double High, Build In Pump, Comfort Coil Tech. | Check Price Amazon |
| | Queen | Secondary pump automatically inflates bed when loses air, 22" High on instant bed frame. | Check Price Amazon |
| | Twin, Queen | Double High, Air Tight System, Plush Topper | Check Price Amazon |
| | Queen, King | Fully Adjustable Air Chambers With Memory Cell. Permanent Airbed | Check Price Amazon |
Benefits Of An Air Mattress For People With Bad Backs
Adjustable support levels. On these air beds you can instantly make the mattress more firmer or softer in mere seconds. So match the support to the requirements of your body for a customized sleep. A premium permanent air bed will even allow you to customize each side of the bed to you and your partners preference.
Unlike traditional beds, an air mattress doesn't have springs that dig into you while you sleep. A quality air mattress will have inner air coil channels which provide full body support. These unique air coils offer a more balanced and overall support system than what you may currently experience.
Extremely comfortable to sleep on, especially when you team a quality air bed up with a quality memory foam topper. It's literally like sleeping on a cloud.
Air mattresses no longer belong just to campers. These days you can get double height raised mattresses that resemble a real bed in height,length and width. With advanced technology, more and more people are turning to air beds as a

everyday bed

. For people with bad backs or back pain I highly recommend you buy a raised double height air mattress. This will relieve the stress of bending down to get into bed.
Best Air Mattress For Back Pain Sufferers
The Sound Asleep Dream Series
Generally speaking the Dream Series by Sound Asleep is a remarkable air mattress, but for people with bad backs I don't think there's anything better. What makes this air bed so good for lower back pain sufferers is the comfort coil technology.
The comfort coil technology boasts an amazing 40 individual air coils (40 is a premium number of channels) which provide outstanding full body support. These 40 comfort coils act as vertical air flow channels which create a soft beam like structure.
This is the foundation and the support for which you lay on. By having 40 individual air coils you are getting the complete full body support. Which is great for people who have back pain from uncomfortable spring coil beds.
More About This Super Comfortable Airbed
Naturally the Dream Series is a double height raised air bed for reduced bending whilst entering and exiting the bed. But as this is an indoors bed ideally, there is a camping edition available which has the same comfort coil technology, but is only a single layer mattress.
The materials used to create this bed seem like super heavy duty thick and durable. The base is a sure grip material to keep the bed from slipping around on flat surfaces and the top of the mattress is waterproof and flocked. Meaning it has a soft to touch, noise free topping.
The combination of the strong materials and the comfort coils make this bed a very sag free air mattress. Even when you sit on this bed on the outer edge. The strength of the air coils and the thick top can actually support a human and no sag down like on so many other air beds.
Overall I can't get enough of the Queen or King Size Dream Series air bed, but I guess it there was one thing we would change about this bed is it's pump. While this pump will be suitable for most persons, for people who intent to use this air mattress for extended periods to recover from back injuries or sleep better with current back problems, I believe a NeverFlat pump would be better. But other than that this is one brilliant airbed which is also extra long to suit tall people as well. A highly recommended air mattress for people with back pain.
Sound Asleep Dream Series Air Mattress
Alternative Air Mattresses We Recommend For People With Bad Backs
Long Term Air Mattress – Back Pain Sufferers
If you're looking into a longer term solution for your back pain, the air mattress to take into serious consideration is the EZ Bed by Insta Bed. It's one of the best queen size
air mattress on a frame
. There are a few reasons as to why this bed makes for a better long term solution compared to the above Sound Asleep.
Sits Higher
One of the problems with an air mattress is that they can sit low to the ground. When you have a bad back, this is a serious no no. Which is why this Insta Bed stands out from regular airbeds.
The mattress sits on top of a frame adding extra height. In total, the top of the mattress sits 22 inches tall. Which assists people with back pain as you don't need to bend down so low to get into bed.
Never Deflates/Always Firm
Probably the most important feature of the EZ Bed is that it includes a secondary pump. For this to operate, you need access to power, so not ideal for camping.
What the secondary pump does is automatically inflates the air mattress to your desired level of comfort for you. Even during the night when you're asleep. If the sensors inside the air mattress register that it has lost any air, it will silently turn on and slowly inflate the mattress back to your level of firmness.
No Stress On Your Back Setting Up
Assembling the bed is real simple. Unfold the frame and plug it into the wall. Turn it on and the frame and deflated mattress will transform before your eyes into a fully functional bed. Best of all, you can make the bed always firm, which is ideal for back pain sufferers.
By simply turning the switch to the right, you are telling the sensors that you want the bed firm always. This is a game changer for people with bad backs, to have this level of support and it to be automatically inflated to this level.
The Insta Bed EZ Bed
Best Camping Air Mattress For Bad Backs
A bad back doesn't just disappear when you head outdoors to go camping. Often a bad back can play up more when you're out and enjoying life due to the extra activities like hiking, rowing, fishing etc. So it's especially important that when you get back to camp that you have the
best camping air mattress for your bad back
.
I get a lot of pinched nerves in my back from my line of work and when combined with my lower back problems, movement can be quite painful. But I don't let this stop me from enjoying the thing I love most, camping!.
But I must have a supportive airbed with me during these times of discomfort. A cheap and nasty air mattress will certainly not help my cause. So over the years I have tried a few air mattress out. To get a feel for what is the best for my bad back.
The air mattress I think is the best for camping with back problems is the Coleman SupportRest, otherwise known as the QuickBed., which can be found on amazon here.
Overview Of The Coleman QuickBed
I recently did a review for the QuickBed by Coleman but it's such a great air mattress for camping I will do another overview again.
This air mattress is known as the Support Rest or Quick Bed depending on where you live. It comes in either a twin or queen size and is a double high airbed. Its of similar design to the above indoor use Sound Asleep Dream Series, but this Coleman is better suited to camping.
This is because it doesn't have a built in pump that requires electricity to operate. Problem with these types of beds is that if you're out camping and don't have access to electricity, you can't pump up the bed. Most don't allow external pumps either. Which is why the Coleman is a better choice for camping. Provided you have a pump that uses batteries or has internal rechargeable batteries of course.
Why The Coleman QuickBed Is Good For Bad Backs
Retains Air
The last thing you want when you've had a tough day camping is to sleep on a bed that deflates overnight. This can do some pretty good damage to your back when you wake up on the hard floor.
The Coleman air mattress is guaranteed to never leak air. Which I can vouch for. I slept on this bed for 4 nights in a row and not once did it lose air. So the pump never had to come out again. Which is quite impressive for a double layer airbed that requires a lot of air to inflate.
Provides Superior Support
Much like the above Sound Asleep air mattress, the Coleman SupportRest utilizes an internal coil support system. These are internal air coils that provide the support needed for someone with a bad back. Without proper support, your body can put too much pressure on the affected muscles with a downward motion. Which causes greater pain and sometimes can cause further damage.
But whats awesome about this bed is two people can use it at once, even if both of you have bad backs. The air tight system and the support coils do a fantastic job of making sure the air mattress doesn't bulge, move, shift shape etc.
My Wife tends to get up multiple times during the night to go to the toilet. Even in the pitch black I couldn't notice her get out of bed. On other mattresses the air inside the bed would move and wobble the bed around. But with the Coleman, I barely felt a thing.
This bed is so well supported that you can sit on the very edge of the bed without it sinking down. I'm a edge of the bed sleeper and I mean literally. I'm almost hanging off the side when I sleep. But this didn't cause any discomfort from the airbed. It was amazingly supportive.
When Camping, Your Back Will Thank You
Because this air mattress is double high, the strain on your back is also reduced when getting in and out of bed. But you will need to make sure your tent allows for the extra height of a double high airbed. Smaller tents with angled walls may pose an issue.
But overall, I couldn't be happier with the Coleman SupportRest air mattress for looking after my back pain. If you're thinking about going camping, this is the one. But it's not just a great camping air mattress, it makes a awesome guest bed as well.
Coleman Double High Queen Airbed
High End Luxury Air Beds – Amazing For Bad Back Pain Problems
Relieve The Sore Back Every Night.. But There Is A Cost
I won't lie to you, the following air beds which I highly recommend for back pain sufferers may shock your bank balance. They are known as
permanent adjustable air beds
and they are used as full time replacements for the standard bed you sleep in now. So they are not at all portable, forget taking these things camping.
While not portable, you will not find a more comfortable nights sleep then on one of these air beds. They are so much more than what you can imagine. Possibly even when it comes to their price, however we have sorted through the best adjustable air beds and have found just 2 that are awesome value for money.
These are the air beds you and your partner having been searching for. They have remained a secret for far too long, so it's now time everyone knows about them. These are the dual adjustable dual chamber multi level unique clouds of comfort.
Each side of the bed is adjustable to multiple levels of support. So you can have your side of the bed set to your ideal support level while your partner can set it to their desired support level. But then there's layers of unique blends of memory foam and latex which create this amazing cloud like comfort.
I know all to well that money is an issue for many of us, but if you are serious about relieving your back pain and have the money to spend. I couldn't recommend another air mattress more than I do these 2 luxury high end airbeds. In our opinion they are simply the best air mattresses for bad backs the world over. Read more about them and get our in-depth review below.
Why An Air Mattress For Back Pain Can Help
Not every one is aware of the discomfort a mattress can actually cause them. It's not uncommon for a mattress to contribute to back pain. Which is why some people turn to an air mattress for back pain as a way of relieving the discomfort.
If you wake up not feeling right immediately and experience discomfort around your hips and back, this could be caused by your mattress.  An effective method to get a better idea as to whether you should give an air mattress a chance is to stretch your muscles as soon as you wake up feeling this discomfort.
If stretching out or talking a short walk around the house helps relive the pain you felt in your back when you initially woke up, this is a good sign. What this does is tells you that the muscles were stressed and under pressure during the night.
A mattress not suited to your body can cause this kind of stress on your body. So the fact stretching in the morning helps relives the pain is a sign that you may need a new mattress. So why not give an air mattress a try.
Air Mattresses Can Be Very Supportive
Its long been said that a firmer mattress is better for people with back pain. In recent times, studies have shown that a medium firm mattress can benefit people with long term problems with their lower backs. But regardless, a soft plush mattress is not ideal.
When people tend to think of an air mattress, they think of a soft deflating mattress not suitable for supporting your body all that well. But contrary to this, a quality air mattress like one of the ones mentioned above can be highly supportive.
This is because of the internal air coil structures. They act in a similar way to regular inner coils on a mattress. They air basically air springs that hold up you body provide optimum support. They don't just squish the air down the other end of the airbed.
The coils stay supportive with strong air chambers to provide the support needed. Also, you can manually adjust the amount of firmness a air mattress provides by simply inflating it more. So finding that medium to firm ideal level of support is much easier with a air mattress.
Sure, air mattresses will leak air overtime. But if you buy a decent quality airbed with a quality air valve system you can get multiple nights of use without needing to inflate the bed again. At the end of the day, adding a little bit of air to the bed so that you get a much better sleep for your bad back is worth the small annoyance.
Always Consult Your Specialist
While an air mattress may help one persons back pain, it may actually assist in enhancing anothers. If you currently experience frequent back pain, its highly recommended you consult with your physician before you make any change, whether it be a regular mattress or an airbed.
Save