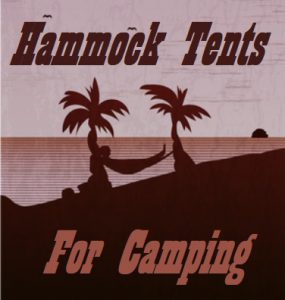 There's hammocks and then there are the best camping hammock tents which completely revolutionize they was you plan your next outdoors adventure. With these reviews found below, you can assure yourself that in the warmer months of 2018, you skin won't be the target for thousands of mosquitoes and bugs alike.
These one person hammock tents are the perfect getaway for short term stays. Not much planning is needed and they are super portable. They eliminate the excuses to not camp as much as you would like.
Because they are so portable, bug proof and comfortable, you have very few limits as to where you can sleep the night. Some even come on stands eliminating the need for two trees. Similar to camping cot tents but with one main advantage. Height. Sleeping above the ground is a sure way to stay out of the creepy crawlers lurking on the Earth's bed.
The last element to consider when you want to buy a hammock tent is whether or not it comes with a rainfly. From my experience, it's well worth spending a little extra to get solid protection from the rain. While it does limit the sleeping under the stars feel, it's better than getting completely drenched from the unexpected downpour. With these elements fresh in your mind, lets take a look at out top rated hammock tents for camping.
Best Camping Hammock Tent With Rainfly
When it comes to hammock camping, protection from the mosquitoes and flying bugs is an absolute must. Especially if you live in Florida. This is a bit of a no name nylon hammock, but with a twist.
It comes with both mosquito netting and a rainfly to protect you from wet weather. This is all possible due to the tent like poles. Without this design, the netting would lay on your face and body. Nobody wants to sleep like that. But, with this tent style hammock, the bendable poles go through the loops to create a capsule like sleeping environment. They raise the netting and the rainfly a couple of fee away from your face providing a firm and bug free hammock experience.
The thing I probably love the most about this product is its simple to set system. It took about 5 minutes to read the instructions and get this hammock up and away. Compare that to setting up a hammock with an external rainfly and the time will be much greater.
Part of the speedy set up time is down to the hammock straps that come with it. It doesn't matter if you can reach over the trees branch with this design. Wrap the hammock straps around the trunk of the tree and you're good to go. No messing around just a simple and easy design that pretty much allows you to set up base camp just about anywhere.
The rainfly gets thrown over the top and is attached via clips. Again, very easy to do. There are 2 storage pockets, one on the inside and one on the outside. This comes in handy for when you need to exit the hammock in darkness, as you could store a torch in the external pocket. Speaking of light, inside the tent are two hooks which you could attach a lantern or a book light too.
Overall, this is a well good designed hammock tent which ticks all the boxes. It didn't cost an arm and a leg either. Combine this with the features and the quick set up, I don't think you can get a better hammock tent for hiking, camping, fishing by the river, or even if you are motorcycle camping. Highly recommended.
*440 Lbs Weight Capacity
Outdoors Hammock Tent For Hiking & Campers
Weighing just 3.3 lb, this hammock tent by Crehouse is comparable in weight to a
lightweight air mattress
. This green and black tree suspended tent is not only awesome to look at, but is as comfortable as sleeping on air.
With anything related to camping, you got to make sure the product is waterproof. The Crehouse passes this water test with flying colors. It also has a nice mosquito netting to keep out the biters. When all is said and done, the overall hammock breathes nicely, even with the rainfly on.
Similar to the above hammock tent, this one too comes with the poles to create a cocoon like tent. There are guy lines included which help keep the whole tent stable and prevents it from top sizing. Even when you just have your backpack and gear in it, the guy lines keep it nice and steady.
This hammock tent also comes with hooks for hanging a light on the inside. Which looks amazing with the bright green rainfly by the way. The rainfly was probably the most impressive thing for me with this model. It is really high quality, kept the rain out and also helps keep the humidity level down.
Combined with the lighter and more breathable base of the hammock, it makes for one nice and cool sleeping spot in the warmer months. In the cooler months, I would recommend bringing a self inflating pad to counteract that breathable material and keep the inside warmer.
Best Double (Two Person) Hammock With Mosquito Netting
Wow, if you want an extra large hammock tent that delivers high quality, the look no further than the Everest Active Gear hammock. This is the best hammock with mosquito netting 2018.
This thing is huge, tow people can easily fall asleep in this comfortable ergonomic hammock.Although the weight capacity is only 400 pounds, so do be careful using this with 2 larger folks.
There's two things that impressed me the most about the Everest over any other hammock tent. They are, the stitching and the bug free mosquito netting. While everything else is still high quality, it was the fact these guys triple stitch their seams. Double stitching is the normal among quality products, but to triple stitch means you are going to have a hammock that will last even longer.
The bug netting used on this hammock is also premium quality. It's 'No See Um' netting is 31gm compared to the normal 16gm used on most other netted products. With the 31gm you get 2100 (Roughly) tiny little holes compared to less larger holes on the 16gm nets. What this means is, those tiny little no see um bugs that drive us all crazy won't be able to irritate you this camping season. No bugs, no mosquitoes, no worries!.
Believe me when I say this hammock is everything I wanted and much much more. The high quality features just keep coming from the YKK zippers that won't get stuck on you and the non rip nylon materials used. To be honest with you, when I saw the price on this hammock tent, I instantly thought it was too cheap to be good. Fortunately I was wrong and this thing will make all your camping buddies jealous.
The Best Hammock With Mosquito Netting For One
OK, I get it. Not everybody like to lay in the hammock with their partner. I don't either, I feel it's not as relaxing and can be uncomfortable. Either way, if you need a hammock with mosquito netting for the solo camper, hiker, backpacker etc. My recommendation is the Go Roam Outdoors version.
Unlike the other two hammock tents which used poles to keep the net off your face, the Go Roam Outdoors model uses elastic guy lines. They run horizontal with the a hammock to provide a spacious capsule like sleeping space.
Being able to handle loads of up to 500 pounds, the straps on this hammock are quite heavy duty. However, the only downside to this is that they are slightly shorter than what I would have of liked. They are about 10 feet long, which can make it tricky to find trees that close together in some parks or camp sites. One can always buy longer straps if need be tho.
Again like the above Everest hammock tent, this one is of equal quality in my opinion. The price is also very affordable for the assurance of a premium product. I do like how this comes with 2 carry bags. Certainly makes life easier when setting up and taking down the tent. Which only takes minutes. But the two bags carry the hammock itself and the other bag is for the equipment. Overall I am very happy with this hammock tent due to it's premium quality, heavy duty straps while short give me confidence being a larger guy and the bug netting was just perfect. Once you have owned this product and used it a few times it's easy to see why I include it in the best camping hammock tents buyers guide.
The Bottom Line
If these hammock tents haven't really taken your fancy, don't be put off. There are quite a few on the market. In out complete guide to buying a hammock for camping, you can discover some more highly respected brands in the industry that offer netting an much more. Choosing the right hammock for you is not always easy. So do your research, read the reviews and most off all, compare prices.