I had been eagerly awaiting the day our toddler could began toddling about, the day he could toddle through the wilderness as a curious outdoors person just like Mom and Dad.
Truth be told, camping was was on the first things me and my Wife were excited about when we had our first child. We knew we had to wait a couple years which gave us plenty of time to prepare a detailed camping with toddlers checklist.
So before you head out to the campsite, you will want to ensure that this trip goes as smoothly as possible and one that creates many happy memories. This is achieved by having your own camping with toddlers checklist.
The secret element to a successful camping trip is the level of comfort your toddler endures while being out of their comfort zone. Having the right size tent will make a world of difference.
If you're a family of five, these tents here are perfect for 2 adults and 3 children, even toddlers.
The following checklist has some important pointers for your family camping trip that can make it more enjoyable for the smaller members, and make all important considerations easier on the parent.
The Basic Toddler Camping Equipment To Bring
During the hype and emotion of packing for your first camping trip with your kids, forgetting the basics is quite common. So I like to pack for my toddlers in 2 stages. The first stage is being the 'essential items'. Which are day to day necessities regardless of where we are. These items are needed whether you are out camping, shopping, visiting a relative etc. So don't overlook the basics.
The second stage of packing is more camp related items. Things that will keep my kids safe while offering them plenty of activities to do while away from technology. These items can be found in our more general camping checklist for kids.
Basic Toddler Items You Mustn't Forget To Pack
Disposable diapers and swimming diapers. Naturally this is only relevant to kids in diapers still. Without the comfort of a washing machine on hand, disposable diapers are the way to go. The swimmer versions are great if you plan to go swimming in a public pool as they better protect from any leakage.
Baby wipes go hand in hand with diapers. But bring a lot extra for camping. Without the easy access to running water over a kitchen sink, the baby wipe becomes very handy for cleaning grubby hands, faces and also wiping down the table etc.
Pacifier if you toddler still uses one. Nothing worse than a tantrum half way through the trip because someone forgot the pacifier.
Regular household pajamas. My 2 year old is quite picky when it comes to clothing. So in order for a easy transition to sleeping in the woods, make life easier on yourself and bring your child's favorite pajamas.
This is also the case if your toddler has a favorite nighttime sleeping teddy.
Pack it all in a kids backpack. Not only does this make it easier for transport to and from the campsite, but my gosh kids can be independent when they want. If they see you wearing a backpack when going out for a hike, guess who also demands one. That's right, the kids. Plus they can help carry some lightweight gear too.
More Camping Focused Things To Pack For Toddlers
Camping is a great time for learning about the heat from fires, the itch from poison ivy, the difference between the berries at home and the berries in the forest and all about the fascinating and venomous insects that thrive in the wild. While, these lessons will be covered at length.
It is important to remember what a dangerous environment you are in and anything can happen. The most important things you will want to carry with you is the suitable First Aid Kit and all manner of cleaning agents, band aids and any other treatments and medications that would make the trip painless and enjoyable. Camping safely with kids is very important.
With this in mind, you must remember that your little tyke will see things much different when they face the wild. It's huge out there, especially to youngsters. So there is far more chances for accidents for them compared to a grown adult likes yourself. And furthermore, what could be a minor setback for older hikers, could be life threatening for a little person.
Mosquito Bracelets Are Perfect For Camping
Depending on the season, there may also be zounds of voracious blood-sucking parasites waiting to swoop in and carry away your child. Exaggeration maybe, but protection is certainly needed.
You may have not heard of mosquito repelling bracelets before. They are relatively new to the scene but are a great way to fend off the annoying mosquito bites.
While they aren't the complete mosquito protection system, they are a great additional line of defense against these blood suckers. So for general activity while in and around the camp site, the bracelets constantly work to keep the bugs away. Plus because they come in some pretty funky colors the kids simply love to wear them. Check out the best mosquito bracelets here for more information.
Itch & Rash Cream
As a side affect to mosquitoes and bugs, your toddler is bound to come away with a bite or two from those pesky insects. So to lighten the burden, don't forget the rash cream for bites and itches.
Kids Don't Need A Tan
Solar exposure will be a big problem as there is sometimes little shade and lots of sun. That is unless you reside in your tent all day. But that simply is not camping. Sunscreen for our toddlers can often be an after thought. So ensure you pack this item immediately. Packing the small roll on sunscreen tubes is also very convenient for activities away from the camp site as they can fit in your pocket.
Think in Layers
It may be the middle of summer, but a sudden chill can suddenly bring the threat of cold exposure. It could be the dead of winter, but suddenly out comes the sun and you need to adjust to the warmth. This is when considering appropriate clothing in layers is the best idea. Don't forget the swimming suit in case the weather is just right.
A Camping Bed Fit For A Toddler
One of the most important things you can add to your checklist for toddlers is an appropriate camping bed. Not only is getting a good night sleep important for the energy levels of the youngster, but also the parents. If you're tired during the day after a bad night due to the kids not sleeping well. Nobody wins.
So the toddlers comfort during the night is critical to an enjoyable camping experience. How is this achieved?. Special camp beds for toddlers have been made with comfort and the youngsters safety in mind. The Shrunks travel airbed is the best out there for camping with a toddler in my experience. It's comfortable due to being air inflated, but also has side rails to keep the little one from rolling off during the night.
Air mattresses are great because they are easy to carry around. But, if your foray into the unknown will be shorter than most, some people have found that the child's cot is actually a better idea. Cots don't need to be inflated and deflated and this may improve the convenience of your outing.
The selection of kids camping cots found here, you can find bunk beds suitable for camping. So if you have a toddler and a older child, this is a great space saving solution.
Bringing Food For Your Toddler?
Wet wipes will be your savior from all the falls and tumbles and little hands getting sticky with BBQ and cook delights and all other messes great and small. But, you will want to have more food than necessary as well as you never know how the appetite can change on the road and you want plenty of options.
Take plenty of water as well, consider the spot you will be visiting and try to predict as many of the needs as you will have. I personally have had great success in precooking food items and flame heating them onsite. From oatmeal, to chili beans and fried chicken there is hardly anything that doesn't taste better with some smoky goodness.
A traditional camp dutch oven is one of the best camping investments you can make when it comes to eating on a budget in the outdoors. So many foods can be cooked using just one pot over some hot coals.
Toddler Safe Tent Is On My Camping Checklist
The importance of a top-quality tent is absolute, but today the modern camper can avail themselves of protection that is laid out below the tent and other perks that make camping especially comfortable today.
But if this is your first camping trip since your toddler was born, chances are your current tent is not kid friendly. A two person dome tent simply will not cut it anymore. Plus toddlers can be very demanding when it comes to sleeping in the great unknown (outdoors). So your tent needs to feel 'homely' or there is going to troubles come bed time.
Lighting is an important factor and having too much is better than too little, especially when toddlers can misplace small objects, like the car keys, and this can really put a damper on the outing.
Plus most kids like to fall to sleep with a light on. Or at least a dimmed light. Sure you can bring a light source of your own, but can you imagine a tent with a built in lighting system?. I can, and it's called the Coleman 6 person Elite WeatherMaster. With different light settings you can set it to dim while your kids get to sleep. Certainly one of my favorite family friendly tents.
Don't Forget Entertainment
You never know how small children will react to the great outdoors, but you will always want to have a good selection of books, toys and games to have on site to ensure there is never a dull moment.
Some kids provide this exciting atmosphere for themselves, others need some coaxing to take to unfamiliar ground and waters, so it's best to have plenty of options for everyone. This will be especially important if you are taking a trip with more than one child with a significant age difference as sometimes a single activity will not be suitable for everyone, but all need to be entertained.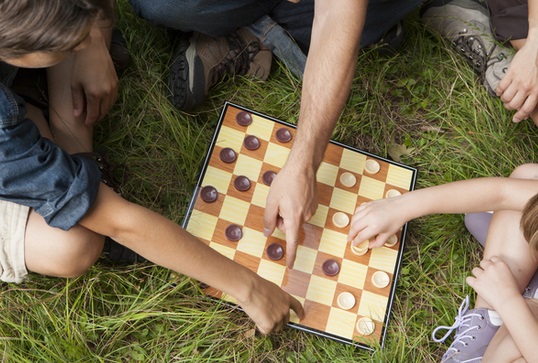 Extra Protection from the Elements
If you will be out of doors for an extended period you will need to be kept safe from the hot rays of the sun and the possibility of a sudden shower. An extra tarpaulin will do for the campsite, but if you will be spending a day on the beach or exploring the wilderness, you will need to carry along a water proof clothing option as well.
For this matter, consider that your small children can get very tired very quickly and plan to take breaks, allow them naps and arrange for all this to be as comfortable as possible. Bringing portable water bottles for your toddler is certainly a must when it comes to camping.
Have Any Other Tips For What To Bring When Camping With Toddlers?
While there are quite a few things on this checklist, there are always going to be more items I could mention. Everyone will have their own unique camping checklist. So if you have an item not mentioned above, please feel free to offer your suggestions below in the comments. Other parents and I will greatly appreciate it.