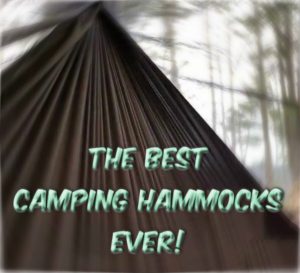 This is the complete buyers guide to the best camping hammocks in 2023 going into 2024. We will go over the best equipment needed to undertake a successful camping trip this season.
But choosing a hammock for camping is not as straight forward as you may think. There are a lot of elements involved in making the best choice for your situation.
So with that said, we will also be providing tips and tricks for hammock camping. It's often misconceived that all you need to take with you is a simple hammock.
More often than not, this is wrong. Unless you are in the lucky 10% of people where you pick the perfect day with perfect weather to go camping, you are going to need to think further than just a hammock. This is what I aim to present you with today to help you choose the top-rated hammock for camping in 2023.
Tips For Choosing A Quality Camping Hammock
Nylon Hammocks
When starting out, a simple nylon hammock will do the job. These are relatively cheap and are quite durable. They often come in a small carry pouch that you can hold in one hand. So they are very lightweight and great for hikers and campers alike.
But the problem with nylon is that it is not very well insulated at all. Because you will be suspended in mid air, the air flows underneath you and all around you. So in colder or windy conditions, this can cause the heat from your body to be literally sucked out of you. Nylon is paper thin, so the insulation is not the best in this case. But overall, a nylon hammock will be sufficient for the beginner hammock camper. They are lightweight, compact and very simple to set up.
Hammock Straps
Depending on what hammock you decide to buy, you may need to invest in decent hammock straps. Some hammocks come with these straps which is ideal. But some also come with para cords. Or you may even already own some para cords.
I don't recommend using these cords because they stretch. Simply put, you could end up near or on the ground by the time the sun rises. Para cords are not the best for strapping off your hammock.
Hammock straps that are made of thick and durable materials are the better choice. What they do is allow you to wrap the cord around the tree and adjust the height to where you like. this makes a strong and stable apparatus to hook your hammock onto. These straps can also come with built in loops or hooks so that you can further adjust how tight and high your hammock is off the ground. Without ever stretching like a para cord.
Hammock Under-quilts
Not too many first time hammock campers

have heard of a under-quit. But if you decide to go with a nylon hammock, an under-quit is almost a requirement as well. What they are is a quilt that is strapped underneath your actual hammock.
What this does is gives you an extra barrier of wind protection. As mentioned earlier, when the cold breeze blows in, your body heat is extracted and you will freeze your backside off.
This under-quit is the solution to keeping warm with a nylon hammock. Some under-quits an act as a sleeping bag, while also can turn your hammock into a pod-like bed. So the quilt goes underneath and over the top of your hammock.
When using the under-quilt underneath the hammock, it acts as an insulted barrier between you and the cold wind. This is because they sit a couple of inches below the hammock. This pocket of air that is trapped is kept warm from your body heat. This is an absolute must for camping in winter.
Prepare For Insects
While camping is one of the best ways to escape reality and get out with nature, it does have its downfalls. They are insects, in particular, mosquitoes. These little blood suckers can quickly ruin a camping experience. Especially if you plan to set up a hammock close to water.
Mosquitoes love the water and love Summer. So how does a camper combat this when sleeping in a hammock?. The easiest option is to buy a hammock tent. These are hammocks with built-in insect netting to stop the smallest of insects from getting in with you.
They are a dome-like covering that has a zippered entry to the front of the hammock. If you already own a hammock and want protection from insects while you sleep, you can invest in mosquito netting for a hammock.  This is an easy solution for camping with insects.
Tarp Or Rain-Fly Hammock
When you buy a hammock, sometimes they will include a rain-fly or a tarp that is suspended just over the hammock. What this does is provides shelter from both the sun and the rain. As well as acting as an insulation barrier if set up correctly.
By having the tarp shelter close to the hammock itself, it creates a separate pocket of air that can maintain warmth greater than if no tarp and cold air blowing over you. Also, set up the tarp so that it is deflecting the wind rather than trapping it in your sleeping zone.
If you have a camp fire set up, angle the tarp so that it keeps the warm air between the hammock and the tarp. Hot hotter conditions, you use this tarp to stop the sun from burning you and also any rain. A quality tarp for camping will come with pockets and string needed to tie to trees and such.
Top Rated Camping Hammocks In 2023
Lost Valley Premium Camping Hammock With Rain Fly
The Lost Valley Premium Camping Hammock is considered the ultimate all-in hammock on the market today. This product comes with all the components that you need for any environment. Hence, you don't have to spend extra on additional components when you purchase this hammock. So it really is
great value for the price
if you are needing the whole nine yards.
While it is a superior nylon that uses rip-stop technology, it still is nylon. As mentioned above, nylon is not the warmest material during windy cold night.
So a under-quilt is recommended during the colder months. However, when the warmer months come, this package is ready to go. It includes everything needed to set up and have a bug free sleeping experience.
The package comes with a rain fly, tree straps, enclosed mosquito net, guy lines, steel carabiners, and a drawstring bag that is easy to carry. If you plan to travel to the mountains and don't want to get soaked in the process, the hammock comes with a waterproof cover to keep you dry.
If you plan to travel to the desert and worried about the heat, the Lost Valley Premium Camping Hammock allows for easy breath-ability. On the other hand, if you plan to take a trip to the wilderness and don't want to get bitten by insects, the hammock comes with a mosquito net. Likewise, this hammock is ideal for any type of outdoor excursion you plan.
This is one of the reasons I recommend this kit for first timers. It has everything you need to get going and only weighs 4 pounds.
FAQ About This Camping Hammock
Tree straps are included and are 9.5 feet long
Single hammock with weight capacity of 350 pounds
Insect net is attached to the hammock. It is sewn into the fabric for convenience.
Hammock is 9 foot in length, 4 foot wide and weighs just under 4 lbs.
The included rain fly is waterproof. It is a polyester fabric material.
Ideal tree space should be between 12-15 feet. This gives the hammock a optimal 30° angle to relieve strain.
Common Consensus Among Campers
When you scour the internet, you can find many positive reviews for the lost valley hammock. It's a highly regarded and much-praised product. Even when you chat we neighboring campers, you come across this hammock from time to time. It seems to be very popular and highly regarded.
From my experience I found that many folks love this product because it is lightweight, versatile, inexpensive, sturdy, and has an easy setup process. The quick set up and the fact it keeps mosquitoes out while you are asleep were the big positives.
There were also a few negative reviews too. Not too many, but enough that it piqued my interest. I heard from one person that the rain fly is not of good quality since it leaked. I do find this hard to believe unless the waterproofing material had started to deteriorate.
In either case, a few bucks can make it 100% waterproof again. Very few people said the instructions were not that clear on how to set up the hammock. Maybe it's just from the years of experience that I found it super simple, but of all the hammocks out there, it really is one of the more simplistic designs.
All in all, the Lost Valley Premium Camping Hammock is one of the best hammocks on the market in 2023 for its price range. It is the perfect hammock for beginners looking to branch out into hammock camping. It has the lot and then some.
The Professional's Choice Of Hammock
Eclypse II Camping Hammock – By Tiny Big Adventure
The Eclypse II Camping Hammock from Tiny Big Adventure is one of the best camping hammocks on the market today if you ask me. It's the numerous advantages of this hammock that make it a solid performer among many campers country wide.
The main advantage to this hammock over inferior models is that it's made of professional grade 210 ripstop nylon – which is reinforced, breathable, and quick-drying. Compared to a fragile parachute type of nylon some hammocks are made from.
What You May Need To Know About This Hammock
Insect netting is included with the hammock and can be removed by flipping the hammock over if not required. The material is triple stitched which is a rarity for a hammock of this nature. Netting includes a zipper to completely shut out the insects, including the no-see-ums.
Bug net does not sag on your face. It has 3 loops that can be attached to the ridge line to make a dome like sleeping area.
Long enough to suit tall people at 7′ 5″
9 foot tree straps and guy lines are included for complete assembly.
The Eclypse II is versatile, lightweight, durable, and inexpensive at the same time. In fact, this backpacking hammock will definitely elevate your outdoor experience. The Eclypse II is a versatile product for napping, relaxing, nursing, containing a stubborn kid, cuddling, and rocking a little child to sleep.
The hammock takes only two minutes to set up and that includes the netting to keep the bugs out. So not only lightweight, but very efficient in putting up and taking down.
I found it to be rather comfortable as well. I found it perfectly supports your back. Hence, the extra 20 ounces in your backpack is fully worth your efforts. The hammock consists of stainless steel carabiners that are load-tested and highly rated. The ropes of the hammock are also rated and load tested. Overall the hammock is load tested to support up to 400 pounds of weight.
The mosquito net keeps the bugs out so that you can have a restful sleep at night. There is an attached drawstring carry bag for the hammock. The extra wide tree straps are ideal for easy set up without damaging the trees. Which may not mean too much to everyone, but to those that do, it's a good strap for protecting the trees from damage.
Overall, It's One Of The Best Hammock For Camping
Many people agree with me when I say that it is simply one of the best hammocks built for camping conditions. This is glaringly obvious from the amount of reviews this item gets online.
Other than the rain-fly missing, it's a good all year round camping bed. It's very hard to look past this hammock because of its lightweight, sturdiness, affordability, high-quality material, and easy setup. Had it included a rain-fly, I wouldn't hesitate to name this as the number one hammock.
Camping Hammock Fit For Two People
Winner Outfitters Double Camping Hammock
The Double Camping Hammock from Winner Outfitters is another high-quality camping hammock on the market in 2023.
It has a 500 pound weight capacity which is capable of sleeping two people. Besides the very affordable price, the thing I noticed first that stood out to me was that compressors were included.
Which for this price tag is simply incredible. They help you to pack down the hammock in a timely and neat fashion. Just something that you probably won't notice from any product description, but worth mentioning.
Something that has stood out to me over the years from the company Winners Outfitters is their remarkable customer service. I was reading about a Lady that bought a new hammock and received carabiners that looked scratched and bent. Now this is possible with any product, but how Winners Outfitters responded was simply first class.Many big companies would shrug their shoulders and tell them to buy new carabiners.
This relates in their customer service policy. The company wants their customers to be 100% satisfied with their products. For any reason, if the customer thinks that the Double Camping Hammock is not the best on the market, he or she gets a refund within five hours and could keep the product. This is a pretty bold claim if you ask me. But fortunately I have never had to put it to the test.
Why The winners Outfitters Camping Hammock Is One Of The Best
This product is made of high-quality 210T Nylon Parachute fabric. The hammock is lightweight, softer, mold-resistant, much stronger, and breathable compared to most of the other products on the market.
This camping hammock is a double – which means it is longer and bigger than the average product on the market. It is 10-feet in length and 6-feet in width. All accessories such as tree straps, carabiners, and rope are provided with the package.
About This Camping Hammock
.3 inch thick rope included for hanging. Compared to some others, this is rather thick.
Tree straps are included to prevent tree damage.
118 inches in length and 78 inches wide. Perfect for a couple to snuggle under the stars.
The maximum distance between trees would be about 15 feet depending on the thickness of trees etc. The included suspension system allows for greater flexibility. Additional ropes can be bought to greater the distance. The minimum would be about 7 to 8 feet. Try to keep the hammock no more than 18 inches above ground height.
Not ideal for winter camping due to being made from nylon.
Machine washable which was a surprise.
Doesn't include rain-fly or mosquito netting.
Most Affordable Hammock For Tree Camping
The Lightweight Parachute Portable Double Hammock from Legit Camping is another quality camping product on the market today. It's one of the most affordable tree hammocks I have come across that offers both reliability and comfort.
If you love outdoor sports, adventures, and hiking, you will definitely love this hammock. This lightweight nylon parachute hammock could be folded up to a compact size so that it will easily fit into a pouch for easy transportation. It consumes less space in the package compared to most of the other camping hammocks on the market today.
The product is lightweight – weighing only two pounds. Which is considerably light for taking hiking and bush walking. The hammock dries much faster due to its nylon composition if it does manage to get wet. It can hold up to 400 pounds without any problem due to the strong straps included. This hammock could last for quite some time with the right type of care.
Best Hammock For The Money In 2023?
If you're on a very tight budget, but want the best hammock for the money in 2023, Legit Camping is my number one recommendation. Setting up the hammock is simple and fast. The product is tough enough to take anywhere for any type of outdoor adventure. Even tho it is parachute nylon, I found it to be quite durable.
What I found very inspiring was that it comes with a lifetime warranty offered by Legit Camping. Obviously you would need to look further into the terms. But regardless, its a rare offer to be seen on an item like a hammock. I did do a bit of researching and uncovered this from Legit Camping LLC within the Amazon Questions:
"

If something EVER breaks down with your hammock, we'll send you a new one"
Now, this is an incredible warranty worthy of the price alone. Which is probably why this hammock is such a popular choice among campers. Besides the amazing warranty, the bright colors make them quite noticeable, so you might recognize it when you go to buy it.
I know I've seen many around the place along my journeys. What I love about this Legit Camping hammock is the high-quality material, strength, lightweight, durability, and the affordability of the hammock. At this price, you could stock up and be set for life.
The only troubles I have had with this hammock is that it can be difficult at times. Meaning it likes to close over. Because it is a double size hammock, you do need to straddle it from time to time to get it into position. But certainly not much of a drama considering the price and inclusions. But overall, the Legit Camping hammock is one of the best on the market in its price range.
Check Out This Video To See Exactly What To Expect From A Legit Camping Double Hammock
A Little About This Best Rated Camping Hammock
10 feet long and 6.6 ft wide. Certainly fit for a King. Or two people.
Weight capacity of 400 lbs
7mm steel

Carabiners

The recommended tree distance is 10 feet. The minimum would be roughly 6 feet.
Legit Camping recently released a mosquito netting for this hammock. If insects are going to be troublesome and you are liking the looks of this hammock,

see the netting on amazon

to be sure to buy the compatible netting.
Tree straps with pre knotted ropes are a little shorter being just under 6 feet each.
Everything needed to set this hammock up between two trees are included. Just add the trees. No rain-fly or netting included with the hammock. But a vast array of stunning colors to make your hammock stand out the best to choose from.
Camping In A Hammock Can Be Fun
Well, that wraps up this years (2023 – 2024) buyer guide to the best camping hammocks. With the above hammocks combines with the useful tips for choosing a hammock, you should be armed with enough knowledge to buy the best hammock for your needs.
Just remember that nylon is thin and doesn't insulate very well for colder conditions. Combat this with a under-quilt for an affordable and warm winter camping experience. However, nylon is perfectly fine to have when using a hammock as a rest station while camping.
Kick your feet up and admire all the beauty and relaxation that the great outdoors offers. During the hotter months, the nylon is great, but make sure you are prepared for rain and insects. These two components can completely destroy what could have been an exciting camp trip. Hammocks aren't the most expensive item in the world, so buying a couple of the years may likely be a possibility to find that one you simply love.