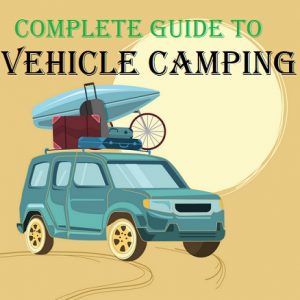 Vehicle camping is by no means a new way to escape the hustle and bustle of city life. It's been a popular budget method of camping for decades now. However, in recent times the tools us vehicle campers have been privileged to encounter have made learning how to camp in your truck, car, SUV or minivan even more appealing.
In this article, I will be sharing the various ways to camp in a vehicle, from SUV camping to camping in the back of a pick up truck. The amount of options when it comes to car camping is quite nice.
Having the ability to use our vehicles as portable camp sites certainly makes camping so much easier. No need to book camp sites (When free camping), worry about loosing our camp spot, camp just bout wherever we want and the feeling of safety knowing that our vehicle is on hand at all times. Not too mention being close to 12v power, extra storage and a waterproof retreat(Provided your vehicle doesn't leak).
With that said, lets first look at the sleeping and tent when camping in a truck, car or SUV. Without a sleeping retreat, there's no real 'camping feel' about it. Falling asleep on the back seat while your partner is driving does not count as car camping. So lets look at the available options for vehicle campers.
Vehicle Specific Tents
Did you know that there are these cool tents built specifically for campers on the road?. The designs on these tents are mind blowing and to think, you use to camp without one!. There's different designs and options for the different types of vehicles. Including motorbikes!
Motorcycle Tent Camping: Believe it or not, these tents are targeted to bike riders. These tents even allow for the bike to be inside the tent. Think of it like a tent with a garage. How cool right.
SUV Tent For Camping: Now this is a great idea for families that want to go SUV camping. What theses tents do is attach to the open back end of your SUV. Also can be attached to the back of your minivan. Creating a tunnel like entrance into the main tent area. Inside the tent area is enough space to stand without hitting your head and depending on the model you buy, enough space for up to 4- 6 people. Then you have the option of sleeping 1-2 more people in the back of the SUV. Yes, you can buy air mattresses designed yo fit your SUV as well. Combine these two and you have a great portable camp site for the whole family.
Pick Up Truck Tents: These tents mount to the back of your truck and make the best tailgate tents. The ideal camping scenario for the romantic getaway (Take your partner to romantic locations previously unreachable without a truck). Or simply for the worker that is on the road a lot needing somewhere cheap to crash. Pop up one of these tents in under 5 minutes and you good to go.
The Go Anywhere Roof Top Tents: Now this is living the 'High' life and takes camping literally to the next level. Ever get that feeling like you are going to get cold and wet while you camp?. Fear no more!. Roof top camping is the coolest thing you have probably ever seen, I mean it.
You set up a tent on top of your vehicle. Don't be put off by the complex design of a roof top tent. They are much easier to assemble than you may think. Once mounted to your roof rack, they take minutes to be in working order.  This keeps you dry and safe away from the animals and bugs. Plus imagine the view!. It's safe to say you will be the talking point of any camp site in one of these tents.
"Sleeping In My Car"
How To Sleep Comfortably In Your Car While Camping
Now that you have a roof over your head (Vehicle tent above), it's time to work out 'how am I suppose to sleep comfortably in the back of my SUV?'. The second most important thing about camping in your truck, SUV etc is sleep. Without a good nights sleep, the next days hiking, fishing swimming, etc will be less enjoyable. So with comfort and portability in mind, lets look at the options available for vehicle campers.
The Car Backseat: This option is for your typical sedan type of car. Sleep 1 to 2 people on the back seat of your car. How this works is by an inflatable air mattress shaped not quite how you may think. The top is flat yes, but underneath is different. One side is blown out to fill the void where your feet and legs normally go in the backseat. What this does is creates a solid foundation for sleeping on both the seat side and the normally open knee area side.
SUV Air Mattress: Air mattress to suit both; when seats folded down or sitting up vertical. Much like the car backseat, there are airbeds so that 1-2 people can sleep along the back seat. There are also airbeds designed to fit snug in the back of an SUV when the seats are down. Making a much larger sleeping surface.
Sleeping In The Back Of A Pick Up Truck: Normally not very inviting, but when you have a tent and air mattress specifically designed to fit in the back of your truck, things suddenly change. With or without the tent you and your partner can comfortably sleep out under the stars raised of the ground in safety.
How To Camp In Your Car Comfortably
Now that the two most important matters are out of the way (Shelter and bedding), lets look at some other ideas that you may need to think of before going on a camping trip that relies solely on your truck, car SUV etc.
Bring The Toilet With You!. Don't rely on truck stops for your toilet breaks. There's going to be many inconvenient times when your insides want to get out. For a few bucks you can buy a

self contained portable toilet

which will be a godsend. I promise you this.
Mosquito Netting and or Repellent – If you are planning to go old school and sleep in the back of your car with no tent and just the windows down. Prepare for a bug invasion. At the very minimal, coat your body in insect repellent. If you are handy around the house (Or should I say Car), jimmy up some mosquito netting to cover the windows of your car. This way you can enjoy the fresh night air with the windows down and not being eaten alive by bugs.
Plan To Cook – Whats for Dinner Mom?. Eating out on the road can be quite expensive, especially if you are taking the kids along. So invest in a propane gas portable stove top. This will get you cooking most foods and won't cost you an arm and a leg. If you plan to build camp fires, then a

cast iron Dutch Oven

will be your preferred cooking tool. These things are super heavy duty and cook just about anything.
Keep your car keys close to your body at all times. Especially when you are sleeping. As you should have a window slightly down to encourage airflow and prevent condensation build up. This does leave you slightly open for inspection if you follow. Having the keys on hand means if anything were to happen, you can quickly get the car started. Investing in a

window deflector/autoshade

will disguise the fact you have your window slightly down if this is of concern to you.
Serious Car Camping?
Solar Powered Vehicle Camping
If you are a serious car camper and plan to invest quite some time in your vehicle, taking a look at solar power panels for the car is not a crazy of an idea as it may sound. Especially if you look into a
lightweight portable solar power kit
. Something that has 100 Watts of power to charge all your 'smart' devices and keep you connected to society. Plus power for any of the gadgets you need for everyday camping lifestyle.
In 2017, a portable solar panel is not too difficult to obtain or use. Especially when camping. Many are bendable and can be simply put on top of the roof of your car, next to your tent or wherever the sun is shining. They don't have to be the complicated fixed panels either. Which is what makes them ideal for car camping.
Bring Enough Water For The Trip
Water, can't live without it right?. So make sure you pack enough to last you the length of your camping trip. Especially if you are going remote camping through the means of
kayak camping
or something similar.
As you are going to to be making your truck or car the camp site, it's advisable to get a large water tank with a nozzle on it. This nozzle makes it easier to pour water into cups/kettle etc.
Something like the Aqua Tainer is perfect for the family. Pictured to the right, this 7 gallon safe water storage container fits nicely on the back seat of your car, or trucks tailgate. Available in smaller sizes if 7 gallon is too much for your situation.
Save