I hope you love the products I've recommended below, just a heads up that as an Amazon associate, I earn from qualifying purchases. This means I may earn commissions on products bought via links on this page.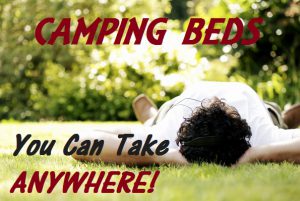 Camping and portability go hand in hand, but unfortunately finding the best portable air mattress is no easy feat. Finding any type of portable beds for camping whether they be cots, bunks, pads, airbeds etc can be a daunting task.
But what makes such a bed portable and an ideal choice to take on your next camping trip, travel adventure or overnight stay with the relatives?. This is what we have looked into, and taken into consideration when trying to find the best portable bed.
For us, the best portable air mattress must be lightweight, compact when folded/rolled and be non dependent on power. Meaning have some form of external pump powered by foot, built in battery or batteries. These beds are designed for the traveler, hiker etc in mind. If you are after a more broader category of air mattresses, then you need to visit the 2017 buyers guide and choose from the category there.
When it comes to a portable camping cot, they must be easy to set up/take down as this can be quite time consuming, lightweight (as much as possible without sacrificing stability) and include a carry case.
The Best Portable Beds For Camping In 2017 Review Comparison
The Most Transportable Air Mattress Is…
The problem is, I cant just label one as simply the best because it may simply not be of benefit to your needs/circumstances. But going on the requirements of being portable we have given you a list of options to choose from.
Ultra Lightweight Pads & Airbeds – Weighing from just over one pound, you can find some amazing sleeping pads and air mattresses. These beds are ideal for camping, hiking, backpacking etc due to how extremely portable they are. Not only are they light, but they are super easy to roll up and pack away into a compact unit. The Airlite airbed is the best option available here for campers. It includes a built in foot pump which requires no power to work and weighs a staggering 1.7 lbs. Quite incredible.
Take Anywhere Self Inflating Pads – Wow, if you have never experienced a self inflating air mattress or pad you are surely missing out. These would have to be my go to bed in regards to portability. They are lightweight, compact and fit into small spaces but best of all, you never need a pump. The self inflating part of these beds work when you open the nozzle. The special foam inside the bed expands by contracting the air inside. Once the foam has fully expanded, close the nozzle and you now have a comfortable bed for camping you can take anywhere.
The Smallest Air Mattresses – If space is an issue more than how heavy the bed is, then you need to check out this list. These three airbeds are the perfect solution to campers tight on space. They don't inflate to sizes that dominate the tent space, yet are big enough to sleep an Adult.
Easily Carried Camping Cots
To choose a camping cot over a air mattresses is the question that plagues many people the world over. While there are both positives and negatives to either sleeping platform, the question remains. Can a cot for camping be portable?. Are they light enough to carry around and fit inside the boot of a car trunk?.
Well you may be surprised to know that yes, quite a few cots are lightweight and very portable. The more heavy duty variety on the other hand are built for maximum user capacity and a more spacious sleeping area.
Choosing The Best Camping Cot For Your On The Go Lifestyle
Lightweight Camping Cots – When you think of portability and camping cots, you don't usually put them together in the same sentence. Until now!. In this guide, we present the 6 lightest cots starting from a mere 3 Lbs!. Which is quite unbelievable considering these beds typically contain heavy duty materials like steel. All this tough stuff adds to the durability and longevity of the cot, so how do they make them weigh so little then?. Find out here.
Solo Camper/Backpacker? – While not the lightest beds for traveling with, a tent cot is an awesome solution to solo sleeping. These are essentially camping cots, but with the addition of a tent attached to the cot. So you are sleeping in your own pod like device. Find out more – About Camping Tent Cots
Portable Camping Bed Sleeping Solutions
After reviewing and sleeping on hundreds of beds for camping, hiking etc over the years, one thing I've always advised folks to do is this. Test, test and test again!.
I have given you multiple types of beds suitable for camping with multiple brands to choose from. These are the best portable air mattresses, cots etc on the market in my opinion. But when it comes to the night of sleeping in the wilderness, portability means nothing if you cannot get your bed set up successfully.
This is my best advice for anyone buying a new camping bed. Test it out at home at least 2 days prior to leaving home for the camp site. This will ensure you know how to set up the bed. But not only this, if you buy a airbed, the plastic typically needs to be stretched out on the first night. So if you do this at home before you go camping by simply inflating it for 24 hours then you will have a more successful camping trip.