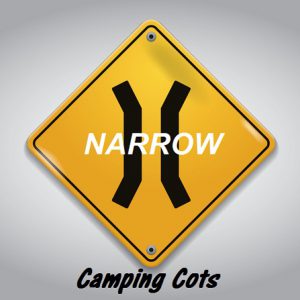 As more and more people start living tiny, narrow camping cots are growing in popularity. Not only are the smallest cots used for camping, but people are using these as beds in tiny houses and as guest beds as well. So when you invest in one of these products, you are essentially buying a stable portable bed.
Besides being practical in a tiny house, these narrow and small cots are great for tent campers that are restricted in floor space. A cot can be quite bulky at times and rather annoying to try and maneuver around. Especially if you have a oversized cot. But because a narrow cot is not as wide as a traditional cot, you are limited on sleeping space. This is not the ideal situation for people that tend to roll around a lot in their sleep.
But this is compensated by the fact they are such space savers and don't become a hazard inside the tent. Being narrow certainly has it's benefits. So what is the smallest camping cot on the market for 2017?. Below you can find the results from our results. Listed in order of smallest width to the widest.
The Smallest Cots For Camping By Width
The Yahill Ultralight Low Rise Cot – A Narrow 22.8″
Any smaller and you may as well buy a kids cot. This Yahill is the most narrow and the smallest overall cot we could find from our research and experience. While it has all the size qualities to pass this small niche, it's also one heck of a reliable camping bed.
The Yahill was rated one of our best lightweight cot for 2017 as well. So it's not just small, it's lightweight and extremely portable. Weighing just 3 pounds, I don't see anyone complaining about carrying this bad boy to and from the camp site.
In regards to it's dimensions, be prepared to walk into a tent mansion once this thing is set up. It has a decent length so that taller people aren't left with their feet dangling off the end. The length of the Yahill is just over 70 inches at 70.8″.
Being the most narrow camping cot we could get our hands on, it would be  unwise of us to warn you of just how narrow this thing is. Many cots measure above 30 inches wide. 22.8″ wide is how narrow the Yahill cot is.
Get out your measuring tape and measure your waist. Will you fit into this cot comfortably?. If you fit the bill, I couldn't recommend the Yahill enough. It is a low rise cot being just 3.9inches in height from the floor. So you do loose the luxury of under bed storage. But overall, this is a great bed if you need to sleep in a tight situation.
Yahill Ultralight Folding Cot - 3Lbs
The Narrowest High Profile Camping Cot
World Pride 24.4″ Wide Aluminum Cot Review
Made from a tough and durable 600D
Oxford Fabric
, this World Pride is not only narrow, but built to last. What I like about this cot is the three support legs that hold this puppy up. They are thick and made from aluminum. Which is reassuring to lay on and feel comfortable knowing the support is there to carry you.
Being the most narrow high profile camping cot I could find, I must say I wasn't disappointed in the overall quality of the bed. 24.4 inches wide is still quite small and being raised off the ground 16.9 inches opens up a new world of under bed storage. While not taking up the whole tent space.
Overall, this is a very sturdy and well made cot. The x like leg supports are the key seller for me. My only gripe is that putting the second bar into the fabric holes can be quite tight. But once you get it in there, boy is it stable.
World Pride Narrow Camping Cot
Vivo Small But Tough Cot
Built in a similar style as the above World Pride, this camping Cot by Vivo is another great choice for campers looking to buy a narrow but strong cot. With a weight capacity of 250 pounds and 25 inches wide, this cot is perfect for the portable on the go camper.
Again, like the above cot. The Vivo is so well constructed that the water resistant polyester material is kind of tough to assemble. This occurs at the last step of assembly. Putting the rubber stops on becomes difficult due to the fabric being pulled so tight. Which is very normal, and a good thing as no one wants a saggy cot.
But it can be difficult for someone with weak wrists to actually pull the fabric hard enough to get the caps on. So my recommendation is to use a screw driver or strong stick to use as a leverage device. This will help ease the material into location.
The Coleman Converta Cot Review
A Thin 26 Inches Wide
This cot couldn't help but be included. Why?. Simply put it's much more than just a sleeping surface. Yes it is a great camping bed,  but it also doubles as a chaise lounge. Which is great for the occasional camping trips, but can also be a permanent inclusion to your patio furniture.
At a narrow 26 inches wide and 76 inches in length, the Coleman Converta is a great portable and comfortable sleeping solution. When packing this cot away, you can easily carry it under one arm. This thing folds down nice and compact. The two ends fold into the center and then the center folds outwards back in on itself. Very tight.
While being nice and small, it does mean that it not really suitable for larger people. With a weight capacity of just 225 lbs, I wouldn't recommend it to people over 200 pounds.
This is because of the 'Converta' feature. This cot can be used in four different positions. Which is great for people that love to read. Just recline the cot and you are set for a good book. But I have found that because this bed does recline into multiple positions the 'Flat' position is slightly obscured. Meaning the end of the bed (Head/Feet) tilts down towards the ground a fraction. This can be a annoying, but easily fixed with a pillow.
Premium Grade Light And Small Cot
Alps Mountaineering Lightweight Cot Review
This cot by Alps Mountaineering is a little bit wider than the others listed here. Measuring in at 30 inches, while still thinner than many it's wide enough to sleep comfortably. The reason I included this cot into the list of the best small and narrow cots for camping is that it is one of my personal favorite cots. Plus it adds another low profile cot into the mix.
With a weight capacity of 250 lbs, this cot will suit many people. Being low to the ground does sacrifice the storage, but makes the bed more portable and more comfortable in my opinion.
For the initial set up stage, I would allow about 10-15 minutes to get it together. Again getting the tightly stretched fabric into position can require some muscle power. So maybe prepare at home before you head out. See video below on how to assemble this lightweight Alps Mountaineering cot.
Overall, I cannot question the quality and durability of this cot. It is very well made from my perspective and is very snug to sleep in. Like crawling into a toasty cocoon at the end of a hard days adventures.
Alps Mountaineering 30" Wide Low Profile Cot
Save
Save