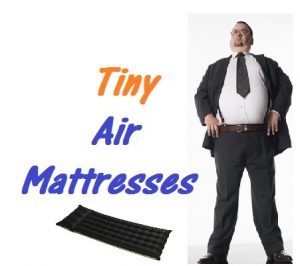 Bigger is not always better, especially when it comes to outdoor adventures and in particular, sleeping arrangements. A small air mattress for camping certainly has its advantages over a much bigger version.
While it is great to be able to spread the legs and roll over without the fear of falling off your bed, it's not always practical to commandeer a large percentage of tent space with a air bed. There's certain times a regular size air mattress simply won't fit in a tent, for example in a tent cot. In this situation you need to find the smallest air mattress available so that it actually fits inside the tent.
But not just any air mattress will do here at SleepingWithAir, only the best, tried and tested will make the following list of top 4 rated 'Small' camping air mattresses.
Do note that these are adult size air beds which are different to kids airbeds. They are not judged on how heavy they are either. If you are looking for a light bed for the purposes of hiking, backpacking etc visit the best lightweight camping air mattresses to see the selection of the lightest beds available.
Compare Small Air Mattresses For Camping
The Smallest Airbed Capable For Camping Conditions
AirLite Camping Pad With Built In Pump 72″ x 20″
The Airlite is a super handy air mattress to have on board. So compact, I reckon every camper should have one rolled up and tucked away simply for emergencies. Highly durable and boasts some nice features. The smallest of the quality camping beds we could get our hands on, and one of the best backpacking mattresses available.
Not the most lightweight, but certainly the best space saver I have seen. Measuring in at just 3.5″ thick, 72″ long and 20″ wide, the 'Regular Size' Airlite has the smallest dimensions for a quality mattress out there.
While just 3.5″ thick, you may be thinking this thing won't last, how can it possibly be durable?. Well to answer this question you only need to look at the quality of the material. The Airlite is not a cheap and nasty small airbed. This thing was built for campers with durability in mind.
For whatever reason, the fabric is called Diamond Ripstop. Boy does it have a tough feel to it. Its not a smooth surface that pops at the sight of a rock either. It's made up of 1000's of small diamond shapes that create a friction surface. This not only makes it more resistible to punctures and tears, but is nice to sleep on. IT wont wake the campsite up when you get in, and you won't slide off it.
The other awesome feature is the built in pump. If you are like me and hate carrying around extra equipment, then you will also love this feature. It's a foot pump, but a pump none the less. The air mattress is not super thick, so it doesn't take too long to inflate to a nice comfy and durable slim sized air mattress. The only negative I would consider is how narrow the bed is. While we are talking about 'small' beds here, 20″ may be too thin for some folks. But the AirLite also comes in a larger size  78″ x 24″ which gives a little more leg room and elbow room.
Airlite Air Mattress By Fox Outfitters
The Best Small Camping Airbed
Coleman EasyStay Single High Review
Measuring in at a little larger at 73″ x 26″ x 6″ in height. Which is the perfect size for a smaller air mattress. Its not too wide, yet it has a generous 6 inches from ground level. Being a slim version of a Twin, the EasyStay fits nicely on top of a regular size cot.
Being a high quality air mattress by a well recognized brand Coleman, you just know it's going to be comfortable. What makes it so comfortable and more durable are the internal air coils. These act as full body support systems similar to a inner spring coiled mattress.
These internal coils maintain even air distribution even when you sit on the edge of the bed. This is one of the better benefits of these coils. They don't bulge out when you sit on the edge.
The soft top is a nice touch, especially if you are use to plastic covers found on most cheap air mattresses. But for the price of the EasyStay, I find it very good value having such a comfortable mattress top.
The only drawback for the Easystay is that it doesn't come with a pump. Which is a shame, but its still great value and a camping pump won't set you back a lot either.
EasyStay Slim By Coleman
The Best Smallest Self Inflating Camping Air Mattress
By Camp Solutions 72.8″ x 23.6″
Often hikers and backpackers will go for a self inflating sleeping pad for one reason. It's self inflating and you don't need a pump. Oh, and being extremely lightweight (Just a few pounds). A self inflating pad works when you open the valve and air is sucked into the dense foam inside the cover. This inflates the foam and makes for a soft squishy portable camping bed.
While the Camp Solutions self inflating pad is not the thickest mattress in the world at just under 1 inch, it is however very small. So the thickness is part of the lightweight appeal. It comes in at just under 73″ and 24″ wide. So perfect for the tiny camper.
There's a couple things that are different which I like about this Camp Solutions mattress. One is that there is a repair kit actually stitched into the carry bag for the pad. This is so handy because I don't know how many times I have forgotten to bring our repair kit. The outer material is made from Polyester Taffeta Fabric which is quite durable;e anyways.
The other not so common feature are the little grommets on the sides of the mattress. With these you can tie multiple Camp Solution pads together to make a bigger sleeping area if desired. Or what I like, is that you could tie 2 on top of each other for an even thicker more comfortable sleeping pad. Now that's thinking!.
Only drawback – You have to blow up the included pillow by mouth. Oh come on, stop being so lazy. It's just one pillow and will take less than a minute. If the 1″ thickness bothers you, but you like this style of mattress, view more self inflating pads to see the camping range.
Camp Solutions Self Inflating
Tiny On A Budget
Intex Vinyl & Fabric Slim Air Mattress
Just getting it out there, I wouldn't recommend this air mattress for regular use, or long camping trips. But, if you need a temporary bed or a air mattress for the odd camping trip, the the Intex is a really good buy.
It's quite unbelievable for good value this bed is for the price it goes for. How much exactly?. Well you can check price on amazon here.
Normally I wouldn't expect a mattress in this price range to survive the night. But it does, and does so for a some time. Just I wouldn't use this as your permanent camping bed.
Why?. Well it's made from Vinyl and can be used in the pool as a lounge/float etc. So the durability is not quite there. But there is a fabric top which can be used face down on the dirt if need be for rougher terrains.
As for it's dimensions, its quite small and narrow. For length it is 72.5″ x 26.5″ wide. It's depth isn't too bad either at 6.75″. It comes with a built in pillow/rest which is well suited to back sleepers like myself. But I find it not high enough for side sleepers. So an extra pillow would be recommended for you guys.
No pump is included, nor would I expect one for this price. But don't be tempted into blowing it up with your mouth as it could take you an hour and give you a really red face. Being Vinyl, I would also inflate this mattress the night before to stretch the plastic out which will reduce the air loss when you take it camping.
Overall, the Intex is the best of the cheap small camping air mattresses we could find that is great bang for your buck.
Save
Save
Save
Save
Save
Save
Save