I hope you love the products I've recommended below, just a heads up that as an Amazon associate, I earn from qualifying purchases. This means I may earn commissions on products bought via links on this page.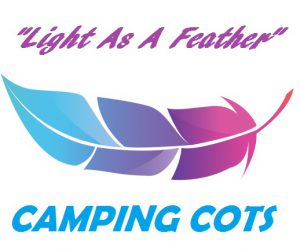 Not all campers need plush comfort and all the bells and whistles when it comes to sleeping on cots. For many, being portable and light is more important than how padded  the cot is for example. So after much research and experience we have compiled a list of the 6 best lightweight camping cots.
To make choosing the right camping cot for your outdoors adventure we have combined both low to the ground ultra lightweight cots perfect for backpacking, while also included the lightest raised cots for campers that like the elevation. Starting from just a mere 3 pounds in weight to up to 14 lbs for a raised cot, we think there are not too many 'better' cots that fall into the lightweight division while still offering quality materials and good bang for your buck.
The Lightest Camping Cot We Could Find!
The Yahill Ultralight Portable Folding Bed – Weighs Just 3 Lbs
The Yahill ultralight folding bed or camping cot weighs a mere three pounds and is one high quality ultra light portable bed for those outdoor adventures. In fact in regards to choosing the lightest camping cot, we took into account quality, brand trust, consumer reviews, longevity and ease of use. So in conclusion, we found that the Yahill to not only be the lightest, but also the best in regards to fulfilling the above strict requirements.
The Yahill low rise cot features a stretch free nylon cover with is waterproof and tear resistant (PV Oxford Cloth). Which is quite impressive considering it has such a light weight. Furthering on from the durability aspect, it has a weight capacity of 264 lbs. Which is not overly high, but is still very good considering how portable and light this cot is. Some consumers say it is not easy to put together, but other consumers say the exact opposite. Assembly instructions are included, and more anodized aluminum poles can be ordered separately to fit the extra holes for additional support. If you follow the instructions to the tee, assembly shouldn't give you too many headaches. Practice makes perfect remember. So practice assembling and taking down this cot before heading out into the woods.
As mentioned, extra poles can be purchased separately which I think is a very good idea. Especially if you plan to make the Yahill your main camping/hiking cot as one can never have enough spare poles. They either get lost in transition or broken over time, so having spares is never a bad thing.
From our research, people have noted that you do may the ground when you sit up. This is obviously going to be a person to person situation and one that you should consider; Low to ground or raised cot?. A raised cot has more distance between you and the ground and is generally better suited to heavier people and people with bad backs as you don't have to get down so low.
Condensing down to a mere 16×4.7 inches, the Yahill portable camping cot seems to please many consumers in general. The product is durably constructed for its purpose, lightweight and very portable for the camper and hiker alike.
Yahill Ultralight Folding Cot - 3Lbs
The Lightest Raised Cot For Camping
Magshion Portable Military Style Cot – 8 Lbs
The Magshion portable folding military style cot is a hit with consumers because of how tight the material holds when setup. Very sturdy, one downside is that it weighs a little more than some of its counterparts, eight pounds to be exact. But considering this is a raised folding cot with a 300 lbs weight capacity, 8 pounds is rather lightweight. Especially when you compare it to other cots that can be in the 50 lbs weight category.
One thing we noticed when considering con reviews was the mention that this product does have some plastic parts. However, in regards to being lightweight and portable, not everything can be heavy duty steel. Otherwise the cot will weigh a ton. However, with plastic connectors and all, the Magshion doesn't appear that sturdiness or durability are issues at all.
Being raised high off the ground at 13.5″ and having a rather heavy weight capacity, the Magshion is suitable for many types of people (Even the kids). Due to these aspects this cot can be used not just for camping, but also for those fishing, hiking and other outdoor adventures. While portable and compact, it is slightly larger than some comparable products, hence the extra weight.
Magshion Military Lightweight Cot
The Mountain Trails Base Camp Cot – Just Under 10 Lbs
The camping cot is rather easy to assemble, took us under 5 minutes and it weighs just under ten pounds. While lightweight and portable, it is on the heavier side when it comes to these types of products. Especially compared to the Yahill which is a staggering 3 lbs. The extra weight of the Mountain Trails comes from the stronger steel poles to support the bed. But in saying this, a decent vacuum can still lift this cot from the ground with suction. So it ain't that heavy in reality.
It is manufactured by The Wenzel Company, and it does come with its own carrying case which is kind of cool. The one thing mentioned by Amazon reviewers as a con that we noticed prominently is when it comes to assembly, it can be a little difficult sliding in those poles sometimes. This is too be expected on such a precise device like a cot.
The Best High End Lightweight Cot For Camping
Teton Sports Somnia Delivers The Goods..
costs a little more
than some other comparable products. But in regards to price, I don't typically go for the mindset of cheapest is best. Especially when it comes to sleeping out in the woods. I want something that will support me all night long for nights on end.
The weight of the cot is 10 pounds (On average less then 1/2 the weight of typical camping cots), and the length when set up is said to be as long as a twin bed. That is good for those taller folks, and the Teton Sports camping cot also has a weight capacity of 275 pounds. Not the highest weight capacity cot out there, but still a decent limit for such a light bed.
The cot available from Teton Sports also comes with its own carrying case and storage compartment. The added feature of a storage compartment is a unique idea that I can't get enough of. Great for putting the keys, money, wallet, pills etc in for safe storage during the night while you rest.
While there are no support legs in the center, that is a plus according to some consumers when setting up the cot in certain spaces (Such as allowing bulky items to go under the cot, when using in the back of a pick up truck etc). No bars to intrude on the back when sleeping right?. However, an additional bar would probably increase the weight capacity.
The size of the product when inside its carrying case is 37x6x3 inches. The bed is made of Oxford canvas, which is a step up from polyester or nylon, but the frame is made of extruded aluminum. Overall, I find Teton Sports to be a quality camping products supplier and this Somnia cot is definitely one on the 'buy it' list fro myself. Going from experience with there larger cots, I can vouch for the quality of the brand.
Teton Sports Somnia Camping Cot With Storage
The Best Camping Cot For Tall People Under 11 Lbs
The Big Bear By World Outdoor Products
air mattress
we have tested.
The frame for this cot is made of anodized aluminum, and for it being as heavy duty and durable as it is, the assembly is quite simple. This roll up cot (Not a folding cot) also comes with an LED flashlight. Now that is a unique feature I have not yet seen included on a camping cot before and I must say I love it!. Provided you have charged batteries, the fear of forgetting the torch is now gone.
While this is classified as a roll up cot as mentioned previously, please note that the legs must be taken out first. but this roll up feature is still quite nice and makes it even more portable to be able to separate the legs from the bed.
Since the product is a little more heavy duty than some other products, it weighs 12 pounds when shipped (10 Lbs when on display), but that is still lightweight, especially considering what it is able to do.
Big Bear 84"Long, 10 Lbs Roll Up Camping Cot
Most Comfortable Lightweight Camping Bed
Coleman Comfort Smart Cot Review
Coleman's Comfort Smart Cot supports weights up to 275 pounds, but it's not exactly for taller individuals. It fits people that are up to 5′ 7″ tall. While that is a con for some people, the cot is supposed to be very durable and provides superior comfort. For starters, it doesn't have those pesky center bars. While providing extra support and durability, the center bars are unnecessary in this case, helping the Coleman Cot to be a little more comfortable than some other models.
It is important to note, however, that this cot does weigh just over 18 pounds. That is certainly on the high end when it comes to weight and portability. Sometimes you might have to sacrifice if you want that extra comfort. The bedding features a spring cool suspension and a mattress made of thick foam. That is the keynote feature that separates this Coleman Cot from its counterparts.
If you are looking for a camping cot that is not only lightweight, but also padded with comfort and don't mind the few extra pounds weight. The Coleman Comfort Smart may just be the camping bed of your dreams.
'Sure, There May Be Lighter Cots Available…'
Well that concludes our 6 top rated lightweight camping cots in order of how heavy they each are. Sure, there may be lighter cots available to buy. But we have also looked for high quality materials used, positive reviews, longevity etc. Lightweight is just one aspect of a cot that can make your next camping adventure out of this world. Be sure to determine if the cot is the right fit for you first.before you buy. Lightest may not always mean the best. Keep this in mind.
Save
Save